Abstract
Approximately 75% of all breast cancers express the oestrogen and/or progesterone receptors. Endocrine therapy is usually effective in these hormone-receptor-positive tumours, but primary and acquired resistance limits its long-term benefit1,2. Here we show that in mouse models of hormone-receptor-positive breast cancer, periodic fasting or a fasting-mimicking diet3,4,5 enhances the activity of the endocrine therapeutics tamoxifen and fulvestrant by lowering circulating IGF1, insulin and leptin and by inhibiting AKT–mTOR signalling via upregulation of EGR1 and PTEN. When fulvestrant is combined with palbociclib (a cyclin-dependent kinase 4/6 inhibitor), adding periodic cycles of a fasting-mimicking diet promotes long-lasting tumour regression and reverts acquired resistance to drug treatment. Moreover, both fasting and a fasting-mimicking diet prevent tamoxifen-induced endometrial hyperplasia. In patients with hormone-receptor-positive breast cancer receiving oestrogen therapy, cycles of a fasting-mimicking diet cause metabolic changes analogous to those observed in mice, including reduced levels of insulin, leptin and IGF1, with the last two remaining low for extended periods. In mice, these long-lasting effects are associated with long-term anti-cancer activity. These results support further clinical studies of a fasting-mimicking diet as an adjuvant to oestrogen therapy in hormone-receptor-positive breast cancer.
Your institute does not have access to this article
Relevant articles
Open Access articles citing this article.
Qi Wu

,

Zhi-Jie Gao

…

Ping Wang

Signal Transduction and Targeted Therapy Open Access 23 July 2022

Emily N. Devericks

,

Meredith S. Carson

…

Stephen D. Hursting

Cancer and Metastasis Reviews Open Access 25 June 2022

Zexuan Liu

,

Junhao Liu

…

Ratna K. Vadlamudi

Breast Cancer Research Open Access 08 April 2022
Access options
Subscribe to Nature+
Get immediate online access to the entire Nature family of 50+ journals
Subscribe to Journal
Get full journal access for 1 year
$199.00
only $3.90 per issue
All prices are NET prices.
VAT will be added later in the checkout.
Tax calculation will be finalised during checkout.
Buy article
Get time limited or full article access on ReadCube.
$32.00
All prices are NET prices.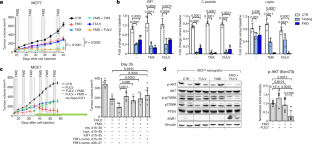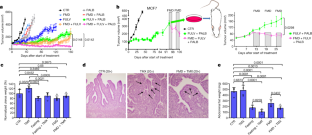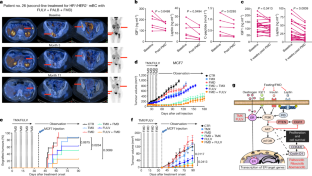 References
DeVita, V. J., Laurence, T. S. & Rosenberg, S. A. DeVita, Hellmann and Rosenberg's Cancer: Principles & Practice of Oncology 11th edn (Wolters Kluwer, 2019).

Araki, K. & Miyoshi, Y. Mechanism of resistance to endocrine therapy in breast cancer: the important role of PI3K/Akt/mTOR in estrogen receptor-positive, HER2-negative breast cancer. Breast Cancer 25, 392–401 (2018).

Brandhorst, S. et al. A periodic diet that mimics fasting promotes multi-system regeneration, enhanced cognitive performance, and healthspan. Cell Metab. 22, 86–99 (2015).

Di Biase, S. et al. Fasting-mimicking diet reduces HO-1 to promote T cell-mediated tumor cytotoxicity. Cancer Cell 30, 136–146 (2016).

Wei, M. et al. Fasting-mimicking diet and markers/risk factors for aging, diabetes, cancer, and cardiovascular disease. Sci. Transl. Med. 9, eaai8700 (2017).

AlFakeeh, A. & Brezden-Masley, C. Overcoming endocrine resistance in hormone receptor-positive breast cancer. Curr. Oncol. 25, S18–S27 (2018).

Lee, A. V., Cui, X. & Oesterreich, S. Cross-talk among estrogen receptor, epidermal growth factor, and insulin-like growth factor signaling in breast cancer. Clin. Cancer Res. 7, 4429s–4435s (2001).

Sachs, N. et al. A living biobank of breast cancer organoids captures disease heterogeneity. Cell 172, 373–386 (2018).

Jones, J. I. & Clemmons, D. R. Insulin-like growth factors and their binding proteins: biological actions. Endocr. Rev. 16, 3–34 (1995).

Garofalo, C., Sisci, D. & Surmacz, E. Leptin interferes with the effects of the antiestrogen ICI 182,780 in MCF-7 breast cancer cells. Clin. Cancer Res. 10, 6466–6475 (2004).

Sánchez-Jiménez, F., Pérez-Pérez, A., de la Cruz-Merino, L. & Sánchez-Margalet, V. Obesity and breast cancer: role of leptin. Front. Oncol. 9, 596 (2019).

Hopkins, B. D. et al. Suppression of insulin feedback enhances the efficacy of PI3K inhibitors. Nature 560, 499–503 (2018).

Pollak, M. The insulin and insulin-like growth factor receptor family in neoplasia: an update. Nat. Rev. Cancer 12, 159–169 (2012).

Jardé, T., Perrier, S., Vasson, M. P. & Caldefie-Chézet, F. Molecular mechanisms of leptin and adiponectin in breast cancer. Eur. J. Cancer 47, 33–43 (2011).

Saxena, N. K. et al. Concomitant activation of the JAK/STAT, PI3K/AKT, and ERK signaling is involved in leptin-mediated promotion of invasion and migration of hepatocellular carcinoma cells. Cancer Res. 67, 2497–2507 (2007).

Cristofanilli, M. et al. Fulvestrant plus palbociclib versus fulvestrant plus placebo for treatment of hormone-receptor-positive, HER2-negative metastatic breast cancer that progressed on previous endocrine therapy (PALOMA-3): final analysis of the multicentre, double-blind, phase 3 randomised controlled trial. Lancet Oncol. 17, 425–439 (2016).

Lasham, A. et al. A novel EGR-1 dependent mechanism for YB-1 modulation of paclitaxel response in a triple negative breast cancer cell line. Int. J. Cancer 139, 1157–1170 (2016).

Shajahan-Haq, A. N. et al. EGR1 regulates cellular metabolism and survival in endocrine resistant breast cancer. Oncotarget 8, 96865–96884 (2017).

Di Biase, S. et al. Fasting regulates EGR1 and protects from glucose- and dexamethasone-dependent sensitization to chemotherapy. PLoS Biol. 15, e2001951 (2017).

Di Leva, G. et al. Estrogen mediated-activation of miR-191/425 cluster modulates tumorigenicity of breast cancer cells depending on estrogen receptor status. PLoS Genet. 9, e1003311 (2013).

Hawley, S. A. et al. Phosphorylation by Akt within the ST loop of AMPK-α1 down-regulates its activation in tumour cells. Biochem. J. 459, 275–287 (2014).

Arends, J. et al. ESPEN guidelines on nutrition in cancer patients. Clin. Nutr. 36, 11–48 (2017).

Grundmann, O., Yoon, S. L. & Williams, J. J. The value of bioelectrical impedance analysis and phase angle in the evaluation of malnutrition and quality of life in cancer patients—a comprehensive review. Eur. J. Clin. Nutr. 69, 1290–1297 (2015).

Turner, N. C. et al. Palbociclib in hormone-receptor-positive advanced breast cancer. N. Engl. J. Med. 373, 209–219 (2015).

Creighton, C. J. et al. Insulin-like growth factor-I activates gene transcription programs strongly associated with poor breast cancer prognosis. J. Clin. Oncol. 26, 4078–4085 (2008).

Karey, K. P. & Sirbasku, D. A. Differential responsiveness of human breast cancer cell lines MCF-7 and T47D to growth factors and 17 beta-estradiol. Cancer Res. 48, 4083–4092 (1988).

Baselga, J. et al. Everolimus in postmenopausal hormone-receptor-positive advanced breast cancer. N. Engl. J. Med. 366, 520–529 (2012).

André, F. et al. Alpelisib for PIK3CA-Mutated, hormone receptor-positive advanced breast cancer. N. Engl. J. Med. 380, 1929–1940 (2019).

Hu, R., Hilakivi-Clarke, L. & Clarke, R. Molecular mechanisms of tamoxifen-associated endometrial cancer (Review). Oncol. Lett. 9, 1495–1501 (2015).

Piacente, F. et al. Nicotinic acid phosphoribosyltransferase regulates cancer cell metabolism, susceptibility to NAMPT inhibitors, and DNA repair. Cancer Res. 77, 3857–3869 (2017).

Caffa, I. et al. Fasting potentiates the anticancer activity of tyrosine kinase inhibitors by strengthening MAPK signaling inhibition. Oncotarget 6, 11820–11832 (2015).

Ciribilli, Y. et al. The coordinated p53 and estrogen receptor cis-regulation at an FLT1 promoter SNP is specific to genotoxic stress and estrogenic compound. PLoS One 5, e10236 (2010).

Liu, C. Y. et al. Tamoxifen induces apoptosis through cancerous inhibitor of protein phosphatase 2A-dependent phospho-Akt inactivation in estrogen receptor-negative human breast cancer cells. Breast Cancer Res. 16, 431 (2014).

Massarweh, S. et al. Tamoxifen resistance in breast tumors is driven by growth factor receptor signaling with repression of classic estrogen receptor genomic function. Cancer Res. 68, 826–833 (2008).

Mishra, A. K., Abrahamsson, A. & Dabrosin, C. Fulvestrant inhibits growth of triple negative breast cancer and synergizes with tamoxifen in ERα positive breast cancer by up-regulation of ERβ. Oncotarget 7, 56876–56888 (2016).

Ikeda, H. et al. Combination treatment with fulvestrant and various cytotoxic agents (doxorubicin, paclitaxel, docetaxel, vinorelbine, and 5-fluorouracil) has a synergistic effect in estrogen receptor-positive breast cancer. Cancer Sci. 102, 2038–2042 (2011).

Massarweh, S. et al. Mechanisms of tumor regression and resistance to estrogen deprivation and fulvestrant in a model of estrogen receptor-positive, HER-2/neu-positive breast cancer. Cancer Res. 66, 8266–8273 (2006).

Vijayaraghavan, S. et al. CDK4/6 and autophagy inhibitors synergistically induce senescence in Rb positive cytoplasmic cyclin E negative cancers. Nat. Commun. 8, 15916 (2017).

Cook Sangar, M. L. et al. Inhibition of CDK4/6 by palbociclib significantly extends survival in medulloblastoma patient-derived xenograft mouse models. Clin. Cancer Res. 23, 5802–5813 (2017).

Michaloglou, C. et al. Combined inhibition of mTOR and CDK4/6 is required for optimal blockade of E2F function and long-term growth inhibition in estrogen receptor-positive breast cancer. Mol. Cancer Ther. 17, 908–920 (2018).

Lee, C. et al. Reduced levels of IGF-I mediate differential protection of normal and cancer cells in response to fasting and improve chemotherapeutic index. Cancer Res. 70, 1564–1572 (2010).

Ahima, R. S. et al. Role of leptin in the neuroendocrine response to fasting. Nature 382, 250–252 (1996).

Lee, C. et al. Fasting cycles retard growth of tumors and sensitize a range of cancer cell types to chemotherapy. Sci. Transl. Med. 4, 124ra27 (2012).

Arends, J. et al. ESPEN expert group recommendations for action against cancer-related malnutrition. Clin. Nutr. 36, 1187–1196 (2017).

Reidy, P. T. et al. Protein blend ingestion following resistance exercise promotes human muscle protein synthesis. J. Nutr. 143, 410–416 (2013).

Rossi, F., Valdora, F., Barabino, E., Calabrese, M. & Tagliafico, A. S. Muscle mass estimation on breast magnetic resonance imaging in breast cancer patients: comparison between psoas muscle area on computer tomography and pectoralis muscle area on MRI. Eur. Radiol. 29, 494–500 (2019).
Acknowledgements
This work was supported in part by the Associazione Italiana per la Ricerca sul Cancro (AIRC; IG#17736 and #22098 to A.N.; IG#17605 and IG#21820 to V.D.L.; AIRC Fellowship #22457 to G.S. and V.D.L.; IG#21548 to A.P.; and MFAG#22977 to C.V.), the Fondazione Umberto Veronesi (to A.N., I.C., F.P. and V.D.L.), the Italian Ministry of Health (GR-2011-02347192 to A.N.), the 5 × 1000 2014 Funds to the IRCCS Ospedale Policlinico San Martino (to A.N.), the BC161452 and BC161452P1 grants of the Breast Cancer Research Program (US Department of Defense; to V.D.L. and to A.N., respectively), the US National Institute on Aging–National Institutes of Health (NIA–NIH) grants AG034906 and AG20642 (to V.D.L.), and the Associazione Italiana contro le Leucemie-linfomi e Mieloma (AIL), Sezione Liguria. We thank the High Throughput Screening Facility of the University of Trento (Italy) and T. Bonfiglio (Department of Internal Medicine and Medical Specialties, University of Genoa) for their technical support.
Ethics declarations
Competing interests
A.N. and I.C. hold intellectual property rights on clinical uses of fasting-mimicking diets. V.D.L. holds intellectual property rights on clinical uses of fasting-mimicking diets and equity interest in L-Nutra, a company that develops and markets medical food. The remaining authors declare no competing interests.
Additional information
Publisher's note Springer Nature remains neutral with regard to jurisdictional claims in published maps and institutional affiliations.
Extended data figures and tables
Supplementary information
This file contains the uncropped blots with size marker indications.
This file contains Supplementary Tables 1-3. The Supplementary Tables include: clinical characteristics, adverse events and best response of the patients with HR+ BC who were treated with ET plus periodic FMD within the clinical trials NCT03595540 and NCT03340935; the complete blood counts and a metabolic panel post-FMD in patients with HR+ BC treated with endocrine therapy and periodic FMD in the clinical trial NCT03595540; the list of primers that were utilized for the qPCR reactions of this study.
About this article
Cite this article
Caffa, I., Spagnolo, V., Vernieri, C. et al. Fasting-mimicking diet and hormone therapy induce breast cancer regression. Nature 583, 620–624 (2020). https://doi.org/10.1038/s41586-020-2502-7
Received:

Accepted:

Published:

Issue Date:

DOI: https://doi.org/10.1038/s41586-020-2502-7
Comments
By submitting a comment you agree to abide by our Terms and Community Guidelines. If you find something abusive or that does not comply with our terms or guidelines please flag it as inappropriate.