Abstract
Ageing is the single greatest cause of disease and death worldwide, and understanding the associated processes could vastly improve quality of life. Although major categories of ageing damage have been identified—such as altered intercellular communication, loss of proteostasis and eroded mitochondrial function1—these deleterious processes interact with extraordinary complexity within and between organs, and a comprehensive, whole-organism analysis of ageing dynamics has been lacking. Here we performed bulk RNA sequencing of 17 organs and plasma proteomics at 10 ages across the lifespan of Mus musculus, and integrated these findings with data from the accompanying Tabula Muris Senis2—or 'Mouse Ageing Cell Atlas'—which follows on from the original Tabula Muris3. We reveal linear and nonlinear shifts in gene expression during ageing, with the associated genes clustered in consistent trajectory groups with coherent biological functions—including extracellular matrix regulation, unfolded protein binding, mitochondrial function, and inflammatory and immune response. Notably, these gene sets show similar expression across tissues, differing only in the amplitude and the age of onset of expression. Widespread activation of immune cells is especially pronounced, and is first detectable in white adipose depots during middle age. Single-cell RNA sequencing confirms the accumulation of T cells and B cells in adipose tissue—including plasma cells that express immunoglobulin J—which also accrue concurrently across diverse organs. Finally, we show how gene expression shifts in distinct tissues are highly correlated with corresponding protein levels in plasma, thus potentially contributing to the ageing of the systemic circulation. Together, these data demonstrate a similar yet asynchronous inter- and intra-organ progression of ageing, providing a foundation from which to track systemic sources of declining health at old age.
Access options
Subscribe to Journal
Get full journal access for 1 year
$199.00
only $3.90 per issue
All prices are NET prices.
VAT will be added later in the checkout.
Tax calculation will be finalised during checkout.
Rent or Buy article
Get time limited or full article access on ReadCube.
from$8.99
All prices are NET prices.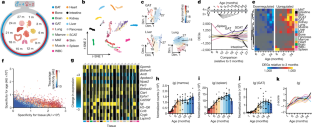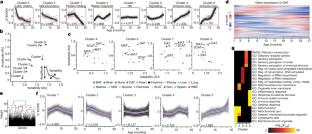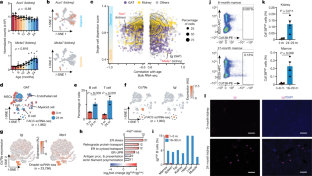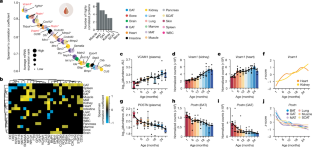 Data availability
Raw data are available from the Gene Expression Omnibus under accession code GSE132040. Source data are provided with this paper.
References
1.

López-Otín, C., Blasco, M. A., Partridge, L., Serrano, M. & Kroemer, G. The hallmarks of aging. Cell 153, 1194–1217 (2013).

2.

The Tabula Muris Consortium. A single-cell transcriptomic atlas characterizes ageing tissues in the mouse. Nature https://doi.org/10.1038/s41586-020-2496-1 (2020).

3.

The Tabula Muris Consortium. Single-cell transcriptomics of 20 mouse organs creates a Tabula Muris. Nature 562, 367–372 (2018).

4.

Palmer, A. K. & Kirkland, J. L. Aging and adipose tissue: potential interventions for diabetes and regenerative medicine. Exp. Gerontol. 86, 97–105 (2016).

5.

Kohonen, T. The self-organizing map. Proc. IEEE 78, 1464–1480 (1990).

6.

Austad, S. N. & Fischer, K. E. Sex differences in lifespan. Cell Metab. 23, 1022–1033 (2016).

7.

Fuente-Martín, E., Argente-Arizón, P., Ros, P., Argente, J. & Chowen, J. A. Sex differences in adipose tissue. Adipocyte 2, 128–134 (2013).

8.

Zhang, Y. et al. Transcriptional profiling of human liver identifies sex-biased genes associated with polygenic dyslipidemia and coronary artery disease. PLoS ONE 6, e23506 (2011).

9.

Sabolić, I. et al. Gender differences in kidney function. Pflugers Arch. 455, 397–429 (2007).

10.

Hood, S. & Amir, S. The aging clock: circadian rhythms and later life. J. Clin. Invest. 127, 437–446 (2017).

11.

Newman, A. M. et al. Determining cell type abundance and expression from bulk tissues with digital cytometry. Nat. Biotechnol. 37, 773–782 (2019).

12.

Kuk, J. L. et al. Visceral fat is an independent predictor of all-cause mortality in men. Obesity (Silver Spring) 14, 336–341 (2006).

13.

Shaffer, A. L. et al. XBP1, downstream of Blimp-1, expands the secretory apparatus and other organelles, and increases protein synthesis in plasma cell differentiation. Immunity 21, 81–93 (2004).

14.

Vadasz, Z., Haj, T., Kessel, A. & Toubi, E. Age-related autoimmunity. BMC Med. 11, 94 (2013).

15.

Conboy, I. M. et al. Rejuvenation of aged progenitor cells by exposure to a young systemic environment. Nature 433, 760–764 (2005).

16.

Villeda, S. A. et al. Young blood reverses age-related impairments in cognitive function and synaptic plasticity in mice. Nat. Med. 20, 659–663 (2014).

17.

Castellano, J. M. Blood-based therapies to combat aging. Gerontology 65, 84–89 (2019).

18.

Lehallier, B. et al. Undulating changes in human plasma proteome profiles across the lifespan. Nat. Med. 25, 1843–1850 (2019).

19.

Yousef, H. et al. Aged blood impairs hippocampal neural precursor activity and activates microglia via brain endothelial cell VCAM1. Nat. Med. 25, 988–1000 (2019).

20.

Graja, A. et al. Loss of periostin occurs in aging adipose tissue of mice and its genetic ablation impairs adipose tissue lipid metabolism. Aging Cell 17, e12810 (2018).

21.

Gan, K. J. & Südhof, T. C. Specific factors in blood from young but not old mice directly promote synapse formation and NMDA-receptor recruitment. Proc. Natl Acad. Sci. USA 116, 12524–12533 (2019).

22.

Mahmoudi, S., Xu, L. & Brunet, A. Turning back time with emerging rejuvenation strategies. Nat. Cell Biol. 21, 32–43 (2019).

23.

Picelli, S. et al. Full-length RNA-seq from single cells using Smart-seq2. Nat. Protoc. 9, 171–181 (2014).

24.

Picelli, S. et al. Tn5 transposase and tagmentation procedures for massively scaled sequencing projects. Genome Res. 24, 2033–2040 (2014).

25.

Hennig, B. P. et al. Large-scale low-cost NGS library preparation using a robust Tn5 purification and tagmentation protocol. G3 (Bethesda) 8, 79–89 (2018).

26.

Love, M. I., Huber, W. & Anders, S. Moderated estimation of fold change and dispersion for RNA-seq data with DESeq2. Genome Biol. 15, 550 (2014).

27.

Alexa, A. & Rahnenfuhrer, J. topGO: enrichment analysis for gene ontology (Bioconductor, 2016).

28.

Yu, G., Wang, L. G., Han, Y. & He, Q. Y. clusterProfiler: an R package for comparing biological themes among gene clusters. OMICS 16, 284–287 (2012).

29.

Carlson, M. org.Mm.eg.db: Genome wide annotation for Mouse (Bioconductor, 2017).

30.

Butler, A., Hoffman, P., Smibert, P., Papalexi, E. & Satija, R. Integrating single-cell transcriptomic data across different conditions, technologies, and species. Nat. Biotechnol. 36, 411–420 (2018).

31.

Hafemeister, C. & Satija, R. Normalization and variance stabilization of single-cell RNA-seq data using regularized negative binomial regression. Genome Biol. 20, 296 (2019).

32.

Zheng, G. X. Y. et al. Massively parallel digital transcriptional profiling of single cells. Nat. Commun. 8, 14049 (2017).

33.

Fox, J. & Weisberg, S. An R Companion to Applied Regression (Sage, 2011).

34.

Benjamini, Y. & Hochberg, Y. Controlling the false discovery rate: a practical and powerful approach to multiple testing. J. R. Stat. Soc. B 57, 289–300 (1995).

35.

Szklarczyk, D. et al. STRING v11: protein-protein association networks with increased coverage, supporting functional discovery in genome-wide experimental datasets. Nucleic Acids Res. 47, D607–D613 (2019).

36.

Wehrens, R. & Lutgarde, M. C. Buydens. "Self-and super-organizing maps in R: the Kohonen package. J. Stat. Softw. 21, 1–19 (2007).

37.

Paulson, J. N. et al. Tissue-aware RNA-seq processing and normalization for heterogeneous and sparse data. BMC Bioinformatics 18, 437 (2017).
Acknowledgements
We thank members of the Wyss-Coray laboratory for volunteering help during organ collection and processing: E. Berber, K. Brewer, B. Chang, J. Marschallinger, L. Bonanno, J. Sun, M. F. Lugo-Fagundo, A. Yang and M. W. McNerny. We also thank the members of the Wyss-Coray laboratory and the Chan-Zuckerberg Biohub for feedback and support, and H. Zhang and K. Dickey for laboratory management. This work was funded by the Department of Veterans Affairs (BX004599 to T.W.-C.), the National Institute on Aging (R01-AG045034 and DP1-AG053015 to T.W.-C.), the NOMIS Foundation (T.W.-C.), The Glenn Foundation for Medical Research (T.W.-C.) and the Wu Tsai Neurosciences Institute (T.W.-C.).
Ethics declarations
Competing interests
The authors declare no competing interests.
Additional information
Peer review information Nature thanks Fan Zhang and the other, anonymous, reviewer(s) for their contribution to the peer review of this work.
Extended data figures and tables
Supplementary information
About this article
Cite this article
Schaum, N., Lehallier, B., Hahn, O. et al. Ageing hallmarks exhibit organ-specific temporal signatures. Nature 583, 596–602 (2020). https://doi.org/10.1038/s41586-020-2499-y
Received:

Accepted:

Published:

Issue Date:
Comments
By submitting a comment you agree to abide by our Terms and Community Guidelines. If you find something abusive or that does not comply with our terms or guidelines please flag it as inappropriate.