Abstract
The primary structural component of the bacterial cell wall is peptidoglycan, which is essential for viability and the synthesis of which is the target for crucial antibiotics1,2. Peptidoglycan is a single macromolecule made of glycan chains crosslinked by peptide side branches that surrounds the cell, acting as a constraint to internal turgor1,3. In Gram-positive bacteria, peptidoglycan is tens of nanometres thick, generally portrayed as a homogeneous structure that provides mechanical strength4,5,6. Here we applied atomic force microscopy7,8,9,10,11,12 to interrogate the morphologically distinct Staphylococcus aureus and Bacillus subtilis species, using live cells and purified peptidoglycan. The mature surface of live cells is characterized by a landscape of large (up to 60 nm in diameter), deep (up to 23 nm) pores constituting a disordered gel of peptidoglycan. The inner peptidoglycan surface, consisting of more nascent material, is much denser, with glycan strand spacing typically less than 7 nm. The inner surface architecture is location dependent; the cylinder of B. subtilis has dense circumferential orientation, while in S. aureus and division septa for both species, peptidoglycan is dense but randomly oriented. Revealing the molecular architecture of the cell envelope frames our understanding of its mechanical properties and role as the environmental interface13,14, providing information complementary to traditional structural biology approaches.
Access options
Subscribe to Journal
Get full journal access for 1 year
$199.00
only $3.90 per issue
All prices are NET prices.
VAT will be added later in the checkout.
Tax calculation will be finalised during checkout.
Rent or Buy article
Get time limited or full article access on ReadCube.
from$8.99
All prices are NET prices.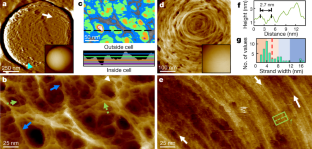 Code availability
The MATLAB code for determining glycan strand orientation can be found in Supplementary Information 2.
References
1.

Turner, R. D., Vollmer, W. & Foster, S. J. Different walls for rods and balls: the diversity of peptidoglycan. Mol. Microbiol. 91, 862–874 (2014).

2.

Vollmer, W. & Seligman, S. J. Architecture of peptidoglycan: more data and more models. Trends Microbiol. 18, 59–66 (2010).

3.

Rojas, E. R. et al. The outer membrane is an essential load-bearing element in Gram-negative bacteria. Nature 559, 617–621 (2018).

4.

Matias, V. R. F. & Beveridge, T. J. Native cell wall organization shown by cryo-electron microscopy confirms the existence of a periplasmic space in Staphylococcus aureus. J. Bacteriol. 188, 1011–1021 (2006).

5.

Beeby, M., Gumbart, J. C., Roux, B. & Jensen, G. J. Architecture and assembly of the Gram-positive cell wall. Mol. Microbiol. 88, 664–672 (2013).

6.

Misra, G., Rojas, E. R., Gopinathan, A. & Huang, K. C. Mechanical consequences of cell-wall turnover in the elongation of a Gram-positive bacterium. Biophys. J. 104, 2342–2352 (2013).

7.

Turner, R. D. et al. Peptidoglycan architecture can specify division planes in Staphylococcus aureus. Nat. Commun. 1, 26 (2010).

8.

Touhami, A., Jericho, M. H. & Beveridge, T. J. Atomic force microscopy of cell growth and division in Staphylococcus aureus. J. Bacteriol. 186, 3286–3295 (2004).

9.

Dover, R. S., Bitler, A., Shimoni, E., Trieu-Cuot, P. & Shai, Y. Multiparametric AFM reveals turgor-responsive net-like peptidoglycan architecture in live streptococci. Nat. Commun. 6, 7193 (2015).

10.

Andre, G. et al. Imaging the nanoscale organization of peptidoglycan in living Lactococcus lactis cells. Nat. Commun. 1, 27 (2010).

11.

Turner, R. D., Mesnage, S., Hobbs, J. K. & Foster, S. J. Molecular imaging of glycan chains couples cell-wall polysaccharide architecture to bacterial cell morphology. Nat. Commun. 9, 1263 (2018).

12.

Eskandarian, H. A. et al. Division site selection linked to inherited cell surface wave troughs in mycobacteria. Nat. Microbiol. 2, 17094 (2017).

13.

Zhou, X. et al. Bacterial division. Mechanical crack propagation drives millisecond daughter cell separation in Staphylococcus aureus. Science 348, 574–578 (2015).

14.

Green, E. R. & Mecsas, J. in Virulence Mechanisms of Bacterial Pathogens 5th edn (eds Kudva, I. T. et al.) 215–240 (ASM Press, 2016).

15.

Bailey, R. G. et al. The interplay between cell wall mechanical properties and the cell cycle in Staphylococcus aureus. Biophys. J. 107, 2538–2545 (2014).

16.

Weidenmaier, C. et al. Role of teichoic acids in Staphylococcus aureus nasal colonization, a major risk factor in nosocomial infections. Nat. Med. 10, 243–245 (2004).

17.

Matias, V. R. F. & Beveridge, T. J. Lipoteichoic acid is a major component of the Bacillus subtilis periplasm. J. Bacteriol. 190, 7414–7418 (2008).

18.

Kim, S. J., Chang, J. & Singh, M. Peptidoglycan architecture of Gram-positive bacteria by solid-state NMR. Biochim. Biophys. Acta 1848, 350–362 (2015).

19.

Wheeler, R. et al. Bacterial cell enlargement requires control of cell wall stiffness mediated by peptidoglycan hydrolases. mBio 6, e00660 (2015).

20.

Gan, L., Chen, S. & Jensen, G. J. Molecular organization of Gram-negative peptidoglycan. Proc. Natl Acad. Sci. USA 105, 18953–18957 (2008).

21.

Hayhurst, E. J., Kailas, L., Hobbs, J. K. & Foster, S. J. Cell wall peptidoglycan architecture in Bacillus subtilis. Proc. Natl Acad. Sci. USA 105, 14603–14608 (2008).

22.

Domínguez-Escobar, J. et al. Processive movement of MreB-associated cell wall biosynthetic complexes in bacteria. Science 333, 225–228 (2011).

23.

Garner, E. C. et al. Coupled, circumferential motions of the cell wall synthesis machinery and MreB filaments in B. subtilis. Science 333, 222–225 (2011).

24.

Dion, M. F. et al. Bacillus subtilis cell diameter is determined by the opposing actions of two distinct cell wall synthetic systems. Nat. Microbiol. 4, 1294–1305 (2019).

25.

Mitchell, P. & Moyle, J. Autolytic release and osmotic properties of protoplasts from Staphylococcus aureus. J. Gen. Microbiol. 16, 184–194 (1957).

26.

Daly, K. E., Huang, K. C., Wingreen, N. S. & Mukhopadhyay, R. Mechanics of membrane bulging during cell-wall disruption in Gram-negative bacteria. Phys. Rev. E Stat. Nonlin. Soft Matter Phys. 84, 041922 (2011).

27.

Bisson-Filho, A. W. et al. Treadmilling by FtsZ filaments drives peptidoglycan synthesis and bacterial cell division. Science 355, 739–743 (2017).

28.

Monteiro, J. M. et al. Peptidoglycan synthesis drives an FtsZ-treadmilling-independent step of cytokinesis. Nature 554, 528–532 (2018).

29.

Lund, V. A. et al. Molecular coordination of Staphylococcus aureus cell division. eLife 7, e32057 (2018).

30.

de Jong, I. G., Beilharz, K., Kuipers, O. P. & Veening, J. W. Live cell imaging of Bacillus subtilis and Streptococcus pneumoniae using automated time-lapse microscopy. J. Vis. Exp. 53, e3145 (2011).

31.

Schirner, K. & Errington, J. The cell wall regulator σI specifically suppresses the lethal phenotype of mbl mutants in Bacillus subtilis. J. Bacteriol. 191, 1404–1413 (2009).

32.

Turner, R. D., Foster, S. J. & Hobbs, J. K. in Bacterial Cell Wall Homeostasis: Methods and Protocols (ed. Hong, H. J.) 3–9 (Springer, 2016).

33.

Kailas, L. et al. Immobilizing live bacteria for AFM imaging of cellular processes. Ultramicroscopy 109, 775–780 (2009).

34.

Kumar, S. et al. Direct imaging of protein organization in an intact bacterial organelle using high-resolution atomic force microscopy. ACS Nano 11, 126–133 (2017).

35.

Su, C. Mapping quantitative mechanical properties at molecular scale using Peak Force Tapping AFM. Microsc. Microanal. 16, 364–365 (2010).

36.

Nečas, D. & Klapetek, P. Gwyddion: an open-source software for SPM data analysis. Cent. Eur. J. Phys. 10, 181–188 (2012).

37.

Kremer, J. R., Mastronarde, D. N. & McIntosh, J. R. Computer visualization of three-dimensional image data using IMOD. J. Struct. Biol. 116, 71–76 (1996).

38.

Schindelin, J. et al. Fiji: an open-source platform for biological-image analysis. Nat. Methods 9, 676–682 (2012).
Acknowledgements
This work was funded by the BBSRC (grant no. BB/L006162/1), the EPSRC (grant nos. EP/M027430/1 and EP/J500124/1), The Wellcome Trust (grant no. 212197/Z/19/Z), the MRC (MR/N002679/1) and the UKRI Strategic Priorities Fund (grant no. EP/T002778/1). J.B. thanks The White Rose University Consortium for his studentship. L.P.-L. thanks The Florey Institute for her studentship. We acknowledge J. Errington and A. Grundling for provision of bacterial strains, and J. Sutton for preparation of the pbp3 and pbp4 sacculus samples. Electron microscopy was performed in the CryoEM Facility of the University of Sheffield.
Ethics declarations
Competing interests
The authors declare no competing interests.
Additional information
Peer review information Nature thanks Cécile Berne, Yves Dufrêne, Jan-Willem Veening, Kevin D. Young and the other, anonymous, reviewer(s) for their contribution to the peer review of this work.
Publisher's note Springer Nature remains neutral with regard to jurisdictional claims in published maps and institutional affiliations.
Extended data figures and tables
Supplementary information
This file contains: 1, legend for Video showing a tomogram of a purified frozen hydrated S. aureus sacculus; 2, MATLAB code for obtaining peptidoglycan strand orientation; and 3, Estimation of the critical pore size to maintain plasma membrane integrity.
Video showing a tomogram of a purified frozen hydrated S. aureus sacculus. (Seconds 0 to 4) The video "Video_SI1.mp4" shows the tomogram from the bottom to the top. There is a first stopping point which corresponds to where image ED6b was extracted from and then a second stopping point which corresponding to ED6a. Each slice shown on the tomogram correspond to 1.3 nm. Images ED6a-d correspond to 10 slices thick, which means they represent 13 nm of the tomogram. (Seconds 4 to 7) Later on in the video, the slices are shown from top to bottom, with an isosurface (in green) manually drawn showing the outline of the sacculus.
About this article
Cite this article
Pasquina-Lemonche, L., Burns, J., Turner, R.D. et al. The architecture of the Gram-positive bacterial cell wall. Nature 582, 294–297 (2020). https://doi.org/10.1038/s41586-020-2236-6
Received:

Accepted:

Published:

Issue Date:
Comments
By submitting a comment you agree to abide by our Terms and Community Guidelines. If you find something abusive or that does not comply with our terms or guidelines please flag it as inappropriate.