Abstract
Recognition of microbe-associated molecular patterns (MAMPs) by pattern recognition receptors (PRRs) triggers the first line of inducible defence against invading pathogens1,2,3. Receptor-like cytoplasmic kinases (RLCKs) are convergent regulators that associate with multiple PRRs in plants4. The mechanisms that underlie the activation of RLCKs are unclear. Here we show that when MAMPs are detected, the RLCK BOTRYTIS-INDUCED KINASE 1 (BIK1) is monoubiquitinated following phosphorylation, then released from the flagellin receptor FLAGELLIN SENSING 2 (FLS2)–BRASSINOSTEROID INSENSITIVE 1-ASSOCIATED KINASE 1 (BAK1) complex, and internalized dynamically into endocytic compartments. The Arabidopsis E3 ubiquitin ligases RING-H2 FINGER A3A (RHA3A) and RHA3B mediate the monoubiquitination of BIK1, which is essential for the subsequent release of BIK1 from the FLS2–BAK1 complex and activation of immune signalling. Ligand-induced monoubiquitination and endosomal puncta of BIK1 exhibit spatial and temporal dynamics that are distinct from those of the PRR FLS2. Our study reveals the intertwined regulation of PRR–RLCK complex activation by protein phosphorylation and ubiquitination, and shows that ligand-induced monoubiquitination contributes to the release of BIK1 family RLCKs from the PRR complex and activation of PRR signalling.
Relevant articles
Open Access articles citing this article.
Xiangxiu Liang

&

Jie Zhang

Stress Biology Open Access 29 June 2022

Vincent P. Klink

,

Nadim W. Alkharouf

…

Brant T. McNeece

Transgenic Research Open Access 28 June 2022

Danlu Han

,

Zhibo Yu

…

Chengwei Yang

aBIOTECH Open Access 15 February 2022
Access options
Subscribe to Nature+
Get immediate online access to the entire Nature family of 50+ journals
Subscribe to Journal
Get full journal access for 1 year
$199.00
only $3.90 per issue
All prices are NET prices.
VAT will be added later in the checkout.
Tax calculation will be finalised during checkout.
Buy article
Get time limited or full article access on ReadCube.
$32.00
All prices are NET prices.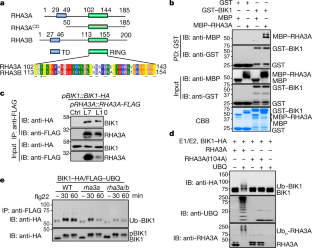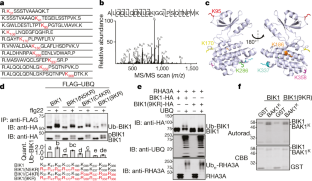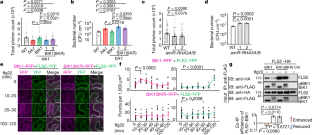 Data availability
The data supporting the findings of this study are available within the paper and its Supplementary Information files. Source Data (gels and graphs) for Figs. 1–4 and Extended Data Figs. 1–10 are provided with the paper.
References
Couto, D. & Zipfel, C. Regulation of pattern recognition receptor signalling in plants. Nat. Rev. Immunol. 16, 537–552 (2016).

Yu, X., Feng, B., He, P. & Shan, L. From chaos to harmony: responses and signaling upon microbial pattern recognition. Annu. Rev. Phytopathol. 55, 109–137 (2017).

Spoel, S. H. & Dong, X. How do plants achieve immunity? Defence without specialized immune cells. Nat. Rev. Immunol. 12, 89–100 (2012).

Liang, X. & Zhou, J. M. Receptor-like cytoplasmic kinases: central players in plant receptor kinase-mediated signaling. Annu. Rev. Plant Biol. 69, 267–299 (2018).

Lu, D. et al. A receptor-like cytoplasmic kinase, BIK1, associates with a flagellin receptor complex to initiate plant innate immunity. Proc. Natl Acad. Sci. USA 107, 496–501 (2010).

Zhang, J. et al. Receptor-like cytoplasmic kinases integrate signaling from multiple plant immune receptors and are targeted by a Pseudomonas syringae effector. Cell Host Microbe 7, 290–301 (2010).

Lin, W. et al. Tyrosine phosphorylation of protein kinase complex BAK1/BIK1 mediates Arabidopsis innate immunity. Proc. Natl Acad. Sci. USA 111, 3632–3637 (2014).

Li, L. et al. The FLS2-associated kinase BIK1 directly phosphorylates the NADPH oxidase RbohD to control plant immunity. Cell Host Microbe 15, 329–338 (2014).

Kadota, Y. et al. Direct regulation of the NADPH oxidase RBOHD by the PRR-associated kinase BIK1 during plant immunity. Mol. Cell 54, 43–55 (2014).

Tian, W. et al. A calmodulin-gated calcium channel links pathogen patterns to plant immunity. Nature 572, 131–135 (2019).

Smith, J. M. et al. Loss of Arabidopsis thaliana Dynamin-Related Protein 2B reveals separation of innate immune signaling pathways. PLoS Pathog. 10, e1004578 (2014).

Beck, M., Zhou, J., Faulkner, C., MacLean, D. & Robatzek, S. Spatio-temporal cellular dynamics of the Arabidopsis flagellin receptor reveal activation status-dependent endosomal sorting. Plant Cell 24, 4205–4219 (2012).

Robatzek, S., Chinchilla, D. & Boller, T. Ligand-induced endocytosis of the pattern recognition receptor FLS2 in Arabidopsis. Genes Dev. 20, 537–542 (2006).

Smith, J. M., Salamango, D. J., Leslie, M. E., Collins, C. A. & Heese, A. Sensitivity to Flg22 is modulated by ligand-induced degradation and de novo synthesis of the endogenous flagellin-receptor FLAGELLIN-SENSING2. Plant Physiol. 164, 440–454 (2014).

Lu, D. et al. Direct ubiquitination of pattern recognition receptor FLS2 attenuates plant innate immunity. Science 332, 1439–1442 (2011).

Zhou, J. et al. The dominant negative ARM domain uncovers multiple functions of PUB13 in Arabidopsis immunity, flowering, and senescence. J. Exp. Bot. 66, 3353–3366 (2015).

Zhou, J. et al. Regulation of Arabidopsis brassinosteroid receptor BRI1 endocytosis and degradation by plant U-box PUB12/PUB13-mediated ubiquitination. Proc. Natl Acad. Sci. USA 115, E1906–E1915 (2018).

Li, J. F., Zhang, D. & Sheen, J. Epitope-tagged protein-based artificial miRNA screens for optimized gene silencing in plants. Nat. Protocols 9, 939–949 (2014).

Lal, N. K. et al. The receptor-like cytoplasmic kinase BIK1 localizes to the nucleus and regulates defense hormone expression during plant innate immunity. Cell Host Microbe 23, 485–497.e485 (2018).

Ueda, T., Yamaguchi, M., Uchimiya, H. & Nakano, A. Ara6, a plant-unique novel type Rab GTPase, functions in the endocytic pathway of Arabidopsis thaliana. EMBO J. 20, 4730–4741 (2001).

Lin, W. et al. Inverse modulation of plant immune and brassinosteroid signaling pathways by the receptor-like cytoplasmic kinase BIK1. Proc. Natl Acad. Sci. USA 110, 12114–12119 (2013).

Lin, W., Ma, X., Shan, L. & He, P. Big roles of small kinases: the complex functions of receptor-like cytoplasmic kinases in plant immunity and development. J. Integr. Plant Biol. 55, 1188–1197 (2013).

Wang, J. et al. A regulatory module controlling homeostasis of a plant immune kinase. Mol. Cell 69, 493–504.e496 (2018).

Zhou, B. & Zeng, L. Conventional and unconventional ubiquitination in plant immunity. Mol. Plant Pathol. 18, 1313–1330 (2017).

Wang, Z. P. et al. Egg cell-specific promoter-controlled CRISPR/Cas9 efficiently generates homozygous mutants for multiple target genes in Arabidopsis in a single generation. Genome Biol. 16, 144 (2015).

Tao, K., Waletich, J. R., Arredondo, F. & Tyler, B. M. Manipulating endoplasmic reticulum-plasma membrane tethering in plants through fluorescent protein complementation. Front. Plant Sci. 10, 635 (2019).

He, P., Shan, L. & Sheen, J. The use of protoplasts to study innate immune responses. Methods Mol. Biol. 354, 1–9 (2007).

Zhou, J., He, P. & Shan, L. Ubiquitination of plant immune receptors. Methods Mol. Biol. 1209, 219–231 (2014).

Hospenthal, M. K., Mevissen, T. E. T. & Komander, D. Deubiquitinase-based analysis of ubiquitin chain architecture using Ubiquitin Chain Restriction (UbiCRest). Nat. Protocols 10, 349–361 (2015).

Xu, P. et al. Quantitative proteomics reveals the function of unconventional ubiquitin chains in proteasomal degradation. Cell 137, 133–145 (2009).

Leslie, M. E. & Heese, A. Quantitative analysis of ligand-induced endocytosis of FLAGELLIN-SENSING 2 using automated image segmentation. Methods Mol. Biol. 1578, 39–54 (2017).

Boruc, J. et al. Functional modules in the Arabidopsis core cell cycle binary protein-protein interaction network. Plant Cell 22, 1264–1280 (2010).
Acknowledgements
We thank Q. Chen for the CRISPR–Cas9 system, J. Li and J. Sheen for the amiRNA system, P. de Figueiredo for mouse cDNA, and T. Devarenne, M. Dickman, C. Kaplan, T. Igumenova, J. Sheen,  and the members of the Shan and He laboratories for discussion and comments on this work. The work was supported by NIH (R01GM097247) and the Robert A. Welch foundation (A-1795) to L.S., National Science Foundation (NSF) (MCB-1906060) and NIH (R01GM092893) to P.H., NSF (IOS-1147032) to A.H., the Special Research Fund (BOF15/24J/048) to E.R., and NIH (R01GM114260) to J.P.
Ethics declarations
Competing interests
The authors declare no competing interests.
Additional information
Publisher's note Springer Nature remains neutral with regard to jurisdictional claims in published maps and institutional affiliations.
Extended data figures and tables
Supplementary information
This file contains Supplementary Figure 1, the uncropped blots, and Supplementary Table 1, a list of primers used in the study.
About this article
Cite this article
Ma, X., Claus, L.A.N., Leslie, M.E. et al. Ligand-induced monoubiquitination of BIK1 regulates plant immunity. Nature 581, 199–203 (2020). https://doi.org/10.1038/s41586-020-2210-3
Received:

Accepted:

Published:

Issue Date:

DOI: https://doi.org/10.1038/s41586-020-2210-3
Comments
By submitting a comment you agree to abide by our Terms and Community Guidelines. If you find something abusive or that does not comply with our terms or guidelines please flag it as inappropriate.