Abstract
From rock salt to nanoparticle superlattices, complex structure can emerge from simple building blocks that attract each other through Coulombic forces1,2,3,4. On the micrometre scale, however, colloids in water defy the intuitively simple idea of forming crystals from oppositely charged partners, instead forming non-equilibrium structures such as clusters and gels5,6,7. Although various systems have been engineered to grow binary crystals8,9,10,11, native surface charge in aqueous conditions has not been used to assemble crystalline materials. Here we form ionic colloidal crystals in water through an approach that we refer to as polymer-attenuated Coulombic self-assembly. The key to crystallization is the use of a neutral polymer to keep particles separated by well defined distances, allowing us to tune the attractive overlap of electrical double layers, directing particles to disperse, crystallize or become permanently fixed on demand. The nucleation and growth of macroscopic single crystals is demonstrated by using the Debye screening length to fine-tune assembly. Using a variety of colloidal particles and commercial polymers, ionic colloidal crystals isostructural to caesium chloride, sodium chloride, aluminium diboride and K4C60 are selected according to particle size ratios. Once fixed by simply diluting out solution salts, crystals are pulled out of the water for further manipulation, demonstrating an accurate translation from solution-phase assembly to dried solid structures. In contrast to other assembly approaches, in which particles must be carefully engineered to encode binding information12,13,14,15,16,17,18, polymer-attenuated Coulombic self-assembly enables conventional colloids to be used as model colloidal ions, primed for crystallization.
Access options
Subscribe to Journal
Get full journal access for 1 year
$199.00
only $3.90 per issue
All prices are NET prices.
VAT will be added later in the checkout.
Rent or Buy article
Get time limited or full article access on ReadCube.
from$8.99
All prices are NET prices.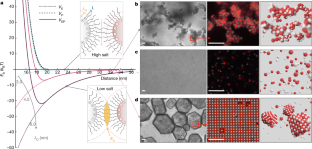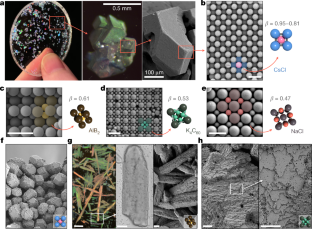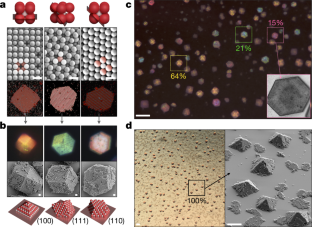 Data availability
The data that support the findings of this study are available from the corresponding author on request.
References
1.

Pauling, L. The principles determining the structure of complex ionic crystals. J. Am. Chem. Soc. 51, 1010–1026 (1929).

2.

Shevchenko, E. V. et al. Structural diversity in binary nanoparticle superlattices. Nature 439, 55–59 (2006).

3.

Kalsin, A. M. et al. Electrostatic self-assembly of binary nanoparticle crystals with a diamond-like lattice. Science 312, 420–424 (2006).

4.

Grzybowski, B. A. et al. Electrostatic self-assembly of macroscopic crystals using contact electrification. Nat. Mater. 2, 241–245 (2003).

5.

Go, D. et al. Programmable co-assembly of oppositely charged microgels. Soft Matter 10, 8060–8065 (2014).

6.

Månsson, L. K. et al. Preparation of colloidal molecules with temperature-tunable interactions from oppositely charged microgel spheres. Soft Matter 15, 8512–8524 (2019).

7.

Mihut, A. M. et al. Assembling oppositely charged lock and key responsive colloids: a mesoscale analog of adaptive chemistry. Sci. Adv. 3, e1700321 (2017).

8.

Wang, Y. et al. Crystallization of DNA-coated colloids. Nat. Commun. 6, 7253 (2015).

9.

Leunissen, M. E. et al. Ionic colloidal crystals of oppositely charged particles. Nature 437, 235–240 (2005).

10.

Bartlett, P. & Campbell, A. I. Three-dimensional binary superlattices of oppositely charged colloids. Phys. Rev. Lett. 95, 128302 (2005).

11.

Bartlett, P., Ottewill, R. H. & Pusey, P. N. Superlattice formation in binary-mixtures of hard-sphere colloids. Phys. Rev. Lett. 68, 3801–3804 (1992).

12.

Pusey, P. N. & Vanmegen, W. Phase-behavior of concentrated suspensions of nearly hard colloidal spheres. Nature 320, 340–342 (1986).

13.

Sacanna, S. et al. Lock and key colloids. Nature 464, 575–578 (2010).

14.

de Nijs, B. et al. Entropy-driven formation of large icosahedral colloidal clusters by spherical confinement. Nat. Mater. 14, 56–60 (2015).

15.

Harper, E. S., van Anders, G. & Glotzer, S. C. The entropic bond in colloidal crystals. Proc. Natl Acad. Sci. USA 116, 16703–16710 (2019).

16.

Nykypanchuk, D. et al. DNA-guided crystallization of colloidal nanoparticles. Nature 451, 549–552 (2008).

17.

Wang, Y. F. et al. Patchy particle self-assembly via metal coordination. J. Am. Chem. Soc. 135, 14064–14067 (2013).

18.

Rogers, W. B., Shih, W. M. & Manoharan, V. N. Using DNA to program the self-assembly of colloidal nanoparticles and microparticles. Nat. Rev. Mater. 1, 16008 (2016).

19.

Hunter, R. J. Foundations of Colloid Science 2nd edn (Oxford Univ. Press, 2001).

20.

Milner, S. T., Witten, T. A. & Cates, M. E. Theory of the grafted polymer brush. Macromolecules 21, 2610–2619 (1988).

21.

Vutukuri, H. R. et al. Bonding assembled colloids without loss of colloidal stability. Adv. Mater. 24, 412–416 (2012).

22.

McGinley, J. T. et al. Crystal-templated colloidal clusters exhibit directional DNA interactions. ACS Nano 9, 10817–10825 (2015).

23.

Seo, S. E. et al. Non-equilibrium anisotropic colloidal single crystal growth with DNA. Nat. Commun. 9, 4558 (2018).

24.

Alexander, S. Polymer adsorption on small spheres—scaling approach. J. Phys. (Paris) 38, 977–981 (1977).

25.

Gennes, P. G. D. Stabilité de films polymère/solvant. C. R. Acad. Sci. II 300, 839–843 (1985).

26.

Kleshchanok, D., Tuinier, R. & Lang, P. R. Direct measurements of polymer-induced forces. J. Phys. Condens. Matter 20, 073101 (2008).

27.

Barnes, T. J. & Prestidge, C. A. PEO–PPO–PEO block copolymers at the emulsion droplet–water interface. Langmuir 16, 4116–4121 (2000).

28.

Stenkamp, V. S. & Berg, J. C. The role of long tails in steric stabilization and hydrodynamic layer thickness. Langmuir 13, 3827–3832 (1997).

29.

Kim, A. J., Manoharan, V. N. & Crocker, J. C. Swelling-based method for preparing stable, functionalized polymer colloids. J. Am. Chem. Soc. 127, 1592–1593 (2005).

30.

Glaser, J. et al. Strong scaling of general-purpose molecular dynamics simulations on GPUs. Comput. Phys. Commun. 192, 97–107 (2015).
Acknowledgements
This work was supported primarily by the NSF CAREER award DMR-1653465. We are grateful for shared facilities provided through the Materials Research Science and Engineering Center (MRSEC) and MRI programmes of the National Science Foundation under award numbers DMR-1420073 and DMR-0923251. Computational resources were provided by New York University High Performance Computing. J.P. thanks the Sloan Foundation for support through grant FG-2017-9392 and the National Science Foundation under grant number DMR-1554724. We thank H. Kanwal for assistance in self-assembly experiments and H. Chun for comments on the manuscript and discussions.
Ethics declarations
Competing interests
The authors declare no competing interests.
Additional information
Publisher's note Springer Nature remains neutral with regard to jurisdictional claims in published maps and institutional affiliations.
Extended data figures and tables
Supplementary information
About this article
Cite this article
Hueckel, T., Hocky, G.M., Palacci, J. et al. Ionic solids from common colloids. Nature 580, 487–490 (2020). https://doi.org/10.1038/s41586-020-2205-0
Received:

Accepted:

Published:

Issue Date:
Comments
By submitting a comment you agree to abide by our Terms and Community Guidelines. If you find something abusive or that does not comply with our terms or guidelines please flag it as inappropriate.