Abstract
Intestinal health relies on the immunosuppressive activity of CD4+ regulatory T (Treg) cells1. Expression of the transcription factor Foxp3 defines this lineage, and can be induced extrathymically by dietary or commensal-derived antigens in a process assisted by a Foxp3 enhancer known as conserved non-coding sequence 1 (CNS1)2,3,4. Products of microbial fermentation including butyrate facilitate the generation of peripherally induced Treg (pTreg) cells5,6,7, indicating that metabolites shape the composition of the colonic immune cell population. In addition to dietary components, bacteria modify host-derived molecules, generating a number of biologically active substances. This is epitomized by the bacterial transformation of bile acids, which creates a complex pool of steroids8 with a range of physiological functions9. Here we screened the major species of deconjugated bile acids for their ability to potentiate the differentiation of pTreg cells. We found that the secondary bile acid 3β-hydroxydeoxycholic acid (isoDCA) increased Foxp3 induction by acting on dendritic cells (DCs) to diminish their immunostimulatory properties. Ablating one receptor, the farnesoid X receptor, in DCs enhanced the generation of Treg cells and imposed a transcriptional profile similar to that induced by isoDCA, suggesting an interaction between this bile acid and nuclear receptor. To investigate isoDCA in vivo, we took a synthetic biology approach and designed minimal microbial consortia containing engineered Bacteroides strains. IsoDCA-producing consortia increased the number of colonic RORγt-expressing Treg cells in a CNS1-dependent manner, suggesting enhanced extrathymic differentiation.
This is a preview of subscription content
Access options
Subscribe to Journal
Get full journal access for 1 year
$199.00
only $3.90 per issue
All prices are NET prices.
VAT will be added later in the checkout.
Tax calculation will be finalised during checkout.
Rent or Buy article
Get time limited or full article access on ReadCube.
from$8.99
All prices are NET prices.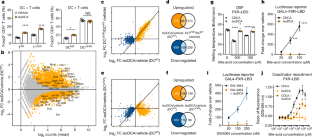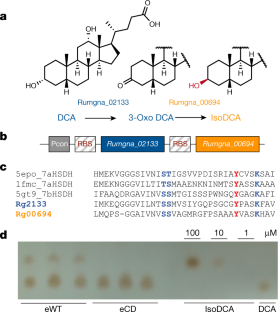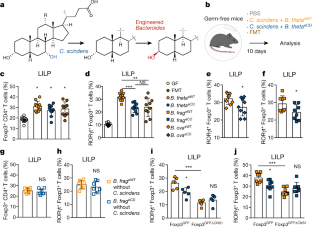 Data availability
RNA-sequencing and 16S amplicon sequencing data are available under BioProject (https://www.ncbi.nlm.nih.gov/bioproject/) identification codes PRJNA600898 and PRJNA600979. Source data for Figs. 1–4 and Extended Data Figs. 1–8 are available as .xsl tables with the paper. Other relevant data are available from the corresponding authors upon reasonable request.
References
1.

Josefowicz, S. Z. et al. Extrathymically generated regulatory T cells control mucosal TH2 inflammation. Nature 482, 395–399 (2012).

2.

Zheng, Y. et al. Role of conserved non-coding DNA elements in the Foxp3 gene in regulatory T-cell fate. Nature 463, 808–812 (2010).

3.

Nutsch, K. et al. Rapid and efficient generation of regulatory T cells to commensal antigens in the periphery. Cell Rep. 17, 206–220 (2016).

4.

Kim, K. S. et al. Dietary antigens limit mucosal immunity by inducing regulatory T cells in the small intestine. Science 351, 858–863 (2016).

5.

Arpaia, N. et al. Metabolites produced by commensal bacteria promote peripheral regulatory T-cell generation. Nature 504, 451–455 (2013).

6.

Furusawa, Y. et al. Commensal microbe-derived butyrate induces the differentiation of colonic regulatory T cells. Nature 504, 446–450 (2013).

7.

Smith, P. M. et al. The microbial metabolites, short-chain fatty acids, regulate colonic Treg cell homeostasis. Science 341, 569–573 (2013).

8.

Ridlon, J. M., Kang, D. J. & Hylemon, P. B. Bile salt biotransformations by human intestinal bacteria. J. Lipid Res. 47, 241–259 (2006).

9.

Ridlon, J. M., Harris, S. C., Bhowmik, S., Kang, D. J. & Hylemon, P. B. Consequences of bile salt biotransformations by intestinal bacteria. Gut Microbes 7, 22–39 (2016).

10.

Wahlström, A., Sayin, S. I., Marschall, H. U. & Bäckhed, F. Intestinal crosstalk between bile acids and microbiota and its impact on host metabolism. Cell Metab. 24, 41–50 (2016).

11.

Devlin, A. S. & Fischbach, M. A. A biosynthetic pathway for a prominent class of microbiota-derived bile acids. Nat. Chem. Biol. 11, 685–690 (2015).

12.

Eyssen, H., De Pauw, G., Stragier, J. & Verhulst, A. Cooperative formation of omega-muricholic acid by intestinal microorganisms. Appl. Environ. Microbiol. 45, 141–147 (1983).

13.

Eyssen, H. J., De Pauw, G. & Van Eldere, J. Formation of hyodeoxycholic acid from muricholic acid and hyocholic acid by an unidentified gram-positive rod termed HDCA-1 isolated from rat intestinal microflora. Appl. Environ. Microbiol. 65, 3158–3163 (1999).

14.

Hamilton, J. P. et al. Human cecal bile acids: concentration and spectrum. Am. J. Physiol. Gastrointest. Liver Physiol. 293, G256–G263 (2007).

15.

Hofmann, A. F. & Small, D. M. Detergent properties of bile salts: correlation with physiological function. Annu. Rev. Med. 18, 333–376 (1967).

16.

Kretschmer, K. et al. Inducing and expanding regulatory T cell populations by foreign antigen. Nat. Immunol. 6, 1219–1227 (2005).

17.

Haxhinasto, S., Mathis, D. & Benoist, C. The AKT-mTOR axis regulates de novo differentiation of CD4+Foxp3+ cells. J. Exp. Med. 205, 565–574 (2008).

18.

Hang, S. et al. Bile acid metabolites control TH17 and Treg cell differentiation. Nature 576, 143–148 (2019).

19.

Song, X. et al. Microbial bile acid metabolites modulate gut RORγ+ regulatory T cell homeostasis. Nature 577, 410–415 (2020).

20.

Sefik, E. et al. Individual intestinal symbionts induce a distinct population of RORγ+ regulatory T cells. Science 349, 993–997 (2015).

21.

Ohnmacht, C. et al. The microbiota regulates type 2 immunity through RORγt+ T cells. Science 349, 989–993 (2015).

22.

Parks, D. J. et al. Bile acids: natural ligands for an orphan nuclear receptor. Science 284, 1365–1368 (1999).

23.

Campbell, C. et al. Extrathymically generated regulatory T cells establish a niche for intestinal border-dwelling bacteria and affect physiologic metabolite balance. Immunity 48, 1245–1257 (2018).

24.

White, J. et al. Two better cell lines for making hybridomas expressing specific T cell receptors. J. Immunol. 143, 1822–1825 (1989).

25.

Hooijberg, E., Bakker, A. Q., Ruizendaal, J. J. & Spits, H. NFAT-controlled expression of GFP permits visualization and isolation of antigen-stimulated primary human T cells. Blood 96, 459–466 (2000).

26.

Dobin, A. et al. STAR: ultrafast universal RNA-seq aligner. Bioinformatics 29, 15–21 (2013).

27.

Anders, S., Pyl, P. T. & Huber, W. HTSeq—a Python framework to work with high-throughput sequencing data. Bioinformatics 31, 166–169 (2015).

28.

Love, M. I., Huber, W. & Anders, S. Moderated estimation of fold change and dispersion for RNA-seq data with DESeq2. Genome Biol. 15, 550 (2014).

29.

Schmidt, J. et al. NSAIDs ibuprofen, indometacin, and diclofenac do not interact with farnesoid X receptor. Sci. Rep. 5, 14782 (2015).

30.

Caporaso, J. G. et al. Global patterns of 16S rRNA diversity at a depth of millions of sequences per sample. Proc. Natl Acad. Sci. USA 108 (Suppl 1), 4516–4522 (2011).

31.

Edgar, R. C. Search and clustering orders of magnitude faster than BLAST. Bioinformatics 26, 2460–2461 (2010).

32.

Edgar, R. C. SINTAX: a simple non-Bayesian taxonomy classifier for 16S and ITS sequences. bioRxiv https://doi.org/10.1101/074161 (2016).

33.

Cole, J. R. et al. Ribosomal Database Project: data and tools for high throughput rRNA analysis. Nucleic Acids Res. 42, D633–D642 (2014).

34.

Whitaker, W. R., Shepherd, E. S. & Sonnenburg, J. L. Tunable expression tools enable single-cell strain distinction in the gut microbiome. Cell 169, 538–546 (2017).
Acknowledgements
We thank F. Gonzalez (National Institutes of Health, NIH) for providing Nr1h4fl mice and F. Geissmann (MSKCC) for Csf1rcre mice. We thank J. Sonnenburg (Stanford University) for providing genetic tools to engineer B. theta. We thank S.-E. Brown, M. Rosenthal, T. Nguyen and P. Gonzales (Boehringer Ingelheim) and R. Pinedo (Weill Cornell Medical College) for assistance with germ-free mice. We thank O. Ouerfelli and the staff at the Organic Synthesis core at MSKCC for producing 6-oxoMCA. We thank A. Pickard (MKSCC) for assistance with metabolomic data analyses. We thank E. D. D'Andrea (University of Arizona) for assistance with DSF experiments. We thank J. van der Veeken for discussion of gene-expression data and all other members of the Rudensky laboratory for suggestions and technical assistance. This study was supported by NIH grant R37, the Ludwig Institute for Cancer Research, the Hilton Foundation, and Research Beyond Borders at Boehringer Ingelheim. W.G. and C.J.G were supported by NIH grant 1DP2HD101401-01. A.Y.R is an investigator with the Howard Hughes Medical Institute.
Ethics declarations
Competing interests
An invention disclosure has been filed based on the data generated in this study. P.T.M. and A.Y.R. received funding from Boehringer Ingelheim. A.Y.R. is a co-founder and member of the scientific advisory board of, and holds stock options in, Vedanta Biosciences. P.T.M. receives licensing royalties from Seres Therapeutics and is a co-inventor on patent applications US20170087196A1, US20180256653A1 and WO2018195467A1.
Additional information
Peer review information Nature thanks Richard Steven Blumberg and the other, anonymous, reviewer(s) for their contribution to the peer review of this work.
Publisher's note Springer Nature remains neutral with regard to jurisdictional claims in published maps and institutional affiliations.
Extended data figures and tables
About this article
Cite this article
Campbell, C., McKenney, P.T., Konstantinovsky, D. et al. Bacterial metabolism of bile acids promotes generation of peripheral regulatory T cells. Nature 581, 475–479 (2020). https://doi.org/10.1038/s41586-020-2193-0
Received:

Accepted:

Published:

Issue Date:
Comments
By submitting a comment you agree to abide by our Terms and Community Guidelines. If you find something abusive or that does not comply with our terms or guidelines please flag it as inappropriate.