Abstract
The neurotransmitter dopamine is required for the reinforcement of actions by rewarding stimuli1. Neuroscientists have tried to define the functions of dopamine in concise conceptual terms2, but the practical implications of dopamine release depend on its diverse brain-wide consequences. Although molecular and cellular effects of dopaminergic signalling have been extensively studied3, the effects of dopamine on larger-scale neural activity profiles are less well-understood. Here we combine dynamic dopamine-sensitive molecular imaging4 and functional magnetic resonance imaging to determine how striatal dopamine release shapes local and global responses to rewarding stimulation in rat brains. We find that dopamine consistently alters the duration, but not the magnitude, of stimulus responses across much of the striatum, via quantifiable postsynaptic effects that vary across subregions. Striatal dopamine release also potentiates a network of distal responses, which we delineate using neurochemically dependent functional connectivity analyses. Hot spots of dopaminergic drive notably include cortical regions that are associated with both limbic and motor function. Our results reveal distinct neuromodulatory actions of striatal dopamine that extend well beyond its sites of peak release, and that result in enhanced activation of remote neural populations necessary for the performance of motivated actions. Our findings also suggest brain-wide biomarkers of dopaminergic function and could provide a basis for the improved interpretation of neuroimaging results that are relevant to learning and addiction.
Relevant articles
Open Access articles citing this article.
Ranjithkumar Chellian

,

Azin Behnood-Rod

…

Adriaan W. Bruijnzeel

Scientific Reports Open Access 19 August 2022

Ilhan Bok

,

Ido Haber

…

Aviad Hai

Scientific Reports Open Access 19 May 2022

Marija Markicevic

,

Iurii Savvateev

…

Valerio Zerbi

Translational Psychiatry Open Access 04 September 2021
Access options
Subscribe to Nature+
Get immediate online access to the entire Nature family of 50+ journals
Subscribe to Journal
Get full journal access for 1 year
$199.00
only $3.90 per issue
All prices are NET prices.
VAT will be added later in the checkout.
Tax calculation will be finalised during checkout.
Buy article
Get time limited or full article access on ReadCube.
$32.00
All prices are NET prices.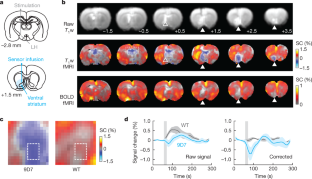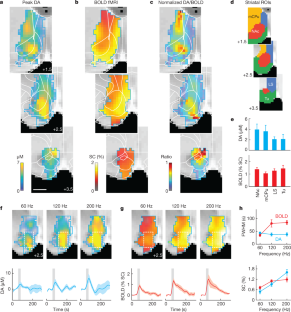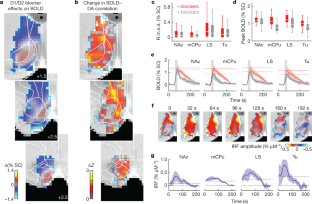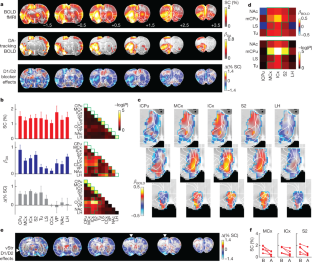 Code availability
Custom code is available from the corresponding author upon reasonable request.
References
Wise, R. A. Dopamine, learning and motivation. Nat. Rev. Neurosci. 5, 483–494 (2004).

Berke, J. D. What does dopamine mean? Nat. Neurosci. 21, 787–793 (2018).

Bamford, N. S., Wightman, R. M. & Sulzer, D. Dopamine's effects on corticostriatal synapses during reward-based behaviors. Neuron 97, 494–510 (2018).

Lee, T., Cai, L. X., Lelyveld, V. S., Hai, A. & Jasanoff, A. Molecular-level functional magnetic resonance imaging of dopaminergic signaling. Science 344, 533–535 (2014).

Olds, J. & Milner, P. Positive reinforcement produced by electrical stimulation of septal area and other regions of rat brain. J. Comp. Physiol. Psychol. 47, 419–427 (1954).

Brustad, E. M. et al. Structure-guided directed evolution of highly selective p450-based magnetic resonance imaging sensors for dopamine and serotonin. J. Mol. Biol. 422, 245–262 (2012).

Kundu, P. et al. Integrated strategy for improving functional connectivity mapping using multiecho fMRI. Proc. Natl Acad. Sci. USA 110, 16187–16192 (2013).

Shapiro, M. G. et al. Directed evolution of a magnetic resonance imaging contrast agent for noninvasive imaging of dopamine. Nat. Biotechnol. 28, 264–270 (2010).

Krautwald, K., Min, H. K., Lee, K. H. & Angenstein, F. Synchronized electrical stimulation of the rat medial forebrain bundle and perforant pathway generates an additive BOLD response in the nucleus accumbens and prefrontal cortex. Neuroimage 77, 14–25 (2013).

Fiallos, A. M. et al. Reward magnitude tracking by neural populations in ventral striatum. Neuroimage 146, 1003–1015 (2017).

O'Doherty, J. P., Dayan, P., Friston, K., Critchley, H. & Dolan, R. J. Temporal difference models and reward-related learning in the human brain. Neuron 38, 329–337 (2003).

Brocka, M. et al. Contributions of dopaminergic and non-dopaminergic neurons to VTA-stimulation induced neurovascular responses in brain reward circuits. Neuroimage 177, 88–97 (2018).

Logothetis, N. K. The neural basis of the blood-oxygen-level-dependent functional magnetic resonance imaging signal. Phil. Trans. R. Soc. Lond. B 357, 1003–1037 (2002).

Mandeville, J. B. et al. A receptor-based model for dopamine-induced fMRI signal. Neuroimage 75, 46–57 (2013).

Boja, J. W. et al. High-affinity binding of [125I]RTI-55 to dopamine and serotonin transporters in rat brain. Synapse 12, 27–36 (1992).

Freed, C. et al. Dopamine transporter immunoreactivity in rat brain. J. Comp. Neurol. 359, 340–349 (1995).

Kapogiannis, D., Campion, P., Grafman, J. & Wassermann, E. M. Reward-related activity in the human motor cortex. Eur. J. Neurosci. 27, 1836–1842 (2008).

Naqvi, N. H. & Bechara, A. The hidden island of addiction: the insula. Trends Neurosci. 32, 56–67 (2009).

Arsenault, J. T., Nelissen, K., Jarraya, B. & Vanduffel, W. Dopaminergic reward signals selectively decrease fMRI activity in primate visual cortex. Neuron 77, 1174–1186 (2013).

Stuber, G. D. & Wise, R. A. Lateral hypothalamic circuits for feeding and reward. Nat. Neurosci. 19, 198–205 (2016).

Lee, H. J. et al. Activation of direct and indirect pathway medium spiny neurons drives distinct brain-wide responses. Neuron 91, 412–424 (2016).

Tritsch, N. X. & Sabatini, B. L. Dopaminergic modulation of synaptic transmission in cortex and striatum. Neuron 76, 33–50 (2012).

Ferenczi, E. A. et al. Prefrontal cortical regulation of brainwide circuit dynamics and reward-related behavior. Science 351, aac9698 (2016).

Decot, H. K. et al. Coordination of brain-wide activity dynamics by dopaminergic neurons. Neuropsychopharmacology 42, 615–627 (2017).

Nakano, T., Doi, T., Yoshimoto, J. & Doya, K. A kinetic model of dopamine- and calcium-dependent striatal synaptic plasticity. PLOS Comput. Biol. 6, e1000670 (2010).

Gerfen, C. R. & Surmeier, D. J. Modulation of striatal projection systems by dopamine. Annu. Rev. Neurosci. 34, 441–466 (2011).

Klein-Flügge, M. C., Hunt, L. T., Bach, D. R., Dolan, R. J. & Behrens, T. E. Dissociable reward and timing signals in human midbrain and ventral striatum. Neuron 72, 654–664 (2011).

Koerber, J., Goodman, D., Barnes, J. L. & Grimm, J. W. The dopamine D2 antagonist eticlopride accelerates extinction and delays reacquisition of food self-administration in rats. Behav. Pharmacol. 24, 633–639 (2013).

Verty, A. N., McGregor, I. S. & Mallet, P. E. The dopamine receptor antagonist SCH 23390 attenuates feeding induced by Δ9-tetrahydrocannabinol. Brain Res. 1020, 188–195 (2004).

Calaminus, C. & Hauber, W. Intact discrimination reversal learning but slowed responding to reward-predictive cues after dopamine D1 and D2 receptor blockade in the nucleus accumbens of rats. Psychopharmacology (Berl.) 191, 551–566 (2007).

Lex, A. & Hauber, W. Dopamine D1 and D2 receptors in the nucleus accumbens core and shell mediate Pavlovian-instrumental transfer. Learn. Mem. 15, 483–491 (2008).

Cox, R. W. AFNI: software for analysis and visualization of functional magnetic resonance neuroimages. Comput. Biomed. Res. 29, 162–173 (1996).

Papp, E. A., Leergaard, T. B., Calabrese, E., Johnson, G. A. & Bjaalie, J. G. Waxholm Space atlas of the Sprague Dawley rat brain. Neuroimage 97, 374–386 (2014).

Papp, E. A., Leergaard, T. B., Calabrese, E., Johnson, G. A. & Bjaalie, J. G. Addendum to "Waxholm Space atlas of the Sprague Dawley rat brain" [NeuroImage 97 (2014) 374-386]. Neuroimage 105, 561–562 (2015).

Paxinos, G. & Watson, C. The Rat Brain in Stereotaxic Coordinates Compact 6th Edn (Academic, 2009).

Kundu, P., Inati, S. J., Evans, J. W., Luh, W. M. & Bandettini, P. A. Differentiating BOLD and non-BOLD signals in fMRI time series using multi-echo EPI. Neuroimage 60, 1759–1770 (2012).

Peltier, S. J. & Noll, D. C. T. T2* dependence of low frequency functional connectivity. Neuroimage 16, 985–992 (2002).

Kundu, P., Santin, M. D., Bandettini, P. A., Bullmore, E. T. & Petiet, A. Differentiating BOLD and non-BOLD signals in fMRI time series from anesthetized rats using multi-echo EPI at 11.7 T. Neuroimage 102, 861–874 (2014).

Frahm, J., Merboldt, K. D., Hänicke, W., Kleinschmidt, A. & Boecker, H. Brain or vein—oxygenation or flow? On signal physiology in functional MRI of human brain activation. NMR Biomed. 7, 45–53 (1994).

Frahm, J., Merboldt, K. D. & Hänicke, W. Functional MRI of human brain activation at high spatial resolution. Magn. Reson. Med. 29, 139–144 (1993).

Kim, S. G., Hendrich, K., Hu, X., Merkle, H. & Uğurbil, K. Potential pitfalls of functional MRI using conventional gradient-recalled echo techniques. NMR Biomed. 7, 69–74 (1994).

Diemling, M., Barth, M. & Moser, E. Quantification of signal changes in gradient recalled echo FMRI. Magn. Reson. Imaging 15, 753–762 (1997).

Wang, X., Zhu, X. H., Zhang, Y. & Chen, W. Large enhancement of perfusion contribution on fMRI signal. J. Cereb. Blood Flow Metab. 32, 907–918 (2012).
Acknowledgements
This research was funded by National Institutes of Health grants R01 DA038642 and U01 NS103470 to A.J. N.L. was supported by a Stanley Fahn Research Fellowship from the Parkinson's Disease Foundation. The authors thank T. Lee and L. Cai for initial assistance with the experimental methods; P. Bandettini for advice with multi-echo MRI acquisition; and A. Graybiel, S. Lall and I. Witten for comments on the data and manuscript.
Ethics declarations
Competing interests
The authors declare no competing interests.
Additional information
Publisher's note Springer Nature remains neutral with regard to jurisdictional claims in published maps and institutional affiliations.
Extended data figures and tables
Supplementary information
This file contains Supplementary Methods and associated references.
About this article
Cite this article
Li, N., Jasanoff, A. Local and global consequences of reward-evoked striatal dopamine release. Nature 580, 239–244 (2020). https://doi.org/10.1038/s41586-020-2158-3
Received:

Accepted:

Published:

Issue Date:

DOI: https://doi.org/10.1038/s41586-020-2158-3
Comments
By submitting a comment you agree to abide by our Terms and Community Guidelines. If you find something abusive or that does not comply with our terms or guidelines please flag it as inappropriate.