Abstract
The evolution of animal behaviour is poorly understood1,2. Despite numerous correlations between interspecific divergence in behaviour and nervous system structure and function, demonstrations of the genetic basis of these behavioural differences remain rare3,4,5. Here we develop a neurogenetic model, Drosophila sechellia, a species that displays marked differences in behaviour compared to its close cousin Drosophila melanogaster6,7, which are linked to its extreme specialization on noni fruit (Morinda citrifolia)8,9,10,11,12,13,14,15,16. Using calcium imaging, we identify olfactory pathways in D. sechellia that detect volatiles emitted by the noni host. Our mutational analysis indicates roles for different olfactory receptors in long- and short-range attraction to noni, and our cross-species allele-transfer experiments demonstrate that the tuning of one of these receptors is important for species-specific host-seeking. We identify the molecular determinants of this functional change, and characterize their evolutionary origin and behavioural importance. We perform circuit tracing in the D. sechellia brain, and find that receptor adaptations are accompanied by increased sensory pooling onto interneurons as well as species-specific central projection patterns. This work reveals an accumulation of molecular, physiological and anatomical traits that are linked to behavioural divergence between species, and defines a model for investigating speciation and the evolution of the nervous system.
Relevant articles
Open Access articles citing this article.
Alex Dornburg

,

Rittika Mallik

…

Jeffrey P. Townsend

Human Genomics Open Access 11 November 2022

Stefanie Neupert

,

Graham A. McCulloch

…

Paul Szyszka

BMC Ecology and Evolution Open Access 16 April 2022

Josefina del Mármol

,

Mackenzie A. Yedlin

&

Vanessa Ruta

Nature Open Access 04 August 2021
Access options
Subscribe to Nature+
Get immediate online access to Nature and 55 other Nature journal
Subscribe to Journal
Get full journal access for 1 year
$199.00
only $3.90 per issue
All prices are NET prices.
VAT will be added later in the checkout.
Tax calculation will be finalised during checkout.
Buy article
Get time limited or full article access on ReadCube.
$32.00
All prices are NET prices.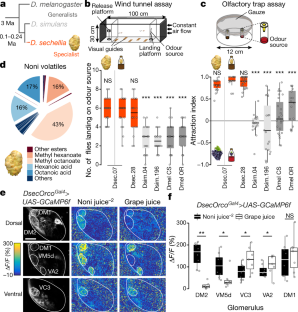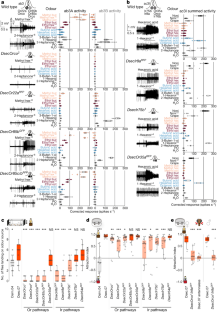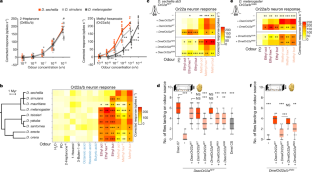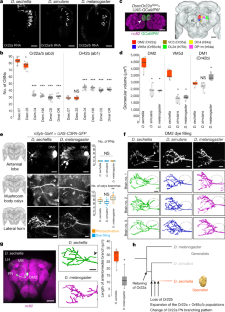 Data, availability
All relevant data supporting the findings of this study are available from the corresponding authors upon request or, for behavioural experiments, are included with the paper as Source Data for Figs. 1b, c, 2c–e, 3d, f, Extended Data Figs. 1c, e, f, g, h, 7e–g. Supplementary Table 7 lists the exact n and mean values for all electrophysiological data.
Code availability
Code used for analyses and all unique biological materials generated in this study (for example, mutant and transgenic Drosophila strains) are available from the corresponding authors upon request.
References
Arguello, J. R. & Benton, R. Open questions: tackling Darwin's "instincts": the genetic basis of behavioral evolution. BMC Biol. 15, 26 (2017).

Bendesky, A. & Bargmann, C. I. Genetic contributions to behavioural diversity at the gene–environment interface. Nat. Rev. Genet. 12, 809–820 (2011).

Bendesky, A. et al. The genetic basis of parental care evolution in monogamous mice. Nature 544, 434–439 (2017).

Ding, Y., Berrocal, A., Morita, T., Longden, K. D. & Stern, D. L. Natural courtship song variation caused by an intronic retroelement in an ion channel gene. Nature 536, 329–332 (2016).

Weber, J. N., Peterson, B. K. & Hoekstra, H. E. Discrete genetic modules are responsible for complex burrow evolution in Peromyscus mice. Nature 493, 402–405 (2013).

Garrigan, D. et al. Genome sequencing reveals complex speciation in the Drosophila simulans clade. Genome Res. 22, 1499–1511 (2012).

Schrider, D. R., Ayroles, J., Matute, D. R. & Kern, A. D. Supervised machine learning reveals introgressed loci in the genomes of Drosophila simulans and D. sechellia. PLoS Genet. 14, e1007341 (2018).

Amlou, M., Moreteau, B. & David, J. R. Genetic analysis of Drosophila sechellia specialization: oviposition behavior toward the major aliphatic acids of its host plant. Behav. Genet. 28, 455–464 (1998).

Cobb, M., Burnet, B., Blizard, R. & Jallon, J. M. Courtship in Drosophila sechellia – its structure, functional aspects, and relationship to those of other members of the Drosophila melanogaster species subgroup. J. Insect Behav. 2, 63–89 (1989).

Coyne, J. A. Genetics of sexual isolation in females of the Drosophila simulans species complex. Genet. Res. 60, 25–31 (1992).

Dekker, T., Ibba, I., Siju, K. P., Stensmyr, M. C. & Hansson, B. S. Olfactory shifts parallel superspecialism for toxic fruit in Drosophila melanogaster sibling, D. sechellia. Curr. Biol. 16, 101–109 (2006).

Higa, I. & Fuyama, Y. Genetics of food preference in Drosophila sechellia. I. Responses to food attractants. Genetica 88, 129–136 (1993).

Ibba, I., Angioy, A. M., Hansson, B. S. & Dekker, T. Macroglomeruli for fruit odors change blend preference in Drosophila. Naturwissenschaften 97, 1059–1066 (2010).

Matsuo, T., Sugaya, S., Yasukawa, J., Aigaki, T. & Fuyama, Y. Odorant-binding proteins OBP57d and OBP57e affect taste perception and host-plant preference in Drosophila sechellia. PLoS Biol. 5, e118 (2007).

Prieto-Godino, L. L. et al. Evolution of acid-sensing olfactory circuits in Drosophilids. Neuron 93, 661–676 (2017).

R'Kha, S., Capy, P. & David, J. R. Host-plant specialization in the Drosophila melanogaster species complex: a physiological, behavioral, and genetical analysis. Proc. Natl Acad. Sci. USA 88, 1835–1839 (1991).

Yalcin, B. et al. Genetic dissection of a behavioral quantitative trait locus shows that Rgs2 modulates anxiety in mice. Nat. Genet. 36, 1197–1202 (2004).

Bendesky, A., Tsunozaki, M., Rockman, M. V., Kruglyak, L. & Bargmann, C. I. Catecholamine receptor polymorphisms affect decision-making in C. elegans. Nature 472, 313–318 (2011).

Bumbarger, D. J., Riebesell, M., Rödelsperger, C. & Sommer, R. J. System-wide rewiring underlies behavioral differences in predatory and bacterial-feeding nematodes. Cell 152, 109–119 (2013).

Markow, T. A. & O'Grady, P. Reproductive ecology of Drosophila. Funct. Ecol. 22, 747–759 (2008).

Linz, J. et al. Host plant-driven sensory specialization in Drosophila erecta. Proc. R. Soc. Lond. B 280, 20130626 (2013).

Seeholzer, L. F., Seppo, M., Stern, D. L. & Ruta, V. Evolution of a central neural circuit underlies Drosophila mate preferences. Nature 559, 564–569 (2018).

Dweck, H. K. et al. Olfactory channels associated with the Drosophila maxillary palp mediate short- and long-range attraction. eLife 5, e14925 (2016).

Matute, D. R. & Ayroles, J. F. Hybridization occurs between Drosophila simulans and D. sechellia in the Seychelles archipelago. J. Evol. Biol. 27, 1057–1068 (2014).

Vosshall, L. B. & Stocker, R. F. Molecular architecture of smell and taste in Drosophila. Annu. Rev. Neurosci. 30, 505–533 (2007).

Larsson, M. C. et al. Or83b encodes a broadly expressed odorant receptor essential for Drosophila olfaction. Neuron 43, 703–714 (2004).

Abuin, L. et al. Functional architecture of olfactory ionotropic glutamate receptors. Neuron 69, 44–60 (2011).

Benton, R., Sachse, S., Michnick, S. W. & Vosshall, L. B. Atypical membrane topology and heteromeric function of Drosophila odorant receptors in vivo. PLoS Biol. 4, e20 (2006).

Stensmyr, M. C., Dekker, T. & Hansson, B. S. Evolution of the olfactory code in the Drosophila melanogaster subgroup. Proc. R. Soc. Lond. B 270, 2333–2340 (2003).

Dobritsa, A. A., van der Goes van Naters, W., Warr, C. G., Steinbrecht, R. A. & Carlson, J. R. Integrating the molecular and cellular basis of odor coding in the Drosophila antenna. Neuron 37, 827–841 (2003).

Couto, A., Alenius, M. & Dickson, B. J. Molecular, anatomical, and functional organization of the Drosophila olfactory system. Curr. Biol. 15, 1535–1547 (2005).

Shiao, M. S. et al. Expression divergence of chemosensory genes between Drosophila sechellia and its sibling species and its implications for host shift. Genome Biol. Evol. 7, 2843–2858 (2015).

Yao, C. A., Ignell, R. & Carlson, J. R. Chemosensory coding by neurons in the coeloconic sensilla of the Drosophila antenna. J. Neurosci. 25, 8359–8367 (2005).

Ai, M. et al. Acid sensing by the Drosophila olfactory system. Nature 468, 691–695 (2010).

Ruta, V. et al. A dimorphic pheromone circuit in Drosophila from sensory input to descending output. Nature 468, 686–690 (2010).

Grabe, V. & Sachse, S. Fundamental principles of the olfactory code. Biosystems 164, 94–101 (2018).

Butterwick, J. A. et al. Cryo-EM structure of the insect olfactory receptor Orco. Nature 560, 447–452 (2018).

Aguadé, M. Nucleotide and copy-number polymorphism at the odorant receptor genes Or22a and Or22b in Drosophila melanogaster. Mol. Biol. Evol. 26, 61–70 (2009).

Goldman-Huertas, B. et al. Evolution of herbivory in Drosophilidae linked to loss of behaviors, antennal responses, odorant receptors, and ancestral diet. Proc. Natl Acad. Sci. USA 112, 3026–3031 (2015).

Nozawa, M. & Nei, M. Evolutionary dynamics of olfactory receptor genes in Drosophila species. Proc. Natl Acad. Sci. USA 104, 7122–7127 (2007).

Yassin, A. et al. Recurrent specialization on a toxic fruit in an island Drosophila population. Proc. Natl Acad. Sci. USA 113, 4771–4776 (2016).

Ambrose, D., Ellender, J. H., Lee, E. B., Sprake, C. H. S. & Townsend, R. Thermodynamic properties of organic oxygen compounds XXXVIII. Vapour pressures of some aliphatic ketones. J. Chem. Thermodyn. 7, 453–472 (1975).

Daubert, T. E. & Danner, R. P. Physical and Thermodynamic Properties of Pure Chemicals: Data Compilation (Taylor & Francis, 1997).

Port, F., Chen, H. M., Lee, T. & Bullock, S. L. Optimized CRISPR/Cas tools for efficient germline and somatic genome engineering in Drosophila. Proc. Natl Acad. Sci. USA 111, E2967–E2976 (2014).

Port, F. & Bullock, S. L. Augmenting CRISPR applications in Drosophila with tRNA-flanked sgRNAs. Nat. Methods 13, 852–854 (2016).

Barolo, S., Carver, L. A. & Posakony, J. W. GFP and β-galactosidase transformation vectors for promoter/enhancer analysis in Drosophila. Biotechniques 29, 726–732 (2000).

Gratz, S. J. et al. Highly specific and efficient CRISPR/Cas9-catalyzed homology-directed repair in Drosophila. Genetics 196, 961–971 (2014).

Stern, D. L. Tagmentation-based mapping (TagMap) of mobile DNA genomic insertion sites. Preprint at bioRxiv https://doi.org/10.1101/037762 (2017).

Croset, V. et al. Ancient protostome origin of chemosensory ionotropic glutamate receptors and the evolution of insect taste and olfaction. PLoS Genet. 6, e1001064 (2010).

Bateman, J. R. & Wu, C. T. A simple polymerase chain reaction-based method for the construction of recombinase-mediated cassette exchange donor vectors. Genetics 180, 1763–1766 (2008).

Groth, A. C., Olivares, E. C., Thyagarajan, B. & Calos, M. P. A phage integrase directs efficient site-specific integration in human cells. Proc. Natl Acad. Sci. USA 97, 5995–6000 (2000).

Bischof, J., Maeda, R. K., Hediger, M., Karch, F. & Basler, K. An optimized transgenesis system for Drosophila using germ-line-specific φC31 integrases. Proc. Natl Acad. Sci. USA 104, 3312–3317 (2007).

Han, C., Jan, L. Y. & Jan, Y. N. Enhancer-driven membrane markers for analysis of nonautonomous mechanisms reveal neuron–glia interactions in Drosophila. Proc. Natl Acad. Sci. USA 108, 9673–9678 (2011).

Arnoult, L. et al. Emergence and diversification of fly pigmentation through evolution of a gene regulatory module. Science 339, 1423–1426 (2013).

Gratz, S. J. et al. Genome engineering of Drosophila with the CRISPR RNA-guided Cas9 nuclease. Genetics 194, 1029–1035 (2013).

Zhang, X., Koolhaas, W. H. & Schnorrer, F. A versatile two-step CRISPR- and RMCE-based strategy for efficient genome engineering in Drosophila. G3 (Bethesda) 4, 2409–2418 (2014).

Gohl, D. M. et al. A versatile in vivo system for directed dissection of gene expression patterns. Nat. Methods 8, 231–237 (2011).

Knecht, Z. A. et al. Distinct combinations of variant ionotropic glutamate receptors mediate thermosensation and hygrosensation in Drosophila. eLife 5, e17879 (2016).

Silbering, A. F. et al. Complementary function and integrated wiring of the evolutionarily distinct Drosophila olfactory subsystems. J. Neurosci. 31, 13357–13375 (2011).

Schindelin, J. et al. Fiji: an open-source platform for biological-image analysis. Nat. Methods 9, 676–682 (2012).

Benton, R. & Dahanukar, A. Electrophysiological recording from Drosophila olfactory sensilla. Cold Spring Harb. Protoc. 2011, 824–838 (2011).

Saina, M. & Benton, R. Visualizing olfactory receptor expression and localization in Drosophila. Methods Mol. Biol. 1003, 211–228 (2013).

Prieto-Godino, L. L. et al. Olfactory receptor pseudo-pseudogenes. Nature 539, 93–97 (2016).

Benton, R., Vannice, K. S., Gomez-Diaz, C. & Vosshall, L. B. Variant ionotropic glutamate receptors as chemosensory receptors in Drosophila. Cell 136, 149–162 (2009).

Sánchez-Alcañiz, J. A., Zappia, G., Marion-Poll, F. & Benton, R. A mechanosensory receptor required for food texture detection in Drosophila. Nat. Commun. 8, 14192 (2017).

Ostrovsky, A., Cachero, S. & Jefferis, G. Clonal analysis of olfaction in Drosophila: immunochemistry and imaging of fly brains. Cold Spring Harb. Protoc. 2013, 342–346 (2013).

Jefferis, G. S. et al. Comprehensive maps of Drosophila higher olfactory centers: spatially segregated fruit and pheromone representation. Cell 128, 1187–1203 (2007).

Manton, J. D. et al. Combining genome-scale Drosophila 3D neuroanatomical data by bridging template brains. Preprint at bioRxiv https://doi.org/10.1101/006353 (2014).

Cachero, S., Ostrovsky, A. D., Yu, J. Y., Dickson, B. J. & Jefferis, G. S. Sexual dimorphism in the fly brain. Curr. Biol. 20, 1589–1601 (2010).

Feng, L., Zhao, T. & Kim, J. neuTube 1.0: a new design for efficient neuron reconstruction software based on the SWC format. eNeuro 2, ENEURO.0049-14.2014 (2015).

Caron, S. J., Ruta, V., Abbott, L. F. & Axel, R. Random convergence of olfactory inputs in the Drosophila mushroom body. Nature 497, 113–117 (2013).

Camacho, C. et al. BLAST+: architecture and applications. BMC Bioinformatics 10, 421 (2009).

Birney, E., Clamp, M. & Durbin, R. GeneWise and Genomewise. Genome Res. 14, 988–995 (2004).

Abascal, F., Zardoya, R. & Telford, M. J. TranslatorX: multiple alignment of nucleotide sequences guided by amino acid translations. Nucleic Acids Res. 38, W7–W13 (2010).

Ronquist, F. et al. MrBayes 3.2: efficient Bayesian phylogenetic inference and model choice across a large model space. Syst. Biol. 61, 539–542 (2012).

Yang, Z. PAML 4: phylogenetic analysis by maximum likelihood. Mol. Biol. Evol. 24, 1586–1591 (2007).

Signor, S. A., New, F. N. & Nuzhdin, S. A large panel of Drosophila simulans reveals an abundance of common variants. Genome Biol. Evol. 10, 189–206 (2018).

Grenier, J. K. et al. Global diversity lines – a five-continent reference panel of sequenced Drosophila melanogaster strains. G3 (Bethesda) 5, 593–603 (2015).

Huang, W. et al. Natural variation in genome architecture among 205 Drosophila melanogaster genetic reference panel lines. Genome Res. 24, 1193–1208 (2014).

Danecek, P. et al. The variant call format and VCFtools. Bioinformatics 27, 2156–2158 (2011).

Grabe, V. et al. Elucidating the neuronal architecture of olfactory glomeruli in the Drosophila antennal lobe. Cell Rep. 16, 3401–3413 (2016).

Pellegrino, M., Steinbach, N., Stensmyr, M. C., Hansson, B. S. & Vosshall, L. B. A natural polymorphism alters odour and DEET sensitivity in an insect odorant receptor. Nature 478, 511–514 (2011).

Adams, M. D. et al. The genome sequence of Drosophila melanogaster. Science 287, 2185–2195 (2000).
Acknowledgements
We thank Y. Bellaïche, B. Deplancke, K. S. Douglas, S. Lavista-Llanos, K. O'Connor-Giles, J. Posakony, V. Ruta, D. Stern, G. Suh, A. Yassin, the Bloomington Drosophila Stock Center (National Institute of Health (NIH) P40OD018537) and the Developmental Studies Hybridoma Bank (NICHD of the NIH, University of Iowa) for reagents, B. Prud'homme for instruction on Drosophila microinjections, B. Sutcliffe and S. Cachero for advice on the generation of reference brains, I. Alali and K. Weniger for technical assistance, J. Simpson for details of the nSyb promoter construct; P. C. Chai for assistance with glomerular identification; and I. Rentero Rebollo, J. Sánchez-Alcañiz, L. Prieto-Godino and members of the Benton laboratory for discussions and comments on the manuscript. T.O.A. is supported by a Human Frontier Science Program Long-Term Fellowship (LT000461/2015-L). M.A.K., B.S.H. and M.K. are supported by the Max Planck Society. K.E. and S.J.C.C. are supported by a NIH Award (1 R01 NS 167970) and a Eunice Kennedy Shriver National Institute of Child Health & Human Development Award of the NIH (5 T32 HD 007491). J.R.A. is supported by a Swiss National Science Professorship Grant (PP00P3 176956). G.S.X.E.J. is supported by an ERC Consolidator Grant (649111) and the MRC (MC_U105188491). Research in R.B.'s laboratory is supported by ERC Consolidator and Advanced Grants (615094 and 833548, respectively), the Swiss National Science Foundation and the Fondation Herbette.
Ethics declarations
Competing interests
The authors declare no competing interests.
Additional information
Peer review information Nature thanks Lindy McBride and the other, anonymous, reviewer(s) for their contribution to the peer review of this work.
Publisher's note Springer Nature remains neutral with regard to jurisdictional claims in published maps and institutional affiliations.
Extended data figures and tables
Supplementary information
About this article
Cite this article
Auer, T.O., Khallaf, M.A., Silbering, A.F. et al. Olfactory receptor and circuit evolution promote host specialization. Nature 579, 402–408 (2020). https://doi.org/10.1038/s41586-020-2073-7
Received:

Accepted:

Published:

Issue Date:

DOI: https://doi.org/10.1038/s41586-020-2073-7
Comments
By submitting a comment you agree to abide by our Terms and Community Guidelines. If you find something abusive or that does not comply with our terms or guidelines please flag it as inappropriate.