Abstract
A mosaic of cross-phylum chemical interactions occurs between all metazoans and their microbiomes. A number of molecular families that are known to be produced by the microbiome have a marked effect on the balance between health and disease1,2,3,4,5,6,7,8,9. Considering the diversity of the human microbiome (which numbers over 40,000 operational taxonomic units10), the effect of the microbiome on the chemistry of an entire animal remains underexplored. Here we use mass spectrometry informatics and data visualization approaches11,12,13 to provide an assessment of the effects of the microbiome on the chemistry of an entire mammal by comparing metabolomics data from germ-free and specific-pathogen-free mice. We found that the microbiota affects the chemistry of all organs. This included the amino acid conjugations of host bile acids that were used to produce phenylalanocholic acid, tyrosocholic acid and leucocholic acid, which have not previously been characterized despite extensive research on bile-acid chemistry14. These bile-acid conjugates were also found in humans, and were enriched in patients with inflammatory bowel disease or cystic fibrosis. These compounds agonized the farnesoid X receptor in vitro, and mice gavaged with the compounds showed reduced expression of bile-acid synthesis genes in vivo. Further studies are required to confirm whether these compounds have a physiological role in the host, and whether they contribute to gut diseases that are associated with microbiome dysbiosis.
Relevant articles
Open Access articles citing this article.
Henry H. Le

,

Min-Ting Lee

…

Elizabeth L. Johnson

Nature Microbiology Open Access 18 August 2022

Tiina Pessa-Morikawa

,

Aleksi Husso

…

Mikael Niku

BMC Microbiology Open Access 07 February 2022

Ahmed Dawood Mohammed

,

Zahraa Mohammed

…

Jason L. Kubinak

Nature Communications Open Access 26 January 2022
Access options
Subscribe to Nature+
Get immediate online access to the entire Nature family of 50+ journals
Subscribe to Journal
Get full journal access for 1 year
$199.00
only $3.90 per issue
All prices are NET prices.
VAT will be added later in the checkout.
Tax calculation will be finalised during checkout.
Buy article
Get time limited or full article access on ReadCube.
$32.00
All prices are NET prices.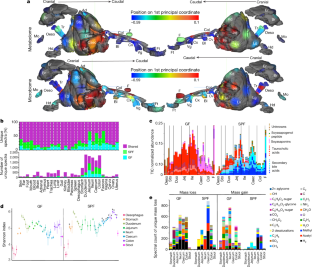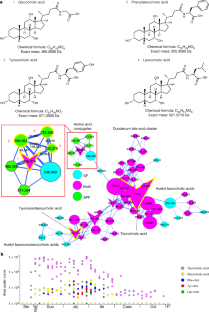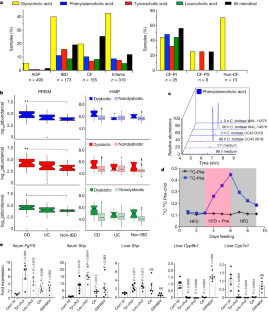 Data availability
All metabolomics data that support the findings of this study are available at GNPS (https://gnps.ucsd.edu/) under MassIVE ID numbers: MSV000079949 (original germ-free and SPF mouse data), MSV000082480, MSV000082467, MSV000079134, MSV000082406, MSV000083032, MSV000083004 and MSV000083446. The sequencing data for the germ-free and SPF mouse study are available on the Qiita microbiome data analysis platform at https://qiita.ucsd.edu/ under study ID 10801 and through the European Bioinformatics Institute accession number ERP109688. Source Data for Figs. 1–3, Extended Data Fig. 7 are provided with the paper.
References
Ridlon, J. M., Kang, D. J., Hylemon, P. B. & Bajaj, J. S. Bile acids and the gut microbiome. Curr. Opin. Gastroenterol. 30, 332–338 (2014).

Gilbert, J. A. et al. Microbiome-wide association studies link dynamic microbial consortia to disease. Nature 535, 94–103 (2016).

Wikoff, W. R. et al. Metabolomics analysis reveals large effects of gut microflora on mammalian blood metabolites. Proc. Natl Acad. Sci. USA 106, 3698–3703 (2009).

Marcobal, A. et al. Metabolome progression during early gut microbial colonization of gnotobiotic mice. Sci. Rep. 5, 11589 (2015).

Miller, T. L. & Wolin, M. J. Pathways of acetate, propionate, and butyrate formation by the human fecal microbial flora. Appl. Environ. Microbiol. 62, 1589–1592 (1996).

Gillner, M., Bergman, J., Cambillau, C., Fernström, B. & Gustafsson, J. A. Interactions of indoles with specific binding sites for 2,3,7,8-tetrachlorodibenzo-p-dioxin in rat liver. Mol. Pharmacol. 28, 357–363 (1985).

Martin, F.-P. J. et al. A top-down systems biology view of microbiome-mammalian metabolic interactions in a mouse model. Mol. Syst. Biol. 3, 112 (2007).

Moriya, T., Satomi, Y., Murata, S., Sawada, H. & Kobayashi, H. Effect of gut microbiota on host whole metabolome. Metabolomics 13, 101 (2017).

Swann, J. R. et al. Systemic gut microbial modulation of bile acid metabolism in host tissue compartments. Proc. Natl Acad. Sci. USA 108 (Suppl 1), 4523–4530 (2011).

Human Microbiome Project Consortium. Structure, function and diversity of the healthy human microbiome. Nature 486, 207–214 (2012).

Wang, M. et al. Sharing and community curation of mass spectrometry data with Global Natural Products Social Molecular Networking. Nat. Biotechnol. 34, 828–837 (2016).

Watrous, J. et al. Mass spectral molecular networking of living microbial colonies. Proc. Natl Acad. Sci. USA 109, E1743–E1752 (2012).

Protsyuk, I. et al. 3D molecular cartography using LC-MS facilitated by Optimus and 'ili software. Nat. Protocols 13, 134–154 (2018).

Hofmann, A. F. & Hagey, L. R. Key discoveries in bile acid chemistry and biology and their clinical applications: history of the last eight decades. J. Lipid Res. 55, 1553–1595 (2014).

Yang, J. Y. et al. Molecular networking as a dereplication strategy. J. Nat. Prod. 76, 1686–1699 (2013).

Sumner, L. W. et al. Proposed minimum reporting standards for chemical analysis Chemical Analysis Working Group (CAWG) Metabolomics Standards Initiative (MSI). Metabolomics 3, 211–221 (2007).

Hartmann, A. C. et al. Meta-mass shift chemical profiling of metabolomes from coral reefs. Proc. Natl Acad. Sci. USA 114, 11685–11690 (2017).

Hirano, S. & Masuda, N. Characterization of NADP-dependent 7β-hydroxysteroid dehydrogenases from Peptostreptococcus productus and Eubacterium aerofaciens. Appl. Environ. Microbiol. 43, 1057–1063 (1982).

Wahlström, A., Sayin, S. I., Marschall, H.-U. & Bäckhed, F. Intestinal crosstalk between bile acids and microbiota and its impact on host metabolism. Cell Metab. 24, 41–50 (2016).

Huijghebaert, S. M. & Hofmann, A. F. Influence of the amino acid moiety on deconjugation of bile acid amidates by cholylglycine hydrolase or human fecal cultures. J. Lipid Res. 27, 742–752 (1986).

Myher, J. J., Marai, L., Kuksis, A., Yousef, I. M. & Fisher, M. M. Identification of ornithine and arginine conjugates of cholic acid by mass spectrometry. Can. J. Biochem. 53, 583–590 (1975).

Peric-Golia, L. & Jones, R. S. Ornithocholanic acids and cholelithiasis in man. Science 142, 245–246 (1963).

Gordon, B. A., Kuksis, A. & Beveridge, J. M. R. Separation of bile acid conjugates by ion exchange chromatography. Can. J. Biochem. Physiol. 41, 77–89 (1963).

Yousef, I. M. & Fisher, M. M. Bile acid metabolism in mammals. VIII. Biliary secretion of cholylarginine by the isolated perfused rat liver. Can. J. Physiol. Pharmacol. 53, 880–887 (1975).

Tamari, M., Ogawa, M. & Kametaka, M. A new bile acid conjugate, ciliatocholic acid, from bovine gall bladder bile. J. Biochem. 80, 371–377 (1976).

Hagey, L. R., Schteingart, C. D., Rossi, S. S., Ton-Nu, H. T. & Hofmann, A. F. An N-acyl glycyltaurine conjugate of deoxycholic acid in the biliary bile acids of the rabbit. J. Lipid Res. 39, 2119–2124 (1998).

Nair, P. P., Solomon, R., Bankoski, J. & Plapinger, R. Bile acids in tissues: binding of lithocholic acid to protein. Lipids 13, 966–970 (1978).

McDonald, D. et al. American gut: an open platform for citizen science microbiome research. mSystems 3, e00031-18 (2018).

Shalapour, S. et al. Inflammation-induced IgA+ cells dismantle anti-liver cancer immunity. Nature 551, 340–345 (2017).

Manor, O. et al. Metagenomic evidence for taxonomic dysbiosis and functional imbalance in the gastrointestinal tracts of children with cystic fibrosis. Sci. Rep. 6, 22493 (2016).

Lloyd-Price, J. et al. Multi-omics of the gut microbial ecosystem in inflammatory bowel diseases. Nature 569, 655–662 (2019).

Hirano, S., Masuda, N., Oda, H. & Mukai, H. Transformation of bile acids by Clostridium perfringens. Appl. Environ. Microbiol. 42, 394–399 (1981).

Winston, J. A. & Theriot, C. M. Impact of microbial derived secondary bile acids on colonization resistance against Clostridium difficile in the gastrointestinal tract. Anaerobe 41, 44–50 (2016).

McDonald, J. A. K. et al. Evaluation of microbial community reproducibility, stability and composition in a human distal gut chemostat model. J. Microbiol. Methods 95, 167–174 (2013).

Finegold, S. M. et al. Pyrosequencing study of fecal microflora of autistic and control children. Anaerobe 16, 444–453 (2010).

Dehoux, P. et al. Comparative genomics of Clostridium bolteae and Clostridium clostridioforme reveals species-specific genomic properties and numerous putative antibiotic resistance determinants. BMC Genomics 17, 819 (2016).

Caballero, S. et al. Cooperating commensals restore colonization resistance to vancomycin-resistant Enterococcus faecium. Cell Host Microbe 21, 592–602.e4 (2017).

Sayin, S. I. et al. Gut microbiota regulates bile acid metabolism by reducing the levels of tauro-beta-muricholic acid, a naturally occurring FXR antagonist. Cell Metab. 17, 225–235 (2013).

Downes, M. et al. A chemical, genetic, and structural analysis of the nuclear bile acid receptor FXR. Mol. Cell 11, 1079–1092 (2003).

Gustafsson, B. E., Gustafsson, J. A. & Sjövall, J. Intestinal and fecal sterols in germfree and conventional rats. Bile acids and steroids 172. Acta Chem. Scand. 20, 1827–1835 (1966).

Midtvedt, T. Microbial bile acid transformation. Am. J. Clin. Nutr. 27, 1341–1347 (1974).

Gérard, P. Metabolism of cholesterol and bile acids by the gut microbiota. Pathogens 3, 14–24 (2013).

Wang, M. et al. Mass spectrometry searches using MASST. Nat. Biotechnol. 38, 23–26 (2020).
Acknowledgements
The authors acknowledge funding from the National Institutes of Health (NIH), grants 5U01AI124316-03, 1R03CA211211-01, 1R01HL116235 U54DE023798, R24DK110499, GMS10RR029121, 1 DP1 AT010885, P30 DK120515 and R01HD084163. Additionally, B.S.B. was supported by UCSD KL2 (1KL2TR001444), T.D.A. by the National Library of Medicine Training Grant NIH grant T15LM011271. R.M.E. is an investigator of the Howard Hughes Medical Institute and March of Dimes Chair in Molecular and Developmental Biology at the Salk Institute. R.M.E. was funded by grants from the NIH (DK057978, HL105278, HL088093 and ES010337), and Samuel Waxman Cancer Research Foundation. We acknowledge G. Ackermann for her contributions. This work was also supported in part by Seed Grants from the UC San Diego Center for Microbiome Innovation. This work was funded by grants from the NIH (DK057978, HL105278 and HL088093), National Cancer Institute (CA014195), the Leona M. and Harry B. Helmsley Charitable Trust (2017PG-MED001), SWCRF Investigator Award and Ipsen/Biomeasure. J.L. is supported by grant EIA14660045, an American Heart Association Established Investigator Award. T.F. is supported by a Hewitt Medical Foundation Fellowship, a Salk Alumni Fellowship. T.F., R.K. and P.C.D. acknowledge support from the Crohn's & Colitis Foundation (CCFA). R.M.E. and M.D. are supported in part by a Stand Up to Cancer (SU2C) - Cancer Research UK-Lustgarten Foundation Pancreatic Cancer Dream Team Research Grant (SU2C-AACR-DT-20-16). SU2C is a programme of the Entertainment Industry Foundation. Research grants are administered by the American Association for Cancer Research, the scientific partner of SU2C. Research reported in this publication was also supported by the National Institute of Environmental Health Sciences of the NIH under Award Number P42ES010337. The content is solely the responsibility of the authors and does not necessarily represent the official views of the NIH.
Ethics declarations
Competing interests
C.H. is on the scientific advisory board of Seres Therapeutics. M.W. is founder of, and A.A. is a consultant for, Ometa Laboratories LLC. P.C.D. and M.W. are consultants for Sirenas Therapeutics. W.J.S. consults for Abbvie, Allergan, Amgen, Arena Pharmaceuticals, Avexegen Therapeutics, BeiGene, Boehringer Ingelheim, Celgene, Celltrion, Conatus, Cosmo, Escalier Biosciences, Ferring, Forbion, Genentech, Gilead Sciences, Gossamer Bio, Incyte, Janssen, Kyowa Kirin Pharmaceutical Research, Landos Biopharma, Lilly, Oppilan Pharma, Otsuka, Pfizer, Progenity, Prometheus Biosciences (merger of Precision IBD and Prometheus Laboratories), Reistone, Ritter Pharmaceuticals, Robarts Clinical Trials (owned by Health Academic Research Trust, HART), Series Therapeutics, Shire, Sienna Biopharmaceuticals, Sigmoid Biotechnologies, Sterna Biologicals, Sublimity Therapeutics, Takeda, Theravance Biopharma, Tigenix, Tillotts Pharma, UCB Pharma, Ventyx Biosciences, Vimalan Biosciences and Vivelix Pharmaceuticals; and holds stock or stock options from BeiGene, Escalier Biosciences, Gossamer Bio, Oppilan Pharma, Prometheus Biosciences (merger of Precision IBD and Prometheus Laboratories), Progenity, Ritter Pharmaceuticals, Ventyx Biosciences and Vimalan Biosciences.
Additional information
Peer review information Nature thanks Hanns-Ulrich Marschall, Trent Northen and the other, anonymous, reviewer(s) for their contribution to the peer review of this work.
Publisher's note Springer Nature remains neutral with regard to jurisdictional claims in published maps and institutional affiliations.
Extended data figures and tables
Supplementary information
About this article
Cite this article
Quinn, R.A., Melnik, A.V., Vrbanac, A. et al. Global chemical effects of the microbiome include new bile-acid conjugations. Nature 579, 123–129 (2020). https://doi.org/10.1038/s41586-020-2047-9
Received:

Accepted:

Published:

Issue Date:

DOI: https://doi.org/10.1038/s41586-020-2047-9
Comments
By submitting a comment you agree to abide by our Terms and Community Guidelines. If you find something abusive or that does not comply with our terms or guidelines please flag it as inappropriate.