Abstract
Metazoan development requires the robust proliferation of progenitor cells, the identities of which are established by tightly controlled transcriptional networks1. As gene expression is globally inhibited during mitosis, the transcriptional programs that define cell identity must be restarted in each cell cycle2,3,4,5 but how this is accomplished is poorly understood. Here we identify a ubiquitin-dependent mechanism that integrates gene expression with cell division to preserve cell identity. We found that WDR5 and TBP, which bind active interphase promoters6,7, recruit the anaphase-promoting complex (APC/C) to specific transcription start sites during mitosis. This allows APC/C to decorate histones with ubiquitin chains branched at Lys11 and Lys48 (K11/K48-branched ubiquitin chains) that recruit p97 (also known as VCP) and the proteasome, which ensures the rapid expression of pluripotency genes in the next cell cycle. Mitotic exit and the re-initiation of transcription are thus controlled by a single regulator (APC/C), which provides a robust mechanism for maintaining cell identity throughout cell division.
Access options
Subscribe to Journal
Get full journal access for 1 year
$199.00
only $3.90 per issue
All prices are NET prices.
VAT will be added later in the checkout.
Rent or Buy article
Get time limited or full article access on ReadCube.
from$8.99
All prices are NET prices.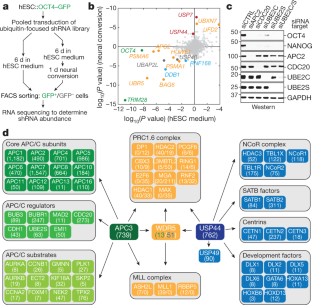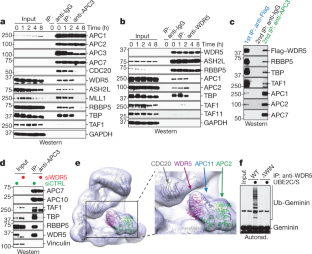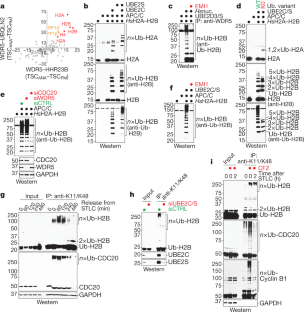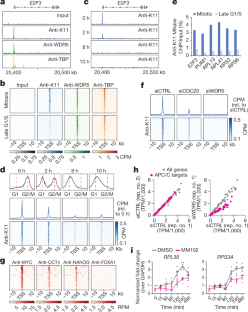 Data availability
All original data are available from the corresponding author on request. ChIP–seq and RNA-sequencing data have been deposited at the Gene Expression Omnibus, accession code GSE122298.
Code availability
Custom Python scripts are available from the corresponding author on request.
References
1.

Young, R. A. Control of the embryonic stem cell state. Cell 144, 940–954 (2011).

2.

Michelotti, E. F., Sanford, S. & Levens, D. Marking of active genes on mitotic chromosomes. Nature 388, 895–899 (1997).

3.

Teves, S. S. et al. A stable mode of bookmarking by TBP recruits RNA polymerase II to mitotic chromosomes. eLife 7, e35621 (2018).

4.

Palozola, K. C. et al. Mitotic transcription and waves of gene reactivation during mitotic exit. Science 358, 119–122 (2017).

5.

Hsiung, C. C. et al. A hyperactive transcriptional state marks genome reactivation at the mitosis–G1 transition. Genes Dev. 30, 1423–1439 (2016).

6.

Thomas, L. R. et al. Interaction with WDR5 promotes target gene recognition and tumorigenesis by MYC. Mol. Cell 58, 440–452 (2015).

7.

Wysocka, J. et al. WDR5 associates with histone H3 methylated at K4 and is essential for H3 K4 methylation and vertebrate development. Cell 121, 859–872 (2005).

8.

Keyes, B. E. & Fuchs, E. Stem cells: aging and transcriptional fingerprints. J. Cell Biol. 217, 79–92 (2018).

9.

Prescott, D. M. & Bender, M. A. Synthesis of RNA and protein during mitosis in mammalian tissue culture cells. Exp. Cell Res. 26, 260–268 (1962).

10.

Martínez-Balbás, M. A., Dey, A., Rabindran, S. K., Ozato, K. & Wu, C. Displacement of sequence-specific transcription factors from mitotic chromatin. Cell 83, 29–38 (1995).

11.

Caravaca, J. M. et al. Bookmarking by specific and nonspecific binding of FoxA1 pioneer factor to mitotic chromosomes. Genes Dev. 27, 251–260 (2013).

12.

Festuccia, N. et al. Mitotic binding of Esrrb marks key regulatory regions of the pluripotency network. Nat. Cell Biol. 18, 1139–1148 (2016).

13.

Kadauke, S. et al. Tissue-specific mitotic bookmarking by hematopoietic transcription factor GATA1. Cell 150, 725–737 (2012).

14.

Rape, M. Ubiquitylation at the crossroads of development and disease. Nat. Rev. Mol. Cell Biol. 19, 59–70 (2018).

15.

Buckley, S. M. et al. Regulation of pluripotency and cellular reprogramming by the ubiquitin-proteasome system. Cell Stem Cell 11, 783–798 (2012).

16.

Gao, J. et al. The CUL4–DDB1 ubiquitin ligase complex controls adult and embryonic stem cell differentiation and homeostasis. eLife 4, e07539 (2015).

17.

Hu, G. et al. A genome-wide RNAi screen identifies a new transcriptional module required for self-renewal. Genes Dev. 23, 837–848 (2009).

18.

Yau, R. G. et al. Assembly and function of heterotypic ubiquitin chains in cell-cycle and protein quality control. Cell 171, 918–933 (2017).

19.

Stegmeier, F. et al. Anaphase initiation is regulated by antagonistic ubiquitination and deubiquitination activities. Nature 446, 876–881 (2007).

20.

Ang, Y. S. et al. Wdr5 mediates self-renewal and reprogramming via the embryonic stem cell core transcriptional network. Cell 145, 183–197 (2011).

21.

Pijnappel, W. W. et al. A central role for TFIID in the pluripotent transcription circuitry. Nature 495, 516–519 (2013).

22.

Karatas, H. et al. High-affinity, small-molecule peptidomimetic inhibitors of MLL1/WDR5 protein–protein interaction. J. Am. Chem. Soc. 135, 669–682 (2013).

23.

Mark, K. G., Loveless, T. B. & Toczyski, D. P. Isolation of ubiquitinated substrates by tandem affinity purification of E3 ligase-polyubiquitin-binding domain fusions (ligase traps). Nat. Protoc. 11, 291–301 (2016).

24.

Fuchs, G. et al. RNF20 and USP44 regulate stem cell differentiation by modulating H2B monoubiquitylation. Mol. Cell 46, 662–673 (2012).

25.

Chang, L. F., Zhang, Z., Yang, J., McLaughlin, S. H. & Barford, D. Molecular architecture and mechanism of the anaphase-promoting complex. Nature 513, 388–393 (2014).

26.

Meyer, H. J. & Rape, M. Enhanced protein degradation by branched ubiquitin chains. Cell 157, 910–921 (2014).

27.

Matsumoto, M. L. et al. K11-linked polyubiquitination in cell cycle control revealed by a K11 linkage-specific antibody. Mol. Cell 39, 477–484 (2010).

28.

Aho, E. R. et al. Displacement of WDR5 from chromatin by a WIN site inhibitor with picomolar affinity. Cell Rep. 26, 2916–2928 (2019).

29.

King, R. W. et al. A 20S complex containing CDC27 and CDC16 catalyzes the mitosis-specific conjugation of ubiquitin to cyclin B. Cell 81, 279–288 (1995).

30.

Blobel, G. A. et al. A reconfigured pattern of MLL occupancy within mitotic chromatin promotes rapid transcriptional reactivation following mitotic exit. Mol. Cell 36, 970–983 (2009).

31.

Pilaz, L. J. et al. Prolonged mitosis of neural progenitors alters cell fate in the developing Brain. Neuron 89, 83–99 (2016).

32.

Halley-Stott, R. P., Jullien, J., Pasque, V. & Gurdon, J. Mitosis gives a brief window of opportunity for a change in gene transcription. PLoS Biol. 12, e1001914 (2014).

33.

Egli, D., Birkhoff, G. & Eggan, K. Mediators of reprogramming: transcription factors and transitions through mitosis. Nat. Rev. Mol. Cell Biol. 9, 505–516 (2008).

34.

Hockemeyer, D. et al. Genetic engineering of human pluripotent cells using TALE nucleases. Nat. Biotechnol. 29, 731–734 (2011).

35.

Chambers, S. M. et al. Highly efficient neural conversion of human ES and iPS cells by dual inhibition of SMAD signaling. Nat. Biotechnol. 27, 275–280 (2009).

36.

Kampmann, M., Bassik, M. C. & Weissman, J. S. Functional genomics platform for pooled screening and generation of mammalian genetic interaction maps. Nat. Protoc. 9, 1825–1847 (2014).

37.

McGourty, C. A. et al. Regulation of the CUL3 ubiquitin ligase by a calcium-dependent co-adaptor. Cell 167, 525–538 (2016).

38.

Qiao, R. et al. Mechanism of APC/CCDC20 activation by mitotic phosphorylation. Proc. Natl Acad. Sci. USA 113, E2570–E2578 (2016).

39.

Brown, N. G. et al. RING E3 mechanism for ubiquitin ligation to a disordered substrate visualized for human anaphase-promoting complex. Proc. Natl Acad. Sci. USA 112, 5272–5279 (2015).

40.

Kastner, B. et al. GraFix: sample preparation for single-particle electron cryomicroscopy. Nat. Methods 5, 53–55 (2008).

41.

Scheres, S. H. W. RELION: implementation of a Bayesian approach to cryo-EM structure determination. J. Struct. Biol. 180, 519–530 (2012).

42.

Rohou, A. & Grigorieff, N. CTFFIND4: fast and accurate defocus estimation from electron micrographs. J. Struct. Biol. 192, 216–221 (2015).

43.

Pettersen, E. F. et al. UCSF Chimera—a visualization system for exploratory research and analysis. J. Comput. Chem. 25, 1605–1612 (2004).

44.

Zhang, S. et al. Molecular mechanism of APC/C activation by mitotic phosphorylation. Nature 533, 260–264 (2016).

45.

Zhang, P., Lee, H., Brunzelle, J. S. & Couture, J. F. The plasticity of WDR5 peptide-binding cleft enables the binding of the SET1 family of histone methyltransferases. Nucleic Acids Res. 40, 4237–4246 (2012).

46.

Brown, N. G. et al. Mechanism of polyubiquitination by human anaphase-promoting complex: RING repurposing for ubiquitin chain assembly. Mol. Cell 56, 246–260 (2014).

47.

Tsankov, A. M. et al. Transcription factor binding dynamics during human ES cell differentiation. Nature 518, 344–349 (2015).
Acknowledgements
We thank N. Ingolia, R. Tjian, B. Schulman, J. Schaletzky and all members of M.R.'s laboratory for advice, helpful discussions and comments on the manuscript; and M. Matsumoto and V. Dixit for generously supplying us with linkage-specific ubiquitin antibodies. E.O. was funded by the Jane Coffin Childs Memorial Fund for Medical Research and the Siebel Stem Cell Institute. K.G.M. was funded by the NIH F32 postdoctoral fellowship (F32GM120956). A.M. was funded by the American Italian Cancer foundation and the California Institute for Regenerative Medicine. M.R. is an Investigator of the Howard Hughes Medical Institute. This work was also funded by an NIH grant (RO1GM083064) awarded to M.R.
Ethics declarations
Competing interests
M.R. is a cofounder and consultant to Nurix Therapeutics, a biotechnology company working in the ubiquitin space.
Additional information
Peer review information Nature thanks William P. Tansey and the other, anonymous, reviewer(s) for their contribution to the peer review of this work.
Publisher's note Springer Nature remains neutral with regard to jurisdictional claims in published maps and institutional affiliations.
Extended data figures and tables
Supplementary information
This file contains Supplementary Figures 1-2 showing the uncropped gel data and Supplementary Tables 1-3, showing lists of plasmids and antibodies used in the study as well as oligonucleotide sequences used for siRNA knockdown, ChIP-qPCR and RT-qPCR.
About this article
Cite this article
Oh, E., Mark, K.G., Mocciaro, A. et al. Gene expression and cell identity controlled by anaphase-promoting complex. Nature 579, 136–140 (2020). https://doi.org/10.1038/s41586-020-2034-1
Received:

Accepted:

Published:

Issue Date:
Further reading
Miao Li

,

Haiwei Feng

,

Zexiong Lin

,

Jiahuan Zheng

,

Dongteng Liu

,

Rui Guo

,

Junshi Li

,

Raymond H.W. Li

,

Ernest H.Y. Ng

,

Michael S.Y. Huen

,

P. Jeremy Wang

,

William S.B. Yeung

&

Kui Liu

Journal of Genetics and Genomics (2020)
Comments
By submitting a comment you agree to abide by our Terms and Community Guidelines. If you find something abusive or that does not comply with our terms or guidelines please flag it as inappropriate.