Abstract
Xist represents a paradigm for the function of long non-coding RNA in epigenetic regulation, although how it mediates X-chromosome inactivation (XCI) remains largely unexplained. Several proteins that bind to Xist RNA have recently been identified, including the transcriptional repressor SPEN1,2,3, the loss of which has been associated with deficient XCI at multiple loci2,3,4,5,6. Here we show in mice that SPEN is a key orchestrator of XCI in vivo and we elucidate its mechanism of action. We show that SPEN is essential for initiating gene silencing on the X chromosome in preimplantation mouse embryos and in embryonic stem cells. SPEN is dispensable for maintenance of XCI in neural progenitors, although it significantly decreases the expression of genes that escape XCI. We show that SPEN is immediately recruited to the X chromosome upon the upregulation of Xist, and is targeted to enhancers and promoters of active genes. SPEN rapidly disengages from chromatin upon gene silencing, suggesting that active transcription is required to tether SPEN to chromatin. We define the SPOC domain as a major effector of the gene-silencing function of SPEN, and show that tethering SPOC to Xist RNA is sufficient to mediate gene silencing. We identify the protein partners of SPOC, including NCoR/SMRT, the m6A RNA methylation machinery, the NuRD complex, RNA polymerase II and factors involved in the regulation of transcription initiation and elongation. We propose that SPEN acts as a molecular integrator for the initiation of XCI, bridging Xist RNA with the transcription machinery—as well as with nucleosome remodellers and histone deacetylases—at active enhancers and promoters.
Relevant articles
Open Access articles citing this article.
Milan Kumar Samanta

,

Srimonta Gayen

…

Sundeep Kalantry

Nature Communications Open Access 11 May 2022

Hailong Yan

,

Yuqing Yan

…

Cun-Gen Ma

Scientific Reports Open Access 22 April 2022

Andrew Keniry

,

Natasha Jansz

…

Marnie E. Blewitt

Nature Communications Open Access 29 March 2022
Access options
Subscribe to Nature+
Get immediate online access to the entire Nature family of 50+ journals
Subscribe to Journal
Get full journal access for 1 year
$199.00
only $3.90 per issue
All prices are NET prices.
VAT will be added later in the checkout.
Tax calculation will be finalised during checkout.
Buy article
Get time limited or full article access on ReadCube.
$32.00
All prices are NET prices.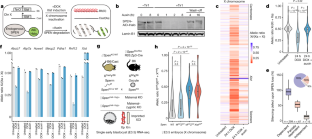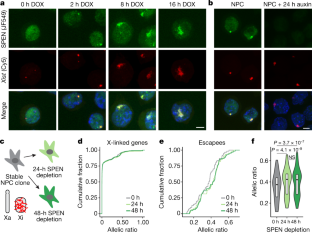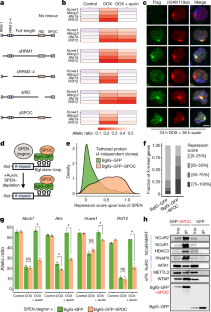 References
Minajigi, A. et al. A comprehensive Xist interactome reveals cohesin repulsion and an RNA-directed chromosome conformation. Science 349, aab2276 (2015).

McHugh, C. A. et al. The Xist lncRNA interacts directly with SHARP to silence transcription through HDAC3. Nature 521, 232–236 (2015).

Chu, C. et al. Systematic discovery of Xist RNA binding proteins. Cell 161, 404–416 (2015).

Monfort, A. et al. Identification of Spen as a crucial factor for Xist function through forward genetic screening in haploid embryonic stem cells. Cell Rep. 12, 554–561 (2015).

Moindrot, B. et al. A pooled shRNA screen identifies Rbm15, Spen, and Wtap as factors required for Xist RNA-mediated silencing. Cell Rep. 12, 562–572 (2015).

Nesterova, T. B. et al. Systematic allelic analysis defines the interplay of key pathways in X chromosome inactivation. Nat. Commun. 10, 3129 (2019).

Nishimura, K., Fukagawa, T., Takisawa, H., Kakimoto, T. & Kanemaki, M. An auxin-based degron system for the rapid depletion of proteins in nonplant cells. Nat. Methods 6, 917–922 (2009).

Schulz, E. G. et al. The two active X chromosomes in female ESCs block exit from the pluripotent state by modulating the ESC signaling network. Cell Stem Cell 14, 203–216 (2014).

Yabe, D. et al. Generation of a conditional knockout allele for mammalian Spen protein Mint/SHARP. Genesis 45, 300–306 (2007).

Borensztein, M. et al. Xist-dependent imprinted X inactivation and the early developmental consequences of its failure. Nat. Struct. Mol. Biol. 24, 226–233 (2017).

Grimm, J. B. et al. A general method to improve fluorophores for live-cell and single-molecule microscopy. Nat. Methods 12, 244–250 (2015).

Masui, O., Heard, E. & Koseki, H. in X-Chromosome Inactivation (ed. Sado, T.) Methods Mol. Biol. Vol. 1861, 67–72 (Humana, 2018).

Giorgetti, L. et al. Structural organization of the inactive X chromosome in the mouse. Nature 535, 575–579 (2016).

Deng, X. et al. Bipartite structure of the inactive mouse X chromosome. Genome Biol. 16, 152 (2015).

Rao, S. S. P. et al. A 3D map of the human genome at kilobase resolution reveals principles of chromatin looping. Cell 159, 1665–1680 (2014).

Lu, Z. et al. RNA duplex map in living cells reveals higher-order transcriptome structure. Cell 165, 1267–1279 (2016).

Wutz, A., Rasmussen, T. P. & Jaenisch, R. Chromosomal silencing and localization are mediated by different domains of Xist RNA. Nat. Genet. 30, 167–174 (2002).

Shi, Y. et al. Sharp, an inducible cofactor that integrates nuclear receptor repression and activation. Genes Dev. 15, 1140–1151 (2001).

Oswald, F. et al. RBP-Jκ/SHARP recruits CtIP/CtBP corepressors to silence Notch target genes. Mol. Cell. Biol. 25, 10379–10390 (2005).

Ha, N. et al. Live-cell imaging and functional dissection of Xist RNA reveal mechanisms of X chromosome inactivation and reactivation. iScience 8, 1–14 (2018).

Ariyoshi, M. & Schwabe, J. W. R. A conserved structural motif reveals the essential transcriptional repression function of Spen proteins and their role in developmental signaling. Genes Dev. 17, 1909–1920 (2003).

Oswald, F. et al. A phospho-dependent mechanism involving NCoR and KMT2D controls a permissive chromatin state at Notch target genes. Nucleic Acids Res. 44, 4703–4720 (2016).

Guenther, M. G., Barak, O. & Lazar, M. A. The SMRT and N-CoR corepressors are activating cofactors for histone deacetylase 3. Mol. Cell. Biol. 21, 6091–6101 (2001).

Żylicz, J. J. et al. The implication of early chromatin changes in X chromosome inactivation. Cell 176, 182–197 (2019).

Patil, D. P. et al. m6A RNA methylation promotes XIST-mediated transcriptional repression. Nature 537, 369–373 (2016).

Bornelöv, S. et al. The nucleosome remodeling and deacetylation complex modulates chromatin structure at sites of active transcription to fine-tune gene expression. Mol. Cell 71, 56–72 (2018).

Skene, P. J. & Henikoff, S. An efficient targeted nuclease strategy for high-resolution mapping of DNA binding sites. eLife 6, e21856 (2017).

Engreitz, J. M. et al. The Xist lncRNA exploits three-dimensional genome architecture to spread across the X chromosome. Science 341, 1237973 (2013).

Knuckles, P. et al. Zc3h13/Flacc is required for adenosine methylation by bridging the mRNA-binding factor Rbm15/Spenito to the m6A machinery component Wtap/Fl(2)d. Genes Dev. 32, 415–429 (2018).

Hatchell, E. C. et al. SLIRP, a small SRA binding protein, is a nuclear receptor corepressor. Mol. Cell 22, 657–668 (2006).

de Vries, W. N. et al. Expression of Cre recombinase in mouse oocytes: a means to study maternal effect genes. Genesis 26, 110–112 (2000).

Zylicz, J. J. et al. G9a regulates temporal preimplantation developmental program and lineage segregation in blastocyst. eLife 7, e33361 (2018).

Tang, F. et al. RNA-seq analysis to capture the transcriptome landscape of a single cell. Nat. Protoc. 5, 516–535 (2010).

Huang, Y. et al. Stella modulates transcriptional and endogenous retrovirus programs during maternal-to-zygotic transition. eLife 6, e22345 (2017).

Belaghzal, H., Dekker, J. & Gibcus, J. H. Hi-C 2.0: An optimized Hi-C procedure for high-resolution genome-wide mapping of chromosome conformation. Methods 123, 56–65 (2017).

Chen, J. et al. High efficiency of HIV-1 genomic RNA packaging and heterozygote formation revealed by single virion analysis. Proc. Natl Acad. Sci. USA 106, 13535–13540 (2009).

Barau, J. et al. The DNA methyltransferase DNMT3C protects male germ cells from transposon activity. Science 354, 909–912 (2016).

Poullet, P., Carpentier, S. & Barillot, E. myProMS, a web server for management and validation of mass spectrometry-based proteomic data. Proteomics 7, 2553–2556 (2007).

Valot, B., Langella, O., Nano, E. & Zivy, M. MassChroQ: a versatile tool for mass spectrometry quantification. Proteomics 11, 3572–3577 (2011).
Acknowledgements
We thank K. Ancelin for support throughout the project and help with in vivo experiments; J. Barau, D. Holoch and R. Margueron for support and help with the project; M. Carrara for critical reading of the manuscript; and members of the Heard laboratory for discussions. We thank E. Nora for sharing the OsTIR1 and AID-targeting plasmids; T. Honjo for sharing the Spenflox mouse line; O. Masui for sharing the Xist–Bgl stem–loop targeting constructs and L. Lavis for sharing Halo-JF646 and JF549 with us. We also thank the imaging platform (A. Dauphin and PICT-IBiSA (UMR3215/U934)) and the protein purification and sequencing platforms of Institut Curie as well as L. Villacorta, J. Provaznik and V. Benes of GeneCore at EMBL. This work was funded by a Boehringer Ingelheim doctoral fellowship (20017-2019 to F. Dossin), an ERC Advanced Investigator award (ERC-ADG-2014 671027 to E.H.), Labellisation La Ligue (to E.H.), ANR (DoseX 2017: ANR-17-CE12-0029, Labex DEEP: ANR-11- LBX-0044, ABS4NGS: ANR-11-BINF-0001, and part of the IDEX PSL: ANR-10-IDEX-0001-02 PSL to E.H.), a Sir Henry Wellcome Postdoctoral Fellowship (201369/Z/16/Z to J.J.Z.), 'Région Ile-de-France' and Fondation pour la Recherche Médicale grants (to D.L.), EMBO long-term fellowships (ALTF 549-2014 to I.P., ALTF 301-2015 to T.C.), and Fondation pour la Recherche Medicale (SPF 20140129387 to I.P.) and NIH (HG003143 to J.D.) grants. J.D. is an investigator of the Howard Hughes Medical Institute.
Ethics declarations
Competing interests
The authors declare no competing interests.
Additional information
Publisher's note Springer Nature remains neutral with regard to jurisdictional claims in published maps and institutional affiliations.
Extended data figures and tables
Supplementary information
About this article
Cite this article
Dossin, F., Pinheiro, I., Żylicz, J.J. et al. SPEN integrates transcriptional and epigenetic control of X-inactivation. Nature 578, 455–460 (2020). https://doi.org/10.1038/s41586-020-1974-9
Received:

Accepted:

Published:

Issue Date:

DOI: https://doi.org/10.1038/s41586-020-1974-9
Comments
By submitting a comment you agree to abide by our Terms and Community Guidelines. If you find something abusive or that does not comply with our terms or guidelines please flag it as inappropriate.