Abstract
Metamaterials are designed to realize exotic physical properties through the geometric arrangement of their underlying structural layout1,2. Traditional mechanical metamaterials achieve functionalities such as a target Poisson's ratio3 or shape transformation4,5,6 through unit-cell optimization7,8,9, often with spatial heterogeneity10,11,12. These functionalities are programmed into the layout of the metamaterial in a way that cannot be altered. Although recent efforts have produced means of tuning such properties post-fabrication13,14,15,16,17,18,19, they have not demonstrated mechanical reprogrammability analogous to that of digital devices, such as hard disk drives, in which each unit can be written to or read from in real time as required. Here we overcome this challenge by using a design framework for a tileable mechanical metamaterial with stable memory at the unit-cell level. Our design comprises an array of physical binary elements (m-bits), analogous to digital bits, with clearly delineated writing and reading phases. Each m-bit can be independently and reversibly switched between two stable states (acting as memory) using magnetic actuation to move between the equilibria of a bistable shell20,21,22,23,24,25. Under deformation, each state is associated with a distinctly different mechanical response that is fully elastic and can be reversibly cycled until the system is reprogrammed. Encoding a set of binary instructions onto the tiled array yields markedly different mechanical properties; specifically, the stiffness and strength can be made to range over an order of magnitude. We expect that the stable memory and on-demand reprogrammability of mechanical properties in this design paradigm will facilitate the development of advanced forms of mechanical metamaterials.
Access options
Subscribe to Journal
Get full journal access for 1 year
$199.00
only $3.90 per issue
All prices are NET prices.
VAT will be added later in the checkout.
Tax calculation will be finalised during checkout.
Rent or Buy article
Get time limited or full article access on ReadCube.
from$8.99
All prices are NET prices.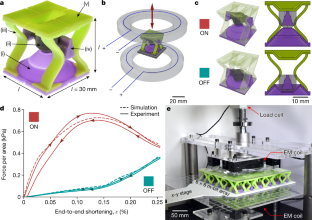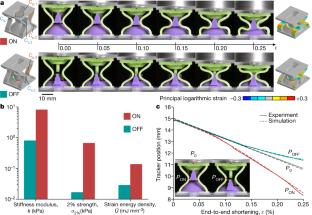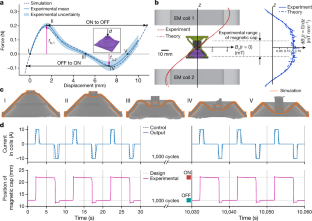 Data availability
The CAD models of the moulds are available for reproduction. Source data are provided with this paper.
Code availability
The codes that support the findings of this study are available from the corresponding authors upon reasonable request.
References
1.

Shelby, R. A., Smith, D. R. & Schultz, S. Experimental verification of a negative index of refraction. Science 292, 77–79 (2001).

2.

Li, J. & Chan, C. T. Double-negative acoustic metamaterial. Phys. Rev. E 70, 055602 (2004).

3.

Clausen, A., Wang, F., Jensen, J. S., Sigmund, O. & Lewis, J. A. Topology optimized architectures with programmable Poisson's ratio over large deformations. Adv. Mater. 27, 5523–5527 (2015).

4.

Konaković-Luković, M., Panetta, J., Crane, K. & Pauly, M. Rapid deployment of curved surfaces via programmable auxetics. ACM Trans. Graph. 37, 1–13 (2018).

5.

Coulais, C., Teomy, E., de Reus, K., Shokef, Y. & van Hecke, M. Combinatorial design of textured mechanical metamaterials. Nature 535, 529–532 (2016).

6.

Guseinov, R., McMahan, C., Pérez, J., Daraio, C. & Bickel, B. Programming temporal morphing of self-actuated shells. Nat. Commun. 11, 237 (2020).

7.

Zheng, X. et al. Ultralight, ultrastiff mechanical metamaterials. Science 344, 1373–1377 (2014).

8.

Meza, L. R. et al. Resilient 3D hierarchical architected metamaterials. Proc. Natl Acad. Sci. USA 112, 11502–11507 (2015).

9.

Shan, S. et al. Multistable architected materials for trapping elastic strain energy. Adv. Mater. 27, 4296–4301 (2015).

10.

Raney, J. R. et al. Stable propagation of mechanical signals in soft media using stored elastic energy. Proc. Natl Acad. Sci. USA 113, 9722–9727 (2016).

11.

Kim, Y., Yuk, H., Zhao, R., Chester, S. A. & Zhao, X. Printing ferromagnetic domains for untethered fast-transforming soft materials. Nature 558, 274–279 (2018).

12.

Jin, L., Khajehtourian, R., Mueller, J., Rafsanjani, A. & Tournat, V. Guided transition waves in multistable mechanical metamaterials. Proc. Natl Acad. Sci. USA 117, 2319–2325 (2020).

13.

Wang, P., Casadei, F., Shan, S., Weaver, J. C. & Bertoldi, K. Harnessing buckling to design tunable locally resonant acoustic metamaterials. Phys. Rev. Lett. 113, 014301 (2014).

14.

Florijn, B., Coulais, C. & Van Hecke, M. Programmable mechanical metamaterials. Phys. Rev. Lett. 113, 175503 (2014).

15.

Silverberg, J. L. et al. Using origami design principles to fold reprogrammable mechanical metamaterials. Science 345, 647–650 (2014).

16.

Sussman, D. M. et al. Algorithmic lattice kirigami: a route to pluripotent materials. Proc. Natl Acad. Sci. USA 112, 7449–7453 (2015).

17.

Wang, Y. et al. Architected lattices with adaptive energy absorption. Extrem. Mech. Lett. 33, 100557 (2019).

18.

Medina, E., Farrell, P. E., Bertoldi, K. & Rycroft, C. H. Navigating the landscape of nonlinear mechanical metamaterials for advanced programmability. Phys. Rev. B 101, 064101 (2020).

19.

Novelino, L. S., Ze, Q., Wu, S., Paulino, G. H. & Zhao, R. Untethered control of functional origami microrobots with distributed actuation. Proc. Natl Acad. Sci. USA 117, 24096–24101 (2020).

20.

Overvelde, J. T. B., Kloek, T., D'haen, J. J. A. & Bertoldi, K. Amplifying the response of soft actuators by harnessing snap-through instabilities. Proc. Natl Acad. Sci. USA 112, 10863–10868 (2015).

21.

Chen, T., Mueller, J. & Shea, K. Integrated design and simulation of tunable, multi-state structures fabricated monolithically with multi-material 3D printing. Sci. Rep. 7, 45671 (2017).

22.

Bilal, O. R., Foehr, A. & Daraio, C. Reprogrammable phononic metasurfaces. Adv. Mater. 29, 1700628 (2017).

23.

Faber, J. A., Arrieta, A. F. & Studart, A. R. Bioinspired spring origami. Science 359, 1386–1391 (2018).

24.

Le Ferrand, H., Studart, A. R. & Arrieta, A. F. Filtered mechanosensing using snapping composites with embedded mechano-electrical transduction. ACS Nano 13, 4752–4760 (2019).

25.

Yasuda, H., Korpas, L. & Raney, J. Transition waves and formation of domain walls in multistable mechanical metamaterials. Phys. Rev. Appl. 13, 054067 (2020).

26.

Sobota, P. M. & Seffen, K. A. Bistable polar-orthotropic shallow shells. R. Soc. Open Sci. 6, 190888 (2019).

27.

Jia, Z. & Wang, L. Instability-triggered triply negative mechanical metamaterial. Phys. Rev. Appl. 12, 024040 (2019).

28.

Zheludev, N. I. & Kivshar, Y. S. From metamaterials to metadevices. Nat. Mater. 11, 917–924 (2012).

29.

Silva, A. et al. Performing mathematical operations with metamaterials. Science 343, 160–163 (2014).

30.

Cui, T. J., Qi, M. Q., Wan, X., Zhao, J. & Cheng, Q. Coding metamaterials, digital metamaterials and programmable metamaterials. Light Sci. Appl. 3, e218 (2014).

31.

Della Giovampaola, C. & Engheta, N. Digital metamaterials. Nat. Mater. 13, 1115–1121 (2014).

32.

Oliveri, G. & Overvelde, J. T. B. Inverse design of mechanical metamaterials that undergo buckling. Adv. Funct. Mater. 30, 1909033 (2020).

33.

Bauhofer, A. A. et al. Harnessing photochemical shrinkage in direct laser writing for shape morphing of polymer sheets. Adv. Mater. 29, 1703024 (2017).

34.

Kotikian, A., Truby, R. L., Boley, J. W., White, T. J. & Lewis, J. A. 3D printing of liquid crystal elastomeric actuators with spatially programed nematic order. Adv. Mater. 30, 1706164 (2018).

35.

Skylar-Scott, M. A., Mueller, J., Visser, C. W. & Lewis, J. A. Voxelated soft matter via multimaterial multinozzle 3D printing. Nature 575, 330–335 (2019).

36.

Reis, P. M., Heinrich, H. M. & Van Hecke, M. Designer matter: a perspective. Extrem. Mech. Lett. 5, 25–29 (2015)

37.

Ogden, R. W. Large deformation isotropic elasticity – on the correlation of theory and experiment for incompressible rubberlike solids. Rubber Chem. Technol. 46, 398–416 (1973).

38.

Ogden, R. W. & Roxburgh, D. G. A pseudo-elastic model for the Mullins effect in filled rubber. Proc. R. Soc. A 455, 2861–2877 (1999).

39.

Mises, R. V. Über die Stabilitätsprobleme der Elastizitätstheorie. Z. Angew. Math. Mech. 3, 406–422 (1923).

40.

Schneider, C. A., Rasband, W. S. & Eliceiri, K. W. NIH Image to ImageJ: 25 years of image analysis. Nat. Methods 9, 671–675 (2012).

41.

Griffiths, D. J. Introduction to Electrodynamics 3rd edn (Prentice-Hall, 1999).

42.

Cedolin, L. et al. Stability of Structures: Elastic, Inelastic, Fracture and Damage Theories (World Scientific, 2010).
Acknowledgements
We acknowledge funding from École Polytechnique Fédérale de Lausanne.
Ethics declarations
Competing interests
The authors declare no competing interests.
Additional information
Peer review information Nature thanks Corentin Coulais and the other, anonymous, reviewer(s) for their contribution to the peer review of this work.
Publisher's note Springer Nature remains neutral with regard to jurisdictional claims in published maps and institutional affiliations.
Extended data figures and tables
Supplementary information
About this article
Cite this article
Chen, T., Pauly, M. & Reis, P.M. A reprogrammable mechanical metamaterial with stable memory. Nature 589, 386–390 (2021). https://doi.org/10.1038/s41586-020-03123-5
Received:

Accepted:

Published:

Issue Date:
Comments
By submitting a comment you agree to abide by our Terms and Community Guidelines. If you find something abusive or that does not comply with our terms or guidelines please flag it as inappropriate.