Abstract
Clinical trials using adult stem cells to regenerate damaged heart tissue continue to this day1,2, despite ongoing questions of efficacy and a lack of mechanistic understanding of the underlying biological effect3. The rationale for these cell therapy trials is derived from animal studies that show a modest but reproducible improvement in cardiac function in models of cardiac ischaemic injury4,5. Here we examine the mechanistic basis for cell therapy in mice after ischaemia–reperfusion injury, and find that—although heart function is enhanced—it is not associated with the production of new cardiomyocytes. Cell therapy improved heart function through an acute sterile immune response characterized by the temporal and regional induction of CCR2+ and CX3CR1+ macrophages. Intracardiac injection of two distinct types of adult stem cells, cells killed by freezing and thawing or a chemical inducer of the innate immune response all induced a similar regional accumulation of CCR2+ and CX3CR1+ macrophages, and provided functional rejuvenation to the heart after ischaemia–reperfusion injury. This selective macrophage response altered the activity of cardiac fibroblasts, reduced the extracellular matrix content in the border zone and enhanced the mechanical properties of the injured area. The functional benefit of cardiac cell therapy is thus due to an acute inflammatory-based wound-healing response that rejuvenates the infarcted area of the heart.
Your institute does not have access to this article
Relevant articles
Open Access articles citing this article.
Hongmei Li

,

Fenfang Wu

…

Anlong Xu

Signal Transduction and Targeted Therapy Open Access 29 July 2022

Rachana Mishra

,

Progyaparamita Saha

…

Sunjay Kaushal

Journal of Translational Medicine Open Access 21 July 2022

Andrew J. Smith

,

Prashant Ruchaya

…

Georgina M. Ellison-Hughes

Scientific Reports Open Access 16 June 2022
Access options
Subscribe to Nature+
Get immediate online access to the entire Nature family of 50+ journals
Subscribe to Journal
Get full journal access for 1 year
$199.00
only $3.90 per issue
All prices are NET prices.
VAT will be added later in the checkout.
Tax calculation will be finalised during checkout.
Buy article
Get time limited or full article access on ReadCube.
$32.00
All prices are NET prices.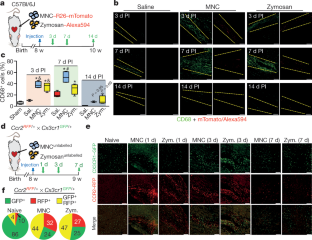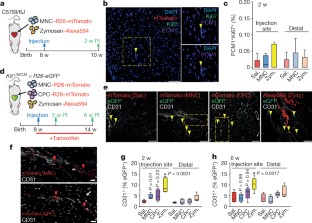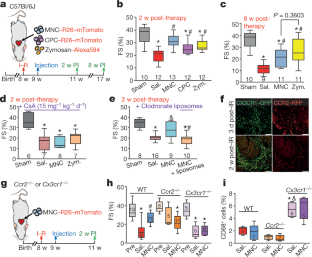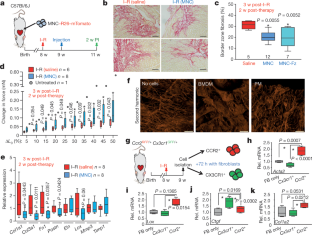 Data availability
All raw data generated or analysed in this study are available from the corresponding author upon reasonable request. Original source data used to generate graphs in each of the figures and Extended Data figures are available as Microsoft Excel data sheet files from the corresponding author.
References
Nguyen, P. K., Rhee, J. W. & Wu, J. C. Adult stem cell therapy and heart failure, 2000 to 2016: a systematic review. JAMA Cardiol. 1, 831–841 (2016).

Fernández-Avilés, F. et al. Global position paper on cardiovascular regenerative medicine. Eur. Heart J. 38, 2532–2546 (2017).

Epstein, J. A. A time to press reset and regenerate cardiac stem cell biology. JAMA Cardiol. 4, 95–96 (2019).

Zwetsloot, P. P. et al. Cardiac stem cell treatment in myocardial infarction: a systematic review and meta-analysis of preclinical studies. Circ. Res. 118, 1223–1232 (2016).

Tompkins, B. A. et al. Preclinical studies of stem cell therapy for heart disease. Circ. Res. 122, 1006–1020 (2018).

Orlic, D. et al. Bone marrow cells regenerate infarcted myocardium. Nature 410, 701–705 (2001).

Beltrami, A. P. et al. Adult cardiac stem cells are multipotent and support myocardial regeneration. Cell 114, 763–776 (2003).

Eschenhagen, T. et al. Cardiomyocyte regeneration: a consensus statement. Circulation 136, 680–686 (2017).

A futile cycle in cell therapy. Nat. Biotechnol. 35, 291 (2017).

Sanganalmath, S. K. & Bolli, R. Cell therapy for heart failure: a comprehensive overview of experimental and clinical studies, current challenges, and future directions. Circ. Res. 113, 810–834 (2013).

Pillemer, L., Blum, L., Pensky, J. & Lepow, I. H. The requirement for magnesium ions in the inactivation of the third component of human complement (C′3) by insoluble residues of yeast cells (zymosan). J. Immunol. 71, 331–338 (1953).

Saederup, N. et al. Selective chemokine receptor usage by central nervous system myeloid cells in CCR2-red fluorescent protein knock-in mice. PLoS ONE 5, e13693 (2010).

Jung, S. et al. Analysis of fractalkine receptor CX3CR1 function by targeted deletion and green fluorescent protein reporter gene insertion. Mol. Cell. Biol. 20, 4106–4114 (2000).

Bajpai, G. et al. Tissue resident CCR2− and CCR2+ cardiac macrophages differentially orchestrate monocyte recruitment and fate specification following myocardial injury. Circ. Res. 124, 263–278 (2019).

Dick, S. A. et al. Self-renewing resident cardiac macrophages limit adverse remodeling following myocardial infarction. Nat. Immunol. 20, 29–39 (2019).

van Berlo, J. H. et al. c-kit+ cells minimally contribute cardiomyocytes to the heart. Nature 509, 337–341 (2014).

Nahrendorf, M. et al. The healing myocardium sequentially mobilizes two monocyte subsets with divergent and complementary functions. J. Exp. Med. 204, 3037–3047 (2007).

Kaikita, K. et al. Targeted deletion of CC chemokine receptor 2 attenuates left ventricular remodeling after experimental myocardial infarction. Am. J. Pathol. 165, 439–447 (2004).

Leuschner, F. et al. Therapeutic siRNA silencing in inflammatory monocytes in mice. Nat. Biotechnol. 29, 1005–1010 (2011).

Stremmel, C. et al. Yolk sac macrophage progenitors traffic to the embryo during defined stages of development. Nat. Commun. 9, 75 (2018).

Hwang, J. et al. In situ imaging of tissue remodeling with collagen hybridizing peptides. ACS Nano 11, 9825–9835 (2017).

Brigstock, D. R. Regulation of angiogenesis and endothelial cell function by connective tissue growth factor (CTGF) and cysteine-rich 61 (CYR61). Angiogenesis 5, 153–165 (2002).

Thum, T., Bauersachs, J., Poole-Wilson, P. A., Volk, H. D. & Anker, S. D. The dying stem cell hypothesis: immune modulation as a novel mechanism for progenitor cell therapy in cardiac muscle. J. Am. Coll. Cardiol. 46, 1799–1802 (2005).

Schwanekamp, J. A., Lorts, A., Vagnozzi, R. J., Vanhoutte, D. & Molkentin, J. D. Deletion of periostin protects against atherosclerosis in mice by altering inflammation and extracellular matrix remodeling. Arterioscler. Thromb. Vasc. Biol. 36, 60–68 (2016).

Pinto, A. R. et al. Revisiting cardiac cellular composition. Circ. Res. 118, 400–409 (2016).

Vagnozzi, R. J. et al. Genetic lineage tracing of Sca-1+ cells reveals endothelial but not myogenic contribution to the murine heart. Circulation 138, 2931–2939 (2018).

Han, C. et al. Acute inflammation stimulates a regenerative response in the neonatal mouse heart. Cell Res. 25, 1137–1151 (2015).

Kaiser, R. A. et al. Targeted inhibition of p38 mitogen-activated protein kinase antagonizes cardiac injury and cell death following ischemia-reperfusion in vivo. J. Biol. Chem. 279, 15524–15530 (2004).

Sussman, M. A. et al. Prevention of cardiac hypertrophy in mice by calcineurin inhibition. Science 281, 1690–1693 (1998).

Liu, R. et al. Cardiac-specific deletion of protein phosphatase 1β promotes increased myofilament protein phosphorylation and contractile alterations. J. Mol. Cell. Cardiol. 87, 204–213 (2015).

Khalil, H. et al. Fibroblast-specific TGF-β-Smad2/3 signaling underlies cardiac fibrosis. J. Clin. Invest. 127, 3770–3783 (2017).

Zhang, X., Goncalves, R. & Mosser, D. M. The isolation and characterization of murine macrophages. Curr. Protoc. Immunol. 14, 14.1.1–14.1.14 (2008).

Davies, L. C., Jenkins, S. J., Allen, J. E. & Taylor, P. R. Tissue-resident macrophages. Nat. Immunol. 14, 986–995 (2013).
Acknowledgements
This work was supported by grants from the National Institutes of Health to J.D.M., S.S. and M.N. J.D.M. was supported by the Howard Hughes Medical Institute and the American Heart Association (19MERIT34370048). R.J.V. was supported by a National Research Service Award from the NIH (F32 HL128083) and a Career Development Award from the American Heart Association (19CDA34670044). All flow cytometric data were acquired using equipment maintained by the Research Flow Cytometry Core in the Division of Rheumatology at Cincinnati Children's Hospital Medical Center.
Ethics declarations
Competing interests
The authors declare no competing interests.
Additional information
Peer review information Nature thanks Merry Lindsey, Christine Mummery and the other, anonymous, reviewer(s) for their contribution to the peer review of this work.
Publisher's note Springer Nature remains neutral with regard to jurisdictional claims in published maps and institutional affiliations.
Extended data figures and tables
Supplementary information
This file contains Supplementary Table 1 (Antibodies and Antibody Dilutions Used in this Study) and Supplementary Table 2 (Primers Used for RT-PCR Analysis in this Study).
About this article
Cite this article
Vagnozzi, R.J., Maillet, M., Sargent, M.A. et al. An acute immune response underlies the benefit of cardiac stem cell therapy. Nature 577, 405–409 (2020). https://doi.org/10.1038/s41586-019-1802-2
Received:

Accepted:

Published:

Issue Date:

DOI: https://doi.org/10.1038/s41586-019-1802-2
Comments
By submitting a comment you agree to abide by our Terms and Community Guidelines. If you find something abusive or that does not comply with our terms or guidelines please flag it as inappropriate.