Abstract
Central to understanding cellular behaviour in multi-cellular organisms is the question of how a cell exits one transcriptional state to adopt and eventually become committed to another. Fibroblast growth factor-extracellular signal-regulated kinase (FGF -ERK) signalling drives differentiation of mouse embryonic stem cells (ES cells) and pre-implantation embryos towards primitive endoderm, and inhibiting ERK supports ES cell self-renewal1. Paracrine FGF–ERK signalling induces heterogeneity, whereby cells reversibly progress from pluripotency towards primitive endoderm while retaining their capacity to re-enter self-renewal2. Here we find that ERK reversibly regulates transcription in ES cells by directly affecting enhancer activity without requiring a change in transcription factor binding. ERK triggers the reversible association and disassociation of RNA polymerase II and associated co-factors from genes and enhancers with the mediator component MED24 having an essential role in ERK-dependent transcriptional regulation. Though the binding of mediator components responds directly to signalling, the persistent binding of pluripotency factors to both induced and repressed genes marks them for activation and/or reactivation in response to fluctuations in ERK activity. Among the repressed genes are several core components of the pluripotency network that act to drive their own expression and maintain the ES cell state; if their binding is lost, the ability to reactivate transcription is compromised. Thus, as long as transcription factor occupancy is maintained, so is plasticity, enabling cells to distinguish between transient and sustained signals. If ERK signalling persists, pluripotency transcription factor levels are reduced by protein turnover and irreversible gene silencing and commitment can occur.
Relevant articles
Open Access articles citing this article.
Yan Fung Wong

,

Yatendra Kumar

…

Joshua M. Brickman

Nature Cell Biology Open Access 23 January 2023

Giacomo Furlan

,

Aurélia Huyghe

…

Fabrice Lavial

Nature Communications Open Access 05 January 2023

Joyce J. Thompson

,

Daniel J. Lee

…

Pedro P. Rocha

Nature Communications Open Access 23 July 2022
Access options
Access Nature and 54 other Nature Portfolio journals
Get Nature+, our best-value online-access subscription
$29.99 per month
cancel any time
Subscribe to this journal
Receive 51 print issues and online access
$199.00 per year
only $3.90 per issue
Rent or buy this article
Get just this article for as long as you need it
$39.95
Prices may be subject to local taxes which are calculated during checkout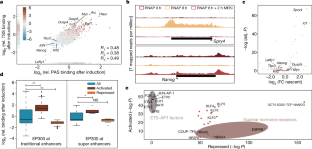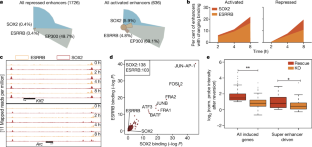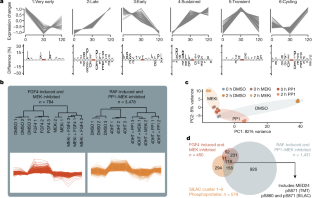 Data availability
The microarray, ChIP–seq and RNA-seq data used in this study have been deposited in the Gene Expression Omnibus under accession number GSE132444. The mass spectrometry proteomics data have been deposited with the ProteomeXchange Consortium via the PRIDE partner repository with the dataset identifiers PXD008964 and PXD012573.
References
Chazaud, C., Yamanaka, Y., Pawson, T. & Rossant, J. Early lineage segregation between epiblast and primitive endoderm in mouse blastocysts through the Grb2–MAPK pathway. Dev. Cell 10, 615–624 (2006).

Canham, M. A., Sharov, A. A., Ko, M. S. H. & Brickman, J. M. Functional heterogeneity of embryonic stem cells revealed through translational amplification of an early endodermal transcript. PLoS Biol. 8, e1000379 (2010).

Levine, M., Cattoglio, C. & Tjian, R. Looping back to leap forward: transcription enters a new era. Cell 157, 13–25 (2014).

Whyte, W. A. et al. Enhancer decommissioning by LSD1 during embryonic stem cell differentiation. Nature 482, 221–225 (2012).

Chen, X. et al. Integration of external signaling pathways with the core transcriptional network in embryonic stem cells. Cell 133, 1106–1117 (2008).

Sturm, O. E. et al. The mammalian MAPK/ERK pathway exhibits properties of a negative feedback amplifier. Sci. Signal. 3, ra90 (2010).

Hamilton, W. B. & Brickman, J. M. Erk signaling suppresses embryonic stem cell self-renewal to specify endoderm. Cell Rep. 9, 2056–2070 (2014).

Sokolik, C. et al. Transcription factor competition allows embryonic stem cells to distinguish authentic signals from noise. Cell Syst. 1, 117–129 (2015).

Tan, F. E. & Elowitz, M. B. Brf1 posttranscriptionally regulates pluripotency and differentiation responses downstream of Erk MAP kinase. Proc. Natl Acad. Sci. USA 111, E1740–E1748 (2014).

Yeo, J.-C. et al. Klf2 is an essential factor that sustains ground state pluripotency. Cell Stem Cell 14, 864–872 (2014).

Kim, M. O. et al. ERK1 and ERK2 regulate embryonic stem cell self-renewal through phosphorylation of Klf4. Nat. Struct. Mol. Biol. 19, 283–290 (2012).

Tee, W.-W., Shen, S. S., Oksuz, O., Narendra, V. & Reinberg, D. Erk1/2 activity promotes chromatin features and RNAPII phosphorylation at developmental promoters in mouse ESCs. Cell 156, 678–690 (2014).

Williams, L. H. et al. Pausing of RNA polymerase II regulates mammalian developmental potential through control of signaling networks. Mol. Cell 58, 311–322 (2015).

Min, I. M. et al. Regulating RNA polymerase pausing and transcription elongation in embryonic stem cells. Genes Dev. 25, 742–754 (2011).

Hnisz, D. et al. Super-enhancers in the control of cell identity and disease. Cell 155, 934–947 (2013).

Loh, K. M. & Lim, B. A precarious balance: pluripotency factors as lineage specifiers. Cell Stem Cell 8, 363–369 (2011).

Carlson, S. M. et al. Large-scale discovery of ERK2 substrates identifies ERK-mediated transcriptional regulation by ETV3. Sci. Signal. 4, rs11 (2011).

Williams, M. R. et al. The role of 3-phosphoinositide-dependent protein kinase 1 in activating AGC kinases defined in embryonic stem cells. Curr. Biol. 10, 439–448 (2000).

Endo, S., Satoh, Y., Shah, K. & Takishima, K. A single amino-acid change in ERK1/2 makes the enzyme susceptible to PP1 derivatives. Biochem. Biophys. Res. Commun. 341, 261–265 (2006).

Okuzumi, T. et al. Synthesis and evaluation of indazole based analog sensitive Akt inhibitors. Mol. Biosyst. 6, 1389–1402 (2010).

van den Berg, D. L. C. et al. An Oct4-centered protein interaction network in embryonic stem cells. Cell Stem Cell 6, 369–381 (2010).

Yin, J.-W. & Wang, G. The Mediator complex: a master coordinator of transcription and cell lineage development. Development 141, 977–987 (2014).

Allen, B. L. & Taatjes, D. J. The Mediator complex: a central integrator of transcription. Nat. Rev. Mol. Cell Biol. 16, 155–166 (2015).

Ito, M., Yuan, C. X., Okano, H. J., Darnell, R. B. & Roeder, R. G. Involvement of the TRAP220 component of the TRAP/SMCC coactivator complex in embryonic development and thyroid hormone action. Mol. Cell 5, 683–693 (2000).

Anderson, K. G. V. et al. Insulin fine-tunes self-renewal pathways governing naive pluripotency and extra-embryonic endoderm. Nat. Cell Biol. 19, 1164–1177 (2017).

Tarkowski, A. K. Experiments on the development of isolated blastomers of mouse eggs. Nature 184, 1286–1287 (1959).

Mintz, B. Formation of genetically mosaic mouse embryos, and early development of "lethal (t 12/t 12)-normal" mosaics. J. Exp. Zool. 157, 273–292 (1964).

Rossant, J. & Lis, W. T. Potential of isolated mouse inner cell masses to form trophectoderm derivatives in vivo. Dev. Biol. 70, 255–261 (1979).

Grabarek, J. B. et al. Differential plasticity of epiblast and primitive endoderm precursors within the ICM of the early mouse embryo. Development 139, 129–139 (2012).

Pisco, A. O., d'Hérouël, A. F. & Huang, S. Conceptual confusion: the case of epigenetics. Preprint at bioRxiv https://doi.org/10.1101/053009 (2016).

Sharova, L. V. et al. Database for mRNA half-life of 19 977 genes obtained by DNA microarray analysis of pluripotent and differentiating mouse embryonic stem cells. DNA Res. 16, 45–58 (2009).

Ying, Q.-L., Stavridis, M., Griffiths, D., Li, M. & Smith, A. Conversion of embryonic stem cells into neuroectodermal precursors in adherent monoculture. Nat. Biotechnol. 21, 183–186 (2003).

Francavilla, C. et al. Functional proteomics defines the molecular switch underlying FGF receptor trafficking and cellular outputs. Mol. Cell 51, 707–722 (2013).

Sharov, A. A., Schlessinger, D. & Ko, M. S. H. ExAtlas: An interactive online tool for meta-analysis of gene expression data. J. Bioinform. Comput. Biol. 13, 1550019 (2015).

Dobin, A., & Gingeras, T. R. Mapping RNA-seq reads with STAR Curr. Protoc. Bioinformatics 51, 11.14.1–11.14.19 (2015).

Love, M. I., Huber, W. & Anders, S. Moderated estimation of fold change and dispersion for RNA-seq data with DESeq2. Genome Biol. 15, 550 (2014).

Langmead, B. & Salzberg, S. L. Fast gapped-read alignment with Bowtie 2. Nat. Methods 9, 357–359 (2012).

Feng, J., Liu, T., Qin, B., Zhang, Y. & Liu, X. S. Identifying ChIP–seq enrichment using MACS. Nat. Protocols 7, 1728–1740 (2012).

Quinlan, A. R. & Hall, I. M. BEDTools: a flexible suite of utilities for comparing genomic features. Bioinformatics 26, 841–842 (2010).

Tiago, F., et al. Reorganization of enhancer patterns in transition from naive to primed pluripotency. Cell Stem Cell 14, 838–853.

Heinz, S. et al. Simple combinations of lineage-determining transcription factors prime cis-regulatory elements required for macrophage and B cell identities. Mol. Cell 38, 576–589 (2010).

Kelstrup, C. D., Young, C., Lavallee, R., Nielsen, M. L. & Olsen, J. V. Optimized fast and sensitive acquisition methods for shotgun proteomics on a quadrupole orbitrap mass spectrometer. J. Proteome Res. 11, 3487–3497 (2012).

Ritchie, M. E. et al. limma powers differential expression analyses for RNA-sequencing and microarray studies. Nucleic Acids Res. 43, e47 (2015).

Boroviak, T. et al. Lineage-specific profiling delineates the emergence and progression of naive pluripotency in mammalian embryogenesis. Dev. Cell 35, 366–382 (2015).
Acknowledgements
We thank M. Thomson for the NANOG–eGFP ES cells, T. Kunath for Erk2-KO cells, N. Festuccia for Esrrb-KO cells, H.H. Ng for the KLF2 and TFCP2L1 antibodies, the Brickman laboratory members for critical discussions, Y. Spector for sequencing assistance, H. Neil, M. Michaut and the DanStem Genomics Platform for technical expertise, support, and the use of instruments, S. Pozzi, N. Festuccia and P. Navarro Gil for advice on ChIP protocols, K. Stewart-Morgan for help with ATAC-seq, A. Azad and J. A. R. Herrera for bioinformatics advice and P. van Dieken for technical support and proof reading. This work was funded by grants from the Novo Nordisk Foundation, Danish Council for Independent Research (8020-00100B), Danish National Research Foundation (DNRF116) and Human Frontiers in Science (RGP0008/2012). The Novo Nordisk Foundation Centers for Stem Cell Biology and Protein Research are supported by a Novo Nordisk Foundation grant numbers NNF17CC0027852 and NNF14CC0001. R.S.M. is supported by a fellowship from the Lundbeck Foundation (R303-2018-2939).
Ethics declarations
Competing interests
The authors declare no competing interests.
Additional information
Publisher's note Springer Nature remains neutral with regard to jurisdictional claims in published maps and institutional affiliations.
Peer review information Nature thanks Charles Danko and the other, anonymous, reviewer(s) for their contribution to the peer review of this work.
Extended data figures and tables
Supplementary information
About this article
Cite this article
Hamilton, W.B., Mosesson, Y., Monteiro, R.S. et al. Dynamic lineage priming is driven via direct enhancer regulation by ERK. Nature 575, 355–360 (2019). https://doi.org/10.1038/s41586-019-1732-z
Received:

Accepted:

Published:

Issue Date:

DOI: https://doi.org/10.1038/s41586-019-1732-z
Comments
By submitting a comment you agree to abide by our Terms and Community Guidelines. If you find something abusive or that does not comply with our terms or guidelines please flag it as inappropriate.