Abstract
Human achievements are often preceded by repeated attempts that fail, but little is known about the mechanisms that govern the dynamics of failure. Here, building on previous research relating to innovation1,2,3,4,5,6,7, human dynamics8,9,10,11 and learning12,13,14,15,16,17, we develop a simple one-parameter model that mimics how successful future attempts build on past efforts. Solving this model analytically suggests that a phase transition separates the dynamics of failure into regions of progression or stagnation and predicts that, near the critical threshold, agents who share similar characteristics and learning strategies may experience fundamentally different outcomes following failures. Above the critical point, agents exploit incremental refinements to systematically advance towards success, whereas below it, they explore disjoint opportunities without a pattern of improvement. The model makes several empirically testable predictions, demonstrating that those who eventually succeed and those who do not may initially appear similar, but can be characterized by fundamentally distinct failure dynamics in terms of the efficiency and quality associated with each subsequent attempt. We collected large-scale data from three disparate domains and traced repeated attempts by investigators to obtain National Institutes of Health (NIH) grants to fund their research, innovators to successfully exit their startup ventures, and terrorist organizations to claim casualties in violent attacks. We find broadly consistent empirical support across all three domains, which systematically verifies each prediction of our model. Together, our findings unveil detectable yet previously unknown early signals that enable us to identify failure dynamics that will lead to ultimate success or failure. Given the ubiquitous nature of failure and the paucity of quantitative approaches to understand it, these results represent an initial step towards the deeper understanding of the complex dynamics underlying failure.
Access options
Subscribe to Journal
Get full journal access for 1 year
$199.00
only $3.90 per issue
All prices are NET prices.
VAT will be added later in the checkout.
Rent or Buy article
Get time limited or full article access on ReadCube.
from$8.99
All prices are NET prices.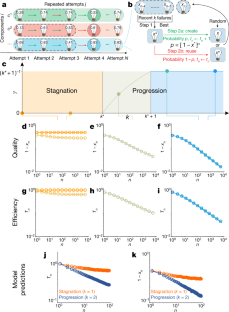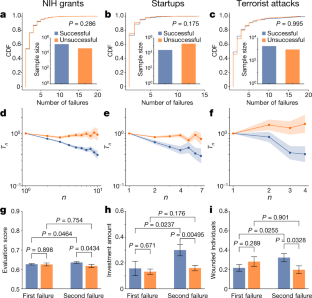 Data availability
This paper makes use of restricted access data from the National Institutes of Health (NIH), protected by the Privacy Act of 1974 as amended (5 U.S.C. 552a). Deidentified data necessary to reproduce all plots and statistical analyses are freely available at https://yian-yin.github.io/quantifyFailure. Those wishing to access the raw data can apply for access following the procedures outlined in the NIH Data Access Policy document (http://report.nih.gov/pdf/DataAccessPolicy.pdf). The VentureXpert database is available from Thomson Reuters. The Global Terrorism Database is publicly available at https://www.start.umd.edu/gtd/.
References
1.

Fortunato, S. et al. Science of science. Science 359, eaao0185 (2018).

2.

Harford, T. Adapt: Why Success Always Starts with Failure (Farrar, Straus and Giroux, 2011).

3.

Wuchty, S., Jones, B. F. & Uzzi, B. The increasing dominance of teams in production of knowledge. Science 316, 1036–1039 (2007).

4.

Jones, B. F. The burden of knowledge and the "death of the renaissance man": is innovation getting harder? Rev. Econ. Stud. 76, 283–317 (2009).

5.

Sinatra, R., Wang, D., Deville, P., Song, C. & Barabási, A.-L. Quantifying the evolution of individual scientific impact. Science 354, aaf5239 (2016).

6.

Liu, L. et al. Hot streaks in artistic, cultural, and scientific careers. Nature 559, 396–399 (2018).

7.

Hu, Y., Havlin, S. & Makse, H. A. Conditions for viral influence spreading through multiplex correlated social networks. Phys. Rev. X 4, 021031 (2014).

8.

Barabási, A.-L. The origin of bursts and heavy tails in human dynamics. Nature 435, 207–211 (2005).

9.

González, M. C., Hidalgo, C. A. & Barabási, A.-L. Understanding individual human mobility patterns. Nature 453, 779–782 (2008).

10.

Castellano, C., Fortunato, S. & Loreto, V. Statistical physics of social dynamics. Rev. Mod. Phys. 81, 591–646 (2009).

11.

Malmgren, R. D., Stouffer, D. B., Campanharo, A. S. & Amaral, L. A. N. On universality in human correspondence activity. Science 325, 1696–1700 (2009).

12.

Argote, L. Organizational Learning: Creating, Retaining and Transferring Knowledge (Springer Science & Business Media, 2012).

13.

Sitkin, S. B. Learning through failure: the strategy of small losses. Res. Organ. Behav. 14, 231–266 (1992).

14.

Yelle, L. E. The learning curve: historical review and comprehensive survey. Decis. Sci. 10, 302–328 (1979).

15.

Dutton, J. M. & Thomas, A. Treating progress functions as a managerial opportunity. Acad. Manage. Rev. 9, 235–247 (1984).

16.

Huber, G. P. Organizational learning: the contributing processes and the literatures. Organ. Sci. 2, 88–115 (1991).

17.

Cannon, M. D. & Edmondson, A. C. Failing to learn and learning to fail (intelligently): how great organizations put failure to work to innovate and improve. Long Range Plann. 38, 299–319 (2005).

18.

Kaplan, S. N. & Lerner, J. in Measuring Entrepreneurial Businesses: Current Knowledge and Challenges (Univ. Chicago Press, 2016).

19.

Eggers, J. P. & Song, L. Dealing with failure: serial entrepreneurs and the costs of changing industries between ventures. Acad. Manage. J. 58, 1785–1803 (2015).

20.

National Consortium for the Study of Terrorism and Responses to Terrorism. Global Terrorism Database (GTD) https://www.start.umd.edu/research-projects/global-terrorism-database-gtd (2018).

21.

Clauset, A. & Gleditsch, K. S. The developmental dynamics of terrorist organizations. PLoS ONE 7, e48633 (2012).

22.

Johnson, N. et al. Pattern in escalations in insurgent and terrorist activity. Science 333, 81–84 (2011).

23.

Newell, A. & Rosenbloom, P. S. in Cognitive Skills and their Acquisition 1 (ed. Anderson, J. R.) 1–55 (Erlbaum, 1981).

24.

Anderson, J. R. Acquisition of cognitive skill. Psychol. Rev. 89, 369–406 (1982).

25.

Muth, J. F. Search theory and the manufacturing progress function. Manage. Sci. 32, 948–962 (1986).

26.

Wright, T. P. Factors affecting the cost of airplanes. J. Aeronaut. Sci. 3, 122–128 (1936).

27.

March, J. G. Exploration and exploitation in organizational learning. Organ. Sci. 2, 71–87 (1991).

28.

Foster, J. G., Rzhetsky, A. & Evans, J. A. Tradition and innovation in scientists' research strategies. Am. Sociol. Rev. 80, 875–908 (2015).

29.

Arbesman, S. The Half-life of Facts: Why Everything We Know Has an Expiration Date (Penguin, 2013).

30.

Madsen, P. M. & Desai, V. Failing to learn? The effects of failure and success on organizational learning in the global orbital launch vehicle industry. Acad. Manage. J. 53, 451–476 (2010).

31.

Argote, L., Beckman, S. L. & Epple, D. The persistence and transfer of learning in industrial settings. Manage. Sci. 36, 140–154 (1990).

32.

Kuhn, T. S. The Structure of Scientific Revolutions (Chicago Univ. Press, 2012).

33.

Merton, R. K. Singletons and multiples in scientific discovery: a chapter in the sociology of science. Proc. Am. Phil. Soc. 105, 470–486 (1961).

34.

Gompers, P., Kovner, A., Lerner, J. & Scharfstein, D. Performance persistence in entrepreneurship. J. Financ. Econ. 96, 18–32 (2010).

35.

de Holan, P. M. & Phillips, N. Remembrance of things past? the dynamics of organizational forgetting. Manage. Sci. 50, 1603–1613 (2004).

36.

Schelling, T. C. Micromotives and Macrobehavior (WW Norton & Company, 2006).

37.

Watts, D. J. A simple model of global cascades on random networks. Proc. Natl Acad. Sci. USA 99, 5766–5771 (2002).

38.

Holme, P. & Newman, M. E. Nonequilibrium phase transition in the coevolution of networks and opinions. Phys. Rev. E 74, 056108 (2006).

39.

Ginther, D. K. et al. Race, ethnicity, and NIH research awards. Science 333, 1015–1019 (2011).

40.

Boudreau, K. J., Guinan, E. C., Lakhani, K. R. & Riedl, C. Looking across and looking beyond the knowledge frontier: intellectual distance, novelty, and resource allocation in science. Manage. Sci. 62, 2765–2783 (2016).

41.

Bromham, L., Dinnage, R. & Hua, X. Interdisciplinary research has consistently lower funding success. Nature 534, 684–687 (2016).

42.

Banal-Estanol, A., Macho-Stadler, I. & Pérez Castrillo, D. Key Success Drivers in Public Research Grants: Funding the Seeds of Radical Innovation in Academia? CESifo Working Paper Series 5852 (CESifo, 2016).

43.

Ma, A., Mondragón, R. J. & Latora, V. Anatomy of funded research in science. Proc. Natl Acad. Sci. USA 112, 14760–14765 (2015).

44.

Levitt, B. & March, J. G. Organizational learning. Annu. Rev. Sociol. 14, 319–338 (1988).

45.

Argote, L. & Epple, D. Learning curves in manufacturing. Science 247, 920–924 (1990).

46.

Merton, R. K. et al. The Matthew effect in science. Science 159, 56–63 (1968).

47.

Huang, J., Ertekin, S. & Giles, C. L. Efficient name disambiguation for large-scale databases. In European Conference on Principles of Data Mining and Knowledge Discovery 536–544 (Springer, 2006).

48.

Shen, H. Inequality quantified: Mind the gender gap. Nature 495, 22–24 (2013).

49.

Larivière, V., Ni, C., Gingras, Y., Cronin, B. & Sugimoto, C. R. Bibliometrics: global gender disparities in science. Nature 504, 211–213 (2013).

50.

Yang, T. & Aldrich, H. E. Who's the boss? Explaining gender inequality in entrepreneurial teams. Am. Sociol. Rev. 79, 303–327 (2014).

51.

Argote, L., Insko, C. A., Yovetich, N. & Romero, A. A. Group learning curves: the effects of turnover and task complexity on group performance. J. Appl. Soc. Psychol. 25, 512–529 (1995).

52.

Bailey, C. D. Forgetting and the learning curve: a laboratory study. Manage. Sci. 35, 340–352 (1989).
Acknowledgements
We thank C. Song, A. Clauset, B. Uzzi, B. Jones, E. Finkel, J. Van Mieghem, A. Bassamboo and Y. Xie for helpful discussions, and H. Sauermann and S. Havlin for suggesting extensions of the model, leading us to discover the k–α and k–α –δ models. This work is supported by the Air Force Office of Scientific Research under award number FA9550-15-1-0162, FA9550-17-1-0089 and FA9550-19-1-0354, National Science Foundation grant SBE 1829344, the Alfred P. Sloan Foundation G-2019-12485, and Northwestern University Data Science Initiative. This work does not reflect the position of NIH.
Ethics declarations
Competing interests
Y.W. and D.W. serve as special volunteers (unpaid) to the NIH. The remaining authors declare no competing interests.
Additional information
Peer review information Nature thanks Shlomo Havlin and Henry Sauermann for their contribution to the peer review of this work.
Publisher's note Springer Nature remains neutral with regard to jurisdictional claims in published maps and institutional affiliations.
Extended data figures and tables
Supplementary information
This file contains the following sections: 1 Data description; 2 Related work and models; 3 Modeling failure dynamics; 4 Generalized models; 5 Empirical measurements; 6 Prediction task; 7 Robustness checks; and Supplementary Tables 1-4 and additional references.
About this article
Cite this article
Yin, Y., Wang, Y., Evans, J.A. et al. Quantifying the dynamics of failure across science, startups and security. Nature 575, 190–194 (2019). https://doi.org/10.1038/s41586-019-1725-y
Received:

Accepted:

Published:

Issue Date:
Comments
By submitting a comment you agree to abide by our Terms and Community Guidelines. If you find something abusive or that does not comply with our terms or guidelines please flag it as inappropriate.