Abstract
Co-inhibitory immune receptors can contribute to T cell dysfunction in patients with cancer1,2. Blocking antibodies against cytotoxic T-lymphocyte-associated protein 4 (CTLA-4) and programmed cell death 1 (PD-1) partially reverse this effect and are becoming standard of care in an increasing number of malignancies3. However, many of the other axes by which tumours become inhospitable to T cells are not fully understood. Here we report that V-domain immunoglobulin suppressor of T cell activation (VISTA) engages and suppresses T cells selectively at acidic pH such as that found in tumour microenvironments. Multiple histidine residues along the rim of the VISTA extracellular domain mediate binding to the adhesion and co-inhibitory receptor P-selectin glycoprotein ligand-1 (PSGL-1). Antibodies engineered to selectively bind and block this interaction in acidic environments were sufficient to reverse VISTA-mediated immune suppression in vivo. These findings identify a mechanism by which VISTA may engender resistance to anti-tumour immune responses, as well as an unexpectedly determinative role for pH in immune co-receptor engagement.
Relevant articles
Open Access articles citing this article.
Faezeh Sharafi

,

Sadegh Abaei Hasani

…

Morteza Akbari

Cancer Cell International Open Access 23 August 2022

Xi-Yang Tang

,

Yan-Lu Xiong

…

Jin-Bo Zhao

Biomarker Research Open Access 13 July 2022

Adrià Archilla-Ortega

,

Carla Domuro

…

Purificación Muñoz

Journal of Experimental & Clinical Cancer Research Open Access 14 February 2022
Access options
Subscribe to Nature+
Get immediate online access to the entire Nature family of 50+ journals
Subscribe to Journal
Get full journal access for 1 year
$199.00
only $3.90 per issue
All prices are NET prices.
VAT will be added later in the checkout.
Tax calculation will be finalised during checkout.
Buy article
Get time limited or full article access on ReadCube.
$32.00
All prices are NET prices.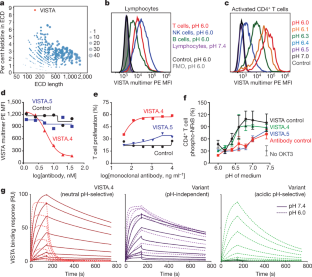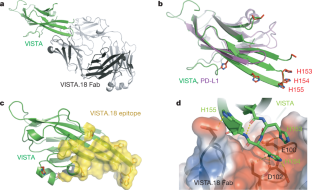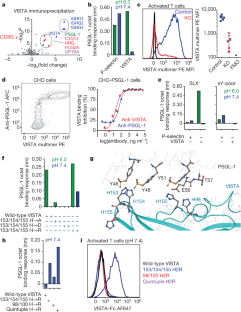 Data availability
All data are available from the corresponding author and have been included in the manuscript or Supplementary Information. The VISTA:VISTA.18 Fab co-crystal structure has been deposited into the Protein Data Bank under accession number 6MVL.
References
Thommen, D. S. & Schumacher, T. N. T cell dysfunction in cancer. Cancer Cell 33, 547–562 (2018).

McLane, L. M., Abdel-Hakeem, M. S. & Wherry, E. J. CD8 T cell exhaustion during chronic viral infection and cancer. Annu. Rev. Immunol. 37, 457–495 (2019).

Ribas, A. & Wolchok, J. D. Cancer immunotherapy using checkpoint blockade. Science 359, 1350–1355 (2018).

Wang, L. et al. VISTA, a novel mouse Ig superfamily ligand that negatively regulates T cell responses. J. Exp. Med. 208, 577–592 (2011).

Flies, D. B., Wang, S., Xu, H. & Chen, L. Cutting edge: A monoclonal antibody specific for the programmed death-1 homolog prevents graft-versus-host disease in mouse models. J. Immunol. 187, 1537–1541 (2011).

Gao, J. et al. VISTA is an inhibitory immune checkpoint that is increased after ipilimumab therapy in patients with prostate cancer. Nat. Med. 23, 551–555 (2017).

Blando, J. et al. Comparison of immune infiltrates in melanoma and pancreatic cancer highlights VISTA as a potential target in pancreatic cancer. Proc. Natl Acad. Sci. USA 116, 1692–1697 (2019).

Le Mercier, I. et al. VISTA regulates the development of protective antitumor immunity. Cancer Res. 74, 1933–1944 (2014).

Lines, J. L. et al. VISTA is an immune checkpoint molecule for human T cells. Cancer Res. 74, 1924–1932 (2014).

Wang, L. et al. Disruption of the immune-checkpoint VISTA gene imparts a proinflammatory phenotype with predisposition to the development of autoimmunity. Proc. Natl Acad. Sci. USA 111, 14846–14851 (2014).

Liu, J. et al. Immune-checkpoint proteins VISTA and PD-1 nonredundantly regulate murine T-cell responses. Proc. Natl Acad. Sci. USA 112, 6682–6687 (2015).

Ceeraz, S. et al. VISTA deficiency accelerates the development of fatal murine lupus nephritis. Arthritis Rheumatol. 69, 814–825 (2017).

Li, N. et al. Immune-checkpoint protein VISTA critically regulates the IL-23/IL-17 inflammatory axis. Sci. Rep. 7, 1485 (2017).

Sergent, P. A. et al. Blocking the VISTA pathway enhances disease progression in (NZB × NZW) F1 female mice. Lupus 27, 210–216 (2018).

Kakavand, H. et al. Negative immune checkpoint regulation by VISTA: a mechanism of acquired resistance to anti-PD-1 therapy in metastatic melanoma patients. Mod. Pathol. 30, 1666–1676 (2017).

Schönichen, A., Webb, B. A., Jacobson, M. P. & Barber, D. L. Considering protonation as a posttranslational modification regulating protein structure and function. Annu. Rev. Biophys. 42, 289–314 (2013).

Wike-Hooley, J. L., Haveman, J. & Reinhold, H. S. The relevance of tumour pH to the treatment of malignant disease. Radiother. Oncol. 2, 343–366 (1984).

Kato, Y. et al. Acidic extracellular microenvironment and cancer. Cancer Cell Int. 13, 89 (2013).

Frei, A. P. et al. Direct identification of ligand-receptor interactions on living cells and tissues. Nat. Biotechnol. 30, 997–1001 (2012).

Carlow, D. A. et al. PSGL-1 function in immunity and steady state homeostasis. Immunol. Rev. 230, 75–96 (2009).

Abadier, M. & Ley, K. P-selectin glycoprotein ligand-1 in T cells. Curr. Opin. Hematol. 24, 265–273 (2017).

Matsumoto, M., Miyasaka, M. & Hirata, T. P-selectin glycoprotein ligand-1 negatively regulates T-cell immune responses. J. Immunol. 183, 7204–7211 (2009).

Pérez-Frías, A. et al. Development of an autoimmune syndrome affecting the skin and internal organs in P-selectin glycoprotein ligand 1 leukocyte receptor-deficient mice. Arthritis Rheumatol. 66, 3178–3189 (2014).

Tinoco, R. et al. PSGL-1 is an immune checkpoint regulator that promotes T Cell exhaustion. Immunity 44, 1190–1203 (2016).

Urzainqui, A. et al. Functional role of P-selectin glycoprotein ligand 1/P-selectin interaction in the generation of tolerogenic dendritic cells. J. Immunol. 179, 7457–7465 (2007).

Nuñez-Andrade, N. et al. P-selectin glycoprotein ligand-1 modulates immune inflammatory responses in the enteric lamina propria. J. Pathol. 224, 212–221 (2011).

Veerman, K. M. et al. PSGL-1 regulates the migration and proliferation of CD8+ T cells under homeostatic conditions. J. Immunol. 188, 1638–1646 (2012).

Angiari, S. et al. Regulatory T cells suppress the late phase of the immune response in lymph nodes through P-selectin glycoprotein ligand-1. J. Immunol. 191, 5489–5500 (2013).

Sako, D. et al. A sulfated peptide segment at the amino terminus of PSGL-1 is critical for P-selectin binding. Cell 83, 323–331 (1995).

Nelson, R. M. et al. Heparin oligosaccharides bind L- and P-selectin and inhibit acute inflammation. Blood 82, 3253–3258 (1993).

Wang, J. et al. VSIG-3 as a ligand of VISTA inhibits human T-cell function. Immunology 156, 74–85 (2019).

Mehta, N. et al. Structure and functional binding epitope of V-domain Ig suppressor of T cell activation. Cell Rep. 28, 2509–2516 (2019).

Yoon, K. W. et al. Control of signaling-mediated clearance of apoptotic cells by the tumor suppressor p53. Science 349, 1261669 (2015).

Somers, W. S., Tang, J., Shaw, G. D. & Camphausen, R. T. Insights into the molecular basis of leukocyte tethering and rolling revealed by structures of P- and E-selectin bound to SLeX and PSGL-1. Cell 103, 467–479 (2000).

Ahn, E. et al. Role of PD-1 during effector CD8 T cell differentiation. Proc. Natl Acad. Sci. USA 115, 4749–4754 (2018).

Lonberg, N. Human antibodies from transgenic animals. Nat. Biotechnol. 23, 1117–1125 (2005).

Roberts, R. W. & Szostak, J. W. RNA-peptide fusions for the in vitro selection of peptides and proteins. Proc. Natl Acad. Sci. USA 94, 12297–12302 (1997).

Kurz, M., Gu, K. & Lohse, P. A. Psoralen photo-crosslinked mRNA–puromycin conjugates: a novel template for the rapid and facile preparation of mRNA–protein fusions. Nucleic Acids Res. 28, E83 (2000).

Xu, L. et al. Directed evolution of high-affinity antibody mimics using mRNA display. Chem. Biol. 9, 933–942 (2002).

Clynes, R. A., Towers, T. L., Presta, L. G. & Ravetch, J. V. Inhibitory Fc receptors modulate in vivo cytotoxicity against tumor targets. Nat. Med. 6, 443–446 (2000).

Chao, G., Cochran, J. R. & Wittrup, K. D. Fine epitope mapping of anti-epidermal growth factor receptor antibodies through random mutagenesis and yeast surface display. J. Mol. Biol. 342, 539–550 (2004).

Oliphant, T. et al. Antibody recognition and neutralization determinants on domains I and II of West Nile Virus envelope protein. J. Virol. 80, 12149–12159 (2006).

Kowalsky, C. A. et al. Rapid fine conformational epitope mapping using comprehensive mutagenesis and deep sequencing. J. Biol. Chem. 290, 26457–26470 (2015).

Adams, P. D. et al. PHENIX: a comprehensive Python-based system for macromolecular structure solution. Acta Crystallogr. D 66, 213–221 (2010).

Emsley, P., Lohkamp, B., Scott, W. G. & Cowtan, K. Features and development of Coot. Acta Crystallogr. D 66, 486–501 (2010).

Maestro (Schrödinger, 2019).

Frei, A. P., Moest, H., Novy, K. & Wollscheid, B. Ligand-based receptor identification on living cells and tissues using TRICEPS. Nat. Protoc. 8, 1321–1336 (2013).
Acknowledgements
We thank D. Ardourel, C. Bandoski-Gralinski, C. Bee, G. Bolton, M. Broz, I. Chakraborty, C. Connelly, F. Denhez, C. Gao, L. Garrenton, J. Gordon, N. Hammond, S. Hatcher, C. Hollander, M. Han, M. Happer, P. Helbling, V. Jenny, M. Labrecque, D. Myszka, A. Nallakkan, M. A. Pazos, P. Isnard-Petit, R. Lan, T. Metzger, E. Musteata, B. Nichols, M. Rodriguez, F. Sonego, S. Trouttet-Masson, S. Santino, E. Seo, T. Sproul, J. Sung, M. Supe, H. Tang, C. Terragni, J. Toth, S. Walrond and D. Wensel for technical assistance. We thank F. Bahjat, R. Camphausen, G. Cantor, G Chen, P. Chow, R. Das Gupta, A. Dongre, P. Haroldsen, M.-C. Gaudreau, D. Lipovsek, N. Lonberg, J. Muckelbauer, S. Mueller, X. M. Schebye, M. Selby, P. Strop, D. Tenney and M. Wright for discussions. We thank C. Bolger for editorial support.
Ethics declarations
Competing interests
All authors are or were employees of the companies Bristol-Myers Squibb, Five Prime Therapeutics, and genOway, which develop drugs and research models for profit.
Additional information
Publisher's note Springer Nature remains neutral with regard to jurisdictional claims in published maps and institutional affiliations.
Peer review information Nature thanks Linda M. Bradley, Gordon Freeman, Christopher Garcia and the other anonymous reviewer(s) for their contribution to the peer review of this work.
Extended data figures and tables
Supplementary information
Supplementary Table.Table 2: Thermodynamic parameters for PSGL1-VISTA interactions determined by ITC. Supplemental information on the isothermal titration calorimetry data presented in the manuscript.
About this article
Cite this article
Johnston, R.J., Su, L.J., Pinckney, J. et al. VISTA is an acidic pH-selective ligand for PSGL-1. Nature 574, 565–570 (2019). https://doi.org/10.1038/s41586-019-1674-5
Received:

Accepted:

Published:

Issue Date:

DOI: https://doi.org/10.1038/s41586-019-1674-5
Comments
By submitting a comment you agree to abide by our Terms and Community Guidelines. If you find something abusive or that does not comply with our terms or guidelines please flag it as inappropriate.