Abstract
About half of all bacteria carry genes for CRISPR–Cas adaptive immune systems1, which provide immunological memory by inserting short DNA sequences from phage and other parasitic DNA elements into CRISPR loci on the host genome2. Whereas CRISPR loci evolve rapidly in natural environments3,4, bacterial species typically evolve phage resistance by the mutation or loss of phage receptors under laboratory conditions5,6. Here we report how this discrepancy may in part be explained by differences in the biotic complexity of in vitro and natural environments7,8. Specifically, by using the opportunistic pathogen Pseudomonas aeruginosa and its phage DMS3vir, we show that coexistence with other human pathogens amplifies the fitness trade-offs associated with the mutation of phage receptors, and therefore tips the balance in favour of the evolution of CRISPR-based resistance. We also demonstrate that this has important knock-on effects for the virulence of P. aeruginosa, which became attenuated only if the bacteria evolved surface-based resistance. Our data reveal that the biotic complexity of microbial communities in natural environments is an important driver of the evolution of CRISPR–Cas adaptive immunity, with key implications for bacterial fitness and virulence.
This is a preview of subscription content
Access options
Subscribe to Nature+
Get immediate online access to the entire Nature family of 50+ journals
Subscribe to Journal
Get full journal access for 1 year
$199.00
only $3.90 per issue
All prices are NET prices.
VAT will be added later in the checkout.
Tax calculation will be finalised during checkout.
Buy article
Get time limited or full article access on ReadCube.
$32.00
All prices are NET prices.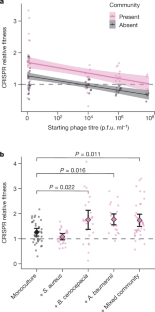 References
Grissa, I., Vergnaud, G. & Pourcel, C. CRISPRcompar: a website to compare clustered regularly interspaced short palindromic repeats. Nucleic Acids Res. 36, W145–W148 (2008).

Barrangou, R. et al. CRISPR provides acquired resistance against viruses in prokaryotes. Science 315, 1709–1712 (2007).

Andersson, A. F. & Banfield, J. F. Virus population dynamics and acquired virus resistance in natural microbial communities. Science 320, 1047–1050 (2008).

Laanto, E., Hoikkala, V., Ravantti, J. & Sundberg, L. R. Long-term genomic coevolution of host–parasite interaction in the natural environment. Nat. Commun. 8, 111 (2017).

Westra, E. R. et al. Parasite exposure drives selective evolution of constitutive versus inducible defense. Curr. Biol. 25, 1043–1049 (2015).

van Houte, S., Buckling, A. & Westra, E. R. Evolutionary ecology of prokaryotic immune mechanisms. Microbiol. Mol. Biol. Rev. 80, 745–763 (2016).

Hibbing, M. E., Fuqua, C., Parsek, M. R. & Peterson, S. B. Bacterial competition: surviving and thriving in the microbial jungle. Nat. Rev. Microbiol. 8, 15–25 (2010).

O'Toole, G. A. Cystic fibrosis airway microbiome: overturning the old, opening the way for the new. J. Bacteriol. 200, 1–8 (2018).

Folkesson, A. et al. Adaptation of Pseudomonas aeruginosa to the cystic fibrosis airway: an evolutionary perspective. Nat. Rev. Microbiol. 10, 841–851 (2012).

Roach, D. R. & Debarbieux, L. Phage therapy: awakening a sleeping giant. Emerg. Top. Life Sci. 1, 93–103 (2017).

Rossitto, M., Fiscarelli, E. V. & Rosati, P. Challenges and promises for planning future clinical research into bacteriophage therapy against Pseudomonas aeruginosa in cystic fibrosis. An argumentative review. Front. Microbiol. 9, 775 (2018).

De Smet, J., Hendrix, H., Blasdel, B. G., Danis-Wlodarczyk, K. & Lavigne, R. Pseudomonas predators: understanding and exploiting phage–host interactions. Nat. Rev. Microbiol. 15, 517–530 (2017).

Chabas, H., van Houte, S., Høyland-Kroghsbo, N. M., Buckling, A. & Westra, E. R. Immigration of susceptible hosts triggers the evolution of alternative parasite defence strategies. Proc. R. Soc. B 283, 20160721 (2016).

Harrison, F. Microbial ecology of the cystic fibrosis lung. Microbiology 153, 917–923 (2007).

O'Brien, S. & Fothergill, J. L. The role of multispecies social interactions in shaping Pseudomonas aeruginosa pathogenicity in the cystic fibrosis lung. FEMS Microbiol. Lett. 364, 1–10 (2017).

Bhargava, N., Sharma, P. & Capalash, N. Pyocyanin stimulates quorum sensing-mediated tolerance to oxidative stress and increases persister cell populations in Acinetobacter baumannii. Infect. Immun. 82, 3417–3425 (2014).

Rocha, G. A. et al. Species distribution, sequence types and antimicrobial resistance of Acinetobacter spp. from cystic fibrosis patients. Epidemiol. Infect. 146, 524–530 (2018).

Diraviam Dinesh, S. & Diraviam Dinesh, S. Artificial sputum medium. Protoc. Exchange https://doi.org/10.1038/protex.2010.212 (2010).

An, D., Danhorn, T., Fuqua, C. & Parsek, M. R. Quorum sensing and motility mediate interactions between Pseudomonas aeruginosa and Agrobacterium tumefaciens in biofilm cocultures. Proc. Natl Acad. Sci. USA 103, 3828–3833 (2006).

León, M. & Bastías, R. Virulence reduction in bacteriophage resistant bacteria. Front. Microbiol. 6, 343 (2015).

Kavanagh, K. & Reeves, E. P. Exploiting the potential of insects for in vivo pathogenicity testing of microbial pathogens. FEMS Microbiol. Rev. 28, 101–112 (2004).

Hernandez, R. J. et al. Using the wax moth larva Galleria mellonella infection model to detect emerging bacterial pathogens. PeerJ 6, e6150 (2019).

Craig, L., Pique, M. E. & Tainer, J. A. Type IV pilus structure and bacterial pathogenicity. Nat. Rev. Microbiol. 2, 363–378 (2004).

Johnson, P. T. J., de Roode, J. C. & Fenton, A. Why infectious disease research needs community ecology. Science 349, 1259504 (2015).

Alizon, S., de Roode, J. C. & Michalakis, Y. Multiple infections and the evolution of virulence. Ecol. Lett. 16, 556–567 (2013).

Benmayor, R., Hodgson, D. J., Perron, G. G. & Buckling, A. Host mixing and disease emergence. Curr. Biol. 19, 764–767 (2009).

Keesing, F. et al. Impacts of biodiversity on the emergence and transmission of infectious diseases. Nature 468, 647–652 (2010).

Chabas, H. et al. Evolutionary emergence of infectious diseases in heterogeneous host populations. PLoS Biol. 16, e2006738 (2018).

van Houte, S. et al. The diversity-generating benefits of a prokaryotic adaptive immune system. Nature 532, 385–388 (2016).

Wright, R. C. T., Friman, V. P., Smith, M. C. M. & Brockhurst, M. A. Cross-resistance is modular in bacteria–phage interactions. PLoS Biol. 16, e2006057 (2018).

Martínez-García, E., Calles, B., Arévalo-Rodríguez, M. & de Lorenzo, V. pBAM1: an all-synthetic genetic tool for analysis and construction of complex bacterial phenotypes. BMC Microbiol. 11, 38 (2011).

Goto, M. et al. Real-time PCR method for quantification of Staphylococcus aureus in milk. J. Food Prot. 70, 90–96 (2007).

R Core Team. R: A Language and Environment for Statistical Computing. http://www.R-project.org/ (R Foundation for Statistical Computing, 2018).

Wickham, H. tidyverse: Easily Install and Load the 'Tidyverse'. R package version 1.2.1 https://cran.r-project.org/web/packages/tidyverse/index.html (2017).

Therneau, T. A Package for Survival Analysis in S. R package version 2.38 https://CRAN.R-project.org/package=survival (2015).
Acknowledgements
We thank A. Buckling for critical reading of the manuscript, J. Common, E. Hesse and S. Meaden for comments on the manuscript, and J. P. Pirnay and D. de Vos for sharing clinical isolates of S. aureus, A. baumannii and B. cenocepacia. This work was supported by grants from the ERC (ERC-STG-2016-714478 - EVOIMMECH) and the NERC (NE/M018350/1), which were awarded to E.R.W.
Ethics declarations
Competing interests
The authors declare no competing interests.
Additional information
Publisher's note Springer Nature remains neutral with regard to jurisdictional claims in published maps and institutional affiliations.
Extended data figures and tables
Supplementary information
About this article
Cite this article
Alseth, E.O., Pursey, E., Luján, A.M. et al. Bacterial biodiversity drives the evolution of CRISPR-based phage resistance. Nature 574, 549–552 (2019). https://doi.org/10.1038/s41586-019-1662-9
Received:

Accepted:

Published:

Issue Date:

DOI: https://doi.org/10.1038/s41586-019-1662-9
Comments
By submitting a comment you agree to abide by our Terms and Community Guidelines. If you find something abusive or that does not comply with our terms or guidelines please flag it as inappropriate.