Abstract
Metastasis—the disseminated growth of tumours in distant organs—underlies cancer mortality. Breast-to-brain metastasis (B2BM) is a common and disruptive form of cancer and is prevalent in the aggressive basal-like subtype, but is also found at varying frequencies in all cancer subtypes. Previous studies revealed parameters of breast cancer metastasis to the brain, but its preference for this site remains an enigma. Here we show that B2BM cells co-opt a neuronal signalling pathway that was recently implicated in invasive tumour growth, involving activation by glutamate ligands of N-methyl-d-aspartate receptors (NMDARs), which is key in model systems for metastatic colonization of the brain and is associated with poor prognosis. Whereas NMDAR activation is autocrine in some primary tumour types, human and mouse B2BM cells express receptors but secrete insufficient glutamate to induce signalling, which is instead achieved by the formation of pseudo-tripartite synapses between cancer cells and glutamatergic neurons, presenting a rationale for brain metastasis.
Access options
Subscribe to Journal
Get full journal access for 1 year
$199.00
only $3.90 per issue
All prices are NET prices.
VAT will be added later in the checkout.
Rent or Buy article
Get time limited or full article access on ReadCube.
from$8.99
All prices are NET prices.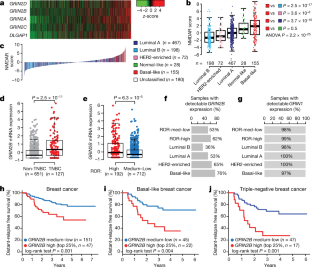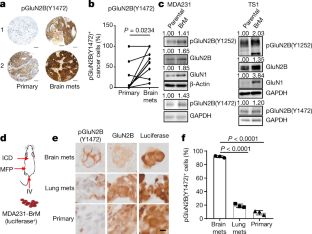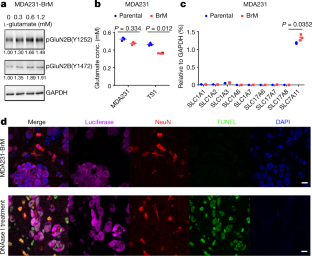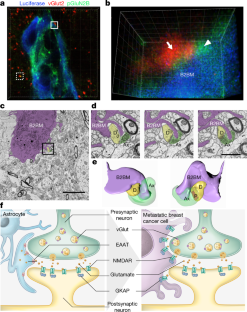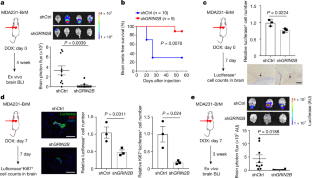 Data availability
All materials are readily available from the corresponding author upon request or from standard commercial sources, including original IVIS data, Confocal, STED and electron microscopy images, immunohistochemical staining of human or mouse samples and full western blots. There are no restrictions on availability of the materials used in the study.
References
1.

Lambert, A. W., Pattabiraman, D. R. & Weinberg, R. A. Emerging biological principles of metastasis. Cell 168, 670–691 (2017).

2.

Vanharanta, S. & Massagué, J. Origins of metastatic traits. Cancer Cell 24, 410–421 (2013).

3.

Lin, N. U., Amiri-Kordestani, L., Palmieri, D., Liewehr, D. J. & Steeg, P. S. CNS metastases in breast cancer: old challenge, new frontiers. Clin. Cancer Res. 19, 6404–6418 (2013).

4.

Bos, P. D. et al. Genes that mediate breast cancer metastasis to the brain. Nature 459, 1005–1009 (2009).

5.

Sevenich, L. et al. Analysis of tumour- and stroma-supplied proteolytic networks reveals a brain-metastasis-promoting role for cathepsin S. Nat. Cell Biol. 16, 876–888 (2014).

6.

Valiente, M. et al. Serpins promote cancer cell survival and vascular co-option in brain metastasis. Cell 156, 1002–1016 (2014).

7.

Chen, Q. et al. Carcinoma-astrocyte gap junctions promote brain metastasis by cGAMP transfer. Nature 533, 493–498 (2016).

8.

Michael, I. P. et al. ALK7 signaling manifests a homeostatic tissue barrier that is abrogated during tumorigenesis and metastasis. Dev. Cell 49, 409–424 (2019).

9.

Park, E. S. et al. Cross-species hybridization of microarrays for studying tumor transcriptome of brain metastasis. Proc. Natl Acad. Sci. USA 108, 17456–17461 (2011).

10.

Neman, J. et al. Human breast cancer metastases to the brain display GABAergic properties in the neural niche. Proc. Natl Acad. Sci. USA 111, 984–989 (2014).

11.

Li, L. & Hanahan, D. Hijacking the neuronal NMDAR signaling circuit to promote tumor growth and invasion. Cell 153, 86–100 (2013).

12.

Li, L. et al. GKAP acts as a genetic modulator of NMDAR signaling to govern invasive tumor growth. Cancer Cell 33, 736–751 (2018).

13.

Robinson, H. P. C. & Li, L. Autocrine, paracrine and necrotic NMDA receptor signalling in mouse pancreatic neuroendocrine tumour cells. Open Biol. 7, 170221 (2017).

14.

Roche, K. W. et al. Molecular determinants of NMDA receptor internalization. Nat. Neurosci. 4, 794–802 (2001).

15.

Takasu, M. A., Dalva, M. B., Zigmond, R. E. & Greenberg, M. E. Modulation of NMDA receptor-dependent calcium influx and gene expression through EphB receptors. Science 295, 491–495 (2002).

16.

Lavezzari, G., McCallum, J., Lee, R. & Roche, K. W. Differential binding of the AP-2 adaptor complex and PSD-95 to the C-terminus of the NMDA receptor subunit NR2B regulates surface expression. Neuropharmacology 45, 729–737 (2003).

17.

Nakazawa, T. et al. NR2B tyrosine phosphorylation modulates fear learning as well as amygdaloid synaptic plasticity. EMBO J. 25, 2867–2877 (2006).

18.

Matsumura, S. et al. Impairment of CaMKII activation and attenuation of neuropathic pain in mice lacking NR2B phosphorylated at Tyr1472. Eur. J. Neurosci. 32, 798–810 (2010).

19.

Knox, R. et al. NR2B phosphorylation at tyrosine 1472 contributes to brain injury in a rodent model of neonatal hypoxia-ischemia. Stroke 45, 3040–3047 (2014).

20.

Levy, A. D. et al. Noonan syndrome-associated SHP2 dephosphorylates GluN2B to regulate NMDA receptor function. Cell Rep. 24, 1523–1535 (2018).

21.

Ciriello, G. et al. Comprehensive molecular portraits of invasive lobular breast cancer. Cell 163, 506–519 (2015).

22.

Fonnum, F., Storm-Mathisen, J. & Divac, I. Biochemical evidence for glutamate as neurotransmitter in corticostriatal and corticothalamic fibres in rat brain. Neuroscience 6, 863–873 (1981).

23.

Briggs, K. J. et al. Paracrine induction of HIF by glutamate in breast cancer: EglN1 senses cysteine. Cell 166, 126–139 (2016).

24.

Takano, T. et al. Glutamate release promotes growth of malignant gliomas. Nat. Med. 7, 1010–1015 (2001).

25.

Buckingham, S. C. et al. Glutamate release by primary brain tumors induces epileptic activity. Nat. Med. 17, 1269–1274 (2011).

26.

Danbolt, N. C. Glutamate uptake. Prog. Neurobiol. 65, 1–105 (2001).

27.

Scheiffele, P., Fan, J., Choih, J., Fetter, R. & Serafini, T. Neuroligin expressed in nonneuronal cells triggers presynaptic development in contacting axons. Cell 101, 657–669 (2000).

28.

Fu, Z., Washbourne, P., Ortinski, P. & Vicini, S. Functional excitatory synapses in HEK293 cells expressing neuroligin and glutamate receptors. J. Neurophysiol. 90, 3950–3957 (2003).

29.

Stogsdill, J. A. et al. Astrocytic neuroligins control astrocyte morphogenesis and synaptogenesis. Nature 551, 192–197 (2017).

30.

Harris, K. M. & Weinberg, R. J. Ultrastructure of synapses in the mammalian brain. Cold Spring Harb. Perspect. Biol. 4, a005587 (2012).

31.

Pacifici, M. & Peruzzi, F. Isolation and culture of rat embryonic neural cells: a quick protocol. J. Vis. Exp. 63, e3965 (2012).

32.

Fellmann, C. et al. An optimized microRNA backbone for effective single-copy RNAi. Cell Rep. 5, 1704–1713 (2013).

33.

Lorger, M. & Felding-Habermann, B. Capturing changes in the brain microenvironment during initial steps of breast cancer brain metastasis. Am. J. Pathol. 176, 2958–2971 (2010).

34.

Amit, M., Na'ara, S. & Gil, Z. Mechanisms of cancer dissemination along nerves. Nat. Rev. Cancer 16, 399–408 (2016).

35.

Ikonomidou, C. & Turski, L. Why did NMDA receptor antagonists fail clinical trials for stroke and traumatic brain injury? Lancet Neurol. 1, 383–386 (2002).

36.

Hänzelmann, S., Castelo, R. & Guinney, J. GSVA: gene set variation analysis for microarray and RNA-seq data. BMC Bioinformatics 14, 7 (2013).

37.

Hatzis, C. et al. A genomic predictor of response and survival following taxane-anthracycline chemotherapy for invasive breast cancer. J. Am. Med. Assoc. 305, 1873–1881 (2011).

38.

Weilinger, N. L. et al. Metabotropic NMDA receptor signaling couples Src family kinases to pannexin-1 during excitotoxicity. Nat. Neurosci. 19, 432–442 (2016).

39.

Cardona, A. et al. TrakEM2 software for neural circuit reconstruction. PLoS One 7, e38011 (2012).

40.

Fellmann, C. et al. An optimized microRNA backbone for effective single-copy RNAi. Cell Rep. 5, 1704–1713 (2013).

41.

Vargas-Caballero, M. & Robinson, H. P. C. Fast and slow voltage-dependent dynamics of magnesium block in the NMDA receptor: the asymmetric trapping block model. J. Neurosci. 24, 6171–6180 (2004).

42.

Kim, N.-K. & Robinson, H. P. C. Effects of divalent cations on slow unblock of native NMDA receptors in mouse neocortical pyramidal neurons. Eur. J. Neurosci. 34, 199–212 (2011).

43.

Shchors, K., Massaras, A. & Hanahan, D. Dual targeting of the autophagic regulatory circuitry in gliomas with repurposed drugs elicits cell-lethal autophagy and therapeutic benefit. Cancer Cell 28, 456–471 (2015).
Acknowledgements
We thank: J. Massagué and J. Joyce for, respectively, providing the MDA231 and TS1 parental and derivative B2BM cell lines; J. Massagué, K. Pietras and M. De Palma for comments on the manuscript; S. Grant for suggestions; M. W. Peng, A. F. Dubois, S. Lamy and L. Drori for technical support; J. Scotton for providing mouse glioma samples; W. Tang and all the members of the Hanahan laboratory for discussions. This work was principally supported by grants from the Swiss National Science Foundation and the European Research Council, and by a gift from the Biltema Foundation that was administered by the ISREC Foundation, Lausanne, Switzerland.
Ethics declarations
Competing interests
The authors declare no competing interests.
Additional information
Publisher's note Springer Nature remains neutral with regard to jurisdictional claims in published maps and institutional affiliations.
Peer review information Nature thanks Andres Barria, Adrienne Boire, Brunhilde Felding and the other, anonymous, reviewer(s) for their contribution to the peer review of this work.
Extended data figures and tables
Supplementary information
About this article
Cite this article
Zeng, Q., Michael, I.P., Zhang, P. et al. Synaptic proximity enables NMDAR signalling to promote brain metastasis. Nature 573, 526–531 (2019). https://doi.org/10.1038/s41586-019-1576-6
Received:

Accepted:

Published:

Issue Date:
Comments
By submitting a comment you agree to abide by our Terms and Community Guidelines. If you find something abusive or that does not comply with our terms or guidelines please flag it as inappropriate.