Abstract
An animal's stress response requires different adaptive strategies depending on the nature and duration of the stressor. Whereas acute stressors, such as predation, induce a rapid and energy-demanding fight-or-flight response, long-term environmental stressors induce the gradual and long-lasting activation of highly conserved cytoprotective processes1,2,3. In animals across the evolutionary spectrum, continued activation of the fight-or-flight response weakens the animal's resistance to environmental challenges4,5. However, the molecular and cellular mechanisms that regulate the trade-off between the flight response and long-term stressors are poorly understood. Here we show that repeated induction of the flight response in Caenorhabditis elegans shortens lifespan and inhibits conserved cytoprotective mechanisms. The flight response activates neurons that release tyramine, an invertebrate analogue of adrenaline and noradrenaline. Tyramine stimulates the insulin–IGF-1 signalling (IIS) pathway and precludes the induction of stress response genes by activating an adrenergic-like receptor in the intestine. By contrast, long-term environmental stressors, such as heat or oxidative stress, reduce tyramine release and thereby allow the induction of cytoprotective genes. These findings demonstrate that a neural stress hormone supplies a state-dependent neural switch between acute flight and long-term environmental stress responses and provides mechanistic insights into how the flight response impairs cellular defence systems and accelerates ageing.
Your institute does not have access to this article
Relevant articles
Open Access articles citing this article.
Hai-Yan Lin

,

Gang Song

…

Yanhua Qu

Frontiers in Zoology Open Access 29 April 2021
Access options
Subscribe to Nature+
Get immediate online access to the entire Nature family of 50+ journals
Subscribe to Journal
Get full journal access for 1 year
$199.00
only $3.90 per issue
All prices are NET prices.
VAT will be added later in the checkout.
Tax calculation will be finalised during checkout.
Buy article
Get time limited or full article access on ReadCube.
$32.00
All prices are NET prices.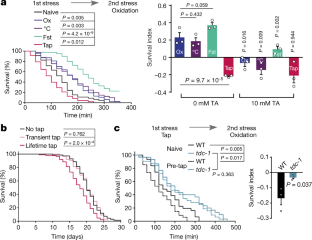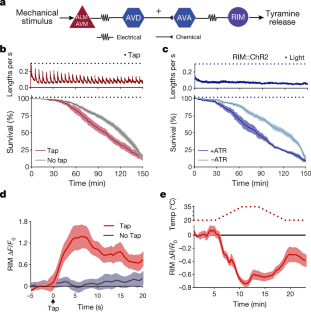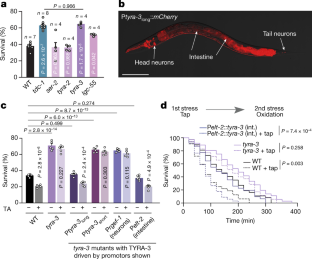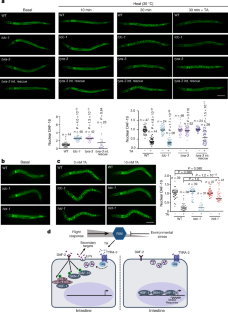 Code availability
All custom software created and used in this work is available upon request.
References
Cannon, W. B. Bodily Changes in Pain, Hunger, Fear and Rage, an Account of Recent Researches into the Function of Emotional Excitement (D. Appleton and Co., 1915).

Prahlad, V., Cornelius, T. & Morimoto, R. I. Regulation of the cellular heat shock response in Caenorhabditis elegans by thermosensory neurons. Science 320, 811–814 (2008).

Essers, M. A. et al. FOXO transcription factor activation by oxidative stress mediated by the small GTPase Ral and JNK. EMBO J. 23, 4802–4812 (2004).

Travers, M., Clinchy, M., Zanette, L., Boonstra, R. & Williams, T. D. Indirect predator effects on clutch size and the cost of egg production. Ecol. Lett. 13, 980–988 (2010).

Miller, M. W. & Sadeh, N. Traumatic stress, oxidative stress and post-traumatic stress disorder: neurodegeneration and the accelerated-aging hypothesis. Mol. Psychiatry 19, 1156–1162 (2014).

Rodriguez, M., Snoek, L. B., De Bono, M. & Kammenga, J. E. Worms under stress: C. elegans stress response and its relevance to complex human disease and aging. Trends Genet. 29, 367–374 (2013).

Chalfie, M. et al. The neural circuit for touch sensitivity in Caenorhabditis elegans. J. Neurosci. 5, 956–964 (1985).

Wicks, S. R. & Rankin, C. H. Integration of mechanosensory stimuli in Caenorhabditis elegans. J. Neurosci. 15, 2434–2444 (1995).

Calabrese, E. J. Stress biology and hormesis: the Yerkes–Dodson law in psychology—a special case of the hormesis dose response. Crit. Rev. Toxicol. 38, 453–462 (2008).

Cypser, J. R. & Johnson, T. E. Multiple stressors in Caenorhabditis elegans induce stress hormesis and extended longevity. J. Gerontol. A Biol. Sci. Med. Sci. 57, B109–B114 (2002).

Kumsta, C., Chang, J. T., Schmalz, J. & Hansen, M. Hormetic heat stress and HSF-1 induce autophagy to improve survival and proteostasis in C. elegans. Nat. Commun. 8, 14337 (2017).

Rattan, S. I. & Ali, R. E. Hormetic prevention of molecular damage during cellular aging of human skin fibroblasts and keratinocytes. Ann. NY Acad. Sci. 1100, 424–430 (2007).

Alkema, M. J., Hunter-Ensor, M., Ringstad, N. & Horvitz, H. R. Tyramine functions independently of octopamine in the Caenorhabditis elegans nervous system. Neuron 46, 247–260 (2005).

Pirri, J. K., McPherson, A. D., Donnelly, J. L., Francis, M. M. & Alkema, M. J. A tyramine-gated chloride channel coordinates distinct motor programs of a Caenorhabditis elegans escape response. Neuron 62, 526–538 (2009).

Maguire, S. M., Clark, C. M., Nunnari, J., Pirri, J. K. & Alkema, M. J. The C. elegans touch response facilitates escape from predacious fungi. Curr. Biol. 21, 1326–1330 (2011).

Kagawa-Nagamura, Y., Gengyo-Ando, K., Ohkura, M. & Nakai, J. Role of tyramine in calcium dynamics of GABAergic neurons and escape behavior in Caenorhabditis elegans. Zoological Lett. 4, 19 (2018).

Zheng, M., Cao, P., Yang, J., Xu, X. Z. & Feng, Z. Calcium imaging of multiple neurons in freely behaving C. elegans. J. Neurosci. Methods 206, 78–82 (2012).

Komuniecki, R. W., Hobson, R. J., Rex, E. B., Hapiak, V. M. & Komuniecki, P. R. Biogenic amine receptors in parasitic nematodes: what can be learned from Caenorhabditis elegans? Mol. Biochem. Parasitol. 137, 1–11 (2004).

Tsalik, E. L. et al. LIM homeobox gene-dependent expression of biogenic amine receptors in restricted regions of the C. elegans nervous system. Dev. Biol. 263, 81–102 (2003).

Wragg, R. T. et al. Tyramine and octopamine independently inhibit serotonin-stimulated aversive behaviors in Caenorhabditis elegans through two novel amine receptors. J. Neurosci. 27, 13402–13412 (2007).

Henderson, S. T. & Johnson, T. E. daf-16 integrates developmental and environmental inputs to mediate aging in the nematode Caenorhabditis elegans. Curr. Biol. 11, 1975–1980 (2001).

Fontana, L., Partridge, L. & Longo, V. D. Extending healthy life span—from yeast to humans. Science 328, 321–326 (2010).

Arantes-Oliveira, N., Berman, J. R. & Kenyon, C. Healthy animals with extreme longevity. Science 302, 611 (2003).

Chiang, W. C., Ching, T. T., Lee, H. C., Mousigian, C. & Hsu, A. L. HSF-1 regulators DDL-1/2 link insulin-like signaling to heat-shock responses and modulation of longevity. Cell 148, 322–334 (2012).

Mesa, R. et al. HID-1, a new component of the peptidergic signaling pathway. Genetics 187, 467–483 (2011).

Du, W. et al. HID-1 is required for homotypic fusion of immature secretory granules during maturation. eLife 5, e18134 (2016).

Hawlena, D. & Schmitz, O. J. Herbivore physiological response to predation risk and implications for ecosystem nutrient dynamics. Proc. Natl Acad. Sci. USA 107, 15503–15507 (2010).

Rabasa, C. & Dickson, S. Impact of stress on metabolism and energy balance. Curr. Opin. Behav. Sci. 9, 71–77 (2016).

Van Voorhies, W. A. & Ward, S. Genetic and environmental conditions that increase longevity in Caenorhabditis elegans decrease metabolic rate. Proc. Natl Acad. Sci. USA 96, 11399–11403 (1999).

Lee, I., Hendrix, A., Kim, J., Yoshimoto, J. & You, Y. J. Metabolic rate regulates L1 longevity in C. elegans. PLoS ONE 7, e44720 (2012).

Brenner, S. The genetics of Caenorhabditis elegans. Genetics 77, 71–94 (1974).

Stiernagle, T. Maintenance of C. elegans. WormBook 1–11 (2006).

Jin, X., Pokala, N. & Bargmann, C. I. Distinct circuits for the formation and retrieval of an imprinted olfactory memory. Cell 164, 632–643 (2016).

Lionaki, E. & Tavernarakis, N. Assessing aging and senescent decline in Caenorhabditis elegans: cohort survival analysis. Methods Mol. Biol. 965, 473–484 (2013).

Kenyon, C., Chang, J., Gensch, E., Rudner, A. & Tabtiang, R. A C. elegans mutant that lives twice as long as wild type. Nature 366, 461–464 (1993).

Dorman, J. B., Albinder, B., Shroyer, T. & Kenyon, C. The age-1 and daf-2 genes function in a common pathway to control the lifespan of Caenorhabditis elegans. Genetics 141, 1399–1406 (1995).

Chun, L. et al. Metabotropic GABA signalling modulates longevity in C. elegans. Nat. Commun. 6, 8828 (2015).

Swierczek, N. A., Giles, A. C., Rankin, C. H. & Kerr, R. A. High-throughput behavioral analysis in C. elegans. Nat. Methods 8, 592–598 (2011).

Yemini, E., Kerr, R. A. & Schafer, W. R. Tracking movement behavior of multiple worms on food. Cold Spring Harb. Protoc. 2011, 1483–1487 (2011).

Edelstein, A. D. et al. Advanced methods of microscope control using μManager software. J. Biol. Methods 1, e10 (2014).

Hawk, J. D. et al. Integration of plasticity mechanisms within a single sensory neuron of C. elegans actuates a memory. Neuron 97, 356–367.e4 (2018).

Ayyadevara, S. et al. Lifespan and stress resistance of Caenorhabditis elegans are increased by expression of glutathione transferases capable of metabolizing the lipid peroxidation product 4-hydroxynonenal. Aging Cell 4, 257–271 (2005).

Pokala, N., Liu, Q., Gordus, A. & Bargmann, C. I. Inducible and titratable silencing of Caenorhabditis elegans neurons in vivo with histamine-gated chloride channels. Proc. Natl Acad. Sci. USA 111, 2770–2775 (2014).
Acknowledgements
Some strains were provided by the CGC, which is funded by NIH Office of Research Infrastructure Programs (P40 OD010440). We thank C. Bargmann, M. Nonet, A. Dillin, H. Tissenbaum, D. Albrecht, J. Hawk, C. Weist, M. Madhav, A. Thackeray, C. Benard, M. Gorczyca, A. Bizet and W. Joyce for strains and technical support; and A. Garelli, G. Spitzmaul, A. Byrne, V. Budnik, M. Walhout, M. Belew, M. Ailion and T. Shpilka for discussions. This work was supported by grants from UNS (PGI 24/B216 to D.R., PGI 24/ZB62 to M.J.D.R.), ANPCYT (PICT 2014 3118 to D.R.) and CONICET (PIP11220150100182CO to D.R. and M.J.D.R.), and grant GM084491 from the National Institutes of Health to M.J.A.
Ethics declarations
Competing interests
The authors declare no competing interests.
Additional information
Publisher's note: Springer Nature remains neutral with regard to jurisdictional claims in published maps and institutional affiliations.
Peer review information Nature thanks Mario de Bono, Veena Prahlad, Nektarios Tavernarakis and the other, anonymous, reviewer(s) for their contribution to the peer review of this work.
Extended data figures and tables
Supplementary information
This file contains Supplementary Table 1.
About this article
Cite this article
De Rosa, M.J., Veuthey, T., Florman, J. et al. The flight response impairs cytoprotective mechanisms by activating the insulin pathway. Nature 573, 135–138 (2019). https://doi.org/10.1038/s41586-019-1524-5
Received:

Accepted:

Published:

Issue Date:

DOI: https://doi.org/10.1038/s41586-019-1524-5
Further reading
Hai-Yan Lin
Gang Song
Yanhua Qu

Frontiers in Zoology (2021)

Julie Schwartz
Emilie Réalis-Doyelle
Pascal Favrel

Marine Biotechnology (2021)
Comments
By submitting a comment you agree to abide by our Terms and Community Guidelines. If you find something abusive or that does not comply with our terms or guidelines please flag it as inappropriate.