Abstract
Ageing causes a decline in tissue regeneration owing to a loss of function of adult stem cell and progenitor cell populations1. One example is the deterioration of the regenerative capacity of the widespread and abundant population of central nervous system (CNS) multipotent stem cells known as oligodendrocyte progenitor cells (OPCs)2. A relatively overlooked potential source of this loss of function is the stem cell 'niche'—a set of cell-extrinsic cues that include chemical and mechanical signals3,4. Here we show that the OPC microenvironment stiffens with age, and that this mechanical change is sufficient to cause age-related loss of function of OPCs. Using biological and synthetic scaffolds to mimic the stiffness of young brains, we find that isolated aged OPCs cultured on these scaffolds are molecularly and functionally rejuvenated. When we disrupt mechanical signalling, the proliferation and differentiation rates of OPCs are increased. We identify the mechanoresponsive ion channel PIEZO1 as a key mediator of OPC mechanical signalling. Inhibiting PIEZO1 overrides mechanical signals in vivo and allows OPCs to maintain activity in the ageing CNS. We also show that PIEZO1 is important in regulating cell number during CNS development. Thus we show that tissue stiffness is a crucial regulator of ageing in OPCs, and provide insights into how the function of adult stem and progenitor cells changes with age. Our findings could be important not only for the development of regenerative therapies, but also for understanding the ageing process itself.
Relevant articles
Open Access articles citing this article.
Senyu Yao

,

Xiaoyue Wei

…

Jiancheng Wang

Nature Communications Open Access 11 July 2022

Shada Abuhattum

,

Petra Kotzbeck

…

Anna V. Taubenberger

Scientific Reports Open Access 20 June 2022

Xu Li

,

Junwei Hu

…

Yuelai Chen

Experimental & Molecular Medicine Open Access 14 June 2022
Access options
Access Nature and 54 other Nature Portfolio journals
Get Nature+, our best-value online-access subscription
$29.99 per month
cancel any time
Subscribe to this journal
Receive 51 print issues and online access
$199.00 per year
only $3.90 per issue
Rent or buy this article
Get just this article for as long as you need it
$39.95
Prices may be subject to local taxes which are calculated during checkout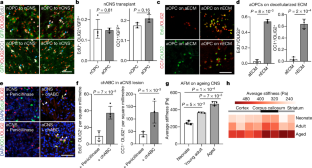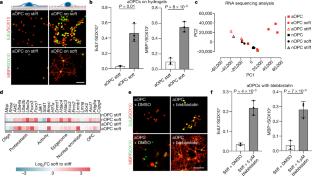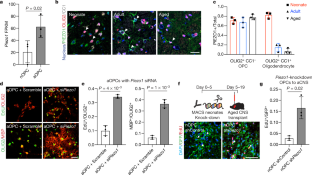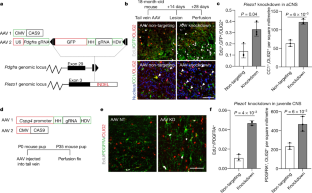 References
Goodell, M. A. & Rando, T. A. Stem cells and healthy aging. Science 350, 1199–1204 (2015).

Sim, F. J., Zhao, C., Penderis, J. & Franklin, R. J. M. The age-related decrease in CNS remyelination efficiency is attributable to an impairment of both oligodendrocyte progenitor recruitment and differentiation. J. Neurosci. 22, 2451–2459 (2002).

Gopinath, S. D. & Rando, T. A. Stem cell review series: aging of the skeletal muscle stem cell niche. Aging Cell 7, 590–598 (2008).

Swift, J. et al. Nuclear lamin-A scales with tissue stiffness and enhances matrix-directed differentiation. Science 341, 1240104 (2013).

Hinks, G. L. & Franklin, R. J. Delayed changes in growth factor gene expression during slow remyelination in the CNS of aged rats. Mol. Cell. Neurosci. 16, 542–556 (2000).

Tang, D. G., Tokumoto, Y. M., Apperly, J. A., Lloyd, A. C. & Raff, M. C. Lack of replicative senescence in cultured rat oligodendrocyte precursor cells. Science 291, 868–871 (2001).

Keough, M. B. et al. An inhibitor of chondroitin sulfate proteoglycan synthesis promotes central nervous system remyelination. Nat. Commun. 7, 11312 (2016).

He, L., Si, G., Huang, J., Samuel, A. D. T. & Perrimon, N. Mechanical regulation of stem-cell differentiation by the stretch-activated Piezo channel. Nature 555, 103–106 (2018).

Eisenhoffer, G. T. et al. Crowding induces live cell extrusion to maintain homeostatic cell numbers in epithelia. Nature 484, 546–549 (2012).

Li, J. et al. Piezo1 integration of vascular architecture with physiological force. Nature 515, 279–282 (2014).

McHugh, B. J. et al. Integrin activation by Fam38A uses a novel mechanism of R-Ras targeting to the endoplasmic reticulum. J. Cell Sci. 123, 51–61 (2010).

McHugh, B. J., Murdoch, A., Haslett, C. & Sethi, T. Loss of the integrin-activating transmembrane protein Fam38A (Piezo1) promotes a switch to a reduced integrin-dependent mode of cell migration. PLoS One 7, e40346 (2012).

Jäkel, S. et al. Altered human oligodendrocyte heterogeneity in multiple sclerosis. Nature 566, 543–547 (2019).

Suzuki, K. et al. In vivo genome editing via CRISPR/Cas9 mediated homology-independent targeted integration. Nature 540, 144–149 (2016).

Nissim, L., Perli, S. D., Fridkin, A., Perez-Pinera, P. & Lu, T. K. Multiplexed and programmable regulation of gene networks with an integrated RNA and CRISPR/Cas toolkit in human cells. Mol. Cell 54, 698–710 (2014).

Chan, K. Y. et al. Engineered AAVs for efficient noninvasive gene delivery to the central and peripheral nervous systems. Nat. Neurosci. 20, 1172–1179 (2017).

Duncan, I. D., Brower, A., Kondo, Y., Curlee, J. F. Jr & Schultz, R. D. Extensive remyelination of the CNS leads to functional recovery. Proc. Natl Acad. Sci. USA 106, 6832–6836 (2009); correction 106, 12208 (2009).

Sellers, D. L., Maris, D. O. & Horner, P. J. Postinjury niches induce temporal shifts in progenitor fates to direct lesion repair after spinal cord injury. J. Neurosci. 29, 6722–6733 (2009).

Koser, D. E., Moeendarbary, E., Hanne, J., Kuerten, S. & Franze, K. CNS cell distribution and axon orientation determine local spinal cord mechanical properties. Biophys. J. 108, 2137–2147 (2015).

Christ, A. F. et al. Mechanical difference between white and gray matter in the rat cerebellum measured by scanning force microscopy. J. Biomech. 43, 2986–2992 (2010).

Franze, K. et al. Spatial mapping of the mechanical properties of the living retina using scanning force microscopy. Soft Matter 7, 3147–3154 (2011).

Hertz, H. Über die Berührung fester elastischer Körper. J. Reine Angew. Math. 92, 156–171 (1881).

Koser, D. E. et al. Mechanosensing is critical for axon growth in the developing brain. Nat. Neurosci. 19, 1592–1598 (2016).

Moshayedi, P. et al. Mechanosensitivity of astrocytes on optimized polyacrylamide gels analyzed by quantitative morphometry. J. Phys. Condens. Matter 22, 194114 (2010).

Boudou, T. et al. An extended modeling of the micropipette aspiration experiment for the characterization of the Young's modulus and Poisson's ratio of adherent thin biological samples: numerical and experimental studies. J. Biomech. 39, 1677–1685 (2006).

Khazipov, R. et al. Atlas of the postnatal rat brain in stereotaxic coordinates. Front. Neuroanat. 9, 161 (2015).

Woodruff, R. H. & Franklin, R. J. M. Demyelination and remyelination of the caudal cerebellar peduncle of adult rats following stereotaxic injections of lysolecithin, ethidium bromide, and complement/anti-galactocerebroside: a comparative study. Glia 25, 216–228 (1999).

Jeffery, N. D. & Blakemore, W. F. Remyelination of mouse spinal cord axons demyelinated by local injection of lysolecithin. J. Neurocytol. 24, 775–781 (1995).

De Waele, J. et al. 3D culture of murine neural stem cells on decellularized mouse brain sections. Biomaterials 41, 122–131 (2015).

Kay, M. A., He, C.-Y. & Chen, Z.-Y. A robust system for production of minicircle DNA vectors. Nat. Biotechnol. 28, 1287–1289 (2010).

Challis, R. C. et al. Widespread and targeted gene expression by systemic AAV vectors: production, purification, and administration. Preprint at https://doi.org/10.1101/246405 (2018).

Pertea, M., Kim, D., Pertea, G. M., Leek, J. T. & Salzberg, S. L. Transcript-level expression analysis of RNA-seq experiments with HISAT, StringTie and Ballgown. Nature Protocols 11, 1650–1667 (2016).
Acknowledgements
We thank D. Morrison for technical assistance and E. Paluch for helpful discussions and help with the manuscript. The work was supported by European Research Council (ERC) grant 772798 (to K.J.C.) and 772426 (to K.F.); the UK Multiple Sclerosis Society (to R.J.M.F.); Biotechnology and Biological Sciences Research Council (BBSRC) grant BB/M008827/1 (to K.J.C and R.J.M.F.) and BB/N006402/1 (to K.F.); the Adelson Medical Research Foundation (R.J.M.F. and D.H.R.); an EMBO Long-Term Fellowship ALTF 1263-2015 and European Commission FP7 actions LTFCOFUND2013, GA-2013-609409 (to I.P.W.); a Royal Society University Research Fellowship (to K.J.C.); and a core support grant from the Wellcome Trust and Medical Research Council (MRC) to the Wellcome Trust–MRC Cambridge Stem Cell Institute.
Ethics declarations
Competing interests
The authors declare no competing interests.
Additional information
Publisher's note: Springer Nature remains neutral with regard to jurisdictional claims in published maps and institutional affiliations.
Peer review information Nature thanks D. Discher, M. Lutolf and the other, anonymous, reviewer(s) for their contribution to the peer review of this work.
Extended data figures and tables
Supplementary information
About this article
Cite this article
Segel, M., Neumann, B., Hill, M.F.E. et al. Niche stiffness underlies the ageing of central nervous system progenitor cells. Nature 573, 130–134 (2019). https://doi.org/10.1038/s41586-019-1484-9
Received:

Accepted:

Published:

Issue Date:

DOI: https://doi.org/10.1038/s41586-019-1484-9
Comments
By submitting a comment you agree to abide by our Terms and Community Guidelines. If you find something abusive or that does not comply with our terms or guidelines please flag it as inappropriate.