Abstract
Experimental autoimmune encephalomyelitis is a model for multiple sclerosis. Here we show that induction generates successive waves of clonally expanded CD4+, CD8+ and γδ+ T cells in the blood and central nervous system, similar to gluten-challenge studies of patients with coeliac disease. We also find major expansions of CD8+ T cells in patients with multiple sclerosis. In autoimmune encephalomyelitis, we find that most expanded CD4+ T cells are specific for the inducing myelin peptide MOG35–55. By contrast, surrogate peptides derived from a yeast peptide major histocompatibility complex library of some of the clonally expanded CD8+ T cells inhibit disease by suppressing the proliferation of MOG-specific CD4+ T cells. These results suggest that the induction of autoreactive CD4+ T cells triggers an opposing mobilization of regulatory CD8+ T cells.
Relevant articles
Open Access articles citing this article.
Davide Simone

,

Frank Penkava

…

Paul Bowness

Communications Biology Open Access 14 December 2021

Neda Feizi

,

Chiara Focaccetti

…

Silvia Piconese

Cell Death & Disease Open Access 29 October 2021
Access options
Subscribe to Nature+
Get immediate online access to the entire Nature family of 50+ journals
Subscribe to Journal
Get full journal access for 1 year
$199.00
only $3.90 per issue
All prices are NET prices.
VAT will be added later in the checkout.
Tax calculation will be finalised during checkout.
Buy article
Get time limited or full article access on ReadCube.
$32.00
All prices are NET prices.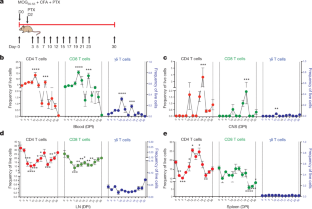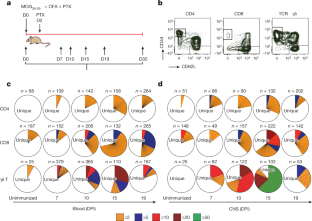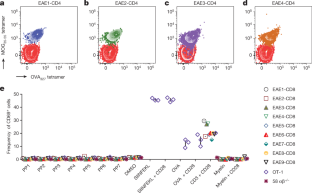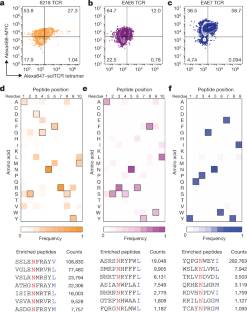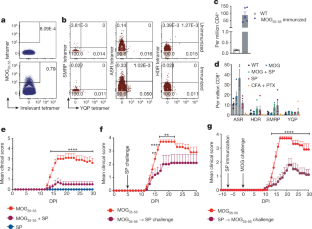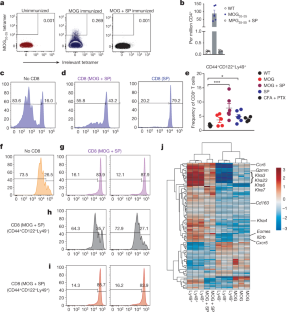 Data availability
RNA-seq data and yeast pMHC selection data are deposited in the Gene Expression Omnibus (GEO) data repository with accession number GSE130975. Source Data for each figure are provided. Other data that support the findings of this study are available from the corresponding author upon reasonable request.
References
The International Multiple Sclerosis Genetics Consortium & The Wellcome Trust Case Control Consortium 2. Genetic risk and a primary role for cell-mediated immune mechanisms in multiple sclerosis. Nature 476, 214–219 (2011).

Fallang, L.-E. et al. Differences in the risk of celiac disease associated with HLA-DQ2.5 or HLA-DQ2.2 are related to sustained gluten antigen presentation. Nat. Immunol. 10, 1096–1101 (2009).

Sollid, L. M., Qiao, S.-W., Anderson, R. P., Gianfrani, C. & Koning, F. Nomenclature and listing of celiac disease relevant gluten T-cell epitopes restricted by HLA-DQ molecules. Immunogenetics 64, 455–460 (2012).

Zamvil, S. et al. T-cell clones specific for myelin basic protein induce chronic relapsing paralysis and demyelination. Nature 317, 355–358 (1985).

Blankenhorn, E. P. et al. Genetics of experimental allergic encephalomyelitis supports the role of T helper cells in multiple sclerosis pathogenesis. Ann. Neurol. 70, 887–896 (2011).

Skulina, C. et al. Multiple sclerosis: brain-infiltrating CD8+ T cells persist as clonal expansions in the cerebrospinal fluid and blood. Proc. Natl Acad. Sci. USA 101, 2428–2433 (2004).

Babbe, H. et al. Clonal expansions of CD8+ T cells dominate the T cell infiltrate in active multiple sclerosis lesions as shown by micromanipulation and single cell polymerase chain reaction. J. Exp. Med. 192, 393–404 (2000).

Blink, S. E. & Miller, S. D. The contribution of γδ T cells to the pathogenesis of EAE and MS. Curr. Mol. Med. 9, 15–22 (2009).

Han, A. et al. Dietary gluten triggers concomitant activation of CD4+ and CD8+ αβ T cells and γδ T cells in celiac disease. Proc. Natl Acad. Sci. USA 110, 13073–13078 (2013).

Birnbaum, M. E. et al. Deconstructing the peptide-MHC specificity of T cell recognition. Cell 157, 1073–1087 (2014).

Gee, M. H. et al. Antigen identification for orphan T cell receptors expressed on tumor-infiltrating lymphocytes. Cell 172, 549–563.e16 (2018).

Han, A., Glanville, J., Hansmann, L. & Davis, M. M. Linking T-cell receptor sequence to functional phenotype at the single-cell level. Nat. Biotechnol. 32, 684–692 (2014).

Wei, Y.-L. et al. A highly focused antigen receptor repertoire characterizes γδ T cells that are poised to make IL-17 rapidly in naive animals. Front. Immunol. 6, 118 (2015).

Langrish, C. L. et al. IL-23 drives a pathogenic T cell population that induces autoimmune inflammation. J. Exp. Med. 201, 233–240 (2005).

Kroenke, M. A., Carlson, T. J., Andjelkovic, A. V. & Segal, B. M. IL-12- and IL-23-modulated T cells induce distinct types of EAE based on histology, CNS chemokine profile, and response to cytokine inhibition. J. Exp. Med. 205, 1535–1541 (2008).

Ben-Nun, A., Wekerle, H. & Cohen, I. R. The rapid isolation of clonable antigen-specific T lymphocyte lines capable of mediating autoimmune encephalomyelitis. Eur. J. Immunol. 11, 195–199 (1981).

Jäger, A., Dardalhon, V., Sobel, R. A., Bettelli, E. & Kuchroo, V. K. Th1, Th17, and Th9 effector cells induce experimental autoimmune encephalomyelitis with different pathological phenotypes. J. Immunol. 183, 7169–7177 (2009).

Denton, A. E. et al. Affinity thresholds for naive CD8+ CTL activation by peptides and engineered influenza A viruses. J. Immunol. 187, 5733–5744 (2011).

Day, E. B. et al. Structural basis for enabling T-cell receptor diversity within biased virus-specific CD8+ T-cell responses. Proc. Natl Acad. Sci. USA 108, 9536–9541 (2011).

Moon, J. J. et al. Naive CD4+ T cell frequency varies for different epitopes and predicts repertoire diversity and response magnitude. Immunity 27, 203–213 (2007).

Kim, H.-J. & Cantor, H. Regulation of self-tolerance by Qa-1-restricted CD8+ regulatory T cells. Semin. Immunol. 23, 446–452 (2011).

Lu, L., Kim, H.-J., Werneck, M. B. F. & Cantor, H. Regulation of CD8+ regulatory T cells: interruption of the NKG2A-Qa-1 interaction allows robust suppressive activity and resolution of autoimmune disease. Proc. Natl Acad. Sci. USA 105, 19420–19425 (2008).

Kim, H.-J. et al. CD8+ T regulatory cells express the Ly49 class I MHC receptor and are defective in autoimmune prone B6-Yaa mice. Proc. Natl Acad. Sci. USA 108, 2010–2015 (2011).

Agarwal, R. K. & Caspi, R. R. Rodent models of experimental autoimmune uveitis. Methods Mol. Med. 102, 395–419 (2004).

Zemmour, D. et al. Single-cell gene expression reveals a landscape of regulatory T cell phenotypes shaped by the TCR. Nat. Immunol. 19, 291–301 (2018).

Hvas, J., Oksenberg, J. R., Fernando, R., Steinman, L. & Bernard, C. C. γδ T cell receptor repertoire in brain lesions of patients with multiple sclerosis. J. Neuroimmunol. 46, 225–234 (1993).

Wucherpfennig, K. W. et al. Gamma delta T-cell receptor repertoire in acute multiple sclerosis lesions. Proc. Natl Acad. Sci. USA 89, 4588–4592 (1992).

Gandhi, R., Laroni, A. & Weiner, H. L. Role of the innate immune system in the pathogenesis of multiple sclerosis. J. Neuroimmunol. 221, 7–14 (2010).

Caccamo, N. et al. Differentiation, phenotype, and function of interleukin-17-producing human Vγ9Vδ2 T cells. Blood 118, 129–138 (2011).

Moens, E. et al. IL-23R and TCR signaling drives the generation of neonatal Vγ9Vδ2 T cells expressing high levels of cytotoxic mediators and producing IFN-γ and IL-17. J. Leukoc. Biol. 89, 743–752 (2011).

Sutton, C. E. et al. Interleukin-1 and IL-23 induce innate IL-17 production from γδ T cells, amplifying Th17 responses and autoimmunity. Immunity 31, 331–341 (2009).

Price, A. E., Reinhardt, R. L., Liang, H.-E. & Locksley, R. M. Marking and quantifying IL-17A-producing cells in vivo. PLoS ONE 7, e39750 (2012).

Harrington, L. E. et al. Interleukin 17-producing CD4+ effector T cells develop via a lineage distinct from the T helper type 1 and 2 lineages. Nat. Immunol. 6, 1123–1132 (2005).

Elias, D., Tikochinski, Y., Frankel, G. & Cohen, I. R. Regulation of NOD mouse autoimmune diabetes by T cells that recognize a TCR CDR3 peptide. Int. Immunol. 11, 957–966 (1999).

Kumar, V., Stellrecht, K. & Sercarz, E. Inactivation of T cell receptor peptide-specific CD4 regulatory T cells induces chronic experimental autoimmune encephalomyelitis (EAE). J. Exp. Med. 184, 1609–1617 (1996).

Hu, D. et al. Analysis of regulatory CD8 T cells in Qa-1-deficient mice. Nat. Immunol. 5, 516–523 (2004).

Panoutsakopoulou, V. et al. Suppression of autoimmune disease after vaccination with autoreactive T cells that express Qa-1 peptide complexes. J. Clin. Invest. 113, 1218–1224 (2004).

Stadinski, B. D. et al. Diabetogenic T cells recognize insulin bound to IAg7 in an unexpected, weakly binding register. Proc. Natl Acad. Sci. USA 107, 10978–10983 (2010).

Altman, J. D. et al. Phenotypic analysis of antigen-specific T lymphocytes. Science 274, 94–96 (1996).

Davis, M. M. & Brodin, P. Rebooting human immunology. Annu. Rev. Immunol. 36, 843–864 (2018).

O'Shea, E. K., Lumb, K. J. & Kim, P. S. Peptide 'Velcro': design of a heterodimeric coiled coil. Curr. Biol. 3, 658–667 (1993).

Adams, J. J. et al. T cell receptor signaling is limited by docking geometry to peptide-major histocompatibility complex. Immunity 35, 681–693 (2011).

Nelson, R. W. et al. T cell receptor cross-reactivity between similar foreign and self peptides influences naive cell population size and autoimmunity. Immunity 42, 95–107 (2015).

Grotenbreg, G. M. et al. Discovery of CD8+ T cell epitopes in Chlamydia trachomatis infection through use of caged class I MHC tetramers. Proc. Natl Acad. Sci. USA 105, 3831–3836 (2008).

Krementsov, D. N. et al. Sex-specific control of central nervous system autoimmunity by p38 mitogen-activated protein kinase signaling in myeloid cells. Ann. Neurol. 75, 50–66 (2014).

Tennakoon, D. K. et al. Therapeutic induction of regulatory, cytotoxic CD8+ T cells in multiple sclerosis. J. Immunol. 176, 7119–7129 (2006).

Bian, Y. et al. MHC Ib molecule Qa-1 presents Mycobacterium tuberculosis peptide antigens to CD8+ T cells and contributes to protection against infection. PLoS Pathog. 13, e1006384 (2017).

Mahajan, V. B., Skeie, J. M., Assefnia, A. H., Mahajan, M. & Tsang, S. H. Mouse eye enucleation for remote high-throughput phenotyping. J. Vis. Exp. 57, e3184 (2011).

Mamedov, M. R. et al. A macrophage colony-stimulating-factor-producing γδ T cell subset prevents malarial parasitemic recurrence. Immunity 48, 350–363.e7 (2018).

Love, M. I., Huber, W. & Anders, S. Moderated estimation of fold change and dispersion for RNA-seq data with DESeq2. Genome Biol. 15, 550 (2014).

Li, B. & Dewey, C. N. RSEM: accurate transcript quantification from RNA-Seq data with or without a reference genome. BMC Bioinformatics 12, 323 (2011).

Kolde, R. pheatmap: pretty heatmaps. R package v.1.0.8 (2015).

Yu, G. clusterProfiler: An universal enrichment tool for functional and comparative study. Preprint at https://www.bioRxiv.org/content/10.1101/256784v2 (2018).
Acknowledgements
We thank members of the Davis, Chien, Garcia and Steinman laboratories for discussions. We thank A. Han and M. M. Mamedov for help designing mouse TCR primers, and V. Mallajyosulla for help with the H2-Db library constructs. We thank the Stanford Functional Genomics Facility and the Human Immune Monitoring Center for DNA and RNA sequencing (NIH shared facility equipment grant, S10OD018220). We thank C. Carswell, B. Gomez and the Stanford Shared FACS facility for assistance in sorting cells and providing access to the equipment. We also thank A. Nau, L. Steinman and C. Tato for critical reading of the manuscript and discussions. We thank C. Bohlen for myelin proteins. N.S. was supported by a Postdoctoral Fellowship from National Multiple Sclerosis Society (NMSS) and also a Career Transition Grant from NMSS. F.Z. was supported by the Ovarian Cancer Research Fund Alliances. Human samples collection was supported by a grant from NMSS RG-1611-26299 (J.R.O and S.L.H). J.I. is funded by the US National Institutes of Health (NIH) grant 1DP2AR069953. R.A.F. is supported by The Wellcome Trust for the Sir Henry Wellcome Fellowship (WT101609MA). M.M.D. and K.C.G. are funded by the US NIH (U19 AI057229) and the Howard Hughes Medical Institute. K.C.G. is also funded by the US NIH (R01AI103867) and Mathers Foundation. Additional early support also came from the Simons Foundation (to M.M.D.).
Ethics declarations
Competing interests
The authors declare no competing interests.
Additional information
Publisher's note: Springer Nature remains neutral with regard to jurisdictional claims in published maps and institutional affiliations.
Peer review information Nature thanks Hartmut Wekerle and the other, anonymous, reviewer(s) for their contribution to the peer review of this work.
Extended data figures and tables
Supplementary information
About this article
Cite this article
Saligrama, N., Zhao, F., Sikora, M.J. et al. Opposing T cell responses in experimental autoimmune encephalomyelitis. Nature 572, 481–487 (2019). https://doi.org/10.1038/s41586-019-1467-x
Received:

Accepted:

Published:

Issue Date:

DOI: https://doi.org/10.1038/s41586-019-1467-x
Comments
By submitting a comment you agree to abide by our Terms and Community Guidelines. If you find something abusive or that does not comply with our terms or guidelines please flag it as inappropriate.