Abstract
Recent work has shown that meningeal lymphatic vessels (mLVs), mainly in the dorsal part of the skull, are involved in the clearance of cerebrospinal fluid (CSF), but the precise route of CSF drainage is still unknown. Here we reveal the importance of mLVs in the basal part of the skull for this process by visualizing their distinct anatomical location and characterizing their specialized morphological features, which facilitate the uptake and drainage of CSF. Unlike dorsal mLVs, basal mLVs have lymphatic valves and capillaries located adjacent to the subarachnoid space in mice. We also show that basal mLVs are hotspots for the clearance of CSF macromolecules and that both mLV integrity and CSF drainage are impaired with ageing. Our findings should increase the understanding of how mLVs contribute to the neuropathophysiological processes that are associated with ageing.
Access options
Subscribe to Journal
Get full journal access for 1 year
$199.00
only $3.90 per issue
All prices are NET prices.
VAT will be added later in the checkout.
Rent or Buy article
Get time limited or full article access on ReadCube.
from$8.99
All prices are NET prices.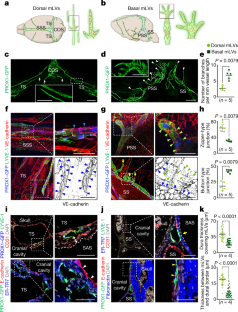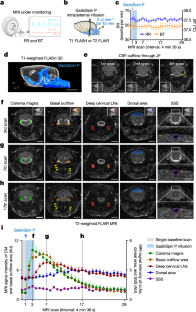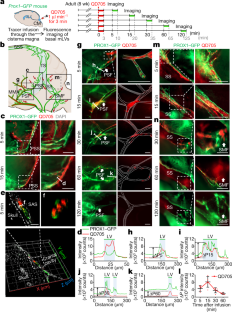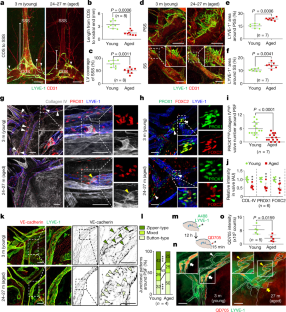 Data availability
Source data for quantifications shown in all graphs plotted in figures and extended data figures are available in the online version of the paper. The data sets generated in this study are also available from the corresponding authors upon reasonable request.
Code availability
Custom code used during the current study are also available from the corresponding authors upon reasonable request.
References
1.

Louveau, A. et al. Structural and functional features of central nervous system lymphatic vessels. Nature 523, 337–341 (2015).

2.

Aspelund, A. et al. A dural lymphatic vascular system that drains brain interstitial fluid and macromolecules. J. Exp. Med. 212, 991–999 (2015).

3.

Antila, S. et al. Development and plasticity of meningeal lymphatic vessels. J. Exp. Med. 214, 3645–3667 (2017).

4.

Da Mesquita, S. et al. Functional aspects of meningeal lymphatics in ageing and Alzheimer's disease. Nature 560, 185–191 (2018).

5.

Louveau, A. et al. CNS lymphatic drainage and neuroinflammation are regulated by meningeal lymphatic vasculature. Nat. Neurosci. 21, 1380–1391 (2018).

6.

Patel, T. K. et al. Dural lymphatics regulate clearance of extracellular tau from the CNS. Mol. Neurodegener. 14, 11 (2019).

7.

Tarasoff-Conway, J. M. et al. Clearance systems in the brain-implications for Alzheimer disease. Nat. Rev. Neurol. 11, 457–470 (2015).

8.

Da Mesquita, S., Fu, Z. & Kipnis, J. The meningeal lymphatic system: a new player in neurophysiology. Neuron 100, 375–388 (2018).

9.

Ma, Q., Ineichen, B. V., Detmar, M. & Proulx, S. T. Outflow of cerebrospinal fluid is predominantly through lymphatic vessels and is reduced in aged mice. Nat. Commun. 8, 1434 (2017).

10.

Lukić, I. K., Gluncić, V., Ivkić, G., Hubenstorf, M. & Marusić, A. Virtual dissection: a lesson from the 18th century. Lancet 362, 2110–2113 (2003).

11.

Forstmann, B. U., de Hollander, G., van Maanen, L., Alkemade, A. & Keuken, M. C. Towards a mechanistic understanding of the human subcortex. Nat. Rev. Neurosci. 18, 57–65 (2016).

12.

Petrova, T. V. & Koh, G. Y. Organ-specific lymphatic vasculature: From development to pathophysiology. J. Exp. Med. 215, 35–49 (2018).

13.

Aspelund, A., Robciuc, M. R., Karaman, S., Makinen, T. & Alitalo, K. Lymphatic system in cardiovascular medicine. Circ. Res. 118, 515–530 (2016).

14.

Margaris, K. N. & Black, R. A. Modelling the lymphatic system: challenges and opportunities. J. R. Soc. Interface 9, 601–612 (2012).

15.

Brakenhielm, E. & Alitalo, K. Cardiac lymphatics in health and disease. Nat. Rev. Cardiol. 16, 56–68 (2019).

16.

Baluk, P. et al. Functionally specialized junctions between endothelial cells of lymphatic vessels. J. Exp. Med. 204, 2349–2362 (2007).

17.

Choi, I. et al. Visualization of lymphatic vessels by Prox1-promoter directed GFP reporter in a bacterial artificial chromosome-based transgenic mouse. Blood 117, 362–365 (2011).

18.

Absinta, M. et al. Human and nonhuman primate meninges harbor lymphatic vessels that can be visualized noninvasively by MRI. eLife 6, e29738 (2017).

19.

Gousopoulos, E., Proulx, S. T., Scholl, J., Uecker, M. & Detmar, M. Prominent lymphatic vessel hyperplasia with progressive dysfunction and distinct immune cell infiltration in lymphedema. Am. J. Pathol. 186, 2193–2203 (2016).

20.

Sabine, A. et al. Mechanotransduction, PROX1, and FOXC2 cooperate to control connexin37 and calcineurin during lymphatic-valve formation. Dev. Cell 22, 430–445 (2012).

21.

Sweet, D. T. et al. Lymph flow regulates collecting lymphatic vessel maturation in vivo. J. Clin. Invest. 125, 2995–3007 (2015).

22.

Sabine, A. et al. FOXC2 and fluid shear stress stabilize postnatal lymphatic vasculature. J. Clin. Invest. 125, 3861–3877 (2015).

23.

Cho, H. et al. YAP and TAZ negatively regulate Prox1 during developmental and pathologic lymphangiogenesis. Circ. Res. 124, 225–242 (2019).

24.

Zolla, V. et al. Aging-related anatomical and biochemical changes in lymphatic collectors impair lymph transport, fluid homeostasis, and pathogen clearance. Aging Cell 14, 582–594 (2015).

25.

Bazigou, E. et al. Genes regulating lymphangiogenesis control venous valve formation and maintenance in mice. J. Clin. Invest. 121, 2984–2992 (2011).

26.

Haiko, P. et al. Deletion of vascular endothelial growth factor C (VEGF-C) and VEGF-D is not equivalent to VEGF receptor 3 deletion in mouse embryos. Mol. Cell. Biol. 28, 4843–4850 (2008).

27.

Yushkevich, P. A. et al. User-guided 3D active contour segmentation of anatomical structures: significantly improved efficiency and reliability. Neuroimage 31, 1116–1128 (2006).

28.

Ineichen, B. V. et al. Direct, long-term intrathecal application of therapeutics to the rodent CNS. Nat. Protocols 12, 104–131 (2017).
Acknowledgements
We thank all members of IBS Center for Vascular Research, especially J. Bae and H.-T. Kim for technical support and animal care; K. Alitalo (University of Helsinki) for Vegfr3flox/flox mice; and T. Mäkinen (Uppsala University) for Prox1–CreERT2 mice. This study was supported by the Institute of Basic Science and funded by the Ministry of Science and ICT, South Korea (IBS-R025-D1-2015 to G.Y.K.).
Ethics declarations
Competing interests
The authors declare no competing interests.
Additional information
Publisher's note: Springer Nature remains neutral with regard to jurisdictional claims in published maps and institutional affiliations.
Extended data figures and tables
Supplementary information
About this article
Cite this article
Ahn, J.H., Cho, H., Kim, JH. et al. Meningeal lymphatic vessels at the skull base drain cerebrospinal fluid. Nature 572, 62–66 (2019). https://doi.org/10.1038/s41586-019-1419-5
Received:

Accepted:

Published:

Issue Date:
Comments
By submitting a comment you agree to abide by our Terms and Community Guidelines. If you find something abusive or that does not comply with our terms or guidelines please flag it as inappropriate.