Abstract
Knowledge of connectivity in the nervous system is essential to understanding its function. Here we describe connectomes for both adult sexes of the nematode Caenorhabditis elegans, an important model organism for neuroscience research. We present quantitative connectivity matrices that encompass all connections from sensory input to end-organ output across the entire animal, information that is necessary to model behaviour. Serial electron microscopy reconstructions that are based on the analysis of both new and previously published electron micrographs update previous results and include data on the male head. The nervous system differs between sexes at multiple levels. Several sex-shared neurons that function in circuits for sexual behaviour are sexually dimorphic in structure and connectivity. Inputs from sex-specific circuitry to central circuitry reveal points at which sexual and non-sexual pathways converge. In sex-shared central pathways, a substantial number of connections differ in strength between the sexes. Quantitative connectomes that include all connections serve as the basis for understanding how complex, adaptive behavior is generated. 
Access options
Subscribe to Journal
Get full journal access for 1 year
$199.00
only $3.90 per issue
All prices are NET prices.
VAT will be added later in the checkout.
Rent or Buy article
Get time limited or full article access on ReadCube.
from$8.99
All prices are NET prices.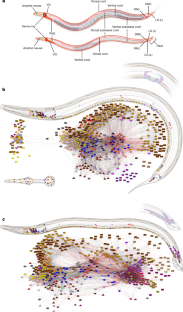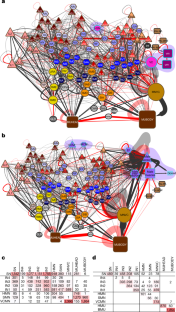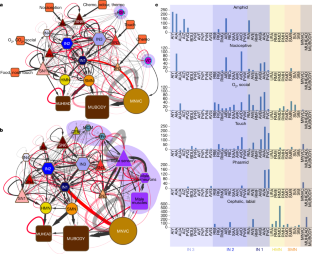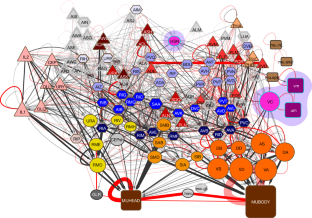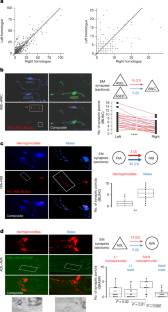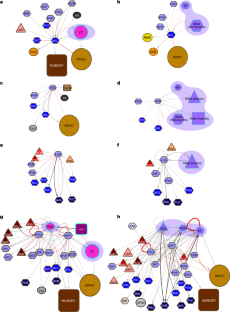 Data availability
The datasets generated and/or analysed during the current study are available at http://wormwiring.org/. The collection of C. elegans nervous system electron micrographs are also available at https://www.wormatlas.org/ and https://wormimage.org. The datasets generated and/or analysed during the current study are also available from the corresponding author on reasonable request.
References
1.

White, J. G., Southgate, E., Thomson, J. N. & Brenner, S. The structure of the nervous system of the nematode Caenorhabditis elegans. Phil. Trans. R. Soc. Lond. B 314, 1–340 (1986).

2.

Albertson, D. G. & Thomson, J. N. The pharynx of Caenorhabditis elegans. Phil. Trans. R. Soc. Lond. B 275, 299–325 (1976).

3.

Jarrell, T. A. et al. The connectome of a decision-making neural network. Science 337, 437–444 (2012).

4.

Hall, D. H. & Russell, R. L. The posterior nervous system of the nematode Caenorhabditis elegans: serial reconstruction of identified neurons and complete pattern of synaptic interactions. J. Neurosci. 11, 1–22 (1991).

5.

Bumbarger, D. J., Riebesell, M., Rödelsperger, C. & Sommer, R. J. System-wide rewiring underlies behavioral differences in predatory and bacterial-feeding nematodes. Cell 152, 109–119 (2013).

6.

Helmstaedter, M. et al. Connectomic reconstruction of the inner plexiform layer in the mouse retina. Nature 500, 168–174 (2013).

7.

Bock, D. D. et al. Network anatomy and in vivo physiology of visual cortical neurons. Nature 471, 177–182 (2011).

8.

Briggman, K. L., Helmstaedter, M. & Denk, W. Wiring specificity in the direction-selectivity circuit of the retina. Nature 471, 183–188 (2011).

9.

Kasthuri, N. et al. Saturated reconstruction of a volume of neocortex. Cell 162, 648–661 (2015).

10.

Lee, W.-C. A. et al. Anatomy and function of an excitatory network in the visual cortex. Nature 532, 370–374 (2016).

11.

Ohyama, T. et al. A multilevel multimodal circuit enhances action selection in Drosophila. Nature 520, 633–639 (2015).

12.

Fushiki, A. et al. A circuit mechanism for the propagation of waves of muscle contraction in Drosophila. eLife 5, e13253 (2016).

13.

Takemura, S. Y. et al. The comprehensive connectome of a neural substrate for 'ON' motion detection in Drosophila. eLife 6, e24394 (2017).

14.

Eichler, K. et al. The complete connectome of a learning and memory centre in an insect brain. Nature 548, 175–182 (2017).

15.

Larderet, I. et al. Organization of the Drosophila larval visual circuit. eLife 6, e28387 (2017).

16.

Randel, N. et al. Neuronal connectome of a sensory-motor circuit for visual navigation. eLife 3, e02730 (2014).

17.

Ryan, K., Lu, Z. & Meinertzhagen, I. A. The CNS connectome of a tadpole larva of Ciona intestinalis (L.) highlights sidedness in the brain of a chordate sibling. eLife 5, e16962 (2016).

18.

Varshney, L. R., Chen, B. L., Paniagua, E., Hall, D. H. & Chklovskii, D. B. Structural properties of the Caenorhabditis elegans neuronal network. PLOS Comput. Biol. 7, e1001066 (2011).

19.

Ahn, Y.-Y., Jeong, H. & Kim, B. J. Wiring cost in the organization of a biological neuronal network. Physica A 367, 531–537 (2006).

20.

Chen, B. L., Hall, D. H. & Chklovskii, D. B. Wiring optimization can relate neuronal structure and function. Proc. Natl Acad. Sci. USA 103, 4723–4728 (2006).

21.

Wang, I. E. & Clandinin, T. R. The influence of wiring economy on nervous system evolution. Curr. Biol. 26, R1101–R1108 (2016).

22.

Gushchin, A. & Tang, A. Total wiring length minimization of C. elegans neural network: a constrained optimization approach. PLoS ONE 10, e0145029 (2015).

23.

Carmel, L., Harel, D. & Koren, Y. Combining hierarchy and energy for drawing directed graphs. IEEE Trans. Vis. Comput. Graph. 10, 46–57 (2004).

24.

Gray, J. M., Hill, J. J. & Bargmann, C. I. A circuit for navigation in Caenorhabditis elegans. Proc. Natl Acad. Sci. USA 102, 3184–3191 (2005).

25.

Zou, W. et al. Polymodal responses in C. elegans phasmid neurons rely on multiple intracellular and intercellular signaling pathways. Sci. Rep. 7, 42295 (2017).

26.

Hart, A. C., Kass, J., Shapiro, J. E. & Kaplan, J. M. Distinct signaling pathways mediate touch and osmosensory responses in a polymodal sensory neuron. J. Neurosci. 19, 1952–1958 (1999).

27.

Pereira, L. et al. A cellular and regulatory map of the cholinergic nervous system of C. elegans. eLife 4, e12432 (2015).

28.

Zhao, H. & Nonet, M. L. A retrograde signal is involved in activity-dependent remodeling at a C. elegans neuromuscular junction. Development 127, 1253–1266 (2000).

29.

Kratsios, P. et al. Transcriptional coordination of synaptogenesis and neurotransmitter signaling. Curr. Biol. 25, 1282–1295 (2015).

30.

Schwarz, J. & Bringmann, H. Analysis of the NK2 homeobox gene ceh-24 reveals sublateral motor neuron control of left–right turning during sleep. eLife 6, e24846 (2017).

31.

Stephens, G. J., Bueno de Mesquita, M., Ryu, W. S. & Bialek, W. Emergence of long timescales and stereotyped behaviors in Caenorhabditis elegans. Proc. Natl Acad. Sci. USA 108, 7286–7289 (2011).

32.

Stephens, G. J., Johnson-Kerner, B., Bialek, W. & Ryu, W. S. Dimensionality and dynamics in the behavior of C. elegans. PLOS Comput. Biol. 4, e1000028 (2008).

33.

Kato, S. et al. Global brain dynamics embed the motor command sequence of Caenorhabditis elegans. Cell 163, 656–669 (2015).

34.

Pierce-Shimomura, J. T., Faumont, S., Gaston, M. R., Pearson, B. J. & Lockery, S. R. The homeobox gene lim-6 is required for distinct chemosensory representations in C. elegans. Nature 410, 694–698 (2001).

35.

Johnston, R. J. Jr, Chang, S., Etchberger, J. F., Ortiz, C. O. & Hobert, O. MicroRNAs acting in a double-negative feedback loop to control a neuronal cell fate decision. Proc. Natl Acad. Sci. USA 102, 12449–12454 (2005).

36.

Emmons, S. W. Neural circuits of sexual behavior in Caenorhabditis elegans. Annu. Rev. Neurosci. 41, 349–369 (2018).

37.

Sherlekar, A. L. et al. The C. elegans male exercises directional control during mating through cholinergic regulation of sex-shared command interneurons. PLoS ONE 8, e60597 (2013).

38.

Koo, P. K., Bian, X., Sherlekar, A. L., Bunkers, M. R. & Lints, R. The robustness of Caenorhabditis elegans male mating behavior depends on the distributed properties of ray sensory neurons and their output through core and male-specific targets. J. Neurosci. 31, 7497–7510 (2011).

39.

Ryan, D. A. et al. Sex, age, and hunger regulate behavioral prioritization through dynamic modulation of chemoreceptor expression. Curr. Biol. 24, 2509–2517 (2014).

40.

Hilbert, Z. A. & Kim, D. H. Sexually dimorphic control of gene expression in sensory neurons regulates decision-making behavior in C. elegans. eLife 6, e21166 (2017).

41.

Serrano-Saiz, E. et al. A neurotransmitter atlas of the Caenorhabditis elegans male nervous system reveals sexually dimorphic neurotransmitter usage. Genetics 206, 1251–1269 (2017).

42.

Oren-Suissa, M., Bayer, E. A. & Hobert, O. Sex-specific pruning of neuronal synapses in Caenorhabditis elegans. Nature 533, 206–211 (2016).

43.

Barrios, A., Ghosh, R., Fang, C., Emmons, S. W. & Barr, M. M. PDF-1 neuropeptide signaling modulates a neural circuit for mate-searching behavior in C. elegans. Nat. Neurosci. 15, 1675–1682 (2012).

44.

Jang, H. et al. Neuromodulatory state and sex specify alternative behaviors through antagonistic synaptic pathways in C. elegans. Neuron 75, 585–592 (2012).

45.

Hart, M. P. & Hobert, O. Neurexin controls plasticity of a mature, sexually dimorphic neuron. Nature 553, 165–170 (2018).

46.

Toth, M. L. et al. Neurite sprouting and synapse deterioration in the aging Caenorhabditis elegans nervous system. J. Neurosci. 32, 8778–8790 (2012).

47.

Stern, S., Kirst, C. & Bargmann, C. I. Neuromodulatory control of long-term behavioral patterns and individuality across development. Cell 171, 1649–1662 (2017).

48.

Goodman, M. B., Hall, D. H., Avery, L. & Lockery, S. R. Active currents regulate sensitivity and dynamic range in C. elegans neurons. Neuron 20, 763–772 (1998).

49.

Hendricks, M., Ha, H., Maffey, N. & Zhang, Y. Compartmentalized calcium dynamics in a C. elegans interneuron encode head movement. Nature 487, 99–103 (2012).

50.

LeBoeuf, B. & Garcia, L. R. Caenorhabditis elegans male copulation circuitry incorporates sex-shared defecation components to promote intromission and sperm transfer. G3 (Bethesda) 7, 647–662 (2017).

51.

Chalfie, M. et al. The neural circuit for touch sensitivity in Caenorhabditis elegans. J. Neurosci. 5, 956–964 (1985).

52.

Jee, C., Goncalves, J. F., LeBoeuf, B. & Garcia, L. R. CRF-like receptor SEB-3 in sex-common interneurons potentiates stress handling and reproductive drive in C. elegans. Nat. Commun. 7, 11957 (2016).

53.

Hardaker, L. A., Singer, E., Kerr, R., Zhou, G. & Schafer, W. R. Serotonin modulates locomotory behavior and coordinates egg-laying and movement in Caenorhabditis elegans. J. Neurobiol. 49, 303–313 (2001).

54.

Garrison, J. L. et al. Oxytocin/vasopressin-related peptides have an ancient role in reproductive behavior. Science 338, 540–543 (2012).

55.

Barrios, A., Nurrish, S. & Emmons, S. W. Sensory regulation of C. elegans male mate-searching behavior. Curr. Biol. 18, 1865–1871 (2008).

56.

Sammut, M. et al. Glia-derived neurons are required for sex-specific learning in C. elegans. Nature 526, 385–390 (2015).

57.

Sakai, N. et al. A sexually conditioned switch of chemosensory behavior in C. elegans. PLoS ONE 8, e68676 (2013).

58.

Narayan, A. et al. Contrasting responses within a single neuron class enable sex-specific attraction in Caenorhabditis elegans. Proc. Natl Acad. Sci. USA 113, E1392–E1401 (2016).

59.

Brenner, S. The genetics of Caenorhabditis elegans. Genetics 77, 71–94 (1974).

60.

Sulston, J. E., Albertson, D. G. & Thomson, J. N. The Caenorhabditis elegans male: postembryonic development of nongonadal structures. Dev. Biol. 78, 542–576 (1980).

61.

Peachey, L. D. Thin sections. I. A study of section thickness and physical distortion produced during microtomy. J. Biophys. Biochem. Cytol. 4, 233–242 (1958).

62.

Xu, M. et al. Computer assisted assembly of connectomes from electron micrographs: application to Caenorhabditis elegans. PLoS ONE 8, e54050 (2013).

63.

Duerr, J. S., Gaskin, J. & Rand, J. B. Identified neurons in C. elegans coexpress vesicular transporters for acetylcholine and monoamines. Am. J. Physiol. Cell Physiol. 280, C1616–C1622 (2001).

64.

Desbois, M., Cook, S. J., Emmons, S. W. & Bülow, H. E. Directional trans-synaptic labeling of specific neuronal connections in live animals. Genetics 200, 697–705 (2015).
Acknowledgements
We thank A. Barrios and B. Kim for comments on the manuscript; J. Koehler for comments on the statistical analysis; J. Hodgkin and J. White for their help in lending the electron microscopy archives from MRC/LMB for long-term curation at the Hall laboratory. M. Bernstein tested the fertility of males for the N930 reconstruction. M. Xu computationally aligned EM images. C. Crocker created the interactive version of Fig. 1 and formatted figures throughout. This work was supported by NIH grants from NINDS (F31NS096863 to E.A.B.; R01NS096672 to H.E.B.; R37NS039996 to O.H.), NIHD (P30HD071593 to S.W.E.), NIMH (R01MH112689 to S.W.E.), NIGMS (T32GM00749 1 to S.J.C.; R01GM066897 to S.W.E.), NINCDS (R15N548916 to J.S.D) and the Office of the NIH Director (OD 010943 to D.H.H.), and by the G. Harold and Leila Y. Mathers Charitable Foundation (S.W.E.). L.T.-H.T. is a Croucher Foundation Research Fellow. H.E.B. is an Irma T. Hirschl/Monique Weill-Caullier Research Fellow. O.H. is an investigator of the Howard Hughes Medical Institute. Some nematode strains were provided by the CGC, which is funded by NIH Office of Research Infrastructure Programs (P40 0D010440).
Reviewer information
Nature thanks Albert-László Barabási, Dan Bumbarger, Douglas Portman, Paul W. Sternberg, Emma Towlson and the other anonymous reviewer(s) for their contribution to the peer review of this work.
Ethics declarations
Competing interests
The authors declare no competing interests.
Additional information
Publisher's note: Springer Nature remains neutral with regard to jurisdictional claims in published maps and institutional affiliations.
Extended data figures and tables
Supplementary information
About this article
Cite this article
Cook, S.J., Jarrell, T.A., Brittin, C.A. et al. Whole-animal connectomes of both Caenorhabditis elegans sexes. Nature 571, 63–71 (2019). https://doi.org/10.1038/s41586-019-1352-7
Received:

Accepted:

Published:

Issue Date:
Comments
By submitting a comment you agree to abide by our Terms and Community Guidelines. If you find something abusive or that does not comply with our terms or guidelines please flag it as inappropriate.