Abstract
Tuberculosis is the leading cause of death by an infectious disease worldwide1. However, the involvement of innate lymphoid cells (ILCs) in immune responses to infection with Mycobacterium tuberculosis (Mtb) is unknown. Here we show that circulating subsets of ILCs are depleted from the blood of participants with pulmonary tuberculosis and restored upon treatment. Tuberculosis increased accumulation of ILC subsets in the human lung, coinciding with a robust transcriptional response to infection, including a role in orchestrating the recruitment of immune subsets. Using mouse models, we show that group 3 ILCs (ILC3s) accumulated rapidly in Mtb-infected lungs and coincided with the accumulation of alveolar macrophages. Notably, mice that lacked ILC3s exhibited a reduction in the accumulation of early alveolar macrophages and decreased Mtb control. We show that the C-X-C motif chemokine receptor 5 (CXCR5)–C-X-C motif chemokine ligand 13 (CXCL13) axis is involved in Mtb control, as infection upregulates CXCR5 on circulating ILC3s and increases plasma levels of its ligand, CXCL13, in humans. Moreover, interleukin-23-dependent expansion of ILC3s in mice and production of interleukin-17 and interleukin-22 were found to be critical inducers of lung CXCL13, early innate immunity and the formation of protective lymphoid follicles within granulomas. Thus, we demonstrate an early protective role for ILC3s in immunity to Mtb infection.
Relevant articles
Open Access articles citing this article.
Linyue Pan

,

Xiaoli Chen

…

Huili Zhu

BMC Pulmonary Medicine Open Access 12 October 2021

Rose Nabatanzi

,

Lois Bayigga

…

Damalie Nakanjako

BMC Immunology Open Access 26 August 2021

Avia Watson

,

Hao Li

…

Natalia T. Freund

Nature Communications Open Access 27 January 2021
Access options
Subscribe to Nature+
Get immediate online access to the entire Nature family of 50+ journals
Subscribe to Journal
Get full journal access for 1 year
$199.00
only $3.90 per issue
All prices are NET prices.
VAT will be added later in the checkout.
Tax calculation will be finalised during checkout.
Buy article
Get time limited or full article access on ReadCube.
$32.00
All prices are NET prices.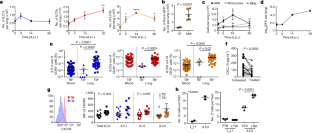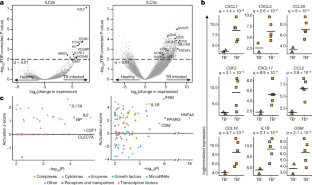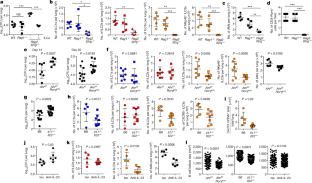 Data availability
All relevant data are available from the corresponding authors upon reasonable request. RNA-sequencing data that support the findings of this study have been deposited in the Gene Expression Omnibus (GEO) repository, accession number GSE131031.
References
World Health Organization. Global Tuberculosis Report 2018. (2018).

Klose, C. S. & Artis, D. Innate lymphoid cells as regulators of immunity, inflammation and tissue homeostasis. Nat. Immunol. 17, 765–774 (2016).

Diefenbach, A., Colonna, M. & Koyasu, S. Development, differentiation, and diversity of innate lymphoid cells. Immunity 41, 354–365 (2014).

Takatori, H. et al. Lymphoid tissue inducer-like cells are an innate source of IL-17 and IL-22. J. Exp. Med. 206, 35–41 (2009).

Jones, G. W. & Jones, S. A. Ectopic lymphoid follicles: inducible centres for generating antigen-specific immune responses within tissues. Immunology 147, 141–151 (2016).

Lim, A. I. et al. Systemic human ILC precursors provide a substrate for tissue ILC differentiation. Cell 168, 1086–1100 (2017).

Monticelli, L. A. et al. Innate lymphoid cells promote lung-tissue homeostasis after infection with influenza virus. Nat. Immunol. 12, 1045–1054 (2011).

Mchedlidze, T. et al. Interleukin-33-dependent innate lymphoid cells mediate hepatic fibrosis. Immunity 39, 357–371 (2013).

Kløverpris, H. N. et al. Innate lymphoid cells are depleted irreversibly during acute HIV-1 infection in the absence of viral suppression. Immunity 44, 391–405 (2016).

Hedfors, I. A. & Brinchmann, J. E. Long-term proliferation and survival of in vitro-activated T cells is dependent on interleukin-2 receptor signalling but not on the high-affinity IL-2R. Scand. J. Immunol. 58, 522–532 (2003).

Slight, S. R. et al. CXCR5+ T helper cells mediate protective immunity against tuberculosis. J. Clin. Invest. 123, 712–726 (2013).

Constantinides, M. G., McDonald, B. D., Verhoef, P. A. & Bendelac, A. A committed precursor to innate lymphoid cells. Nature 508, 397–401 (2014).

Moro, K. et al. Innate production of TH2 cytokines by adipose tissue-associated c-Kit+Sca-1+ lymphoid cells. Nature 463, 540–544 (2010).

Dorhoi, A. et al. The adaptor molecule CARD9 is essential for tuberculosis control. J. Exp. Med. 207, 777–792 (2010).

Traber, K. E. et al. Induction of STAT3-dependent CXCL5 expression and neutrophil recruitment by oncostatin-M during pneumonia. Am. J. Respir. Cell Mol. Biol. 53, 479–488 (2015).

Nouailles, G. et al. CXCL5-secreting pulmonary epithelial cells drive destructive neutrophilic inflammation in tuberculosis. J. Clin. Invest. 124, 1268–1282 (2014).

Pagán, A. J. et al. Myeloid growth factors promote resistance to mycobacterial infection by curtailing granuloma necrosis through macrophage replenishment. Cell Host Microbe 18, 15–26 (2015).

van de Veerdonk, F. L. et al. Mycobacterium tuberculosis induces IL-17A responses through TLR4 and dectin-1 and is critically dependent on endogenous IL-1. J. Leukoc. Biol. 88, 227–232 (2010).

Yadav, M. & Schorey, J. S. The β-glucan receptor dectin-1 functions together with TLR2 to mediate macrophage activation by mycobacteria. Blood 108, 3168–3175 (2006).

El-Shazly, A. E. et al. Novel association between vasoactive intestinal peptide and CRTH2 receptor in recruiting eosinophils: a possible biochemical mechanism for allergic eosinophilic inflammation of the airways. J. Biol. Chem. 288, 1374–1384 (2013).

Rajaram, M. V. et al. Mycobacterium tuberculosis activates human macrophage peroxisome proliferator-activated receptor γ linking mannose receptor recognition to regulation of immune responses. J. Immunol. 185, 929–942 (2010).

Tientcheu, L. D. et al. Differential transcriptomic and metabolic profiles of M. africanum- and M. tuberculosis-infected patients after, but not before, drug treatment. Genes Immun. 16, 347–355 (2015).

O'Kane, C. M., Elkington, P. T. & Friedland, J. S. Monocyte-dependent oncostatin M and TNF-α synergize to stimulate unopposed matrix metalloproteinase-1/3 secretion from human lung fibroblasts in tuberculosis. Eur. J. Immunol. 38, 1321–1330 (2008).

Khader, S. A. et al. IL-23 and IL-17 in the establishment of protective pulmonary CD4+ T cell responses after vaccination and during Mycobacterium tuberculosis challenge. Nat. Immunol. 8, 369–377 (2007).

Ebihara, T. et al. Runx3 specifies lineage commitment of innate lymphoid cells. Nat. Immunol. 16, 1124–1133 (2015).

Cupedo, T. et al. Human fetal lymphoid tissue-inducer cells are interleukin 17-producing precursors to RORC+ CD127+ natural killer-like cells. Nat. Immunol. 10, 66–74 (2009).

Trapnell, C. et al. Differential gene and transcript expression analysis of RNA-seq experiments with TopHat and Cufflinks. Nat. Protoc. 7, 562–578 (2012).

Li, B. D. & Dewey, C. N. RSEM: accurate transcript quantification from RNA-seq data with or without a reference genome. BMC Bioinformatics 12, 323 (2011).

Love, M. I., Huber, W. & Anders, S. Moderated estimation of fold change and dispersion for RNA-seq data with DESeq2. Genome Biol. 15, 550 (2014).

Bindea, G. et al. ClueGO: a Cytoscape plug-in to decipher functionally grouped gene ontology and pathway annotation networks. Bioinformatics 25, 1091–1093 (2009).

Upreti, D., Pathak, A. & Kung, S. K. Development of a standardized flow cytometric method to conduct longitudinal analyses of intracellular CD3ζ expression in patients with head and neck cancer. Oncol. Lett. 11, 2199–2206 (2016).
Acknowledgements
This work was supported by Washington University in St Louis, NIH grant HL105427, AI111914-02 and AI123780 to S.A.K. and D.K., AI134236-02 to S.A.K., M.C. and D.K., and NIH/NHLBI T32 HL007317-37 to R.D.-G., the Department of Molecular Microbiology, Washington University in St Louis, and Stephen I. Morse Fellowship to S.D., T32 HL 7317-39 to N.C.H. and T32-AI007172 to M. Dunlap. A.L. was supported by BMGF (OPP1137006) and the Wellcome Trust (210662/Z/18/Z), A. Singh and T.N. were supported by the Sub-Saharan African Network for TB/HIV Research Excellence (SANTHE), a DELTAS Africa Initiative (DEL-15-006). J.R.-M. was supported by funds of the Department of Medicine, University of Rochester, and NIH grant U19 AI91036. A.K.S. was supported, in part, by the Searle Scholars Program, the Beckman Young Investigator Program, a Sloan Fellowship in Chemistry, the NIH (5U24AI118672), the Bill and Melinda Gates Foundation and the Ragon Institute. S.W.K. was supported by an NSF Graduate Student Fellowship Award and the Hugh Hampton Young Memorial Fund Fellowship. We thank Amgen for providing the anti-IL-23 antibody for the study, J. Bando for helping with the flow cytometry and M. Holtzman for gifting Il13−/− mice.
Reviewer information
Nature thanks Gérard Eberl, Tom H. M. Ottenhoff and the other anonymous reviewer(s) for their contribution to the peer review of this work.
Ethics declarations
Competing interests
The authors declare no competing interests.
Additional information
Publisher's note: Springer Nature remains neutral with regard to jurisdictional claims in published maps and institutional affiliations.
Extended data figures and tables
Supplementary information
About this article
Cite this article
Ardain, A., Domingo-Gonzalez, R., Das, S. et al. Group 3 innate lymphoid cells mediate early protective immunity against tuberculosis. Nature 570, 528–532 (2019). https://doi.org/10.1038/s41586-019-1276-2
Received:

Accepted:

Published:

Issue Date:

DOI: https://doi.org/10.1038/s41586-019-1276-2
Comments
By submitting a comment you agree to abide by our Terms and Community Guidelines. If you find something abusive or that does not comply with our terms or guidelines please flag it as inappropriate.