Abstract
Aneuploidy, which refers to unbalanced chromosome numbers, represents a class of genetic variation that is associated with cancer, birth defects and eukaryotic micro-organisms1,2,3,4. Whereas it is known that each aneuploid chromosome stoichiometry can give rise to a distinct pattern of gene expression and phenotypic profile4,5, it remains a fundamental question as to whether there are common cellular defects that are associated with aneuploidy. Here we show the existence in budding yeast of a common aneuploidy gene-expression signature that is suggestive of hypo-osmotic stress, using a strategy that enables the observation of common transcriptome changes of aneuploidy by averaging out karyotype-specific dosage effects in aneuploid yeast-cell populations with random and diverse chromosome stoichiometry. Consistently, aneuploid yeast exhibited increased plasma-membrane stress that led to impaired endocytosis, and this defect was also observed in aneuploid human cells. Thermodynamic modelling showed that hypo-osmotic-like stress is a general outcome of the proteome imbalance that is caused by aneuploidy, and also predicted a relationship between ploidy and cell size that was observed in yeast and aneuploid cancer cells. A genome-wide screen uncovered a general dependency of aneuploid cells on a pathway of ubiquitin-mediated endocytic recycling of nutrient transporters. Loss of this pathway, coupled with the endocytic defect inherent to aneuploidy, leads to a marked alteration of intracellular nutrient homeostasis.
Access options
Subscribe to Journal
Get full journal access for 1 year
$199.00
only $3.90 per issue
All prices are NET prices.
VAT will be added later in the checkout.
Rent or Buy article
Get time limited or full article access on ReadCube.
from$8.99
All prices are NET prices.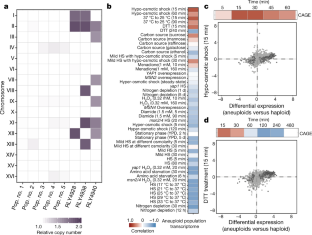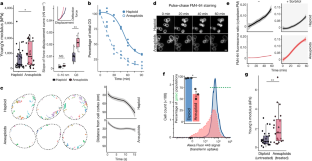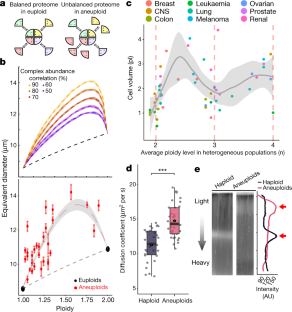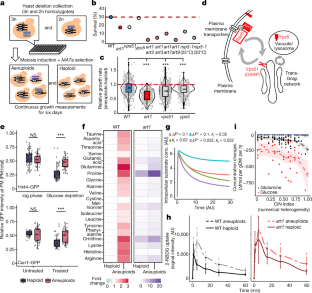 References
1.

Chunduri, N. K. & Storchová, Z. The diverse consequences of aneuploidy. Nat. Cell Biol. 21, 54–62 (2019).

2.

Pavelka, N., Rancati, G. & Li, R. Dr Jekyll and Mr Hyde: role of aneuploidy in cellular adaptation and cancer. Curr. Opin. Cell Biol. 22, 809–815 (2010).

3.

Williams, B. R. et al. Aneuploidy affects proliferation and spontaneous immortalization in mammalian cells. Science 322, 703–709 (2008).

4.

Torres, E. M. et al. Effects of aneuploidy on cellular physiology and cell division in haploid yeast. Science 317, 916–924 (2007).

5.

Pavelka, N. et al. Aneuploidy confers quantitative proteome changes and phenotypic variation in budding yeast. Nature 468, 321–325 (2010).

6.

Selmecki, A., Forche, A. & Berman, J. Aneuploidy and isochromosome formation in drug-resistant Candida albicans. Science 313, 367–370 (2006).

7.

Rancati, G. et al. Aneuploidy underlies rapid adaptive evolution of yeast cells deprived of a conserved cytokinesis motor. Cell 135, 879–893 (2008).

8.

Yona, A. H. et al. Chromosomal duplication is a transient evolutionary solution to stress. Proc. Natl Acad. Sci. USA 109, 21010–21015 (2012).

9.

Duncan, A. W. et al. Aneuploidy as a mechanism for stress-induced liver adaptation. J. Clin. Invest. 122, 3307–3315 (2012).

10.

Sunshine, A. B. et al. The fitness consequences of aneuploidy are driven by condition-dependent gene effects. PLoS Biol. 13, e1002155 (2015).

11.

Zhu, J., Tsai, H.-J., Gordon, M. R. & Li, R. Cellular stress associated with aneuploidy. Dev. Cell 44, 420–431 (2018).

12.

Torres, E. M. et al. Identification of aneuploidy-tolerating mutations. Cell 143, 71–83 (2010).

13.

Sheltzer, J. M., Torres, E. M., Dunham, M. J. & Amon, A. Transcriptional consequences of aneuploidy. Proc. Natl Acad. Sci. USA 109, 12644–12649 (2012).

14.

Oromendia, A. B., Dodgson, S. E. & Amon, A. Aneuploidy causes proteotoxic stress in yeast. Genes Dev. 26, 2696–2708 (2012).

15.

Sheltzer, J. M. A transcriptional and metabolic signature of primary aneuploidy is present in chromosomally unstable cancer cells and informs clinical prognosis. Cancer Res. 73, 6401–6412 (2013).

16.

Stingele, S. et al. Global analysis of genome, transcriptome and proteome reveals the response to aneuploidy in human cells. Mol. Syst. Biol. 8, 608 (2012).

17.

Dürrbaum, M. et al. Unique features of the transcriptional response to model aneuploidy in human cells. BMC Genomics 15, 139 (2014).

18.

Ohashi, A. et al. Aneuploidy generates proteotoxic stress and DNA damage concurrently with p53-mediated post-mitotic apoptosis in SAC-impaired cells. Nat. Commun. 6, 7668 (2015).

19.

Santaguida, S., Vasile, E., White, E. & Amon, A. Aneuploidy-induced cellular stresses limit autophagic degradation. Genes Dev. 29, 2010–2021 (2015).

20.

Dodgson, S. E. et al. Chromosome-specific and global effects of aneuploidy in Saccharomyces cerevisiae. Genetics 202, 1395–1409 (2016).

21.

Gasch, A. P. et al. Genomic expression programs in the response of yeast cells to environmental changes. Mol. Biol. Cell 11, 4241–4257 (2000).

22.

Hohmann, S. Osmotic stress signaling and osmoadaptation in yeasts. Microbiol. Mol. Biol. Rev. 66, 300–372 (2002).

23.

Davenport, K. R., Sohaskey, M., Kamada, Y., Levin, D. E. & Gustin, M. C. A second osmosensing signal transduction pathway in yeast. Hypotonic shock activates the PKC1 protein kinase-regulated cell integrity pathway. J. Biol. Chem. 270, 30157–30161 (1995).

24.

Basu, R., Munteanu, E. L. & Chang, F. Role of turgor pressure in endocytosis in fission yeast. Mol. Biol. Cell 25, 679–687 (2014).

25.

Zwiewka, M., Nodzyński, T., Robert, S., Vanneste, S. & Friml, J. Osmotic stress modulates the balance between exocytosis and clathrin-mediated endocytosis in Arabidopsis thaliana. Mol. Plant 8, 1175–1187 (2015).

26.

Nikko, E. & Pelham, H. R. B. Arrestin-mediated endocytosis of yeast plasma membrane transporters. Traffic 10, 1856–1867 (2009).

27.

Lin, C. H., MacGurn, J. A., Chu, T., Stefan, C. J. & Emr, S. D. Arrestin-related ubiquitin-ligase adaptors regulate endocytosis and protein turnover at the cell surface. Cell 135, 714–725 (2008).

28.

Zielinski, D. C. et al. Systems biology analysis of drivers underlying hallmarks of cancer cell metabolism. Sci. Rep. 7, 41241 (2017).

29.

Polo, S. Signaling-mediated control of ubiquitin ligases in endocytosis. BMC Biol. 10, 25 (2012).

30.

Dolfi, S. C. et al. The metabolic demands of cancer cells are coupled to their size and protein synthesis rates. Cancer Metab. 1, 20 (2013).
Acknowledgements
We thank S. Emr (Cornell University) and E. Spear (Johns Hopkins) for helpful suggestions and providing yeast strains, A. Narkar for assistance with chromosome counting from metaphase spreads, P. Iglesias (Johns Hopkins) for advice on mathematical modelling, B. Rubenstein (Stowers Institute) for advice on screen analysis, N. Chau and S. McCroskey for technical assistance, K. Staehling and members of Stowers Institute Molecular Biology core for assistance with the high-throughput screen, L. Kratz (Kennedy Krieger Institute) for amino acids analysis, H. Hao (Johns Hopkins Deep Sequencing and Microarray Core) for help with DNA and RNA sequencing, M. McCaffery (Johns Hopkins University Integrated Imaging Center) for electron microscopy, and A. Selmecki for comments on the primary manuscript. This work was supported by NIH grant R35-GM118172 to R.L., Prostate Cancer Foundation Young Investigator Award (16YOUN21) to H.-J.T., NSF award DBI-1350041 and NIH award R01-HG006677 to M.C.S., and NIH grant R01-GM114675 and U54-CA210173 to S.X.S.
Reviewer information
Nature thanks Stefan Hohmann and the other anonymous reviewer(s) for their contribution to the peer review of this work.
Ethics declarations
Competing interests
The authors declare no competing interests.
Additional information
Publisher's note: Springer Nature remains neutral with regard to jurisdictional claims in published maps and institutional affiliations.
Extended data figures and tables
Supplementary information
About this article
Cite this article
Tsai, H., Nelliat, A.R., Choudhury, M.I. et al. Hypo-osmotic-like stress underlies general cellular defects of aneuploidy. Nature 570, 117–121 (2019). https://doi.org/10.1038/s41586-019-1187-2
Received:

Accepted:

Published:

Issue Date:
Comments
By submitting a comment you agree to abide by our Terms and Community Guidelines. If you find something abusive or that does not comply with our terms or guidelines please flag it as inappropriate.