Abstract
Large panels of comprehensively characterized human cancer models, including the Cancer Cell Line Encyclopedia (CCLE), have provided a rigorous framework with which to study genetic variants, candidate targets, and small-molecule and biological therapeutics and to identify new marker-driven cancer dependencies. To improve our understanding of the molecular features that contribute to cancer phenotypes, including drug responses, here we have expanded the characterizations of cancer cell lines to include genetic, RNA splicing, DNA methylation, histone H3 modification, microRNA expression and reverse-phase protein array data for 1,072 cell lines from individuals of various lineages and ethnicities. Integration of these data with functional characterizations such as drug-sensitivity, short hairpin RNA knockdown and CRISPR–Cas9 knockout data reveals potential targets for cancer drugs and associated biomarkers. Together, this dataset and an accompanying public data portal provide a resource for the acceleration of cancer research using model cancer cell lines.
Your institute does not have access to this article
Relevant articles
Open Access articles citing this article.
Jake Crawford

,

Brock C. Christensen

…

Casey S. Greene

Genome Biology Open Access 27 June 2022

Qing You Pang

,

Tuan Zea Tan

…

Ruby Yun-Ju Huang

Genome Biology Open Access 30 May 2022

Gerard P. Quinn

,

Tamas Sessler

…

Simon S. McDade

BMC Bioinformatics Open Access 31 March 2022
Access options
Subscribe to Nature+
Get immediate online access to the entire Nature family of 50+ journals
Subscribe to Journal
Get full journal access for 1 year
$199.00
only $3.90 per issue
All prices are NET prices.
VAT will be added later in the checkout.
Tax calculation will be finalised during checkout.
Buy article
Get time limited or full article access on ReadCube.
$32.00
All prices are NET prices.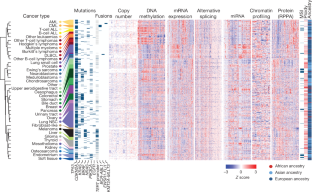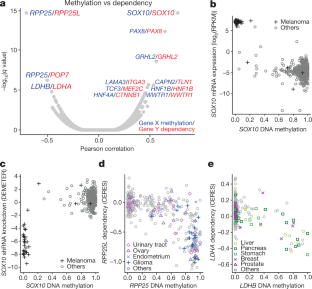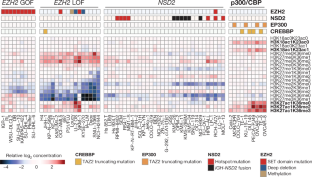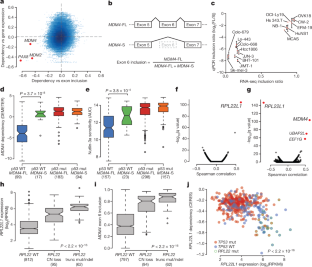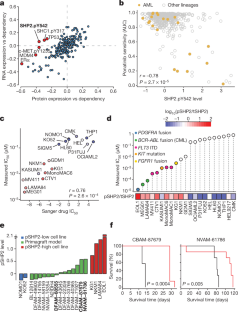 Code availability
Most of the statistical analyses were performed in R (version 3.5.2). Source codes are available upon request.
References
Barretina, J. et al. The Cancer Cell Line Encyclopedia enables predictive modelling of anticancer drug sensitivity. Nature 483, 603–607 (2012).

Li, H. et al. The landscape of cancer cell line metabolism. Nat. Med. https://doi.org/10.1038/s41591-019-0404-8 (2019).

Iorio, F. et al. A landscape of pharmacogenomic interactions in cancer. Cell 166, 740–754 (2016).

Ben-David, U. et al. Genetic and transcriptional evolution alters cancer cell line drug response. Nature 560, 325–330 (2018).

Tsherniak, A. et al. Defining a cancer dependency Map. Cell 170, 564–576 (2017).

McDonald, E. R. III et al. Project DRIVE: a compendium of cancer dependencies and synthetic lethal relationships uncovered by large-scale, deep RNAi screening. Cell 170, 577–592 (2017).

Meyers, R. M. et al. Computational correction of copy number effect improves specificity of CRISPR–Cas9 essentiality screens in cancer cells. Nat. Genet. 49, 1779–1784 (2017).

Huang, F. W. et al. Highly recurrent TERT promoter mutations in human melanoma. Science 339, 957–959 (2013).

Diouf, B. et al. Somatic deletions of genes regulating MSH2 protein stability cause DNA mismatch repair deficiency and drug resistance in human leukemia cells. Nat. Med. 17, 1298–1303 (2011).

Marra, G. et al. Mismatch repair deficiency associated with overexpression of the MSH3 gene. Proc. Natl Acad. Sci. USA 95, 8568–8573 (1998).

Esakova, O. & Krasilnikov, A. S. Of proteins and RNA: the RNase P/MRP family. RNA 16, 1725–1747 (2010).

Hands-Taylor, K. L. et al. Heterodimerization of the human RNase P/MRP subunits Rpp20 and Rpp25 is a prerequisite for interaction with the P3 arm of RNase MRP RNA. Nucleic Acids Res. 38, 4052–4066 (2010).

Doherty, J. R. & Cleveland, J. L. Targeting lactate metabolism for cancer therapeutics. J. Clin. Invest. 123, 3685–3692 (2013).

Herman, J. G. et al. Silencing of the VHL tumor-suppressor gene by DNA methylation in renal carcinoma. Proc. Natl Acad. Sci. USA 91, 9700–9704 (1994).

Jaffe, J. D. et al. Global chromatin profiling reveals NSD2 mutations in pediatric acute lymphoblastic leukemia. Nat. Genet. 45, 1386–1391 (2013).

Creech, A. L. et al. Building the Connectivity Map of epigenetics: chromatin profiling by quantitative targeted mass spectrometry. Methods 72, 57–64 (2015).

Sveen, A., Kilpinen, S., Ruusulehto, A., Lothe, R. A. & Skotheim, R. I. Aberrant RNA splicing in cancer; expression changes and driver mutations of splicing factor genes. Oncogene 35, 2413–2427 (2016).

Dewaele, M. et al. Antisense oligonucleotide-mediated MDM4 exon 6 skipping impairs tumor growth. J. Clin. Invest. 126, 68–84 (2016).

Rallapalli, R., Strachan, G., Cho, B., Mercer, W. E. & Hall, D. J. A novel MDMX transcript expressed in a variety of transformed cell lines encodes a truncated protein with potent p53 repressive activity. J. Biol. Chem. 274, 8299–8308 (1999).

Gembarska, A. et al. MDM4 is a key therapeutic target in cutaneous melanoma. Nat. Med. 18, 1239–1247 (2012).

Boutz, P. L., Bhutkar, A. & Sharp, P. A. Detained introns are a novel, widespread class of post-transcriptionally spliced introns. Genes Dev. 29, 63–80 (2015).

Maruvka, Y. E. et al. Analysis of somatic microsatellite indels identifies driver events in human tumors. Nat. Biotechnol. 35, 951–959 (2017).

Zhang, Y. et al. Ribosomal proteins Rpl22 and Rpl22l1 control morphogenesis by regulating pre-mRNA splicing. Cell Reports 18, 545–556 (2017).

Lu, J. et al. MicroRNA expression profiles classify human cancers. Nature 435, 834–838 (2005).

Li, J. et al. Characterization of human cancer cell lines by reverse-phase protein arrays. Cancer Cell 31, 225–239 (2017).

Chen, Y. N. et al. Allosteric inhibition of SHP2 phosphatase inhibits cancers driven by receptor tyrosine kinases. Nature 535, 148–152 (2016).

Wylie, A. A. et al. The allosteric inhibitor ABL001 enables dual targeting of BCR–ABL1. Nature 543, 733–737 (2017).

Haibe-Kains, B. et al. Inconsistency in large pharmacogenomic studies. Nature 504, 389–393 (2013).

The Cancer Cell Line Encyclopedia Consortium & The Genomics of Drug Sensitivity in Cancer Consortium. Pharmacogenomic agreement between two cancer cell line datasets. Nature 528, 84–87 (2015).

Haverty, P. M. et al. Reproducible pharmacogenomic profiling of cancer cell line panels. Nature 533, 333–337 (2016).

Geeleher, P., Gamazon, E. R., Seoighe, C., Cox, N. J. & Huang, R. S. Consistency in large pharmacogenomic studies. Nature 540, E1–E2 (2016).

Bouhaddou, M. et al. Drug response consistency in CCLE and CGP. Nature 540, E9–E10 (2016).

Mpindi, J. P. et al. Consistency in drug response profiling. Nature 540, E5–E6 (2016).

Yu, C. et al. High-throughput identification of genotype-specific cancer vulnerabilities in mixtures of barcoded tumor cell lines. Nat. Biotechnol. 34, 419–423 (2016).

King, A. J. et al. Abstract 2116: Combining the power of different profiling approaches to better understand the activity of kinase inhibitor drugs. Cancer Res. 77, 2116–2116 (2017).

Fisher, S. et al. A scalable, fully automated process for construction of sequence-ready human exome targeted capture libraries. Genome Biol. 12, R1 (2011).

Johannessen, C. M. et al. A melanocyte lineage program confers resistance to MAP kinase pathway inhibition. Nature 504, 138–142 (2013).

Boyle, P. et al. Gel-free multiplexed reduced representation bisulfite sequencing for large-scale DNA methylation profiling. Genome Biol. 13, R92 (2012).

Brat, D. J. et al. Comprehensive, integrative genomic analysis of diffuse lower-grade gliomas. N. Engl. J. Med. 372, 2481–2498 (2015).

Cancer Genome Atlas Research Network. Integrated genomic characterization of papillary thyroid carcinoma. Cell 159, 676–690 (2014).

Huang, F. W. et al. TERT promoter mutations and monoallelic activation of TERT in cancer. Oncogenesis 4, e176 (2015).

Cibulskis, K. et al. Sensitive detection of somatic point mutations in impure and heterogeneous cancer samples. Nat. Biotechnol. 31, 213–219 (2013).

Lek, M. et al. Analysis of protein-coding genetic variation in 60,706 humans. Nature 536, 285–291 (2016).

Van der Auwera, G. A. et al. From FastQ data to high confidence variant calls: the Genome Analysis Toolkit best practices pipeline. Curr. Protoc. Bioinformatics 43, 11.10.11–11.10.33 (2013).

Wala, J. A. et al. SvABA: genome-wide detection of structural variants and indels by local assembly. Genome Res. 28, 581–591 (2018).

Haas, B. et al. STAR-Fusion: fast and accurate fusion transcript detection from RNA-seq. Preprint at https://www.bioRxiv.org/content/10.1101/120295v1 (2017).

Kasar, S. et al. Whole-genome sequencing reveals activation-induced cytidine deaminase signatures during indolent chronic lymphocytic leukaemia evolution. Nat. Commun. 6, 8866 (2015).

Kim, J. et al. Somatic ERCC2 mutations are associated with a distinct genomic signature in urothelial tumors. Nat. Genet. 48, 600–606 (2016).

The Cancer Genome Atlas Research Network. Comprehensive and integrated genomic characterization of adult soft tissue sarcomas. Cell 171, 950–965 (2017).

Haradhvala, N. J. et al. Distinct mutational signatures characterize concurrent loss of polymerase proofreading and mismatch repair. Nat. Commun. 9, 1746 (2018).

Carter, S. L. et al. Absolute quantification of somatic DNA alterations in human cancer. Nat. Biotechnol. 30, 413–421 (2012).

Krueger, F. & Andrews, S. R. Bismark: a flexible aligner and methylation caller for Bisulfite-Seq applications. Bioinformatics 27, 1571–1572 (2011).

Akalin, A. et al. methylKit: a comprehensive R package for the analysis of genome-wide DNA methylation profiles. Genome Biol. 13, R87 (2012).

Ziller, M. J. et al. Charting a dynamic DNA methylation landscape of the human genome. Nature 500, 477–481 (2013).

van der Maaten, L. & Hinton, G. Visualizing high-dimensional data using t-SNE. J. Mach. Learn. Res. 9, 2579–2605 (2008).

Szklarczyk, D. et al. STRINGv10: protein-protein interaction networks, integrated over the tree of life. Nucleic Acids Res. 43, D447–D452 (2015).

Cerami, E. et al. The cBio cancer genomics portal: an open platform for exploring multidimensional cancer genomics data. Cancer Discov. 2, 401–404 (2012).

Gao, J. et al. Integrative analysis of complex cancer genomics and clinical profiles using the cBioPortal. Sci. Signal. 6, pl1 (2013).

Dobin, A. et al. STAR: ultrafast universal RNA-seq aligner. Bioinformatics 29, 15–21 (2013).

DeLuca, D. S. et al. RNA-SeQC: RNA-seq metrics for quality control and process optimization. Bioinformatics 28, 1530–1532 (2012).

GTEx Consortium. Genetic effects on gene expression across human tissues. Nature 550, 204–213 (2017).

Ritchie, M. E. et al. limma powers differential expression analyses for RNA-sequencing and microarray studies. Nucleic Acids Res. 43, e47 (2015).

Smyth, G. K. Linear models and empirical Bayes methods for assessing differential expression in microarray experiments. Stat. Appl. Genet. Mol. Biol. 3, 1–25 (2004).

Akbani, R. et al. A pan-cancer proteomic perspective on The Cancer Genome Atlas. Nat. Commun. 5, 3887 (2014).

Friedman, J., Hastie, T. & Tibshirani, R. Regularization paths for generalized linear models via coordinate descent. J. Stat. Softw. 33, 1–22 (2010).
Acknowledgements
We thank the Broad Genomics Platform, C. Clish, H. Bitter, A. Najafi and E. Orlando for their contribution. This work was supported by grants from Novartis and partially by NIH/NCI grants 1U01CA217842-01, 1P50CA217685-01, 5P50CA098258, 1U24CA180922-01, 1R50CA211461-01, CA16672, 1R01CA219943-01, 1U54CA224068-01, NIH U01 CA176058 and R21 DA025720. F.W.H. was supported by the Prostate Cancer Foundation. M.I. was supported by a Burroughs Wellcome Fund Career Award. G.G. was partially supported by the Paul C. Zamecnik, MD, Chair in Oncology at MGH. G.B.M. was supported by the Adelson medical research fund. Drug sensitivity results are in part based on data generated by Cancer Target Discovery and Development (CTD2) Network (https://ocg.cancer.gov/programs/ctd2/data-portal) established by the National Cancer Institute's Office of Cancer Genomics.
Reviewer information
Nature thanks Nevan Krogan, Christoph Plass and the other anonymous reviewer(s) for their contribution to the peer review of this work.
Ethics declarations
Competing interests
J.M.K., M.D.J., D.A.P., F.S., E.R.M., J.L., R.S., J.B., A.D., K.V., A.R., J.G., G.C., M.L., A.K., M.P.M. and W.R.S. are current or former Novartis employees and/or stock holders. W.R.S. is a Board or SAB member and holds equity in Peloton Therapeutics and Ideaya Biosciences and has consulted for Array, Astex, Ipsen, Sanofi and Servier. B.A.W. is a J&J employee. F.S. and G.V.K. are KSQ Therapeutics employees. N.S. is an employee of Celsius Therapeutics. A.D.C. receives research support from Bayer AG. G.G. receives research support from IBM and Pharmacyclics and is an inventor on patent applications related to MuTect and ABSOLUTE. G.B.M. consults with AstraZeneca, ImmunoMET, Ionis, Nuevolution, PDX Bio, Signalchem Lifesciences, Symphogen and Tarveda, has stock options with Catena Pharmaceuticals, ImmunoMet, SignalChem, Spindle Top Ventures and Tarveda, has sponsored research funding from Adelson Medical Research Foundation, AstraZeneca, Breast Cancer Research Foundation, Immunomet, Komen Research Foundation, Pfizer, Nanostring, Tesaro, travel support from Chrysallis Bio and has licensed technology to Nanostring and Myriad Genetics. T.R.G. is an advisor to GlaxoSmithKline, is a co-founder of Sherlock Biosciences and was a co-founder and advisor to Foundation Medicine. J.K. is a Tesaro employee. W.C.H. is a consultant for Thermo Fisher, AjuIB, Paraxel and MPM Capital, and is a founder and consultant for KSQ Therapeutics. L.A.G. is an employee of Eli Lilly.
Additional information
Publisher's note: Springer Nature remains neutral with regard to jurisdictional claims in published maps and institutional affiliations.
Extended data figures and tables
Supplementary information
About this article
Cite this article
Ghandi, M., Huang, F.W., Jané-Valbuena, J. et al. Next-generation characterization of the Cancer Cell Line Encyclopedia. Nature 569, 503–508 (2019). https://doi.org/10.1038/s41586-019-1186-3
Received:

Accepted:

Published:

Issue Date:

DOI: https://doi.org/10.1038/s41586-019-1186-3
Comments
By submitting a comment you agree to abide by our Terms and Community Guidelines. If you find something abusive or that does not comply with our terms or guidelines please flag it as inappropriate.