Abstract
Chromatin remodelling complexes evict, slide, insert or replace nucleosomes, which represent an intrinsic barrier for access to DNA. These remodellers function in most aspects of genome utilization including transcription-factor binding, DNA replication and repair1,2. Although they are frequently mutated in cancer3, it remains largely unclear how the four mammalian remodeller families (SWI/SNF, ISWI, CHD and INO80) orchestrate the global organization of nucleosomes. Here we generated viable embryonic stem cells that lack SNF2H, the ATPase of ISWI complexes, enabling study of SNF2H cellular function, and contrast it to BRG1, the ATPase of SWI/SNF. Loss of SNF2H decreases nucleosomal phasing and increases linker lengths, providing in vivo evidence for an ISWI function in ruling nucleosomal spacing in mammals. Systematic analysis of transcription-factor binding reveals that these remodelling activities have specific effects on binding of different transcription factors. One group critically depends on BRG1 and contains the transcriptional repressor REST, whereas a non-overlapping set of transcription factors, including the insulator protein CTCF, relies on SNF2H. This selectivity readily explains why chromosomal folding and insulation of topologically associated domains requires SNF2H, but not BRG1. Collectively, this study shows that mammalian ISWI is critical for nucleosomal periodicity and nuclear organization and that transcription factors rely on specific remodelling pathways for correct genomic binding.
This is a preview of subscription content
Access options
Subscribe to Nature+
Get immediate online access to the entire Nature family of 50+ journals
Subscribe to Journal
Get full journal access for 1 year
$199.00
only $3.90 per issue
All prices are NET prices.
VAT will be added later in the checkout.
Tax calculation will be finalised during checkout.
Buy article
Get time limited or full article access on ReadCube.
$32.00
All prices are NET prices.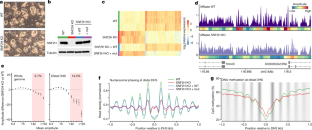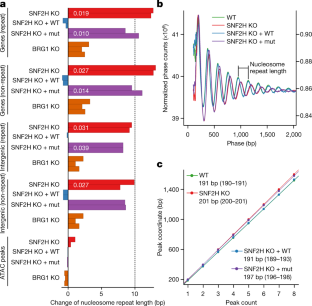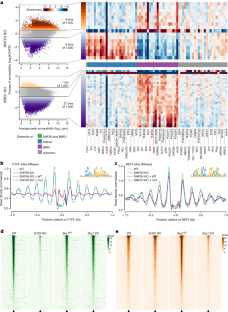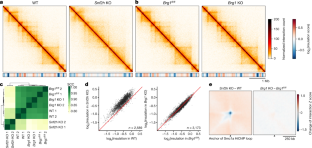 Data availability
Next-generation sequencing data reported in this study have been deposited at the Gene Expression Omnibus with accession number GSE112136.
References
Becker, P. B. & Hörz, W. ATP-dependent nucleosome remodeling. Annu. Rev. Biochem. 71, 247–273 (2002).

Clapier, C. R. & Cairns, B. R. The biology of chromatin remodeling complexes. Annu. Rev. Biochem. 78, 273–304 (2009).

Kadoch, C. & Crabtree, G. R. Mammalian SWI/SNF chromatin remodeling complexes and cancer: Mechanistic insights gained from human genomics. Sci. Adv. 1, e1500447 (2015).

Ho, L. et al. esBAF facilitates pluripotency by conditioning the genome for LIF/STAT3 signalling and by regulating polycomb function. Nat. Cell Biol. 13, 903–913 (2011).

Ho, L. & Crabtree, G. R. Chromatin remodelling during development. Nature 463, 474–484 (2010).

Miller, E. L. et al. TOP2 synergizes with BAF chromatin remodeling for both resolution and formation of facultative heterochromatin. Nat. Struct. Mol. Biol. 24, 344–352 (2017).

King, H. W. & Klose, R. J. The pioneer factor OCT4 requires the chromatin remodeller BRG1 to support gene regulatory element function in mouse embryonic stem cells. eLife 6, e22631 (2017).

Fry, C. J. & Peterson, C. L. Chromatin remodeling enzymes: who's on first? Curr. Biol. 11, R185–R197 (2001).

Vignali, M., Hassan, A. H., Neely, K. E. & Workman, J. L. ATP-dependent chromatin-remodeling complexes. Mol. Cell. Biol. 20, 1899–1910 (2000).

Corona, D. F. V. & Tamkun, J. W. Multiple roles for ISWI in transcription, chromosome organization and DNA replication. Biochim. Biophys. Acta 1677, 113–119 (2004).

Deuring, R. et al. The ISWI chromatin-remodeling protein is required for gene expression and the maintenance of higher order chromatin structure in vivo. Mol. Cell 5, 355–365 (2000).

Yen, K., Vinayachandran, V., Batta, K., Koerber, R. T. & Pugh, B. F. Genome-wide nucleosome specificity and directionality of chromatin remodelers. Cell 149, 1461–1473 (2012).

Längst, G. & Becker, P. B. Nucleosome mobilization and positioning by ISWI-containing chromatin-remodeling factors. J. Cell Sci. 114, 2561–2568 (2001).

Yamada, K. et al. Structure and mechanism of the chromatin remodelling factor ISW1a. Nature 472, 448–453 (2011).

Ocampo, J., Chereji, R. V., Eriksson, P. R. & Clark, D. J. The ISW1 and CHD1 ATP-dependent chromatin remodelers compete to set nucleosome spacing in vivo. Nucleic Acids Res. 44, 4625–4635 (2016).

Wiechens, N. et al. The chromatin remodelling enzymes SNF2H and SNF2L position nucleosomes adjacent to CTCF and other transcription factors. PLoS Genet. 12, e1005940 (2016).

Stopka, T. & Skoultchi, A. I. The ISWI ATPase Snf2h is required for early mouse development. Proc. Natl Acad. Sci. USA 100, 14097–14102 (2003).

Hakimi, M.-A. et al. A chromatin remodelling complex that loads cohesin onto human chromosomes. Nature 418, 994–998 (2002).

Oppikofer, M. et al. Expansion of the ISWI chromatin remodeler family with new active complexes. EMBO Rep. 18, 1697–1706 (2017).

Gkikopoulos, T. et al. A role for Snf2-related nucleosome-spacing enzymes in genome-wide nucleosome organization. Science 333, 1758–1760 (2011).

Kelly, T. K. et al. Genome-wide mapping of nucleosome positioning and DNA methylation within individual DNA molecules. Genome Res. 22, 2497–2506 (2012).

Buenrostro, J. D., Giresi, P. G., Zaba, L. C., Chang, H. Y. & Greenleaf, W. J. Transposition of native chromatin for fast and sensitive epigenomic profiling of open chromatin, DNA-binding proteins and nucleosome position. Nat. Methods 10, 1213–1218 (2013).

Ho, L. et al. An embryonic stem cell chromatin remodeling complex, esBAF, is essential for embryonic stem cell self-renewal and pluripotency. Proc. Natl Acad. Sci. USA 106, 5181–5186 (2009).

Valouev, A. et al. Determinants of nucleosome organization in primary human cells. Nature 474, 516–520 (2011).

Teif, V. B. et al. Genome-wide nucleosome positioning during embryonic stem cell development. Nat. Struct. Mol. Biol. 19, 1185–1192 (2012).

Mathelier, A. et al. JASPAR 2016: a major expansion and update of the open-access database of transcription factor binding profiles. Nucleic Acids Res. 44, D110–D115 (2016).

Stadler, M. B. et al. DNA-binding factors shape the mouse methylome at distal regulatory regions. Nature 480, 490–495 (2011).

Lambert, S. A. et al. The human transcription factors. Cell 172, 650–665 (2018).

Dekker, J. & Mirny, L. The 3D genome as moderator of chromosomal communication. Cell 164, 1110–1121 (2016).

Merkenschlager, M. & Nora, E. P. CTCF and cohesin in genome folding and transcriptional gene regulation. Annu. Rev. Genomics Hum. Genet. 17, 17–43 (2016).

Nora, E. P. et al. Targeted degradation of CTCF decouples local insulation of chromosome domains from genomic compartmentalization. Cell 169, 930–944 (2017).

Lieberman-Aiden, E. et al. Comprehensive mapping of long-range interactions reveals folding principles of the human genome. Science 326, 289–293 (2009).

Crane, E. et al. Condensin-driven remodelling of X chromosome topology during dosage compensation. Nature 523, 240–244 (2015).

Mumbach, M. R. et al. HiChIP: efficient and sensitive analysis of protein-directed genome architecture. Nat. Methods 13, 919–922 (2016).

Fyodorov, D. V., Blower, M. D., Karpen, G. H. & Kadonaga, J. T. Acf1 confers unique activities to ACF/CHRAC and promotes the formation rather than disruption of chromatin in vivo. Genes Dev. 18, 170–183 (2004).
Acknowledgements
We thank L. Giorgetti and L. Burger for suggestions and feedback, C. Wirbelauer for technical assistance, S. Smallwood for next-generation sequencing support and members of the Schübeler group for feedback on the project and manuscript. Brg1fl/fl embryonic stem cells were provided by G. Crabtree. Research in the laboratory of D.S. is supported by the Novartis Research Foundation, the European Research Council (ERC) under the European Union's Horizon research and innovation program (grant agreement no. 667951) and the Swiss National Sciences Foundation. D.B. was funded by a Boehringer Ingelheim Fonds PhD fellowship. M.I. is funded by an EMBO long-term postdoctoral fellowship.
Reviewer information
Nature thanks David Clark, Jonathan Yuin-Han Loh and the other anonymous reviewer(s) for their contribution to the peer review of this work.
Ethics declarations
Competing interests
The authors declare no competing interests.
Additional information
Publisher's note: Springer Nature remains neutral with regard to jurisdictional claims in published maps and institutional affiliations.
Extended data figures and tables
Supplementary information
This file contains Supplementary Methods with references and Supplementary Table 1, with NGS sample information.
This file contains the uncropped western blots.
About this article
Cite this article
Barisic, D., Stadler, M.B., Iurlaro, M. et al. Mammalian ISWI and SWI/SNF selectively mediate binding of distinct transcription factors. Nature 569, 136–140 (2019). https://doi.org/10.1038/s41586-019-1115-5
Received:

Accepted:

Published:

Issue Date:

DOI: https://doi.org/10.1038/s41586-019-1115-5
Comments
By submitting a comment you agree to abide by our Terms and Community Guidelines. If you find something abusive or that does not comply with our terms or guidelines please flag it as inappropriate.