Abstract
Majorana zero modes—quasiparticle states localized at the boundaries of topological superconductors—are expected to be ideal building blocks for fault-tolerant quantum computing1,2. Several observations of zero-bias conductance peaks measured by tunnelling spectroscopy above a critical magnetic field have been reported as experimental indications of Majorana zero modes in superconductor–semiconductor nanowires3,4,5,6,7,8. On the other hand, two-dimensional systems offer the alternative approach of confining Majorana channels within planar Josephson junctions, in which the phase difference φ between the superconducting leads represents an additional tuning knob that is predicted to drive the system into the topological phase at lower magnetic fields than for a system without phase bias9,10. Here we report the observation of phase-dependent zero-bias conductance peaks measured by tunnelling spectroscopy at the end of Josephson junctions realized on a heterostructure consisting of aluminium on indium arsenide. Biasing the junction to φ ≈ π reduces the critical field at which the zero-bias peak appears, with respect to φ = 0. The phase and magnetic-field dependence of the zero-energy states is consistent with a model of Majorana zero modes in finite-size Josephson junctions. As well as providing experimental evidence of phase-tuned topological superconductivity, our devices are compatible with superconducting quantum electrodynamics architectures11 and are scalable to the complex geometries needed for topological quantum computing9,12,13.
Access options
Subscribe to Journal
Get full journal access for 1 year
$199.00
only $3.90 per issue
All prices are NET prices.
VAT will be added later in the checkout.
Tax calculation will be finalised during checkout.
Rent or Buy article
Get time limited or full article access on ReadCube.
from$8.99
All prices are NET prices.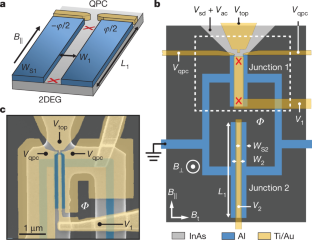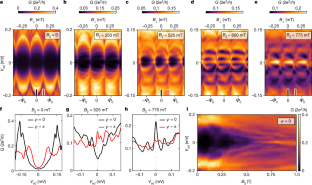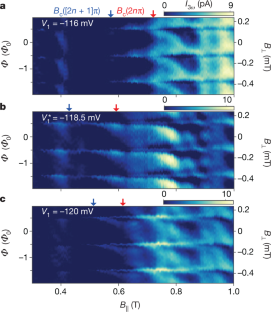 Data availability
The data that support the findings of this study are available from the corresponding authors on reasonable request.
References
1.

Kitaev, A. Fault-tolerant quantum computation by anyons. Ann. Phys. 303, 2–30 (2003).

2.

Nayak, C., Simon, S. H., Stern, A., Freedman, M. & Das Sarma, S. Non-Abelian anyons and topological quantum computation. Rev. Mod. Phys. 80, 1083–1159 (2008).

3.

Mourik, V. et al. Signatures of Majorana fermions in hybrid superconductor–semiconductor nanowire devices. Science 336, 1003–1007 (2012).

4.

Das, A. et al. Zero-bias peaks and splitting in an Al–InAs nanowire topological superconductor as a signature of Majorana fermions. Nat. Phys. 8, 887–895 (2012).

5.

Deng, M. T. et al. Majorana bound state in a coupled quantum-dot hybrid-nanowire system. Science 354, 1557–1562 (2016).

6.

Suominen, H. J. et al. Zero-energy modes from coalescing Andreev states in a two-dimensional semiconductor–superconductor hybrid platform. Phys. Rev. Lett. 119, 176805 (2017).

7.

Nichele, F. et al. Scaling of Majorana zero-bias conductance peaks. Phys. Rev. Lett. 119, 136803 (2017).

8.

Zhang, H. et al. Quantized Majorana conductance. Nature 556, 74–79 (2018).

9.

Hell, M., Leijnse, M. & Flensberg, K. Two-dimensional platform for networks of Majorana bound states. Phys. Rev. Lett. 118, 107701 (2017).

10.

Pientka, F. et al. Topological superconductivity in a planar Josephson junction. Phys. Rev. X 7, 021032 (2017).

11.

Casparis, L. et al. Superconducting gatemon qubit based on a proximitized two-dimensional electron gas. Nat. Nanotechnol. 13, 915–919 (2018).

12.

Hell, M., Flensberg, K. & Leijnse, M. Coupling and braiding Majorana bound states in networks defined in two-dimensional electron gases with proximity-induced superconductivity. Phys. Rev. B 96, 035444 (2017).

13.

Stern, A. & Berg, E. Fractional Josephson vortices and braiding of Majorana zero modes in planar superconductor–semiconductor heterostructures. Phys. Rev. Lett. 122, 107701 (2019).

14.

Shabani, J. et al. Two-dimensional epitaxial superconductor–semiconductor heterostructures: a platform for topological superconducting networks. Phys. Rev. B 93, 155402 (2016).

15.

Krogstrup, P. et al. Epitaxy of semiconductor–superconductor nanowires. Nat. Mater. 14, 400–406 (2015).

16.

Kjaergaard, M. et al. Quantized conductance doubling and hard gap in a two-dimensional semiconductor–superconductor heterostructure. Nat. Commun. 7, 12841 (2016).

17.

Kjaergaard, M. et al. Transparent semiconductor–superconductor interface and induced gap in an epitaxial heterostructure Josephson junction. Phys. Rev. Appl. 7, 034029 (2017).

18.

Blonder, G. E., Tinkham, M. & Klapwijk, T. M. Transition from metallic to tunneling regimes in superconducting micro-constrictions: excess current, charge imbalance, and supercurrent conversion. Phys. Rev. B 25, 4515–4532 (1982).

19.

Klapwijk, T. M. Proximity effect from an Andreev perspective. J. Supercond. 17, 593–611 (2004).

20.

Lutchyn, R. M., Sau, J. D. & Das Sarma, S. Majorana fermions and a topological phase transition in semiconductor–superconductor heterostructures. Phys. Rev. Lett. 105, 077001 (2010).

21.

Oreg, Y., Refael, G. & von Oppen, F. Helical liquids and Majorana bound states in quantum wires. Phys. Rev. Lett. 105, 177002 (2010).

22.

Tinkham, M. Introduction to Superconductivity (Dover, Mineola, 2004).

23.

Andreev, A. F. The thermal conductivity of the intermediate state in superconductors. Sov. Phys. JETP 19, 1228–1231 (1964).

24.

Kulik, I. O. Macroscopic quantization and the proximity effect in S–N–S junctions. Sov. Phys. JETP 30, 944–950 (1970).

25.

Yokoyama, T., Eto, M. & Nazarov, V. Y. Josephson current through semiconductor nanowire with spin–orbit interaction in magnetic field. J. Phys. Soc. Jpn 82, 054703 (2013).

26.

van Woerkom, D. J. et al. Microwave spectroscopy of spinful Andreev bound states in ballistic semiconductor. Nat. Phys. 13, 876–881 (2017).

27.

Haim, A. & Stern, A. The double-edge sword of disorder in multichannel topological superconductors. https://arXiv.org/abs/1808.07886 (2018).

28.

Suominen, H. J. et al. Anomalous Fraunhofer interference in epitaxial superconductor–semiconductor Josephson junctions. Phys. Rev. B 95, 035307 (2017).

29.

Hart, S. et al. Controlled finite momentum pairing and spatially varying order parameter in proximitized HgTe quantum wells. Nat. Phys. 13, 87–93 (2016).

30.

Drachmann, A. C. C. et al. Proximity effect transfer from NbTi into a semiconductor heterostructure via epitaxial aluminum. Nano Lett. 17, 1200–1203 (2017).

31.

Delfanazari, K. et al. On-chip Andreev devices: hard superconducting gap and quantum transport in ballistic Nb–In0.75Ga0.25As-quantum-well–Nb Josephson junctions. Adv. Mater. 29, 1701836 (2017).

32.

Thomas, C. et al. High-mobility InAs 2DEGs on GaSb substrates: a platform for mesoscopic quantum transport. Phys. Rev. Mater. 2, 104602 (2018).

33.

Vurgaftman, I., Meyer, J. R. & Ram-Mohan, L. R. Band parameters for III–V compound semiconductors and their alloys. J. Appl. Phys. 89, 5815–5875 (2001).

34.

O'Farrell, E. C. T. et al. Hybridization of sub-gap states in one-dimensional superconductor–semiconductor Coulomb islands. Phys. Rev. Lett. 121, 256803 (2018).

35.

Groth, C. W., Wimmer, M., Akhmerov, A. R. & Waintal, X. Kwant: a software package for quantum transport. New J. Phys. 16, 063065 (2014).

36.

Kitaev, A. Y. Unpaired Majorana fermions in quantum wires. Phys. Uspekhi 44, 131 (2001).

37.

Tewari, S. & Sau, J. D. Topological invariants for spin–orbit coupled superconductor nanowires. Phys. Rev. Lett. 109, 150408 (2012).

38.

Beenakker, C. W. J. Quantum transport in semiconductor–superconductor microjunctions. Phys. Rev. B 46, 12841–12844 (1992).
Acknowledgements
This work was supported by Microsoft Corporation, the Danish National Research Foundation, the Villum Foundation, ERC Project MUNATOP, CRC-183 and the Israeli Science Foundation. We thank E. O'Farrell, M. Hell, K. Flensberg and J. Folk for discussions.
Reviewer information
Nature thanks Kaveh Delfanazari and the other anonymous reviewer(s) for their contribution to the peer review of this work.
Ethics declarations
Competing interests
The authors declare no competing interests.
Additional information
Publisher's note: Springer Nature remains neutral with regard to jurisdictional claims in published maps and institutional affiliations.
Extended data figures and tables
About this article
Cite this article
Fornieri, A., Whiticar, A.M., Setiawan, F. et al. Evidence of topological superconductivity in planar Josephson junctions. Nature 569, 89–92 (2019). https://doi.org/10.1038/s41586-019-1068-8
Received:

Accepted:

Published:

Issue Date:
Comments
By submitting a comment you agree to abide by our Terms and Community Guidelines. If you find something abusive or that does not comply with our terms or guidelines please flag it as inappropriate.