Abstract
Chemical modifications of histones can mediate diverse DNA-templated processes, including gene transcription1,2,3. Here we provide evidence for a class of histone post-translational modification, serotonylation of glutamine, which occurs at position 5 (Q5ser) on histone H3 in organisms that produce serotonin (also known as 5-hydroxytryptamine (5-HT)). We demonstrate that tissue transglutaminase 2 can serotonylate histone H3 tri-methylated lysine 4 (H3K4me3)-marked nucleosomes, resulting in the presence of combinatorial H3K4me3Q5ser in vivo. H3K4me3Q5ser displays a ubiquitous pattern of tissue expression in mammals, with enrichment observed in brain and gut, two organ systems responsible for the bulk of 5-HT production. Genome-wide analyses of human serotonergic neurons, developing mouse brain and cultured serotonergic cells indicate that H3K4me3Q5ser nucleosomes are enriched in euchromatin, are sensitive to cellular differentiation and correlate with permissive gene expression, phenomena that are linked to the potentiation of TFIID4,5,6 interactions with H3K4me3. Cells that ectopically express a H3 mutant that cannot be serotonylated display significantly altered expression of H3K4me3Q5ser-target loci, which leads to deficits in differentiation. Taken together, these data identify a direct role for 5-HT, independent from its contributions to neurotransmission and cellular signalling, in the mediation of permissive gene expression.
Relevant articles
Open Access articles citing this article.
Federica Rossin

,

Fabiola Ciccosanti

…

Mauro Piacentini

Cellular and Molecular Life Sciences Open Access 25 January 2023

Giulia Robusti

,

Alessandro Vai

…

Roberta Noberini

Clinical Epigenetics Open Access 12 November 2022

Jisu Park

,

Kyubin Lee

…

Sun-Ju Yi

Signal Transduction and Targeted Therapy Open Access 06 July 2022
Access options
Subscribe to Nature+
Get immediate online access to Nature and 55 other Nature journal
Subscribe to Journal
Get full journal access for 1 year
$199.00
only $3.90 per issue
All prices are NET prices.
VAT will be added later in the checkout.
Tax calculation will be finalised during checkout.
Buy article
Get time limited or full article access on ReadCube.
$32.00
All prices are NET prices.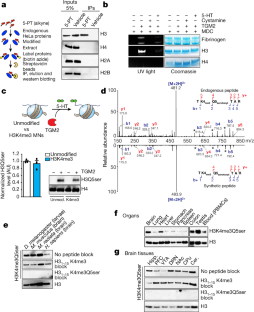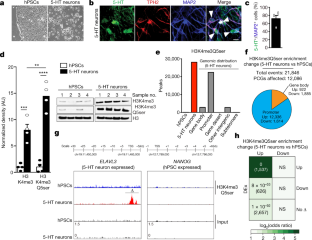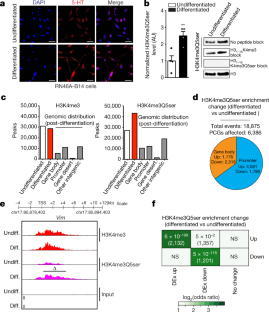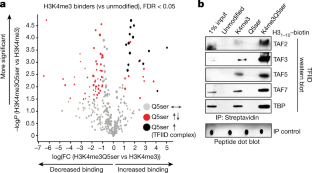 Data availability
Data from ChIP-seq and RNA-seq experiments have been deposited in the National Center for Biotechnology Information Gene Expression Omnibus (GEO) database under accession numbers GSE106495 and GSE117910. The mass spectrometry proteomics data have been deposited in the ProteomeXchange Consortium via the PRIDE48,49 partner repository with the dataset identifier PXD008106. Additional raw data files are available at https://chorusproject.org under project no. 1513. We declare that the data supporting findings for this study are available within the article and Supplementary Information (Supplementary Fig. 1). Related data are available from the corresponding author upon reasonable request. No restrictions on data availability apply.
References
Kouzarides, T. Chromatin modifications and their function. Cell 128, 693–705 (2007).

Jenuwein, T. & Allis, C. D. Translating the histone code. Science 293, 1074–1080 (2001).

Strahl, B. D. & Allis, C. D. The language of covalent histone modifications. Nature 403, 41–45 (2000).

Lauberth, S. M. et al. H3K4me3 interactions with TAF3 regulate preinitiation complex assembly and selective gene activation. Cell 152, 1021–1036 (2013).

Vermeulen, M. et al. Selective anchoring of TFIID to nucleosomes by trimethylation of histone H3 lysine 4. Cell 131, 58–69 (2007).

van Ingen, H. et al. Structural insight into the recognition of the H3K4me3 mark by the TFIID subunit TAF3. Structure 16, 1245–1256 (2008).

Colgan, L. A., Putzier, I. & Levitan, E. S. Activity-dependent vesicular monoamine transporter-mediated depletion of the nucleus supports somatic release by serotonin neurons. J. Neurosci. 29, 15878–15887 (2009).

Young, A. B., Pert, C. D., Brown, D. G., Taylor, K. M. & Snyder, S. H. Nuclear localization of histamine in neonatal rat brain. Science 173, 247–249 (1971).

Walther, D. J. et al. Serotonylation of small GTPases is a signal transduction pathway that triggers platelet α-granule release. Cell 115, 851–862 (2003).

Watts, S. W., Priestley, J. R. & Thompson, J. M. Serotonylation of vascular proteins important to contraction. PLoS ONE 4, e5682 (2009).

Hummerich, R., Thumfart, J. O., Findeisen, P., Bartsch, D. & Schloss, P. Transglutaminase-mediated transamidation of serotonin, dopamine and noradrenaline to fibronectin: evidence for a general mechanism of monoaminylation. FEBS Lett. 586, 3421–3428 (2012).

Ballestar, E., Abad, C. & Franco, L. Core histones are glutaminyl substrates for tissue transglutaminase. J. Biol. Chem. 271, 18817–18824 (1996).

Kim, J. H. et al. Histone cross-linking by transglutaminase. Biochem. Biophys. Res. Commun. 293, 1453–1457 (2002).

Sileno, S. et al. A possible role of transglutaminase 2 in the nucleus of INS-1E and of cells of human pancreatic islets. J. Proteomics 96, 314–327 (2014).

Lin, J. C. et al. Characterization of protein serotonylation via bioorthogonal labeling and enrichment. J. Proteome Res. 13, 3523–3529 (2014).

Nurminskaya, M. V. & Belkin, A. M. Cellular functions of tissue transglutaminase. Int. Rev. Cell Mol. Biol. 294, 1–97 (2012).

Hummerich, R., Costina, V., Findeisen, P. & Schloss, P. Monoaminylation of fibrinogen and glia-derived proteins: indication for similar mechanisms in posttranslational protein modification in blood and brain. ACS Chem. Neurosci. 6, 1130–1136 (2015).

Lu, J. et al. Generation of serotonin neurons from human pluripotent stem cells. Nat. Biotechnol. 34, 89–94 (2016).

Shen, L. et al. diffReps: detecting differential chromatin modification sites from ChIP-seq data with biological replicates. PLoS ONE 8, e65598 (2013).

Chen, E. Y. et al. Enrichr: interactive and collaborative HTML5 gene list enrichment analysis tool. BMC Bioinformatics 14, 128 (2013).

Kuleshov, M. V. et al. Enrichr: a comprehensive gene set enrichment analysis web server 2016 update. Nucleic Acids Res. 44 (W1), 90–97 (2016).

Daubert, E. A. & Condron, B. G. Serotonin: a regulator of neuronal morphology and circuitry. Trends Neurosci. 33, 424–434 (2010).

White, L. A. et al. Distinct regulatory pathways control neurofilament expression and neurotransmitter synthesis in immortalized serotonergic neurons. J. Neurosci. 14, 6744–6753 (1994).

Maze, I. et al. Critical role of histone turnover in neuronal transcription and plasticity. Neuron 87, 77–94 (2015).

Tessarz, P. et al. Glutamine methylation in histone H2A is an RNA-polymerase-I-dedicated modification. Nature 505, 564–568 (2014).

Eaton, M. J. & Whittemore, S. R. Autocrine BDNF secretion enhances the survival and serotonergic differentiation of raphe neuronal precursor cells grafted into the adult rat CNS. Exp. Neurol. 140, 105–114 (1996).

Ollivier, N. et al. Tidbits for the synthesis of bis(2-sulfanylethyl)amido (SEA) polystyrene resin, SEA peptides and peptide thioesters. J. Pept. Sci. 20, 92–97 (2014).

Dann, G. P. et al. ISWI chromatin remodellers sense nucleosome modifications to determine substrate preference. Nature 548, 607–611 (2017).

Nguyen, U. T. et al. Accelerated chromatin biochemistry using DNA-barcoded nucleosome libraries. Nat. Methods 11, 834–840 (2014).

Simon, M. D. & Shokat, K. M. A method to site-specifically incorporate methyl-lysine analogues into recombinant proteins. Methods Enzymol. 512, 57–69 (2012).

Debelouchina, G. T., Gerecht, K. & Muir, T. W. Ubiquitin utilizes an acidic surface patch to alter chromatin structure. Nat. Chem. Biol. 13, 105–110 (2017).

Lowary, P. T. & Widom, J. New DNA sequence rules for high affinity binding to histone octamer and sequence-directed nucleosome positioning. J. Mol. Biol. 276, 19–42 (1998).

Dyer, P. N. et al. Reconstitution of nucleosome core particles from recombinant histones and DNA. Methods Enzymol. 375, 23–44 (2004).

Wojcik, F. et al. Functional crosstalk between histone H2B ubiquitylation and H2A modifications and variants. Nat. Commun. 9, 1394 (2018).

Peterson, A. C., Russell, J. D., Bailey, D. J., Westphall, M. S. & Coon, J. J. Parallel reaction monitoring for high resolution and high mass accuracy quantitative, targeted proteomics. Mol. Cell. Proteomics 11, 1475–1488 (2012).

Dignam, J. D., Lebovitz, R. M. & Roeder, R. G. Accurate transcription initiation by RNA polymerase II in a soluble extract from isolated mammalian nuclei. Nucleic Acids Res. 11, 1475–1489 (1983).

Rappsilber, J., Mann, M. & Ishihama, Y. Protocol for micro-purification, enrichment, pre-fractionation and storage of peptides for proteomics using StageTips. Nat. Protoc. 2, 1896–1906 (2007).

Cox, J. et al. Accurate proteome-wide label-free quantification by delayed normalization and maximal peptide ratio extraction, termed MaxLFQ. Mol. Cell. Proteomics 13, 2513–2526 (2014).

Käll, L., Canterbury, J. D., Weston, J., Noble, W. S. & MacCoss, M. J. Semi-supervised learning for peptide identification from shotgun proteomics datasets. Nat. Methods 4, 923–925 (2007).

Tyanova, S. et al. The Perseus computational platform for comprehensive analysis of (prote)omics data. Nat. Methods 13, 731–740 (2016).

Schwanhäusser, B. et al. Global quantification of mammalian gene expression control. Nature 473, 337–342 (2011).

Sidoli, S., Bhanu, N. V., Karch, K. R., Wang, X. & Garcia, B. A. Complete workflow for analysis of histone post-translational modifications using bottom-up mass spectrometry: from histone extraction to data analysis. J. Vis. Exp. 17, e54112 (2016).

Tsankova, N. M. et al. Sustained hippocampal chromatin regulation in a mouse model of depression and antidepressant action. Nat. Neurosci. 9, 519–525 (2006).

Zhang, Y. et al. Model-based analysis of ChIP-Seq (MACS). Genome Biol. 9, R137 (2008).

Trapnell, C., Pachter, L. & Salzberg, S. L. TopHat: discovering splice junctions with RNA-Seq. Bioinformatics 25, 1105–1111 (2009).

Love, M. I., Huber, W. & Anders, S. Moderated estimation of fold change and dispersion for RNA-seq data with DESeq2. Genome Biol. 15, 550 (2014).

Gundemir, S. & Johnson, G. V. Intracellular localization and conformational state of transglutaminase 2: implications for cell death. PLoS ONE 4, e6123 (2009).

Vizcaíno, J. A. et al. A guide to the Proteomics Identifications Database proteomics data repository. Proteomics 9, 4276–4283 (2009).

Vizcaíno, J. A. et al. 2016 update of the PRIDE database and its related tools. Nucleic Acids Res. 44 (D1), D447–D456 (2016).
Acknowledgements
We thank R. Cagan (ISMMS), J. Coplan (SUNY Downstate) and C. Tamminga (UTSW) for providing Drosophila, macaque and human samples, respectively, for analysis of H3K4me3Q5ser (Fig. 1e), and G. Johnson (University of Rochester Medical Center) for wild-type and catalytically dead TGM2 constructs. This work was supported by grants from the National Institutes of Health: DP1 DA042078 (I.M.), R01 MH116900 (I.M.), R21 DA044767 (I.M.), P50 MH096890 (I.M.), R37 GM086868 (T.W.M.), P01 CA196539 (T.W.M. and B.A.G.), R01 GM110174 (B.A.G.), R21 DA040837 (B.A.G.), R01 CA129325 (R.G.R.), R01 CA204639 (R.G.R.), T32 DA007135 (R.M.B.), as well as awards from: MQ Mental Health Research Charity, MQ15FIP100011 (I.M.), Alfred P. Sloan Foundation, Fellowship in Neuroscience (I.M.), the JPB Foundation (F.H.G.), the Bob and Mary Jane Engman Foundation (F.H.G.), the Volkswagen Foundation (N.A.) and the National Natural Science Foundation of China (31430020 and 31621092, H.L.).
Reviewer information
Nature thanks Tatiana Kutateladze and the other anonymous reviewer(s) for their contribution to the peer review of this work.
Ethics declarations
Competing interests
The authors declare no competing interests.
Additional information
Publisher's note: Springer Nature remains neutral with regard to jurisdictional claims in published maps and institutional affiliations.
Extended data figures and tables
Supplementary information
This file contains uncropped western blots and other gels, as well as images/quantification for each of the human PSC lines used to generate 5-HT neurons.
This file contains Supplementary Tables 1-34, containing processed ChIP- and RNA-seq data from cells and brain, as well as proteomic binding data and qPCR/qChIP primer sets.
About this article
Cite this article
Farrelly, L.A., Thompson, R.E., Zhao, S. et al. Histone serotonylation is a permissive modification that enhances TFIID binding to H3K4me3. Nature 567, 535–539 (2019). https://doi.org/10.1038/s41586-019-1024-7
Received:

Accepted:

Published:

Issue Date:

DOI: https://doi.org/10.1038/s41586-019-1024-7
Comments
By submitting a comment you agree to abide by our Terms and Community Guidelines. If you find something abusive or that does not comply with our terms or guidelines please flag it as inappropriate.