Abstract
Diversity within or between tumours and metastases (known as intra-patient tumour heterogeneity) that develops during disease progression is a serious hurdle for therapy1,2,3. Metastasis is the fatal hallmark of cancer and the mechanisms of colonization, the most complex step in the metastatic cascade4, remain poorly defined. A clearer understanding of the cellular and molecular processes that underlie both intra-patient tumour heterogeneity and metastasis is crucial for the success of personalized cancer therapy. Here, using transcriptional profiling of tumours and matched metastases in patient-derived xenograft models in mice, we show cancer-site-specific phenotypes and increased glucocorticoid receptor activity in distant metastases. The glucocorticoid receptor mediates the effects of stress hormones, and of synthetic derivatives of these hormones that are used widely in the clinic as anti-inflammatory and immunosuppressive agents. We show that the increase in stress hormones during breast cancer progression results in the activation of the glucocorticoid receptor at distant metastatic sites, increased colonization and reduced survival. Our transcriptomics, proteomics and phospho-proteomics studies implicate the glucocorticoid receptor in the activation of multiple processes in metastasis and in the increased expression of kinase ROR1, both of which correlate with reduced survival. The ablation of ROR1 reduced metastatic outgrowth and prolonged survival in preclinical models. Our results indicate that the activation of the glucocorticoid receptor increases heterogeneity and metastasis, which suggests that caution is needed when using glucocorticoids to treat patients with breast cancer who have developed cancer-related complications.
Access options
Subscribe to Journal
Get full journal access for 1 year
$199.00
only $3.90 per issue
All prices are NET prices.
VAT will be added later in the checkout.
Rent or Buy article
Get time limited or full article access on ReadCube.
from$8.99
All prices are NET prices.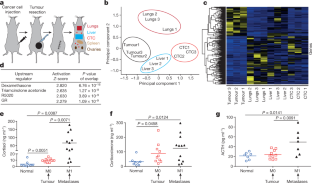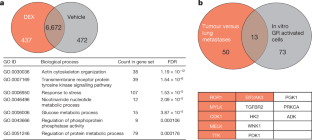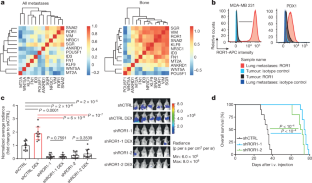 Data availability
All mass spectrometry raw data files have been deposited to the ProteomeXchange Consortium- accession code PXD009102, http://proteomecentral.proteomexchange.org. The mRNA sequencing data are deposited in the Gene Expression Omnibus (GEO) database under accession code GSE124817. Processed transcriptomic data that support the findings of this study are available on reasonable request from the corresponding author.
References
1.

Almendro, V., Marusyk, A. & Polyak, K. Cellular heterogeneity and molecular evolution in cancer. Annu. Rev. Pathol. 8, 277–302 (2013).

2.

Koren, S. & Bentires-Alj, M. Breast tumor heterogeneity: source of fitness, hurdle for therapy. Mol. Cell 60, 537–546 (2015).

3.

Polzer, B. & Klein, C. A. Metastasis awakening: the challenges of targeting minimal residual cancer. Nat. Med. 19, 274–275 (2013).

4.

Hanahan, D. & Weinberg, R. A. Hallmarks of cancer: the next generation. Cell 144, 646–674 (2011).

5.

Marusyk, A., Almendro, V. & Polyak, K. Intra-tumour heterogeneity: a looking glass for cancer? Nat. Rev. Cancer 12, 323–334 (2012).

6.

Chaffer, C. L., San Juan, B. P., Lim, E. & Weinberg, R. A. EMT, cell plasticity and metastasis. Cancer Metastasis Rev. 35, 645–654 (2016).

7.

Meacham, C. E. & Morrison, S. J. Tumour heterogeneity and cancer cell plasticity. Nature 501, 328–337 (2013).

8.

Vanharanta, S. & Massagué, J. Origins of metastatic traits. Cancer Cell 24, 410–421 (2013).

9.

Obenauf, A. C. & Massagué, J. Surviving at a distance: organ-specific metastasis. Trends Cancer 1, 76–91 (2015).

10.

Lindström, L. S. et al. Clinically used breast cancer markers such as estrogen receptor, progesterone receptor, and human epidermal growth factor receptor 2 are unstable throughout tumor progression. J. Clin. Oncol. 30, 2601–2608 (2012).

11.

Alizadeh, A. A. et al. Toward understanding and exploiting tumor heterogeneity. Nat. Med. 21, 846–853 (2015).

12.

Lawson, D. A. et al. Single-cell analysis reveals a stem-cell program in human metastatic breast cancer cells. Nature 526, 131–135 (2015).

13.

Balwierz, P. J. et al. ISMARA: automated modeling of genomic signals as a democracy of regulatory motifs. Genome Res. 24, 869–884 (2014).

14.

Hosseini, H. et al. Early dissemination seeds metastasis in breast cancer. Nature 540, 552–558 (2016).

15.

van der Pompe, G., Antoni, M. H. & Heijnen, C. J. Elevated basal cortisol levels and attenuated ACTH and cortisol responses to a behavioral challenge in women with metastatic breast cancer. Psychoneuroendocrinology 21, 361–374 (1996).

16.

Sephton, S. E., Sapolsky, R. M., Kraemer, H. C. & Spiegel, D. Diurnal cortisol rhythm as a predictor of breast cancer survival. J. Natl. Cancer Inst. 92, 994–1000 (2000).

17.

Pang, D., Kocherginsky, M., Krausz, T., Kim, S.-Y. & Conzen, S. D. Dexamethasone decreases xenograft response to paclitaxel through inhibition of tumor cell apoptosis. Cancer Biol. Ther. 5, 933–940 (2006).

18.

Saxena, M. & Christofori, G. Rebuilding cancer metastasis in the mouse. Mol. Oncol. 7, 283–296 (2013).

19.

Gao, H. et al. High-throughput screening using patient-derived tumor xenografts to predict clinical trial drug response. Nat. Med. 21, 1318–1325 (2015).

20.

Marotta, L. L. C. et al. The JAK2/STAT3 signaling pathway is required for growth of CD44+CD24− stem cell-like breast cancer cells in human tumors. J. Clin. Invest. 121, 2723–2735 (2011).

21.

Liu, J. et al. Synaptopodin-2 suppresses metastasis of triple-negative breast cancer via inhibition of YAP/TAZ activity. J. Pathol. 244, 71–83 (2018).

22.

Li, C. et al. A ROR1–HER3–lncRNA signalling axis modulates the Hippo–YAP pathway to regulate bone metastasis. Nat. Cell Biol. 19, 106–119 (2017).

23.

Cui, B. et al. Targeting ROR1 inhibits epithelial–mesenchymal transition and metastasis. Cancer Res. 73, 3649–3660 (2013).

24.

Chien, H.-P. et al. Expression of ROR1 has prognostic significance in triple negative breast cancer. Virchows Arch. 468, 589–595 (2016).

25.

Pongor, L. et al. A genome-wide approach to link genotype to clinical outcome by utilizing next generation sequencing and gene chip data of 6,697 breast cancer patients. Genome Med. 7, 104 (2015).

26.

Robinson, D. R. et al. Integrative clinical genomics of metastatic cancer. Nature 548, 297–303 (2017).

27.

Curtis, C. et al. The genomic and transcriptomic architecture of 2,000 breast tumours reveals novel subgroups. Nature 486, 346–352 (2012).

28.

Pereira, B. et al. The somatic mutation profiles of 2,433 breast cancers refines their genomic and transcriptomic landscapes. Nat. Commun. 7, 11479 (2016).

29.

West, D. C. et al. Discovery of a glucocorticoid receptor (GR) Activity signature using selective GR antagonism in ER-negative breast cancer. Clin. Cancer Res. 24, 3433–3446 (2018).

30.

Braun, S. et al. A pooled analysis of bone marrow micrometastasis in breast cancer. N. Engl. J. Med. 353, 793–802 (2005).

31.

Arora, V. K. et al. Glucocorticoid receptor confers resistance to antiandrogens by bypassing androgen receptor blockade. Cell 155, 1309–1322 (2013).

32.

Skor, M. N. et al. Glucocorticoid receptor antagonism as a novel therapy for triple-negative breast cancer. Clin. Cancer Res. 19, 6163–6172 (2013).

33.

DeRose, Y. S. et al. Tumor grafts derived from women with breast cancer authentically reflect tumor pathology, growth, metastasis and disease outcomes. Nat. Med. 17, 1514–1520 (2011).

34.

Britschgi, A. et al. The Hippo kinases LATS1 and 2 control human breast cell fate via crosstalk with ERα. Nature 541, 541–545 (2017).

35.

Wyckoff, J., Gligorijevic, B., Entenberg, D., Segall, J. & Condeelis, J. High-resolution multiphoton imaging of tumors in vivo. Cold Spring Harb. Protoc. 2011, 1167–1184 (2011).

36.

Bonapace, L. et al. If you don't look, you won't see: intravital multiphoton imaging of primary and metastatic breast cancer. J. Mammary Gland Biol. Neoplasia 17, 125–129 (2012).

37.

Bonapace, L. et al. Cessation of CCL2 inhibition accelerates breast cancer metastasis by promoting angiogenesis. Nature 515, 130–133 (2014).

38.

Ahrné, E. et al. Evaluation and improvement of quantification accuracy in isobaric mass tag-based protein quantification experiments. J. Proteome Res. 15, 2537–2547 (2016).

39.

Post, H. et al. Robust, sensitive, and automated phosphopeptide enrichment optimized for low sample amounts applied to primary hippocampal neurons. J. Proteome Res. 16, 728–737 (2017).

40.

Wang, Y. et al. Reversed-phase chromatography with multiple fraction concatenation strategy for proteome profiling of human MCF10A cells. Proteomics 11, 2019–2026 (2011).

41.

Gaidatzis, D., Lerch, A., Hahne, F. & Stadler, M. B. QuasR: quantification and annotation of short reads in R. Bioinformatics 31, 1130–1132 (2015).

42.

Robinson, M. D., McCarthy, D. J. & Smyth, G. K. edgeR: a Bioconductor package for differential expression analysis of digital gene expression data. Bioinformatics 26, 139–140 (2010).

43.

Szklarczyk, D. et al. The STRING database in 2017: quality-controlled protein-protein association networks, made broadly accessible. Nucleic Acids Res. 45 (D1), D362–D368 (2017).

44.

Gao, J. et al. Integrative analysis of complex cancer genomics and clinical profiles using the cBioPortal. Sci. Signal. 6, pl1 (2013).

45.

Cerami, E. et al. The cBio cancer genomics portal: an open platform for exploring multidimensional cancer genomics data. Cancer Discov. 2, 401–404 (2012).

46.

Györffy, B. et al. An online survival analysis tool to rapidly assess the effect of 22,277 genes on breast cancer prognosis using microarray data of 1,809 patients. Breast Cancer Res. Treat. 123, 725–731 (2010).
Acknowledgements
We thank members of the Bentires-Alj laboratory for advice and discussion. Tissue samples that correspond to PDX1, PDX2 and PDX4–PDX11 were provided by the Cooperative Human Tissue Network, which is funded by the National Cancer Institute. Other investigators may have received specimens from the same subjects. We thank A. L. Welm (University of Utah) for the PDX3 and PDX12–PDX16 models; H.-R. Hotz for offering the QuasR and edgeR tools in the FMI Galaxy server; and S. Bichet and P. Hirschmann for help with immunohistochemistry. We are grateful for the support of the FMI, DBM and Biozentrum core facilities. Research in the Bentires-Alj laboratory is supported by the Swiss Initiative for Systems Biology- SystemsX, the European Research Council, the Swiss National Science Foundation, Novartis, the Krebsliga Beider Basel, the Swiss Cancer League, the Swiss Personalized Health Network (Swiss Personalized Oncology driver project) and the Department of Surgery of the University Hospital Basel.
Reviewer information
Nature thanks Melanie Flint and the other anonymous reviewer(s) for their contribution to the peer review of this work.
Ethics declarations
Competing interests
B.H., R.O., S.M., M.-M.C., A. Sethi, A. Schmidt and M.B.-A. declare no competing interests. N.M. is an employee of UCB Pharma. H.K. and J.P.C. are employees of Novartis. M.M.S.O. is an employee of Wellmera AG.
Additional information
Publisher's note: Springer Nature remains neutral with regard to jurisdictional claims in published maps and institutional affiliations.
Extended data figures and tables
Supplementary information
About this article
Cite this article
Obradović, M.M.S., Hamelin, B., Manevski, N. et al. Glucocorticoids promote breast cancer metastasis. Nature 567, 540–544 (2019). https://doi.org/10.1038/s41586-019-1019-4
Received:

Accepted:

Published:

Issue Date:
Comments
By submitting a comment you agree to abide by our Terms and Community Guidelines. If you find something abusive or that does not comply with our terms or guidelines please flag it as inappropriate.