Abstract
T cells become dysfunctional when they encounter self antigens or are exposed to chronic infection or to the tumour microenvironment1. The function of T cells is tightly regulated by a combinational co-stimulatory signal, and dominance of negative co-stimulation results in T cell dysfunction2. However, the molecular mechanisms that underlie this dysfunction remain unclear. Here, using an in vitro T cell tolerance induction system in mice, we characterize genome-wide epigenetic and gene expression features in tolerant T cells, and show that they are distinct from effector and regulatory T cells. Notably, the transcription factor NR4A1 is stably expressed at high levels in tolerant T cells. Overexpression of NR4A1 inhibits effector T cell differentiation, whereas deletion of NR4A1 overcomes T cell tolerance and exaggerates effector function, as well as enhancing immunity against tumour and chronic virus. Mechanistically, NR4A1 is preferentially recruited to binding sites of the transcription factor AP-1, where it represses effector-gene expression by inhibiting AP-1 function. NR4A1 binding also promotes acetylation of histone 3 at lysine 27 (H3K27ac), leading to activation of tolerance-related genes. This study thus identifies NR4A1 as a key general regulator in the induction of T cell dysfunction, and a potential target for tumour immunotherapy.
Access options
Subscribe to Journal
Get full journal access for 1 year
$199.00
only $3.90 per issue
All prices are NET prices.
VAT will be added later in the checkout.
Rent or Buy article
Get time limited or full article access on ReadCube.
from$8.99
All prices are NET prices.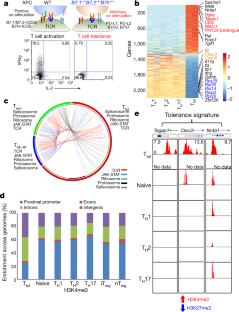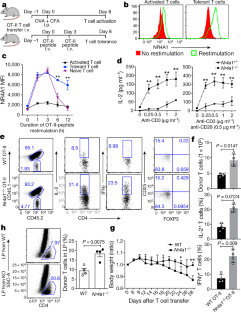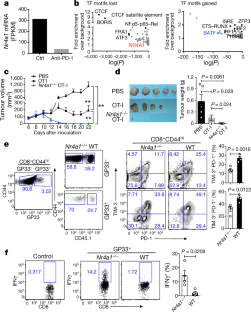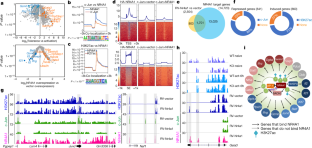 References
1.

Wherry, E. J. & Kurachi, M. Molecular and cellular insights into T cell exhaustion. Nat. Rev. Immunol. 15, 486–499 (2015).

2.

Nurieva, R. et al. T-cell tolerance or function is determined by combinatorial costimulatory signals. EMBO J. 25, 2623–2633 (2006).

3.

Greenwald, R. J., Freeman, G. J. & Sharpe, A. H. The B7 family revisited. Annu. Rev. Immunol. 23, 515–548 (2005).

4.

Nurieva, R. I., Liu, X. & Dong, C. Molecular mechanisms of T-cell tolerance. Immunol. Rev. 241, 133–144 (2011).

5.

Anderson, A. C., Joller, N. & Kuchroo, V. K. Lag-3, Tim-3, and TIGIT: co-inhibitory receptors with specialized functions in immune regulation. Immunity 44, 989–1004 (2016).

6.

Crawford, A. et al. Molecular and transcriptional basis of CD4+ T cell dysfunction during chronic infection. Immunity 40, 289–302 (2014).

7.

Martinez, G. J. et al. The transcription factor NFAT promotes exhaustion of activated CD8+ T cells. Immunity 42, 265–278 (2015).

8.

Wei, G. et al. Global mapping of H3K4me3 and H3K27me3 reveals specificity and plasticity in lineage fate determination of differentiating CD4+ T cells. Immunity 30, 155–167 (2009).

9.

Sen, D. R. et al. The epigenetic landscape of T cell exhaustion. Science 354, 1165–1169 (2016).

10.

Safford, M. et al. Egr-2 and Egr-3 are negative regulators of T cell activation. Nat. Immunol. 6, 472–480 (2005).

11.

Harris, J. E. et al. Early growth response gene-2, a zinc-finger transcription factor, is required for full induction of clonal anergy in CD4+ T cells. J. Immunol. 173, 7331–7338 (2004).

12.

Zheng, Y., Zha, Y. & Gajewski, T. F. Molecular regulation of T-cell anergy. EMBO Rep. 9, 50–55 (2008).

13.

Zhong, X. P. et al. Enhanced T cell responses due to diacylglycerol kinase ζ deficiency. Nat. Immunol. 4, 882–890 (2003).

14.

Rudd, C. E. Cell cycle 'check points' T cell anergy. Nat. Immunol. 7, 1130–1132 (2006).

15.

Schietinger, A. & Greenberg, P. D. Tolerance and exhaustion: defining mechanisms of T cell dysfunction. Trends Immunol. 35, 51–60 (2014).

16.

Jeon, M. S. et al. Essential role of the E3 ubiquitin ligase Cbl-b in T cell anergy induction. Immunity 21, 167–177 (2004).

17.

Oukka, M., Wein, M. N. & Glimcher, L. H. Schnurri-3 (KRC) interacts with c-Jun to regulate the IL-2 gene in T cells. J. Exp. Med. 199, 15–24 (2004).

18.

Nurieva, R. I. et al. The E3 ubiquitin ligase GRAIL regulates T cell tolerance and regulatory T cell function by mediating T cell receptor-CD3 degradation. Immunity 32, 670–680 (2010).

19.

Sekiya, T. et al. Nr4a receptors are essential for thymic regulatory T cell development and immune homeostasis. Nat. Immunol. 14, 230–237 (2013).

20.

Pauken, K. E. et al. Epigenetic stability of exhausted T cells limits durability of reinvigoration by PD-1 blockade. Science 354, 1160–1165 (2016).

21.

Scott-Browne, J. P. et al. Dynamic changes in chromatin accessibility occur in CD8+ T cells responding to viral infection. Immunity 45, 1327–1340 (2016).

22.

Kalekar, L. A. et al. CD4+ T cell anergy prevents autoimmunity and generates regulatory T cell precursors. Nat. Immunol. 17, 304–314 (2016).

23.

Chan, C. J. et al. The receptors CD96 and CD226 oppose each other in the regulation of natural killer cell functions. Nat. Immunol. 15, 431–438 (2014).

24.

Singer, M. et al. A distinct gene module for dysfunction uncoupled from activation in tumor-infiltrating T cells. Cell 166, 1500–1511.e9 (2016).

25.

Whyte, W. A. et al. Master transcription factors and mediator establish super-enhancers at key cell identity genes. Cell 153, 307–319 (2013).

26.

Kitagawa, Y. et al. Guidance of regulatory T cell development by Satb1-dependent super-enhancer establishment. Nat. Immunol. 18, 173–183 (2017).

27.

Hnisz, D. et al. Super-enhancers in the control of cell identity and disease. Cell 155, 934–947 (2013).

28.

Macián, F. et al. Transcriptional mechanisms underlying lymphocyte tolerance. Cell 109, 719–731 (2002).

29.

Roychoudhuri, R. et al. BACH2 regulates CD8+ T cell differentiation by controlling access of AP-1 factors to enhancers. Nat. Immunol. 17, 851–860 (2016).

30.

Li, J. et al. Co-inhibitory molecule B7 superfamily member 1 expressed by tumor-infiltrating myeloid cells induces dysfunction of anti-tumor CD8+ T cells. Immunity 48, 773–786.e5 (2018).
Acknowledgements
We thank the C.D., X.L. and X.-W.B. laboratory members for their assistance and O. M. Conneely for the Nr4a1−/− mouse strain. The study was supported by the National Key Research and Development Program of China (2016YFA0101200 to X.L. and X.-W.B.); Beijing Municipal Science and Technology (Z171100000417005 to C.D.); the Ministry of Science and Technology of China (2016YFC0906200 to C.D.); the National Natural Science Foundation of China (31630022 and 91642201 to C.D., and 31770973 to X.L.); the Natural Science Foundation Project of Chongqing (CSTC2014JCYJYS10001 to X.L.); an Institute Project grant (SWH2015QN07 and SWH2016HWHZ-01 to X.L.); an Odyssey Fellowship (to X.L.) from MD Anderson Cancer Center; and NIH grants (R01HL143520, R56AI125269, R21AI120012 and R03CA219760 to R.N.).
Reviewer information
Nature thanks Golnaz Vahedi and the other anonymous reviewer(s) for their contribution to the peer review of this work.
Ethics declarations
Competing interests
C.D. and X.L. have filed a patent application (PCT/CN2018/072044) on the role of NR4A1 in T cells.
Additional information
Publisher's note: Springer Nature remains neutral with regard to jurisdictional claims in published maps and institutional affiliations.
Extended data figures and tables
Supplementary information
About this article
Cite this article
Liu, X., Wang, Y., Lu, H. et al. Genome-wide analysis identifies NR4A1 as a key mediator of T cell dysfunction. Nature 567, 525–529 (2019). https://doi.org/10.1038/s41586-019-0979-8
Received:

Accepted:

Published:

Issue Date:
Comments
By submitting a comment you agree to abide by our Terms and Community Guidelines. If you find something abusive or that does not comply with our terms or guidelines please flag it as inappropriate.