Abstract
Mammalian organogenesis is a remarkable process. Within a short timeframe, the cells of the three germ layers transform into an embryo that includes most of the major internal and external organs. Here we investigate the transcriptional dynamics of mouse organogenesis at single-cell resolution. Using single-cell combinatorial indexing, we profiled the transcriptomes of around 2 million cells derived from 61 embryos staged between 9.5 and 13.5 days of gestation, in a single experiment. The resulting 'mouse organogenesis cell atlas' (MOCA) provides a global view of developmental processes during this critical window. We use Monocle 3 to identify hundreds of cell types and 56 trajectories, many of which are detected only because of the depth of cellular coverage, and collectively define thousands of corresponding marker genes. We explore the dynamics of gene expression within cell types and trajectories over time, including focused analyses of the apical ectodermal ridge, limb mesenchyme and skeletal muscle.
Relevant articles
Open Access articles citing this article.
Molly E. V. Swanson

,

Miran Mrkela

…

Emma L. Scotter

Acta Neuropathologica Communications Open Access 28 April 2023

Yun Li

,

Zheng Huang

…

Lan Jiang

Genome Biology Open Access 06 April 2023

Alanna G. Spiteri

,

Claire L. Wishart

…

Nicholas J. C. King

Acta Neuropathologica Communications Open Access 04 April 2023
Access options
Access Nature and 54 other Nature Portfolio journals
Get Nature+, our best-value online-access subscription
$29.99 / 30 days
cancel any time
Subscribe to this journal
Receive 51 print issues and online access
$199.00 per year
only $3.90 per issue
Rent or buy this article
Get just this article for as long as you need it
$39.95
Prices may be subject to local taxes which are calculated during checkout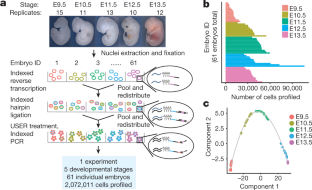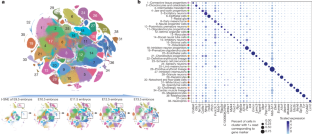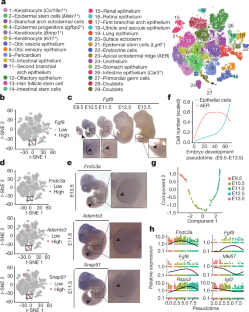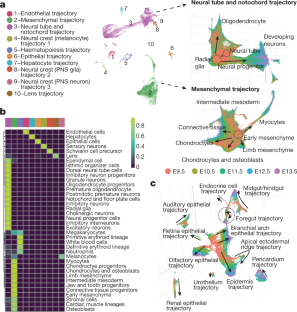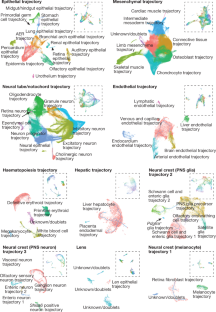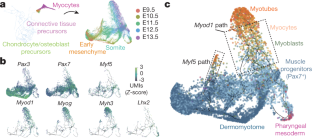 Data availability
The sci-RNA-seq3 protocol and all data have been made freely available, including through a cell-type wiki to facilitate their ongoing annotation by the research community (http://atlas.gs.washington.edu/mouse-rna). The data generated in this study can be downloaded in raw and processed forms from the NCBI Gene Expression Omnibus under accession number GSE119945.
References
Kojima, Y., Tam, O. H. & Tam, P. P. L. Timing of developmental events in the early mouse embryo. Semin. Cell Dev. Biol. 34, 65–75 (2014).

Tam, P. P. L. & Loebel, D. A. F. Gene function in mouse embryogenesis: get set for gastrulation. Nat. Rev. Genet. 8, 368–381 (2007).

Dickinson, M. E. et al. High-throughput discovery of novel developmental phenotypes. Nature 537, 508–514 (2016).

Meehan, T. F. et al. Disease model discovery from 3,328 gene knockouts by The International Mouse Phenotyping Consortium. Nat. Genet. 49, 1231–1238 (2017).

Wagner, D. E. et al. Single-cell mapping of gene expression landscapes and lineage in the zebrafish embryo. Science 360, 981–987 (2018).

Briggs, J. A. et al. The dynamics of gene expression in vertebrate embryogenesis at single-cell resolution. Science 360, eaar5780 (2018).

Farrell, J. A. et al. Single-cell reconstruction of developmental trajectories during zebrafish embryogenesis. Science 360, eaar3131 (2018).

Mayer, C. et al. Developmental diversification of cortical inhibitory interneurons. Nature 555, 457–462 (2018).

Lescroart, F. et al. Defining the earliest step of cardiovascular lineage segregation by single-cell RNA-seq. Science 359, 1177–1181 (2018).

Han, X. et al. Mapping the Mouse Cell Atlas by Microwell-seq. Cell 172, 1091–1107 (2018).

The Tabula Muris Consortium, Quake, S. R., Wyss-Coray, T. & Darmanis, S. Transcriptomic characterization of 20 organs and tissues from mouse at single cell resolution creates a Tabula Muris. Preprint at https://www.biorxiv.org/content/10.1101/237446v2 (2018).

Amini, S. et al. Haplotype-resolved whole-genome sequencing by contiguity-preserving transposition and combinatorial indexing. Nat. Genet. 46, 1343–1349 (2014).

Adey, A. et al. In vitro, long-range sequence information for de novo genome assembly via transposase contiguity. Genome Res. 24, 2041–2049 (2014).

Cusanovich, D. A. et al. Multiplex single cell profiling of chromatin accessibility by combinatorial cellular indexing. Science 348, 910–914 (2015).

Vitak, S. A. et al. Sequencing thousands of single-cell genomes with combinatorial indexing. Nat. Methods 14, 302–308 (2017).

Ramani, V. et al. Massively multiplex single-cell Hi-C. Nat. Methods 14, 263–266 (2017).

Cao, J. et al. Comprehensive single-cell transcriptional profiling of a multicellular organism. Science 357, 661–667 (2017).

Mulqueen, R. M. et al. Highly scalable generation of DNA methylation profiles in single cells. Nat. Biotechnol. 36, 428–431 (2018).

Cao, J. et al. Joint profiling of chromatin accessibility and gene expression in thousands of single cells. Science 361, 1380–1385 (2018).

Rosenberg, A. B. et al. Single-cell profiling of the developing mouse brain and spinal cord with split-pool barcoding. Science 360, 176–182 (2018).

La Manno, G. et al. RNA velocity of single cells. Nature 560, 494–498 (2018).

Wolock, S. L., Lopez, R. & Klein, A. M. Scrublet: computational identification of cell doublets in single-cell transcriptomic data. Preprint at https://www.biorxiv.org/content/10.1101/357368v1 (2018).

Qiu, X. et al. Reversed graph embedding resolves complex single-cell developmental trajectories. Nat. Methods 14, 979–982 (2017).

Yang, A. et al. p63 is essential for regenerative proliferation in limb, craniofacial and epithelial development. Nature 398, 714–718 (1999).

McQualter, J. L., Yuen, K., Williams, B. & Bertoncello, I. Evidence of an epithelial stem/progenitor cell hierarchy in the adult mouse lung. Proc. Natl Acad. Sci. USA 107, 1414–1419 (2010).

Cichorek, M., Wachulska, M., Stasiewicz, A. & Tymińska, A. Skin melanocytes: biology and development. Postepy Dermatol. Allergol. 30, 30–41 (2013).

Tomihari, M., Hwang, S.-H., Chung, J.-S., Cruz, P. D. Jr & Ariizumi, K. Gpnmb is a melanosome-associated glycoprotein that contributes to melanocyte/keratinocyte adhesion in a RGD-dependent fashion. Exp. Dermatol. 18, 586–595 (2009).

Varjosalo, M. & Taipale, J. Hedgehog: functions and mechanisms. Genes Dev. 22, 2454–2472 (2008).

Strähle, U., Lam, C. S., Ertzer, R. & Rastegar, S. Vertebrate floor-plate specification: variations on common themes. Trends Genet. 20, 155–162 (2004).

Holmes, G. P. et al. Distinct but overlapping expression patterns of two vertebrate slit homologs implies functional roles in CNS development and organogenesis. Mech. Dev. 79, 57–72 (1998).

Akle, V. et al. F-spondin/spon1b expression patterns in developing and adult zebrafish. PLoS ONE 7, e37593 (2012).

Zeisel, A. et al. Molecular architecture of the mouse nervous system. Cell 174, 999–1014 (2018).

Hartman, B. H., Durruthy-Durruthy, R., Laske, R. D., Losorelli, S. & Heller, S. Identification and characterization of mouse otic sensory lineage genes. Front. Cell. Neurosci. 9, 79 (2015).

Szenker-Ravi, E. et al. RSPO2 inhibition of RNF43 and ZNRF3 governs limb development independently of LGR4/5/6. Nature 557, 564–569 (2018).

Cai, X. et al. Tbx20 acts upstream of Wnt signaling to regulate endocardial cushion formation and valve remodeling during mouse cardiogenesis. Development 140, 3176–3187 (2013).

Miller, R. A., Christoforou, N., Pevsner, J., McCallion, A. S. & Gearhart, J. D. Efficient array-based identification of novel cardiac genes through differentiation of mouse ESCs. PLoS ONE 3, e2176 (2008).

Petit, F., Sears, K. E. & Ahituv, N. Limb development: a paradigm of gene regulation. Nat. Rev. Genet. 18, 245–258 (2017).

Guo, Q., Loomis, C. & Joyner, A. L. Fate map of mouse ventral limb ectoderm and the apical ectodermal ridge. Dev. Biol. 264, 166–178 (2003).

Lewandoski, M., Sun, X. & Martin, G. R. Fgf8 signalling from the AER is essential for normal limb development. Nat. Genet. 26, 460–463 (2000).

Gerdes, J., Schwab, U., Lemke, H. & Stein, H. Production of a mouse monoclonal antibody reactive with a human nuclear antigen associated with cell proliferation. Int. J. Cancer 31, 13–20 (1983).

Bergman, D., Halje, M., Nordin, M. & Engström, W. Insulin-like growth factor 2 in development and disease: a mini-review. Gerontology 59, 240–249 (2013).

Trapnell, C. et al. The dynamics and regulators of cell fate decisions are revealed by pseudotemporal ordering of single cells. Nat. Biotechnol. 32, 381–386 (2014).

McInnes, L., Healy, J. & Melville, J. UMAP: Uniform Manifold Approximation and Projection for dimension reduction. Preprint at https://arxiv.org/abs/1802.03426 (2018).

Alexander Wolf, F. et al. Graph abstraction reconciles clustering with trajectory inference through a topology preserving map of single cells. Preprint at https://www.biorxiv.org/content/10.1101/208819v2 (2018).

Braun, T. & Gautel, M. Transcriptional mechanisms regulating skeletal muscle differentiation, growth and homeostasis. Nat. Rev. Mol. Cell Biol. 12, 349–361 (2011).

Comai, G., Sambasivan, R., Gopalakrishnan, S. & Tajbakhsh, S. Variations in the efficiency of lineage marking and ablation confound distinctions between myogenic cell populations. Dev. Cell 31, 654–667 (2014).

Halperin-Barlev, O. & Kalcheim, C. Sclerotome-derived Slit1 drives directional migration and differentiation of Robo2-expressing pioneer myoblasts. Development 138, 2935–2945 (2011).

Heimberg, G., Bhatnagar, R., El-Samad, H. & Thomson, M. Low dimensionality in gene expression data enables the accurate extraction of transcriptional programs from shallow sequencing. Cell Syst. 2, 239–250 (2016).

Osterwalder, M. et al. Enhancer redundancy provides phenotypic robustness in mammalian development. Nature 554, 239–243 (2018).

Dickel, D. E. et al. Ultraconserved enhancers are required for normal development. Cell 172, 491–499.e15 (2018).

Kraft, K. et al. Deletions, inversions, duplications: engineering of structural variants using CRISPR/Cas in mice. Cell Rep. 4, S2211–S1247 (2015).

Buenrostro, J. D., Giresi, P. G., Zaba, L. C., Chang, H. Y. & Greenleaf, W. J. Transposition of native chromatin for fast and sensitive epigenomic profiling of open chromatin, DNA-binding proteins and nucleosome position. Nat. Methods 10, 1213–1218 (2013).

Renaud, G., Stenzel, U., Maricic, T., Wiebe, V. & Kelso, J. deML: robust demultiplexing of Illumina sequences using a likelihood-based approach. Bioinformatics 31, 770–772 (2015).

Dobin, A. et al. STAR: ultrafast universal RNA-seq aligner. Bioinformatics 29, 15–21 (2013).

Anders, S., Pyl, P. T. & Huber, W. HTSeq–a Python framework to work with high-throughput sequencing data. Bioinformatics 31, 166–169 (2014).

Wolf, F. A., Angerer, P. & Theis, F. J. SCANPY: large-scale single-cell gene expression data analysis. Genome Biol. 19, 15 (2018).

Zheng, G. X. Y. et al. Massively parallel digital transcriptional profiling of single cells. Nat. Commun. 8, 14049 (2017).

Wolock, S. L., Lopez, R. & Klein, A. M. Scrublet: computational identification of cell doublets in single-cell transcriptomic data. Preprint at https://www.biorxiv.org/content/10.1101/357368v1 (2018).

Pliner, H. et al. Chromatin accessibility dynamics of myogenesis at single cell resolution. Preprint at https://www.biorxiv.org/content/10.1101/155473v1 (2017).

Kuleshov, M. V. et al. Enrichr: a comprehensive gene set enrichment analysis web server 2016 update. Nucleic Acids Res. 44, W90–W97 (2016).

Levine, J. H. et al. Data-driven phenotypic dissection of AML reveals progenitor-like cells that correlate with prognosis. Cell 162, 184–197 (2015).

Mao, Q., Wang, L., Tsang, I. & Sun, Y. Principal graph and structure learning based on reversed graph embedding. IEEE Trans. Pattern Anal. Mach. Intell. 39, 2227–2241 (2016).

Mao, Q., Yang, L., Wang, L., Goodison, S. & Sun, Y. SimplePPT: a simple principal tree algorithm. In Proc. 2015 SIAM International Conference on Data Mining (eds Venkatasubramanian, S. & Ye, J.) 792–800 (SIAM, 2015).

Moran, P. A. P. Notes on continuous stochastic phenomena. Biometrika 37, 17–23 (1950).

Li, D. et al. Formation of proximal and anterior limb skeleton requires early function of Irx3 and Irx5 and is negatively regulated by Shh signaling. Dev. Cell 29, 233–240 (2014).
Acknowledgements
We thank members of the Shendure and Trapnell labs, especially D. Cusanovich, R. Daza, G. Findlay, A. McKenna, H. Pliner and V. Ramani, as well as L. McInnes, D. Beier, N. Ahituv and S. Tapscott for helpful discussions and feedback; M. Zager for major contributions to the website; R. Hunter, and R. Rualo at the Transgenic Resources Program of University of Washington and N. Brieske and A. Stiege at the Max Planck Institute for Molecular Genetics for their assistance; S. Geuer for the Fndc3a probe. M.S. was supported by a grant from the Deutsche Forschungsgemeinschaft (SP1532/3-1). This work was funded by the Paul G. Allen Frontiers Group (Allen Discovery Center grant to J.S. and C.T.), grants from the NIH (DP1HG007811 and R01HG006283 to J.S.; DP2 HD088158 to C.T.), the W. M. Keck Foundation (to C.T. and J.S.). J.S. is an Investigator of the Howard Hughes Medical Institute.
Reviewer information
Nature thanks Alistair Forrest, Peter Sims, Patrick Tam and the other anonymous reviewer(s) for their contribution to the peer review of this work.
Ethics declarations
Competing interests
L.C., F.Z. and F.J.S. declare competing financial interests in the form of stock ownership and paid employment by Illumina. One or more embodiments of one or more patents and patent applications filed by Illumina may encompass the methods, reagents and data disclosed in this manuscript. Some work in this study may be related to technology described in the following exemplary published patent applications: WO2010/0120098 and WO2011/0287435.
Additional information
Publisher's note: Springer Nature remains neutral with regard to jurisdictional claims in published maps and institutional affiliations.
Extended data figures and tables
Supplementary information
This file contains Supplementary Note 1, Supplementary References and full legends for Supplementary Tables 1-11
This file contains Supplementary Tables 1-11
About this article
Cite this article
Cao, J., Spielmann, M., Qiu, X. et al. The single-cell transcriptional landscape of mammalian organogenesis. Nature 566, 496–502 (2019). https://doi.org/10.1038/s41586-019-0969-x
Received:

Accepted:

Published:

Issue Date:

DOI: https://doi.org/10.1038/s41586-019-0969-x
Comments
By submitting a comment you agree to abide by our Terms and Community Guidelines. If you find something abusive or that does not comply with our terms or guidelines please flag it as inappropriate.