Abstract
A better understanding of the features that define the interaction between cancer cells and immune cells is important for the development of new cancer therapies1. However, focus is often given to interactions that occur within the primary tumour and its microenvironment, whereas the role of immune cells during cancer dissemination in patients remains largely uncharacterized2,3. Circulating tumour cells (CTCs) are precursors of metastasis in several types of cancer4,5,6, and are occasionally found within the bloodstream in association with non-malignant cells such as white blood cells (WBCs)7,8. The identity and function of these CTC-associated WBCs, as well as the molecular features that define the interaction between WBCs and CTCs, are unknown. Here we isolate and characterize individual CTC-associated WBCs, as well as corresponding cancer cells within each CTC–WBC cluster, from patients with breast cancer and from mouse models. We use single-cell RNA sequencing to show that in the majority of these cases, CTCs were associated with neutrophils. When comparing the transcriptome profiles of CTCs associated with neutrophils against those of CTCs alone, we detect a number of differentially expressed genes that outline cell cycle progression, leading to more efficient metastasis formation. Further, we identify cell–cell junction and cytokine–receptor pairs that define CTC–neutrophil clusters, representing key vulnerabilities of the metastatic process. Thus, the association between neutrophils and CTCs drives cell cycle progression within the bloodstream and expands the metastatic potential of CTCs, providing a rationale for targeting this interaction in treatment of breast cancer.
Relevant articles
Open Access articles citing this article.
Yifan Xu

,

Qianlong Zhang

…

Haijun Deng

BMC Gastroenterology Open Access 06 December 2022

Guoxin Zhang

,

Mengyuan Li

…

Ran Gao

Journal of Translational Medicine Open Access 02 October 2022

Yuhe Huang

,

Weiqi Hong

&

Xiawei Wei

Journal of Hematology & Oncology Open Access 08 September 2022
Access options
Subscribe to Nature+
Get immediate online access to Nature and 55 other Nature journal
Subscribe to Journal
Get full journal access for 1 year
$199.00
only $3.90 per issue
All prices are NET prices.
VAT will be added later in the checkout.
Tax calculation will be finalised during checkout.
Buy article
Get time limited or full article access on ReadCube.
$32.00
All prices are NET prices.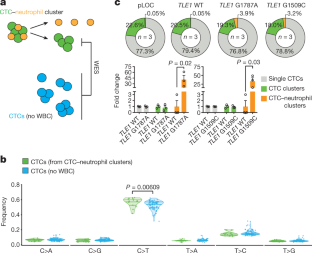 Data availability
Data analysis, statistical testing and visualization were conducted in R (version 3.4.0; R Foundation for Statistical Computing). RNA and exome sequencing data have been deposited in the Gene Expression Omnibus (GEO, NCBI; accession number GSE109761) and the European Nucleotide Archive (ENA, EMBL-EBI; accession number PRJEB24623), respectively. Original R scripts to reproduce data analysis have been deposited to GitHub (accession URL, https://github.com/CMETlab/CTC-WBC). Source data for all mouse experiments are provided. All data are available from the corresponding author upon reasonable request.
References
Khalil, D. N., Smith, E. L., Brentjens, R. J. & Wolchok, J. D. The future of cancer treatment: immunomodulation, CARs and combination immunotherapy. Nat. Rev. Clin. Oncol. 13, 273–290 (2016).

Mohme, M., Riethdorf, S. & Pantel, K. Circulating and disseminated tumour cells – mechanisms of immune surveillance and escape. Nat. Rev. Clin. Oncol. 14, 155–167 (2017).

Lambert, A. W., Pattabiraman, D. R. & Weinberg, R. A. Emerging biological principles of metastasis. Cell 168, 670–691 (2017).

Aceto, N. et al. Circulating tumor cell clusters are oligoclonal precursors of breast cancer metastasis. Cell 158, 1110–1122 (2014).

Cheung, K. J. et al. Polyclonal breast cancer metastases arise from collective dissemination of keratin 14-expressing tumor cell clusters. Proc. Natl Acad. Sci. USA 113, E854–E863 (2016).

Pantel, K. & Speicher, M. R. The biology of circulating tumor cells. Oncogene 35, 1216–1224 (2016).

Aceto, N., Toner, M., Maheswaran, S. & Haber, D. A. En route to metastasis: circulating tumor cell clusters and epithelial-to-mesenchymal transition. Trends Cancer 1, 44–52 (2015).

Stott, S. L. et al. Isolation of circulating tumor cells using a microvortex-generating herringbone-chip. Proc. Natl Acad. Sci. USA 107, 18392–18397 (2010).

Xu, L. et al. Optimization and evaluation of a novel size based circulating tumor cell isolation system. PLoS ONE 10, e0138032 (2015).

Li, H. et al. Reference component analysis of single-cell transcriptomes elucidates cellular heterogeneity in human colorectal tumors. Nat. Genet. 49, 708–718 (2017).

Fridlender, Z. G. et al. Polarization of tumor-associated neutrophil phenotype by TGF-beta: 'N1' versus 'N2' TAN. Cancer Cell 16, 183–194 (2009).

Cristofanilli, M. et al. Circulating tumor cells, disease progression, and survival in metastatic breast cancer. N. Engl. J. Med. 351, 781–791 (2004).

Labelle, M., Begum, S. & Hynes, R. O. Direct signaling between platelets and cancer cells induces an epithelial-mesenchymal-like transition and promotes metastasis. Cancer Cell 20, 576–590 (2011).

Rothstein, G. et al. Stimulation of neutrophil production in CSF-1-responsive clones. Blood 72, 898–902 (1988).

He, J. Q. et al. Association of genetic variations in the CSF2 and CSF3 genes with lung function in smoking-induced COPD. Eur. Respir. J. 32, 25–34 (2008).

Verri, W. A., Jr et al. IL-15 mediates antigen-induced neutrophil migration by triggering IL-18 production. Eur. J. Immunol. 37, 3373–3380 (2007).

Kacinski, B. M. et al. FMS (CSF-1 receptor) and CSF-1 transcripts and protein are expressed by human breast carcinomas in vivo and in vitro. Oncogene 6, 941–952 (1991).

McCracken, J. M. & Allen, L. A. Regulation of human neutrophil apoptosis and lifespan in health and disease. J. Cell Death 7, 15–23 (2014).

Canli, O. et al. Myeloid cell-derived reactive oxygen species induce epithelial mutagenesis. Cancer Cell 32, 869–883 (2017).

Alexandrov, L. B. et al. Signatures of mutational processes in human cancer. Nature 500, 415–421 (2013).

Wellenstein, M. D. & de Visser, K. E. Cancer-cell-intrinsic mechanisms shaping the tumor immune landscape. Immunity 48, 399–416 (2018).

Ramasamy, S. et al. Tle1 tumor suppressor negatively regulates inflammation in vivo and modulates NF-κB inflammatory pathway. Proc. Natl Acad. Sci. USA 113, 1871–1876 (2016).

Yu, M. et al. Cancer therapy. Ex vivo culture of circulating breast tumor cells for individualized testing of drug susceptibility. Science 345, 216–220 (2014).

Macaulay, I. C. et al. Separation and parallel sequencing of the genomes and transcriptomes of single cells using G&T-seq. Nat. Protocols 11, 2081–2103 (2016).

Chen, S. et al. Genome-wide CRISPR screen in a mouse model of tumor growth and metastasis. Cell 160, 1246–1260 (2015).

Li, H. Aligning sequence reads, clone sequences and assembly contigs with BWA-MEM. Preprint at https://arxiv.org/abs/1303.3997 (2013)
Acknowledgements
We thank all patients that donated blood for our study, as well as all involved clinicians and study nurses; J. Massagué (Memorial Sloan Kettering Cancer Center), D. Haber and S. Maheswaran (Massachusetts General Hospital and Harvard Medical School) for donating cell lines; G. Christofori for MMTV-PyMT mice and comments on the manuscript, and all members of the Aceto laboratory for feedback and discussions; K. Eschbach and E. Burcklen from the Genomics Facility Basel (D-BSSE of the ETH Zürich) for generating sequencing libraries and performing next-generation sequencing; S. Arnold (D-BSSE of the ETH Zürich) and S. Münst Soysal (University Hospital Basel) for support with sample acquisition and processing; and T. Ryser (Aceto laboratory, University of Basel) for help with CRISPR–Cas9-related experiments. Calculations were performed at sciCORE (http://scicore.unibas.ch/) scientific computing center of the University of Basel. Research in the Aceto laboratory is supported by the European Research Council, the Swiss National Science Foundation, the Swiss Cancer League, the Basel Cancer League, the two Cantons of Basel through the ETH Zürich and the University of Basel.
Reviewer information
Nature thanks K. Pantel and the other anonymous reviewer(s) for their contribution to the peer review of this work.
Ethics declarations
Competing interests
N.A. and B.M.S. are listed as inventors in patent applications that are related to CTC clusters and CTC–neutrophil clusters.
Additional information
Publisher's note: Springer Nature remains neutral with regard to jurisdictional claims in published maps and institutional affiliations.
Extended data figures and tables
Supplementary information
This file contains Supplementary Tables 1-5.
Micromanipulation and dissociation of a CTC cluster into single cells. The video shows the isolation of single cells from a CTC cluster through the use of a micromanipulator. The first cell is dissociated and isolated form a multicellular cluster, with this process being then repeated for each individual cell within the cluster. n=98.
About this article
Cite this article
Szczerba, B.M., Castro-Giner, F., Vetter, M. et al. Neutrophils escort circulating tumour cells to enable cell cycle progression. Nature 566, 553–557 (2019). https://doi.org/10.1038/s41586-019-0915-y
Received:

Accepted:

Published:

Issue Date:

DOI: https://doi.org/10.1038/s41586-019-0915-y
Comments
By submitting a comment you agree to abide by our Terms and Community Guidelines. If you find something abusive or that does not comply with our terms or guidelines please flag it as inappropriate.