Abstract
Most tumours have an aberrantly activated lipid metabolism1,2 that enables them to synthesize, elongate and desaturate fatty acids to support proliferation. However, only particular subsets of cancer cells are sensitive to approaches that target fatty acid metabolism and, in particular, fatty acid desaturation3. This suggests that many cancer cells contain an unexplored plasticity in their fatty acid metabolism. Here we show that some cancer cells can exploit an alternative fatty acid desaturation pathway. We identify various cancer cell lines, mouse hepatocellular carcinomas, and primary human liver and lung carcinomas that desaturate palmitate to the unusual fatty acid sapienate to support membrane biosynthesis during proliferation. Accordingly, we found that sapienate biosynthesis enables cancer cells to bypass the known fatty acid desaturation pathway that is dependent on stearoyl-CoA desaturase. Thus, only by targeting both desaturation pathways is the in vitro and in vivo proliferation of cancer cells that synthesize sapienate impaired. Our discovery explains metabolic plasticity in fatty acid desaturation and constitutes an unexplored metabolic rewiring in cancers.
Relevant articles
Open Access articles citing this article.
Haruki Uchino

,

Hiroshi Tsugawa

…

Makoto Arita

Communications Chemistry Open Access 19 December 2022

Hu Liu

,

Han Wang

…

Youjia Xu

Journal of Nanobiotechnology Open Access 19 November 2022

Zheng Li

,

Muxin Yue

…

Yongsheng Zhou

International Journal of Oral Science Open Access 15 November 2022
Access options
Subscribe to Nature+
Get immediate online access to Nature and 55 other Nature journal
Subscribe to Journal
Get full journal access for 1 year
$199.00
only $3.90 per issue
All prices are NET prices.
VAT will be added later in the checkout.
Tax calculation will be finalised during checkout.
Buy article
Get time limited or full article access on ReadCube.
$32.00
All prices are NET prices.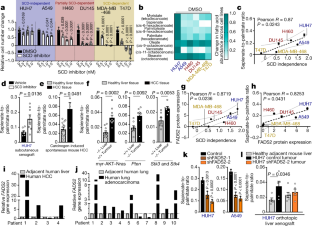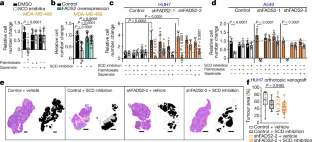 Data availability
The authors declare that all data supporting the findings of this study are available within the article, its Extended Data, Source Data or from the corresponding author upon reasonable request.
References
Elia, I., Schmieder, R., Christen, S. & Fendt, S.-M. in Metabolic Control (Handbook of Experimental Pharmacology vol. 233) (ed. Herzig, S.) 321–353 (Springer, Cham, 2015).

Röhrig, F. & Schulze, A. The multifaceted roles of fatty acid synthesis in cancer. Nat. Rev. Cancer 16, 732–749 (2016).

Peck, B. & Schulze, A. Lipid desaturation – the next step in targeting lipogenesis in cancer? FEBS J. 283, 2767–2778 (2016).

Ramtohul, Y. K. et al. SAR and optimization of thiazole analogs as potent stearoyl-CoA desaturase inhibitors. Bioorg. Med. Chem. Lett. 20, 1593–1597 (2010).

Ge, L., Gordon, J. S., Hsuan, C., Stenn, K. & Prouty, S. M. Identification of the Δ-6 desaturase of human sebaceous glands: expression and enzyme activity. J. Invest. Dermatol. 120, 707–714 (2003).

Prouty, S. M. & Pappas, A. in Lipids and Skin Health (ed. Pappas, A.) 139–157 (Springer, Cham, 2015).

Fischer, E. & Sauer, U. Large-scale in vivo flux analysis shows rigidity and suboptimal performance of Bacillus subtilis metabolism. Nat. Genet. 37, 636–640 (2005).

Zoeller, R. A. & Wood, R. The importance of the stearoyl-CoA desaturase system in octadecenoate metabolism in the Morris hepatoma 7288C. Biochim. Biophys. Acta 845, 380–388 (1985).

Currie, E., Schulze, A., Zechner, R., Walther, T. C. & Farese, R. V. Jr. Cellular fatty acid metabolism and cancer. Cell Metab. 18, 153–161 (2013).

Ackerman, D. & Simon, M. C. Hypoxia, lipids, and cancer: surviving the harsh tumor microenvironment. Trends Cell Biol. 24, 472–478 (2014).

Dall'Armi, C., Devereaux, K. A. & Di Paolo, G. The role of lipids in the control of autophagy. Curr. Biol. 23, R33–R45 (2013).

Fernández-García, J. & Fendt, S. M. Assessing the impact of the nutrient microenvironment on the metabolism of effector CD8+ T cells. Methods Mol. Biol. 1862, 187–216 (2019).

Tardito, S. et al. Glutamine synthetase activity fuels nucleotide biosynthesis and supports growth of glutamine-restricted glioblastoma. Nat. Cell Biol. 17, 1556–1568 (2015).

Christen, S. et al. Breast cancer-derived lung metastases show increased pyruvate carboxylase-dependent anaplerosis. Cell Rep. 17, 837–848 (2016).

Lorendeau, D. et al. Dual loss of succinate dehydrogenase (SDH) and complex I activity is necessary to recapitulate the metabolic phenotype of SDH mutant tumors. Metab. Eng. 43, 187–197 (2017).

Kharroubi, A. T., Masterson, T. M., Aldaghlas, T. A., Kennedy, K. A. & Kelleher, J. K. Isotopomer spectral analysis of triglyceride fatty acid synthesis in 3T3-L1 cells. Am. J. Physiol. 263, E667–E675 (1992).

Gunstone, F. D. Lipid Synthesis and Manufacture (Sheffield Academic, Sheffield, 1999).

Folch, J., Lees, M. & Sloane Stanley, G. H. A simple method for the isolation and purification of total lipides from animal tissues. J. Biol. Chem. 226, 497–509 (1957).

Holub, B. J. & Skeaff, C. M. Nutritional regulation of cellular phosphatidylinositol. Methods Enzymol. 141, 234–244 (1987).

Hodson, L., Skeaff, C. M., Wallace, A. J. & Arribas, G. L. Stability of plasma and erythrocyte fatty acid composition during cold storage. Clin. Chim. Acta 321, 63–67 (2002).

Marien, E. et al. Non-small cell lung cancer is characterized by dramatic changes in phospholipid profiles. Int. J. Cancer 137, 1539–1548 (2015).

Rysman, E. et al. De novo lipogenesis protects cancer cells from free radicals and chemotherapeutics by promoting membrane lipid saturation. Cancer Res. 70, 8117–8126 (2010).

Ekroos, K. et al. Charting molecular composition of phosphatidylcholines by fatty acid scanning and ion trap MS3 fragmentation. J. Lipid Res. 44, 2181–2192 (2003).

Owen, D. M., Rentero, C., Magenau, A., Abu-Siniyeh, A. & Gaus, K. Quantitative imaging of membrane lipid order in cells and organisms. Nat. Protoc. 7, 24–35 (2012).
Acknowledgements
We thank all patients and volunteers as well as J. van Pelt, I. Vander Elst and P. Windmolders for advice on the orthotopic injections and patient sample collection; F. Impens and D. Van Haver (VIB Proteomics Core); V. van Hoef (VIB-CCB Bioinformatics Expertise Center); and D. Nittner (VIB-CCB Histology Expertise Center). S.P. is supported by a VIB International PhD student fellowship. G.R. is supported by Kom op tegen Kanker and FWO fellowships. R.S., M.R., J.F.-G. and J.A.G.D. are supported by FWO fellowships. R.J.D., a Howard Hughes Medical Institute Investigator, Joel B. Steinberg, M.D. Chair in Pediatrics and Robert L. Moody, Sr. Faculty Scholar at UT Southwestern, are funded by CPRIT (RP160089) and the National Cancer Institute (R35CA22044901). T.G.P.G. is funded by the German Cancer Aid (DKH-111886, DKH-70112257), LMUexcellent, Bettina-Bräu-Stiftung, Dr. Leopold und Carmen Ellinger, Matthias-Lackas, Walter Schulz, Wilhelm Sander (2016.167.1), Gert & Susanna Mayer Foundations, and the Deutsche Forschungsgemeinschaft (DFG 391665916). S.-M.F. is funded by the European Research Council under the ERC Consolidator Grant Agreement n.771486–MetaRegulation and Marie Curie CIG n.617727–MetabolismConnect, FWO Odysseus II, KU Leuven Methusalem Co-funding, and Bayer AG.
Reviewer information
Nature thanks Andrew Hoy, Almut Schulze and the other anonymous reviewer(s) for their contribution to the peer review of this work.
Ethics declarations
Competing interests
A.H., C.C.K., A.S., P.S., S. Christian and S.G. have competing interests as employees of Bayer AG. K.-K.W. is a founder and equity holder of G1 Therapeutics and he has Consulting/Sponsored Research Agreements with AstraZeneca, Janssen, Pfizer, Array, Novartis, Merck, Takeda, Ono, Targimmune and BMS. S.-M.F. has received research funding from Bayer AG and Merck.
Additional information
Publisher's note: Springer Nature remains neutral with regard to jurisdictional claims in published maps and institutional affiliations.
Extended data figures and tables
Supplementary information
This file contains Supplementary Table 1.
This file contains Supplementary Table 2.
About this article
Cite this article
Vriens, K., Christen, S., Parik, S. et al. Evidence for an alternative fatty acid desaturation pathway increasing cancer plasticity. Nature 566, 403–406 (2019). https://doi.org/10.1038/s41586-019-0904-1
Received:

Accepted:

Published:

Issue Date:

DOI: https://doi.org/10.1038/s41586-019-0904-1
Comments
By submitting a comment you agree to abide by our Terms and Community Guidelines. If you find something abusive or that does not comply with our terms or guidelines please flag it as inappropriate.