Abstract
Small intestinal mononuclear cells that express CX3CR1 (CX3CR1+ cells) regulate immune responses1,2,3,4,5. CX3CR1+ cells take up luminal antigens by protruding their dendrites into the lumen1,2,3,4,6. However, it remains unclear how dendrite protrusion by CX3CR1+ cells is induced in the intestine. Here we show in mice that the bacterial metabolites pyruvic acid and lactic acid induce dendrite protrusion via GPR31 in CX3CR1+ cells. Mice that lack GPR31, which was highly and selectively expressed in intestinal CX3CR1+ cells, showed defective dendrite protrusions of CX3CR1+ cells in the small intestine. A methanol-soluble fraction of the small intestinal contents of specific-pathogen-free mice, but not germ-free mice, induced dendrite extension of intestinal CX3CR1+ cells in vitro. We purified a GPR31-activating fraction, and identified lactic acid. Both lactic acid and pyruvic acid induced dendrite extension of CX3CR1+ cells of wild-type mice, but not of Gpr31b−/− mice. Oral administration of lactate and pyruvate enhanced dendrite protrusion of CX3CR1+ cells in the small intestine of wild-type mice, but not in that of Gpr31b−/− mice. Furthermore, wild-type mice treated with lactate or pyruvate showed an enhanced immune response and high resistance to intestinal Salmonella infection. These findings demonstrate that lactate and pyruvate, which are produced in the intestinal lumen in a bacteria-dependent manner, contribute to enhanced immune responses by inducing GPR31-mediated dendrite protrusion of intestinal CX3CR1+ cells.
Access options
Subscribe to Journal
Get full journal access for 1 year
$199.00
only $3.90 per issue
All prices are NET prices.
VAT will be added later in the checkout.
Rent or Buy article
Get time limited or full article access on ReadCube.
from$8.99
All prices are NET prices.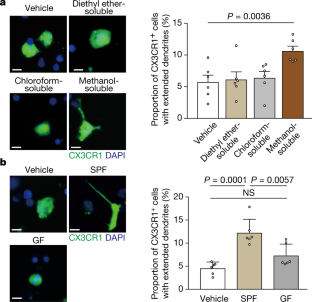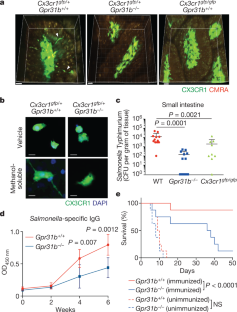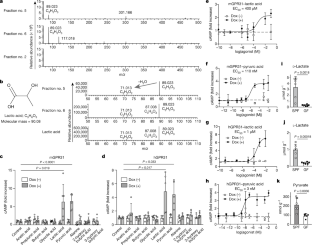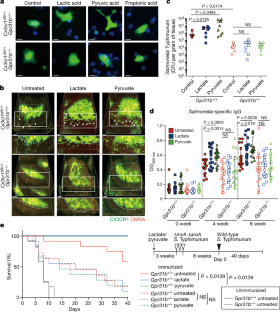 Data availability
The datasets generated during the current study are available from the corresponding author on reasonable request.
References
1.

Denning, T. L., Wang, Y. C., Patel, S. R., Williams, I. R. & Pulendran, B. Lamina propria macrophages and dendritic cells differentially induce regulatory and interleukin 17-producing T cell responses. Nat. Immunol. 8, 1086–1094 (2007).

2.

Medina-Contreras, O. et al. CX3CR1 regulates intestinal macrophage homeostasis, bacterial translocation, and colitogenic Th17 responses in mice. J. Clin. Invest. 121, 4787–4795 (2011).

3.

Diehl, G. E. et al. Microbiota restricts trafficking of bacteria to mesenteric lymph nodes by CX3CR1hi cells. Nature 494, 116–120 (2013).

4.

Zigmond, E. et al. Macrophage-restricted interleukin-10 receptor deficiency, but not IL-10 deficiency, causes severe spontaneous colitis. Immunity 40, 720–733 (2014).

5.

Leonardi, I. et al. CX3CR1+ mononuclear phagocytes control immunity to intestinal fungi. Science 359, 232–236 (2018).

6.

Niess, J. H. et al. CX3CR1-mediated dendritic cell access to the intestinal lumen and bacterial clearance. Science 307, 254–258 (2005).

7.

Chieppa, M., Rescigno, M., Huang, A. Y. & Germain, R. N. Dynamic imaging of dendritic cell extension into the small bowel lumen in response to epithelial cell TLR engagement. J. Exp. Med. 203, 2841–2852 (2006).

8.

Farache, J. et al. Luminal bacteria recruit CD103+ dendritic cells into the intestinal epithelium to sample bacterial antigens for presentation. Immunity 38, 581–595 (2013).

9.

Kim, K. W. et al. In vivo structure/function and expression analysis of the CX3C chemokine fractalkine. Blood 118, e156–e167 (2011).

10.

Maslowski, K. M. et al. Regulation of inflammatory responses by gut microbiota and chemoattractant receptor GPR43. Nature 461, 1282–1286 (2009).

11.

Thangaraju, M. et al. GPR109A is a G-protein-coupled receptor for the bacterial fermentation product butyrate and functions as a tumor suppressor in colon. Cancer Res. 69, 2826–2832 (2009).

12.

Kimura, I. et al. The gut microbiota suppresses insulin-mediated fat accumulation via the short-chain fatty acid receptor GPR43. Nat. Commun. 4, 1829 (2013).

13.

Cohen, L. J. et al. Functional metagenomic discovery of bacterial effectors in the human microbiome and isolation of commendamide, a GPCR G2A/132 agonist. Proc. Natl Acad. Sci. USA 112, E4825–E4834 (2015).

14.

Cohen, L. J. et al. Commensal bacteria make GPCR ligands that mimic human signalling molecules. Nature 549, 48–53 (2017).

15.

Guo, Y. et al. Identification of the orphan G protein-coupled receptor GPR31 as a receptor for 12-(S)-hydroxyeicosatetraenoic acid. J. Biol. Chem. 286, 33832–33840 (2011).

16.

Jung, S. et al. Analysis of fractalkine receptor CX3CR1 function by targeted deletion and green fluorescent protein reporter gene insertion. Mol. Cell. Biol. 20, 4106–4114 (2000).

17.

Adachi, O. et al. Targeted disruption of the MyD88 gene results in loss of IL-1- and IL-18-mediated function. Immunity 9, 143–150 (1998).

18.

Tanimoto, Y. et al. Embryonic stem cells derived from C57BL/6J and C57BL/6N mice. Comp. Med. 58, 347–352 (2008).

19.

Kimura, I. et al. Short-chain fatty acids and ketones directly regulate sympathetic nervous system via G protein-coupled receptor 41 (GPR41). Proc. Natl Acad. Sci. USA 108, 8030–8035 (2011).

20.

Uematsu, S. et al. Detection of pathogenic intestinal bacteria by Toll-like receptor 5 on intestinal CD11c+ lamina propria cells. Nat. Immunol. 7, 868–874 (2006).

21.

Atarashi, K. et al. ATP drives lamina propria TH17 cell differentiation. Nature 455, 808–812 (2008).

22.

Nakano, H. & Cook, D. N. Pulmonary antigen presenting cells: isolation, purification, and culture. Methods Mol. Biol. 1032, 19–29 (2013).

23.

Galán, J. E., Ginocchio, C. & Costeas, P. Molecular and functional characterization of the Salmonella invasion gene invA: homology of InvA to members of a new protein family. J. Bacteriol. 174, 4338–4349 (1992).

24.

Datsenko, K. A. & Wanner, B. L. One-step inactivation of chromosomal genes in Escherichia coli K-12 using PCR products. Proc. Natl Acad. Sci. USA 97, 6640–6645 (2000).
Acknowledgements
We thank F. Sugiyama (University of Tsukuba) for his kind gift of B6J-S1UTR embryonic stem cell line; T. Kamisako, M. Kumai, Y. Izumi, H. Ishizaki and Y. Ono (KAN Research Institute) for their kind supply of Cx3cl1−/− mice; T. Kondo and Y. Magota for technical assistance; and C. Hidaka for secretarial assistance. This study was supported by grants from the Ministry of Education, Culture, Sports, Science and Technology of Japan (15H02511 and 16K08838), and Japan Agency for Medical Research and Development (J170701434).
Ethics declarations
Competing interests
S.F., A.H. and R.N. are employees of Ono Pharmaceutical Co. Ltd. This does not alter the authors' adherence to all Nature policies on sharing data and materials.
Additional information
Publisher's note: Springer Nature remains neutral with regard to jurisdictional claims in published maps and institutional affiliations.
Extended data figures and tables
Supplementary information
About this article
Cite this article
Morita, N., Umemoto, E., Fujita, S. et al. GPR31-dependent dendrite protrusion of intestinal CX3CR1+ cells by bacterial metabolites. Nature 566, 110–114 (2019). https://doi.org/10.1038/s41586-019-0884-1
Received:

Accepted:

Published:

Issue Date:
Comments
By submitting a comment you agree to abide by our Terms and Community Guidelines. If you find something abusive or that does not comply with our terms or guidelines please flag it as inappropriate.