Abstract
The embryonic gut tube is a cylindrical structure from which the respiratory and gastrointestinal tracts develop1. Although the early emergence of the endoderm as an epithelial sheet2,3 and later morphogenesis of the definitive digestive and respiratory organs4,5,6 have been investigated, the intervening process of gut tube formation remains relatively understudied7,8. Here we investigate the molecular control of macroscopic forces underlying early morphogenesis of the gut tube in the chick embryo. The gut tube has been described as forming from two endodermal invaginations—the anterior intestinal portal (AIP) towards the rostral end of the embryo and the caudal intestinal portal (CIP) at the caudal end—that migrate towards one another, internalizing the endoderm until they meet at the yolk stalk (umbilicus in mammals)1,6. Migration of the AIP to form foregut has been descriptively characterized8,9, but the hindgut is likely to form by a distinct mechanism that has not been fully explained10. We find that the hindgut is formed by collective cell movements through a stationary CIP, rather than by movement of the CIP itself. Further, combining in vivo imaging, biophysics and mathematical modelling with molecular and embryological approaches, we identify a contractile force gradient that drives cell movements in the hindgut-forming endoderm, enabling tissue-scale posterior extension of the forming hindgut tube. The force gradient, in turn, is established in response to a morphogenic gradient of fibroblast growth factor signalling. As a result, we propose that an important positive feedback arises, whereby contracting cells draw passive cells from low to high fibroblast growth factor levels, recruiting them to contract and pull more cells into the elongating hindgut. In addition to providing insight into the early gut development, these findings illustrate how large-scale tissue level forces can be traced to developmental signals during vertebrate morphogenesis.
This is a preview of subscription content
Access options
Subscribe to Nature+
Get immediate online access to the entire Nature family of 50+ journals
Subscribe to Journal
Get full journal access for 1 year
$199.00
only $3.90 per issue
All prices are NET prices.
VAT will be added later in the checkout.
Tax calculation will be finalised during checkout.
Buy article
Get time limited or full article access on ReadCube.
$32.00
All prices are NET prices.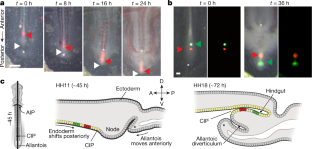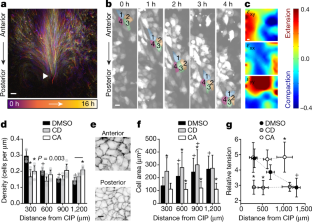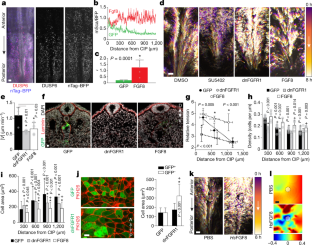 References
Gilbert, S. F. Developmental Biology 9th edn (Sinauer Associates, Sunderland, 2010).

Kwon, G. S., Viotti, M. & Hadjantonakis, A. K. The endoderm of the mouse embryo arises by dynamic widespread intercalation of embryonic and extraembryonic lineages. Dev. Cell 15, 509–520 (2008).

Keller, R. Cell migration during gastrulation. Curr. Opin. Cell Biol. 17, 533–541 (2005).

Shyer, A. E., Huycke, T. R., Lee, C., Mahadevan, L. & Tabin, C. J. Bending gradients: how the intestinal stem cell gets its home. Cell 161, 569–580 (2015).

Kim, H. Y. et al. Localized smooth muscle differentiation is essential for epithelial bifurcation during branching morphogenesis of the mammalian lung. Dev. Cell 34, 1–8 (2015).

Zorn, A. M. & Wells, J. M. Vertebrate endoderm development and organ formation. Annu. Rev. Cell Dev. Biol. 25, 221–251 (2009).

Le Douarin, N. M. Etude expérimentale de l'organogenèse du tube digestif et du foie chez l'embryon de poulet. PhD thesis, Universit́e Paris (1964).

Stalsberg, H. & DeHaan, R. L. Endodermal movements during foregut formation in the chick embryo. Dev. Biol. 18, 198–215 (1968).

Seidl, W. & Steding, G. Topogenesis of the anterior intestinal port. Microkinematographic investigations on chick embryos. Anat. Embryol. (Berl.) 155, 37–45 (1978).

Gruenwald, P. Normal and abnormal detachment of body and gut from the blastoderm in the chick embryo, with remarks on the early development of the allantois. J. Morphol. 69, 83–125 (1941).

Hamburger, V. & Hamilton, H. L. A series of normal stages in the development of the chick embryo. J. Morphol. 88, 49–92 (1951).

Bellairs, R. & Osmond, M. Atlas of Chick Development 3rd edn (Academic Press, Cambridge, 2014).

Rosenquist, G. C. The location of the pregut endoderm in the chick embryo at the primitive streak stage as determined by radioautographic mapping. Dev. Biol. 26, 323–335 (1971).

Lawson, K. A., Meneses, J. J. & Pedersen, R. A. Cell fate and cell lineage in the endoderm of the presomite mouse embryo, studied with an intracellular tracer. Dev. Biol. 115, 325–339 (1986).

Matsushita, S. Fate mapping study of the endoderm in the posterior part of the 1.5-day-old chick embryo. Dev. Growth Differ. 41, 313–319 (1999).

Franklin, V. et al. Regionalisation of the endoderm progenitors and morphogenesis of the gut portals of the mouse embryo. Mech. Dev. 125, 587–600 (2008).

Friedl, P. & Gilmour, D. Collective cell migration in morphogenesis, regeneration and cancer. Nat. Rev. Mol. Cell Biol. 10, 445–457 (2009).

Varner, V. D., Voronov, D. A. & Taber, L. A. Mechanics of head fold formation: investigating tissue-level forces during early development. Development 137, 3801–3811 (2010).

Taber, L. A. Nonlinear Theory of Elasticity : Applications in Biomechanics (World Scientific, Singapore, 2004).

Zamir, E. A. & Taber, L. A. On the effects of residual stress in microindentation tests of soft tissue structures. J. Biomech. Eng. 126, 276–283 (2004).

Lecaudey, V., Cakan-Akdogan, G., Norton, W. H. J. & Gilmour, D. Dynamic Fgf signaling couples morphogenesis and migration in the zebrafish lateral line primordium. Development 135, 2695–2705 (2008).

Ernst, S. et al. Shroom3 is required downstream of FGF signalling to mediate proneuromast assembly in zebrafish. Development 139, 4571–4581 (2012).

Sai, X. et al. FGF signaling regulates cytoskeletal remodeling during epithelial morphogenesis. Curr. Biol. 18, 976–981 (2008).

Bénazéraf, B. et al. A random cell motility gradient downstream of FGF controls elongation of an amniote embryo. Nature 466, 248–252 (2010).

Harding, M. J. & Nechiporuk, V. Fgfr–Ras–MAPK signaling is required for apical constriction via apical positioning of Rho-associated kinase during mechanosensory organ formation. Development 139, 3467–3467 (2012).

Sato, A. et al. FGF8 signaling is chemotactic for cardiac neural crest cells. Dev. Biol. 354, 18–30 (2011).

Dubrulle, J., McGrew, M. J. & Pourquié, O. FGF signaling controls somite boundary position and regulates segmentation clock control of spatiotemporal Hox gene activation. Cell 106, 219–232 (2001).

Mathis, L., Kulesa, P. M. & Fraser, S. E. FGF receptor signalling is required to maintain neural progenitors during Hensen's node progression. Nat. Cell Biol. 3, 559–566 (2001).

Yu, S. R. et al. Fgf8 morphogen gradient forms by a source-sink mechanism with freely diffusing molecules. Nature 461, 533–536 (2009).

Dubrulle, J. & Pourquié, O. fgf8 mRNA decay establishes a gradient that couples axial elongation to patterning in the vertebrate embryo. Nature 427, 419–422 (2004).

Yang, X., Dormann, D., Münsterberg, A. E. & Weijer, C. J. Cell movement patterns during gastrulation in the chick are controlled by positive and negative chemotaxis mediated by FGF4 and FGF8. Dev. Cell 3, 425–437 (2002).
Acknowledgements
We thank M. Hutson for the dnFGFR1-IRES-GFP plasmid, P. Tschopp and O. Pourquié for valuable discussions, microscopy core MicRoN (Microscopy Resources on the North Quad) at Harvard Medical School, and Sigrid Knemeyer of SciStories LLC for artwork. We acknowledge funding support from the NIH (F32 HD069074, N.L.N.; F32 DK103563, C.L.; R01 HD089934, C.J.T.) and the MacArthur Foundation (L.M.).
Reviewer information
Nature thanks D. Gilmour, N. Nascone-Yoder, K. Weijer and the other anonymous reviewer(s) for their contribution to the peer review of this work.
Ethics declarations
Competing interests
The authors declare no competing interests.
Additional information
Publisher's note: Springer Nature remains neutral with regard to jurisdictional claims in published maps and institutional affiliations.
Extended data figures and tables
Supplementary information
About this article
Cite this article
Nerurkar, N.L., Lee, C., Mahadevan, L. et al. Molecular control of macroscopic forces drives formation of the vertebrate hindgut. Nature 565, 480–484 (2019). https://doi.org/10.1038/s41586-018-0865-9
Received:

Accepted:

Published:

Issue Date:

DOI: https://doi.org/10.1038/s41586-018-0865-9
Comments
By submitting a comment you agree to abide by our Terms and Community Guidelines. If you find something abusive or that does not comply with our terms or guidelines please flag it as inappropriate.