Abstract
The biochemical response to food intake must be precisely regulated. Because ingested sugars and fats can feed into many anabolic and catabolic pathways1, how our bodies handle nutrients depends on strategically positioned metabolic sensors that link the intrinsic nutritional value of a meal with intermediary metabolism. Here we describe a subset of immune cells—integrin β7+ natural gut intraepithelial T lymphocytes (natural IELs)—that is dispersed throughout the enterocyte layer of the small intestine and that modulates systemic metabolism. Integrin β7− mice that lack natural IELs are metabolically hyperactive and, when fed a high-fat and high-sugar diet, are resistant to obesity, hypercholesterolaemia, hypertension, diabetes and atherosclerosis. Furthermore, we show that protection from cardiovascular disease in the absence of natural IELs depends on the enteroendocrine-derived incretin GLP-12, which is normally controlled by IELs through expression of the GLP-1 receptor. In this metabolic control system, IELs modulate enteroendocrine activity by acting as gatekeepers that limit the bioavailability of GLP-1. Although the function of IELs may prove advantageous when food is scarce, present-day overabundance of diets high in fat and sugar renders this metabolic checkpoint detrimental to health.
Access options
Subscribe to Journal
Get full journal access for 1 year
$199.00
only $3.90 per issue
All prices are NET prices.
VAT will be added later in the checkout.
Tax calculation will be finalised during checkout.
Rent or Buy article
Get time limited or full article access on ReadCube.
from$8.99
All prices are NET prices.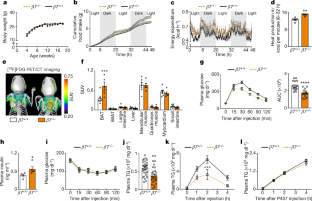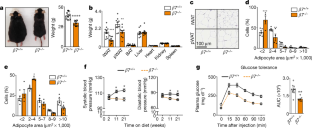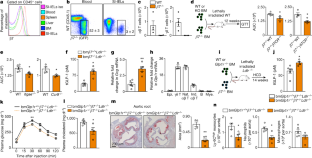 References
1.

Begg, D. P. & Woods, S. C. The endocrinology of food intake. Nat. Rev. Endocrinol. 9, 584–597 (2013).

2.

Drucker, D. J. The cardiovascular biology of glucagon-like peptide-1. Cell Metab. 24, 15–30 (2016).

3.

Cerf-Bensussan, N., Bègue, B., Gagnon, J. & Meo, T. The human intraepithelial lymphocyte marker HML-1 is an integrin consisting of a β7 subunit associated with a distinctive α chain. Eur. J. Immunol. 22, 273–277 (1992).

4.

Cheroutre, H., Lambolez, F. & Mucida, D. The light and dark sides of intestinal intraepithelial lymphocytes. Nat. Rev. Immunol. 11, 445–456 (2011).

5.

Holzmann, B., McIntyre, B. W. & Weissman, I. L. Identification of a murine Peyer's patch—specific lymphocyte homing receptor as an integrin molecule with an α chain homologous to human VLA-4α. Cell 56, 37–46 (1989).

6.

Holzmann, B. & Weissman, I. L. Peyer's patch-specific lymphocyte homing receptors consist of a VLA-4-like α chain associated with either of two integrin β chains, one of which is novel. EMBO J. 8, 1735–1741 (1989).

7.

Parker, C. M. et al. A family of β7 integrins on human mucosal lymphocytes. Proc. Natl Acad. Sci. USA 89, 1924–1928 (1992).

8.

Gorfu, G., Rivera-Nieves, J. & Ley, K. Role of β7 integrins in intestinal lymphocyte homing and retention. Curr. Mol. Med. 9, 836–850 (2009).

9.

Buck, M. D., Sowell, R. T., Kaech, S. M. & Pearce, E. L. Metabolic instruction of immunity. Cell 169, 570–586 (2017).

10.

Johnson, A. M. & Olefsky, J. M. The origins and drivers of insulin resistance. Cell 152, 673–684 (2013).

11.

Lumeng, C. N. & Saltiel, A. R. Inflammatory links between obesity and metabolic disease. J. Clin. Invest. 121, 2111–2117 (2011).

12.

Odegaard, J. I. & Chawla, A. The immune system as a sensor of the metabolic state. Immunity 38, 644–654 (2013).

13.

Swirski, F. K. & Nahrendorf, M. Leukocyte behavior in atherosclerosis, myocardial infarction, and heart failure. Science 339, 161–166 (2013).

14.

Swirski, F. K. et al. Ly-6Chi monocytes dominate hypercholesterolemia-associated monocytosis and give rise to macrophages in atheromata. J. Clin. Invest. 117, 195–205 (2007).

15.

Hilgendorf, I. & Swirski, F. K. Making a difference: monocyte heterogeneity in cardiovascular disease. Curr. Atheroscler. Rep. 14, 450–459 (2012).

16.

Berlin, C. et al. α4β7 integrin mediates lymphocyte binding to the mucosal vascular addressin MAdCAM-1. Cell 74, 185–195 (1993).

17.

Wagner, N. et al. Critical role for β7 integrins in formation of the gut-associated lymphoid tissue. Nature 382, 366–370 (1996).

18.

Schön, M. P. et al. Mucosal T lymphocyte numbers are selectively reduced in integrin αE (CD103)-deficient mice. J. Immunol. 162, 6641–6649 (1999).

19.

Uehara, S., Grinberg, A., Farber, J. M. & Love, P. E. A role for CCR9 in T lymphocyte development and migration. J. Immunol. 168, 2811–2819 (2002).

20.

Lycke, N. Y. & Bemark, M. The regulation of gut mucosal IgA B-cell responses: recent developments. Mucosal Immunol. 10, 1361–1374 (2017).

21.

Fagarasan, S. & Honjo, T. Intestinal IgA synthesis: regulation of front-line body defences. Nat. Rev. Immunol. 3, 63–72 (2003).

22.

Baggio, L. L. & Drucker, D. J. Biology of incretins: GLP-1 and GIP. Gastroenterology 132, 2131–2157 (2007).

23.

Kahles, F. et al. GLP-1 secretion is increased by inflammatory stimuli in an IL-6-dependent manner, leading to hyperinsulinemia and blood glucose lowering. Diabetes 63, 3221–3229 (2014).

24.

Marso, S. P. et al. Liraglutide and cardiovascular outcomes in type 2 diabetes. N. Engl. J. Med. 375, 311–322 (2016).

25.

Marso, S. P. et al. Semaglutide and cardiovascular outcomes in patients with type 2 diabetes. N. Engl. J. Med. 375, 1834–1844 (2016).

26.

Yusta, B. et al. GLP-1R agonists modulate enteric immune responses through the intestinal intraepithelial lymphocyte GLP-1R. Diabetes 64, 2537–2549 (2015).

27.

Lamont, B. J. et al. Pancreatic GLP-1 receptor activation is sufficient for incretin control of glucose metabolism in mice. J. Clin. Invest. 122, 388–402 (2012).

28.

Arakawa, M. et al. Inhibition of monocyte adhesion to endothelial cells and attenuation of atherosclerotic lesion by a glucagon-like peptide-1 receptor agonist, exendin-4. Diabetes 59, 1030–1037 (2010).

29.

Nagashima, M. et al. Native incretins prevent the development of atherosclerotic lesions in apolipoprotein E knockout mice. Diabetologia 54, 2649–2659 (2011).

30.

Kim, M. et al. GLP-1 receptor activation and Epac2 link atrial natriuretic peptide secretion to control of blood pressure. Nat. Med. 19, 567–575 (2013).
Acknowledgements
This work was supported by NIH grants R35 HL135752, R01 HL128264, P01 HL131478, the AHA EIA and the Patricia and Scott Eston MGH Research Scholar (to F.K.S.). S.H. was supported by an AHA Postdoctoral Award (16POST27250124); F.K. and W.C.P. by the German Research Foundation (DFG); S.R. was supported by a postdoctoral fellowship from the Swedish Research Council; M. Nairz was supported by a FWF Erwin Schroedinger Fellowship (J3486-B13); J.E.M. was supported by a NIH training grant (T32 AI118692); L.H. was supported by a Boehringer Ingelheim Fonds MD Fellowship; and D.J.D. was supported by a CIHR grant 154321, the Canada Research Chairs program and a BBDC-Novo Nordisk Chair in Incretin biology. We thank K. Joyes for copy-editing the manuscript.
Reviewer information
Nature thanks D. Mucida, F. Reimann and the other anonymous reviewer(s) for their contribution to the peer review of this work.
Ethics declarations
Competing interests
The General Hospital Corporation has filed a US patent application 62/771,668 with the US Patent and Trademark office entitled 'Targeting intraepithelial leukocytes for treatment of cardiometabolic diseases', which names F.K.S. and S.H. as inventors. D.J.D. has served as an advisor or consultant to Intarcia, Forkhead Biopharmaceuticals Inc., Kallyope Inc., Merck Research Laboratories, Pfizer Inc., Novo Nordisk Inc. and Zafgen Inc. Mount Sinai receives funding from GSK, Merck and Novo Nordisk for GLP-1-related studies in the Drucker laboratory.
Additional information
Publisher's note: Springer Nature remains neutral with regard to jurisdictional claims in published maps and institutional affiliations.
Extended data figures and tables
Supplementary information
About this article
Cite this article
He, S., Kahles, F., Rattik, S. et al. Gut intraepithelial T cells calibrate metabolism and accelerate cardiovascular disease. Nature 566, 115–119 (2019). https://doi.org/10.1038/s41586-018-0849-9
Received:

Accepted:

Published:

Issue Date:
Comments
By submitting a comment you agree to abide by our Terms and Community Guidelines. If you find something abusive or that does not comply with our terms or guidelines please flag it as inappropriate.