Abstract
Regulatory T cells (Treg cells), a distinct subset of CD4+ T cells, are necessary for the maintenance of immune self-tolerance and homeostasis1,2. Recent studies have demonstrated that Treg cells exhibit a unique metabolic profile, characterized by an increase in mitochondrial metabolism relative to other CD4+ effector subsets3,4. Furthermore, the Treg cell lineage-defining transcription factor, Foxp3, has been shown to promote respiration5,6; however, it remains unknown whether the mitochondrial respiratory chain is required for the T cell-suppression capacity, stability and survival of Treg cells. Here we report that Treg cell-specific ablation of mitochondrial respiratory chain complex III in mice results in the development of fatal inflammatory disease early in life, without affecting Treg cell number. Mice that lack mitochondrial complex III specifically in Treg cells displayed a loss of T cell-suppression capacity without altering Treg cell proliferation and survival. Treg cells deficient in complex III showed decreased expression of genes associated with Treg function, whereas Foxp3 expression remained stable. Loss of complex III in Treg cells increased DNA methylation as well as the metabolites 2-hydroxyglutarate (2-HG) and succinate that inhibit the ten-eleven translocation (TET) family of DNA demethylases7. Thus, Treg cells require mitochondrial complex III to maintain immune regulatory gene expression and suppressive function.
Relevant articles
Open Access articles citing this article.
Cheng-Liang Kuo

,

Ananth Ponneri Babuharisankar

…

Alan Yueh-Luen Lee

Journal of Biomedical Science Open Access 26 September 2022

Allison Hanaford

&

Simon C. Johnson

Orphanet Journal of Rare Diseases Open Access 02 September 2022

Jianyun Jiang

&

Hongmei Ying

Journal of Experimental & Clinical Cancer Research Open Access 13 August 2022
Access options
Subscribe to Nature+
Get immediate online access to the entire Nature family of 50+ journals
Subscribe to Journal
Get full journal access for 1 year
$199.00
only $3.90 per issue
All prices are NET prices.
VAT will be added later in the checkout.
Tax calculation will be finalised during checkout.
Buy article
Get time limited or full article access on ReadCube.
$32.00
All prices are NET prices.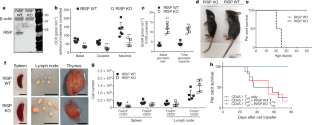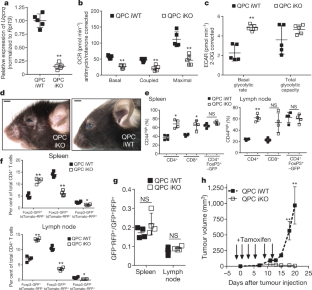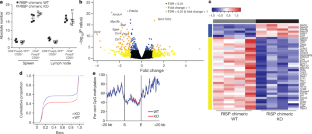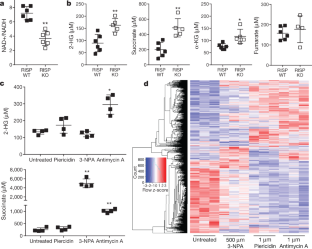 Data availability
All RNA-seq and DNA methylation data have been deposited in the Gene Expression Omnibus (GEO) under accession code GSE120452. All other data from the manuscript are available from the corresponding author on request.
References
Lu, L., Barbi, J. & Pan, F. The regulation of immune tolerance by FOXP3. Nat. Rev. Immunol. 17, 703–717 (2017).

Josefowicz, S. Z., Lu, L.-F.  & Rudensky, A. Y. Regulatory T cells: mechanisms of differentiation and function. Annu. Rev. Immunol. 30, 531–564 (2012).

Gerriets, V. A. et al. Metabolic programming and PDHK1 control CD4+ T cell subsets and inflammation. J. Clin. Invest. 125, 194–207 (2014).

Michalek, R. D. et al. Cutting edge: distinct glycolytic and lipid oxidative metabolic programs are essential for effector and regulatory CD4+ T cell subsets. J. Immunol. 186, 3299–3303 (2011).

Gerriets, V. A. et al. Foxp3 and Toll-like receptor signaling balance Treg cell anabolic metabolism for suppression. Nat. Immunol. 17, 1459–1466 (2016).

Angelin, A. et al. Foxp3 reprograms T cell metabolism to function in low-glucose, high-lactate environments. Cell Metab. 25, 1282–1293 (2017).

Pastor, W. A., Aravind, L. & Rao, A. TETonic shift: biological roles of TET proteins in DNA demethylation and transcription. Nat. Rev. Mol. Cell Biol. 14, 341–356 (2013).

Sena, L. A. et al. Mitochondria are required for antigen-specific T cell activation through reactive oxygen species signaling. Immunity 38, 225–236 (2013).

Rubtsov, Y. P. et al. Regulatory T cell-derived interleukin-10 limits inflammation at environmental interfaces. Immunity 28, 546–558 (2008).

Brunkow, M. E. et al. Disruption of a new forkhead/winged-helix protein, scurfin, results in the fatal lymphoproliferative disorder of the scurfy mouse. Nat. Genet. 27, 68–73 (2001).

Liston, A. et al. Lack of Foxp3 function and expression in the thymic epithelium. J. Exp. Med. 204, 475–480 (2007).

Fontenot, J. D., Gavin, M. A. & Rudensky, A. Y. Foxp3 programs the development and function of CD4+CD25+ regulatory T cells. Nat. Immunol. 4, 330–336 (2003).

Delgoffe, G. M. et al. Stability and function of regulatory T cells is maintained by a neuropilin-1–semaphorin-4a axis. Nature 501, 252–256 (2013).

Zhang, B., Chikuma, S., Hori, S., Fagarasan, S. & Honjo, T. Nonoverlapping roles of PD-1 and FoxP3 in maintaining immune tolerance in a novel autoimmune pancreatitis mouse model. Proc. Natl Acad. Sci. USA 113, 8490–8495 (2016).

Sauer, A. V. et al. Alterations in the adenosine metabolism and CD39/CD73 adenosinergic machinery cause loss of Treg cell function and autoimmunity in ADA-deficient SCID. Blood 119, 1428–1439 (2012).

Joller, N. et al. Treg cells expressing the coinhibitory molecule TIGIT selectively inhibit proinflammatory Th1 and Th17 cell responses. Immunity 40, 569–581 (2014).

Shalev, I. et al. Targeted deletion of fgl2 leads to impaired regulatory T cell activity and development of autoimmune glomerulonephritis. J. Immunol. 180, 249–260 (2008).

Ohkura, N. et al. T cell receptor stimulation-induced epigenetic changes and Foxp3 expression are independent and complementary events required for Treg cell development. Immunity 37, 785–799 (2012).

Ohkura, N., Kitagawa, Y. & Sakaguchi, S. Development and maintenance of regulatory T cells. Immunity 38, 414–423 (2013).

McGrath-Morrow, S. A. et al. DNA methylation regulates the neonatal CD4+ T-cell response to pneumonia in mice. J. Biol. Chem. 293, 11772–11783 (2018).

Kitagawa, Y. et al. Guidance of regulatory T cell development by Satb1-dependent super-enhancer establishment. Nat. Immunol. 18, 173–183 (2016).

Ansó, E. et al. The mitochondrial respiratory chain is essential for haematopoietic stem cell function. Nat. Cell Biol. 19, 614–625 (2017).

Oldham, W. M., Clish, C. B., Yang, Y. & Loscalzo, J. Hypoxia-mediated increases in l-2-hydroxyglutarate coordinate the metabolic response to reductive stress. Cell Metab. 22, 291–303 (2015).

Intlekofer, A. M. et al. Hypoxia induces production of l-2-hydroxyglutarate. Cell Metab. 22, 304–311 (2015).

Mullen, A. R. et al. Oxidation of alpha-ketoglutarate is required for reductive carboxylation in cancer cells with mitochondrial defects. Cell Reports 7, 1679–1690 (2014).

Tyrakis, P. A. et al. S-2-hydroxyglutarate regulates CD8+ T-lymphocyte fate. Nature 540, 236–241 (2016).

Xu, W. et al. Oncometabolite 2-hydroxyglutarate is a competitive inhibitor of α-ketoglutarate-dependent dioxygenases. Cancer Cell 19, 17–30 (2011).

Xiao, M. et al. Inhibition of α-KG-dependent histone and DNA demethylases by fumarate and succinate that are accumulated in mutations of FH and SDH tumor suppressors. Genes Dev. 26, 1326–1338 (2012).

Collison, L. W. & Vignali, D. A. A. In vitro Treg suppression assays. Methods Mol. Biol. 707, 21–37 (2011).

Schmittgen, T. D. & Livak, K. J. Analyzing real-time PCR data by the comparative C T method. Nat. Protoc. 3, 1101–1108 (2008).

Trapnell, C., Pachter, L. & Salzberg, S. L. TopHat: discovering splice junctions with RNA-Seq. Bioinformatics 25, 1105–1111 (2009).

Anders, S., Pyl, P. T. & Huber, W. HTSeq—a Python framework to work with high-throughput sequencing data. Bioinformatics 31, 166–169 (2015).

Robinson, M. D., McCarthy, D. J. & Smyth, G. K. edgeR: a Bioconductor package for differential expression analysis of digital gene expression data. Bioinformatics 26, 139–140 (2010).

Subramanian, A. et al. Gene set enrichment analysis: a knowledge-based approach for interpreting genome-wide expression profiles. Proc. Natl Acad. Sci. USA 102, 15545–15550 (2005).

Hill, J. A. et al. Foxp3 transcription-factor-dependent and -independent regulation of the regulatory T cell transcriptional signature. Immunity 27, 786–800 (2007).

Meissner, A. et al. Reduced representation bisulfite sequencing for comparative high-resolution DNA methylation analysis. Nucleic Acids Res. 33, 5868–5877 (2005).

Krueger, F. & Andrews, S. R. Bismark: a flexible aligner and methylation caller for Bisulfite-Seq applications. Bioinformatics 27, 1571–1572 (2011).

Feng, H., Conneely, K. N. & Wu, H. A Bayesian hierarchical model to detect differentially methylated loci from single nucleotide resolution sequencing data. Nucleic Acids Res. 42, e69 (2014).

Workman, C. J. et al. In vivo Treg suppression assays. Methods Mol. Biol. 707, 119–156 (2011).
Acknowledgements
We thank Robert H. Lurie Cancer Center Flow Cytometry facility and Metabolomics Core, and the High Throughput RNA-Seq Center, within the Division of Pulmonary and Critical Care and the Mouse Histology and Phenotyping Laboratory at Northwestern University. We thank K. Nam for processing of RNA sequencing samples. This research was supported in part through the computational resources and staff contributions provided by Quest high performance computing cluster. This work was supported by the NIH (R35CA197532, 5P01AG049665, 5P01HL071643) to N.S.C., and NIH (T32 T32HL076139) to S.E.W. B.D.S was supported by NIH K08HL128867 and the Francis Family Foundation's Parker B. Francis Research Opportunity Award. E.M.S is a Cancer Research Institute Irvington Fellow supported by the Cancer Research Institute.
Reviewer information
Nature thanks R. Johnson and the other anonymous reviewer(s) for their contribution to the peer review of this work.
Ethics declarations
Competing interests
The authors declare no competing interests.
Additional information
Publisher's note Springer Nature remains neutral with regard to jurisdictional claims in published maps and institutional affiliations.
Extended data figures and tables
Supplementary information
This file contains uncropped images with size marker indications.
About this article
Cite this article
Weinberg, S.E., Singer, B.D., Steinert, E.M. et al. Mitochondrial complex III is essential for suppressive function of regulatory T cells. Nature 565, 495–499 (2019). https://doi.org/10.1038/s41586-018-0846-z
Received:

Accepted:

Published:

Issue Date:

DOI: https://doi.org/10.1038/s41586-018-0846-z
Comments
By submitting a comment you agree to abide by our Terms and Community Guidelines. If you find something abusive or that does not comply with our terms or guidelines please flag it as inappropriate.