Abstract
Apical growth in plants initiates upon seed germination, whereas radial growth is primed only during early ontogenesis in procambium cells and activated later by the vascular cambium1. Although it is not known how radial growth is organized and regulated in plants, this system resembles the developmental competence observed in some animal systems, in which pre-existing patterns of developmental potential are established early on2,3. Here we show that in Arabidopsis the initiation of radial growth occurs around early protophloem-sieve-element cell files of the root procambial tissue. In this domain, cytokinin signalling promotes the expression of a pair of mobile transcription factors—PHLOEM EARLY DOF 1 (PEAR1) and PHLOEM EARLY DOF 2 (PEAR2)—and their four homologues (DOF6, TMO6, OBP2 and HCA2), which we collectively name PEAR proteins. The PEAR proteins form a short-range concentration gradient that peaks at protophloem sieve elements, and activates gene expression that promotes radial growth. The expression and function of PEAR proteins are antagonized by the HD-ZIP III proteins, well-known polarity transcription factors4—the expression of which is concentrated in the more-internal domain of radially non-dividing procambial cells by the function of auxin, and mobile miR165 and miR166 microRNAs. The PEAR proteins locally promote transcription of their inhibitory HD-ZIP III genes, and thereby establish a negative-feedback loop that forms a robust boundary that demarks the zone of cell division. Taken together, our data establish that during root procambial development there exists a network in which a module that links PEAR and HD-ZIP III transcription factors integrates spatial information of the hormonal domains and miRNA gradients to provide adjacent zones of dividing and more-quiescent cells, which forms a foundation for further radial growth.
Relevant articles
Open Access articles citing this article.
Y. Fridman

,

S. Strauss

…

S. Savaldi-Goldstein

Nature Plants Open Access 15 November 2021
Access options
Subscribe to Nature+
Get immediate online access to Nature and 55 other Nature journal
Subscribe to Journal
Get full journal access for 1 year
$199.00
only $3.90 per issue
All prices are NET prices.
VAT will be added later in the checkout.
Tax calculation will be finalised during checkout.
Buy article
Get time limited or full article access on ReadCube.
$32.00
All prices are NET prices.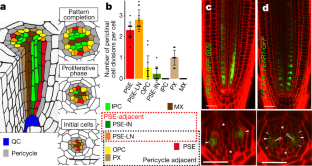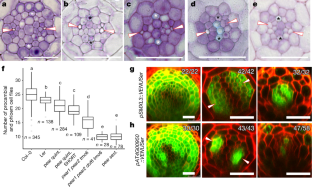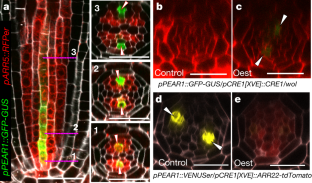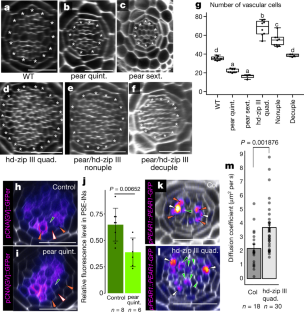 Data availability
All lines and data supporting the findings of this study are available from the corresponding authors upon request. The transcriptomics data files are available at Gene Expression Omnibus (GEO), under accession number GSE115183. A list of putative direct targets of PEAR1 and/or PEAR2 with their description as well as individual P values for Tukey's HSD test and two-sided Student's t-test are provided as Supplementary Information.
References
Esau, K. Vascular Differentiation in Plants (Holt, Rinehart and Winston, New York, 1965).

Crick, F. H. & Lawrence, P. A. Compartments and polyclones in insect development. Science 189, 340–347 (1975).

Dickson, B., Sprenger, F. & Hafen, E. Prepattern in the developing Drosophila eye revealed by an activated torso–sevenless chimeric receptor. Genes Dev. 6, 2327–2339 (1992).

McConnell, J. R. et al. Role of PHABULOSA and PHAVOLUTA in determining radial patterning in shoots. Nature 411, 709–713 (2001).

Mähönen, A. P. et al. A novel two-component hybrid molecule regulates vascular morphogenesis of the Arabidopsis root. Genes Dev. 14, 2938–2943 (2000).

Mähönen, A. P. et al. Cytokinin signaling and its inhibitor AHP6 regulate cell fate during vascular development. Science 311, 94–98 (2006).

Bishopp, A. et al. A mutually inhibitory interaction between auxin and cytokinin specifies vascular pattern in roots. Curr. Biol. 21, 917–926 (2011).

De Rybel, B. et al. Plant development. Integration of growth and patterning during vascular tissue formation in Arabidopsis. Science 345, 1255215 (2014).

Vatén, A. et al. Callose biosynthesis regulates symplastic trafficking during root development. Dev. Cell 21, 1144–1155 (2011).

Brady, S. M. et al. A high-resolution root spatiotemporal map reveals dominant expression patterns. Science 318, 801–806 (2007).

Yanagisawa, S. The Dof family of plant transcription factors. Trends Plant Sci. 7, 555–560 (2002).

Kim, H. S. et al. The DOF transcription factor Dof5.1 influences leaf axial patterning by promoting Revoluta transcription in Arabidopsis. Plant J. 64, 524–535 (2010).

Skirycz, A. et al. DOF transcription factor AtDof1.1 (OBP2) is part of a regulatory network controlling glucosinolate biosynthesis in Arabidopsis. Plant J. 47, 10–24 (2006).

Rueda-Romero, P., Barrero-Sicilia, C., Gómez-Cadenas, A., Carbonero, P. & Oñate-Sánchez, L. Arabidopsis thaliana DOF6 negatively affects germination in non-after-ripened seeds and interacts with TCP14. J. Exp. Bot. 63, 1937–1949 (2012).

Guo, Y., Qin, G., Gu, H. & Qu, L. J. Dof5.6/HCA2, a Dof transcription factor gene, regulates interfascicular cambium formation and vascular tissue development in Arabidopsis. Plant Cell 21, 3518–3534 (2009).

Schlereth, A. et al. MONOPTEROS controls embryonic root initiation by regulating a mobile transcription factor. Nature 464, 913–916 (2010).

Wallner, E. S. et al. Strigolactone- and karrikin-independent SMXL proteins are central regulators of phloem formation. Curr. Biol. 27, 1241–1247 (2017).

Siligato, R. et al. MultiSite gateway-compatible cell type-specific gene-inducible system for plants. Plant Physiol. 170, 627–641 (2016).

Mähönen, A. P. et al. Cytokinins regulate a bidirectional phosphorelay network in Arabidopsis. Curr. Biol. 16, 1116–1122 (2006).

Kiba, T., Aoki, K., Sakakibara, H. & Mizuno, T. Arabidopsis response regulator, ARR22, ectopic expression of which results in phenotypes similar to the wol cytokinin-receptor mutant. Plant Cell Physiol. 45, 1063–1077 (2004).

Prigge, M. J. et al. Class III homeodomain-leucine zipper gene family members have overlapping, antagonistic, and distinct roles in Arabidopsis development. Plant Cell 17, 61–76 (2005).

Carlsbecker, A. et al. Cell signalling by microRNA165/6 directs gene dose-dependent root cell fate. Nature 465, 316–321 (2010).

Miyashima, S., Koi, S., Hashimoto, T. & Nakajima, K. Non-cell-autonomous microRNA165 acts in a dose-dependent manner to regulate multiple differentiation status in the Arabidopsis root. Development 138, 2303–2313 (2011).

Baima, S. et al. The expression of the Athb-8 homeobox gene is restricted to provascular cells in Arabidopsis thaliana. Development 121, 4171–4182 (1995).

Donner, T. J., Sherr, I. & Scarpella, E. Regulation of preprocambial cell state acquisition by auxin signaling in Arabidopsis leaves. Development 136, 3235–3246 (2009).

O'Malley, R. C. et al. Cistrome and epicistrome features shape the regulatory DNA landscape. Cell 165, 1280–1292 (2016).

Gaudinier, A. et al. Enhanced Y1H assays for Arabidopsis. Nat. Methods 8, 1053–1055 (2011).

Muraro, D. et al. Integration of hormonal signaling networks and mobile microRNAs is required for vascular patterning in Arabidopsis roots. Proc. Natl Acad. Sci. USA 111, 857–862 (2014).

Mellor, N. et al. Theoretical approaches to understanding root vascular patterning: a consensus between recent models. J. Exp. Bot. 68, 5–16 (2017).

De Rybel, B., Mähönen, A. P., Helariutta, Y. & Weijers, D. Plant vascular development: from early specification to differentiation. Nat. Rev. Mol. Cell Biol. 17, 30–40 (2016).

Fauser, F., Schiml, S. & Puchta, H. Both CRISPR/Cas-based nucleases and nickases can be used efficiently for genome engineering in Arabidopsis thaliana. Plant J. 79, 348–359 (2014).

Lei, Y. et al. CRISPR-P: a web tool for synthetic single-guide RNA design of CRISPR-system in plants. Mol. Plant 7, 1494–1496 (2014).

Wysocka-Diller, J. W., Helariutta, Y., Fukaki, H., Malamy, J. E. & Benfey, P. N. Molecular analysis of SCARECROW function reveals a radial patterning mechanism common to root and shoot. Development 127, 595–603 (2000).

Kurihara, D., Mizuta, Y., Sato, Y. & Higashiyama, T. ClearSee: a rapid optical clearing reagent for whole-plant fluorescence imaging. Development 142, 4168–4179 (2015).

Pound, M. P., French, A. P., Wells, D. M., Bennett, M. J. & Pridmore, T. P. CellSeT: novel software to extract and analyze structured networks of plant cells from confocal images. Plant Cell 24, 1353–1361 (2012).

Hashimoto, K., Miyashima, S., Sato-Nara, K., Yamada, T. & Nakajima, K. Functionally diversified members of the MIR165/6 gene family regulate ovule morphogenesis in Arabidopsis thaliana. Plant Cell Physiol. 59, 1017–1026 (2018).

Hejátko, J. et al. In situ hybridization technique for mRNA detection in whole mount Arabidopsis samples. Nat. Protocols 1, 1939–1946 (2006).

Wickham, H. & Sievert, C. ggplot2: Elegant Graphics for Data Analysis, 2nd edn (Springer, New York, 2016).

De Rybel, B. et al. A bHLH complex controls embryonic vascular tissue establishment and indeterminate growth in Arabidopsis. Dev. Cell 24, 426–437 (2013).

Oparka, K. J., Duckett, C. M., Prior, D. A. M. & Fisher, D. B. Real-time imaging of phloem unloading in the root tip of Arabidopsis. Plant J. 6, 759–766 (1994).

Clark, N. M. et al. Tracking transcription factor mobility and interaction in Arabidopsis roots with fluorescence correlation spectroscopy. eLife 5, e14770 (2016).

Clark, N. M. & Sozzani, R. Measuring protein movement, oligomerization state, and protein-protein interaction in Arabidopsis roots using scanning fluorescence correlation spectroscopy (scanning FCS). Methods Mol. Biol. 1610, 251–266 (2017).

O'Lexy, R. et al. Exposure to heavy metal stress triggers changes in plasmodesmatal permeability via deposition and breakdown of callose. J. Exp. Bot. 69, 3715–3728 (2018).

Digman, M. A. et al. Measuring fast dynamics in solutions and cells with a laser scanning microscope. Biophys. J. 89, 1317–1327 (2005

Digman, M. A. & Gratton, E. Analysis of diffusion and binding in cells using the RICS approach. Microsc. Res. Tech. 72, 323–332 (2009).
Acknowledgements
We thank E. Scarpella, ABRC and NASC for materials, K. Kainulainen, K. Blajecka, M. Herpola and A. Mainardi for technical assistance, N. Clark for assisting with the scanning FCS analysis, J. Jansen for technical assistance with microarray hybridizations, O. Kambur and L. Kalmbach for assistance in generating the heat map, and D. Weijers and T. Kakimoto for helpful discussions, A. Groenheide, E. Cornelissen, M. Chu, A. Korppoo and A. Rodriguez Diez for technical support. This works was supported by Finnish Centre of Excellence in Molecular Biology of Primary Producers (Academy of Finland CoE program 2014-2019) decision #271832, the Gatsby Foundation (GAT3395/PR3)), University of Helsinki (award 799992091) and the European Research Council Advanced Investigator Grant SYMDEV (No. 323052) to Y.H., a NSF-BBSRC MCSB 1517058 to R. Sozzani and Y.H., an ERC Consolidator grant (PLANTSTEMS), a Heisenberg Professorship of the German Research Foundation (DFG, GR2104/5-1) and the SFB 873 (DFG) to T.G., the Netherlands Organization for Scientific Research (NWO; VIDI-864.13.001) and The Research Foundation - Flanders (FWO; Odysseus II G0D0515N and 12D1815N) to W.S. and B.D.R., respectively, a JSPS postdoctoral fellowship for research abroad and JSPS KAKENHI Grant (17K15138) to S.M., Swiss National Science Foundation Postdoc Mobility Grant (P300P3_147894) to P.R., a JSPS Research Fellowship for Young Scientists and JSPS KAKENHI Grant (JP16J00131) to K.T., Bayer Science and Education Foundation, German Academic Exchange Service (DAAD) to B.B., The Finnish Academy of Science to J.-o.H., and Herchel Smith Postdoctoral Research Fellowship (Herchel Smith Fund) to S.O.
Reviewer information
Nature thanks S. Sabatini, S. Turner and the other anonymous reviewer(s) for their contribution to the peer review of this work.
Ethics declarations
Competing interests
The authors declare no competing interests.
Additional information
Publisher's note: Springer Nature remains neutral with regard to jurisdictional claims in published maps and institutional affiliations.
Extended data figures and tables
Supplementary information
About this article
Cite this article
Miyashima, S., Roszak, P., Sevilem, I. et al. Mobile PEAR transcription factors integrate positional cues to prime cambial growth. Nature 565, 490–494 (2019). https://doi.org/10.1038/s41586-018-0839-y
Received:

Accepted:

Published:

Issue Date:

DOI: https://doi.org/10.1038/s41586-018-0839-y
Comments
By submitting a comment you agree to abide by our Terms and Community Guidelines. If you find something abusive or that does not comply with our terms or guidelines please flag it as inappropriate.