Abstract
Wood, a type of xylem tissue, originates from cell proliferation of the vascular cambium. Xylem is produced inside, and phloem outside, of the cambium1. Morphogenesis in plants is typically coordinated by organizer cells that direct the adjacent stem cells to undergo programmed cell division and differentiation. The location of the vascular cambium stem cells and whether the organizer concept applies to the cambium are currently unknown2. Here, using lineage-tracing and molecular genetic studies in the roots of Arabidopsis thaliana, we show that cells with a xylem identity direct adjacent vascular cambial cells to divide and function as stem cells. Thus, these xylem-identity cells constitute an organizer. A local maximum of the phytohormone auxin, and consequent expression of CLASS III HOMEODOMAIN-LEUCINE ZIPPER (HD-ZIP III) transcription factors, promotes xylem identity and cellular quiescence of the organizer cells. Additionally, the organizer maintains phloem identity in a non-cell-autonomous fashion. Consistent with this dual function of the organizer cells, xylem and phloem originate from a single, bifacial stem cell in each radial cell file, which confirms the classical theory of a uniseriate vascular cambium3. Clones that display high levels of ectopically activated auxin signalling differentiate as xylem vessels; these clones induce cell divisions and the expression of cambial and phloem markers in the adjacent cells, which suggests that a local auxin-signalling maximum is sufficient to specify a stem-cell organizer. Although vascular cambium has a unique function among plant meristems, the stem-cell organizer of this tissue shares features with the organizers of root and shoot meristems.
Relevant articles
Open Access articles citing this article.
Nadeeshani Karannagoda

,

Antanas Spokevicius

…

Gerd Bossinger

Plant Molecular Biology Open Access 16 March 2022

Anmol Krishna

,

Jason Gardiner

…

Enrico Scarpella

BMC Biology Open Access 24 September 2021

Wan-Feng Li

,

Li-Wang Qi

&

Wen-Hua Yang

Journal of Plant Growth Regulation Open Access 22 July 2021
Access options
Subscribe to Nature+
Get immediate online access to the entire Nature family of 50+ journals
Subscribe to Journal
Get full journal access for 1 year
$199.00
only $3.90 per issue
All prices are NET prices.
VAT will be added later in the checkout.
Tax calculation will be finalised during checkout.
Buy article
Get time limited or full article access on ReadCube.
$32.00
All prices are NET prices.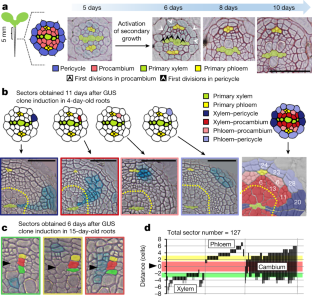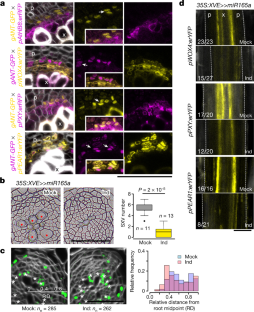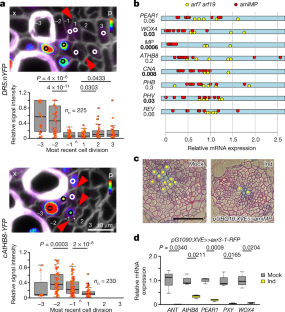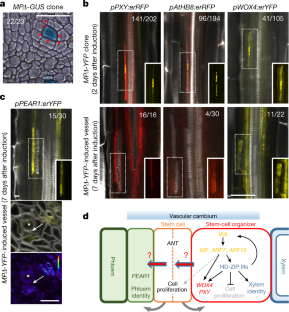 Data availability
Gene accession numbers of all the Arabidopsis genes analysed in this study are listed above. Source Data related to Fig. 2b, c, 3a, b, d and Extended Data Figs. 3d, 4a, c, d, 6a–e, 7b, f, g, 8a–e, 9f are provided with the paper. All lines and other data supporting the findings of this study are available from the corresponding author upon request.
References
Larson, P. R. The Vascular Cambium: Development and Structure (Springer, Berlin, 1994).

Greb, T. & Lohmann, J. U. Plant stem cells. Curr. Biol. 26, R816–R821 (2016).

Sanio, C. Anatomie der gemeinen Kiefer (Pinus silvestris L.) ll. Entwickelungsgeschichte der Holzzellen. Jahrb. Wiss. Bot. 9, 50–128 (1873).

Evert, R. F. & Eichhorn, S. E. Esau's plant anatomy: Meristems, Cells, and Tissues of the Plant Body—their Structure, Function and Development, 3rd edn (John Wiley & Sons, Hoboken, 2006).

Chaffey, N., Cholewa, E., Regan, S. & Sundberg, B. Secondary xylem development in Arabidopsis: a model for wood formation. Physiol. Plant. 114, 594–600 (2002).

Wunderling, A. et al. A molecular framework to study periderm formation in Arabidopsis. New Phytol. 219, 216–229 (2018).

Atta, R. et al. Pluripotency of Arabidopsis xylem pericycle underlies shoot regeneration from root and hypocotyl explants grown in vitro. Plant J. 57, 626–644 (2009).

Carlsbecker, A. et al. Cell signalling by microRNA165/6 directs gene dose-dependent root cell fate. Nature 465, 316–321 (2010).

Ohashi-Ito, K. & Fukuda, H. HD-Zip III homeobox genes that include a novel member, ZeHB-13 (Zinnia)/ATHB-15 (Arabidopsis), are involved in procambium and xylem cell differentiation. Plant Cell Physiol. 44, 1350–1358 (2003).

Baima, S. et al. The Arabidopsis ATHB-8 HD-zip protein acts as a differentiation-promoting transcription factor of the vascular meristems. Plant Physiol. 126, 643–655 (2001).

Robischon, M., Du, J., Miura, E. & Groover, A. The Populus class III HD ZIP, popREVOLUTA, influences cambium initiation and patterning of woody stems. Plant Physiol. 155, 1214–1225 (2011).

Siligato, R. et al. MultiSite gateway-compatible cell type-specific gene-inducible system for plants. Plant Physiol. 170, 627–641 (2016).

Mallory, A. C. et al. MicroRNA control of PHABULOSA in leaf development: importance of pairing to the microRNA 5′ region. EMBO J. 23, 3356–3364 (2004).

Hirakawa, Y., Kondo, Y. & Fukuda, H. TDIF peptide signaling regulates vascular stem cell proliferation via the WOX4 homeobox gene in Arabidopsis. Plant Cell 22, 2618–2629 (2010).

Fisher, K. & Turner, S. PXY, a receptor-like kinase essential for maintaining polarity during plant vascular-tissue development. Curr. Biol. 17, 1061–1066 (2007).

Lee, J. Y. et al. Transcriptional and posttranscriptional regulation of transcription factor expression in Arabidopsis roots. Proc. Natl Acad. Sci. USA 103, 6055–6060 (2006).

Miyashima, S. et al. Mobile PEAR transcription factors integrate positional cues to prime cambial growth. Nature https://doi.org/10.1038/s41586-018-0839-y (2019).

Ursache, R. et al. Tryptophan-dependent auxin biosynthesis is required for HD-ZIP III-mediated xylem patterning. Development 141, 1250–1259 (2014).

Donner, T. J., Sherr, I. & Scarpella, E. Regulation of preprocambial cell state acquisition by auxin signaling in Arabidopsis leaves. Development 136, 3235–3246 (2009).

Uggla, C., Moritz, T., Sandberg, G. & Sundberg, B. Auxin as a positional signal in pattern formation in plants. Proc. Natl Acad. Sci. USA 93, 9282–9286 (1996).

Immanen, J. et al. Cytokinin and auxin display distinct but interconnected distribution and signaling profiles to stimulate cambial activity. Curr. Biol. 26, 1990–1997 (2016).

Weijers, D. & Wagner, D. Transcriptional responses to the auxin hormone. Annu. Rev. Plant Biol. 67, 539–574 (2016).

Przemeck, G. K., Mattsson, J., Hardtke, C. S., Sung, Z. R. & Berleth, T. Studies on the role of the Arabidopsis gene MONOPTEROS in vascular development and plant cell axialization. Planta 200, 229–237 (1996).

Brackmann, K. et al. Spatial specificity of auxin responses coordinates wood formation. Nat. Commun. 9, 875 (2018).

Berleth, T. & Jurgens, G. The role of the monopteros gene in organising the basal body region of the Arabidopsis embryo. Development 118, 575–587 (1993).

Mähönen, A. P. et al. PLETHORA gradient formation mechanism separates auxin responses. Nature 515, 125–129 (2014).

Krogan, N. T., Ckurshumova, W., Marcos, D., Caragea, A. E. & Berleth, T. Deletion of MP/ARF5 domains III and IV reveals a requirement for Aux/IAA regulation in Arabidopsis leaf vascular patterning. New Phytol. 194, 391–401 (2012).

Kubo, M. et al. Transcription switches for protoxylem and metaxylem vessel formation. Genes Dev. 19, 1855–1860 (2005).

Sabatini, S. et al. An auxin-dependent distal organizer of pattern and polarity in the Arabidopsis root. Cell 99, 463–472 (1999).

Nieminen, K., Blomster, T., Helariutta, Y. & Mähönen, A. P. Vascular cambium development. Arabidopsis Book 13, e0177 (2015).

Emery, J. F. et al. Radial patterning of Arabidopsis shoots by class III HD-ZIP and KANADI genes. Curr. Biol. 13, 1768–1774 (2003).

Heidstra, R., Welch, D. & Scheres, B. Mosaic analyses using marked activation and deletion clones dissect Arabidopsis SCARECROW action in asymmetric cell division. Genes Dev. 18, 1964–1969 (2004).

Wu, M. F., Tian, Q. & Reed, J. W. Arabidopsis microRNA167 controls patterns of ARF6 and ARF8 expression, and regulates both female and male reproduction. Development 133, 4211–4218 (2006).

Karimi, M., Depicker, A. & Hilson, P. Recombinational cloning with plant gateway vectors. Plant Physiol. 145, 1144–1154 (2007).

Prigge, M. J. et al. Class III homeodomain-leucine zipper gene family members have overlapping, antagonistic, and distinct roles in Arabidopsis development. Plant Cell 17, 61–76 (2005).

Okushima, Y. et al. Functional genomic analysis of the AUXIN RESPONSE FACTOR gene family members in Arabidopsis thaliana: unique and overlapping functions of ARF7 and ARF19. Plant Cell 17, 444–463 (2005).

Sawchuk, M. G., Edgar, A. & Scarpella, E. Patterning of leaf vein networks by convergent auxin transport pathways. PLoS Genet. 9, e1003294 (2013).

Friml, J. et al. Efflux-dependent auxin gradients establish the apical–basal axis of Arabidopsis. Nature 426, 147–153 (2003).

Liao, C. Y. et al. Reporters for sensitive and quantitative measurement of auxin response. Nat. Methods 12, 207–210 (2015).

Baesso, B. et al. Transcription factors PRE3 and WOX11 are involved in the formation of new lateral roots from secondary growth taproot in A. thaliana. Plant Biol. 20, 426–432 (2018).

Suer, S., Agusti, J., Sanchez, P., Schwarz, M. & Greb, T. WOX4 imparts auxin responsiveness to cambium cells in Arabidopsis. Plant Cell 23, 3247–3259 (2011).

Vidaurre, D. P., Ploense, S., Krogan, N. T. & Berleth, T. AMP1 and MP antagonistically regulate embryo and meristem development in Arabidopsis. Development 134, 2561–2567 (2007).

Wilmoth, J. C. et al. NPH4/ARF7 and ARF19 promote leaf expansion and auxin-induced lateral root formation. Plant J. 43, 118–130 (2005).

Bonke, M., Thitamadee, S., Mähönen, A. P., Hauser, M. T. & Helariutta, Y. APL regulates vascular tissue identity in Arabidopsis. Nature 426, 181–186 (2003).

Zhong, R., Lee, C., Zhou, J., McCarthy, R. L. & Ye, Z. H. A battery of transcription factors involved in the regulation of secondary cell wall biosynthesis in Arabidopsis. Plant Cell 20, 2763–2782 (2008).

Baima, S. et al. The expression of the Athb-8 homeobox gene is restricted to provascular cells in Arabidopsis thaliana. Development 121, 4171–4182 (1995).

Idänheimo, N. et al. The Arabidopsis thaliana cysteine-rich receptor-like kinases CRK6 and CRK7 protect against apoplastic oxidative stress. Biochem. Biophys. Res. Commun. 445, 457–462 (2014).

Kurihara, D., Mizuta, Y., Sato, Y. & Higashiyama, T. ClearSee: a rapid optical clearing reagent for whole-plant fluorescence imaging. Development 142, 4168–4179 (2015).

Kotogany, E., Dudits, D., Horvath, G. V. & Ayaydin, F. A rapid and robust assay for detection of S-phase cell cycle progression in plant cells and tissues by using ethynyl deoxyuridine. Plant. Methods 6, 5 (2010).

Randall, R. S. et al. AINTEGUMENTA and the D-type cyclin CYCD3;1 regulate root secondary growth and respond to cytokinins. Biol. Open 4, 1229–1236 (2015).

Liebsch, D. et al. Class I KNOX transcription factors promote differentiation of cambial derivatives into xylem fibers in the Arabidopsis hypocotyl. Development 141, 4311–4319 (2014).

Czechowski, T., Stitt, M., Altmann, T., Udvardi, M. K. & Scheible, W. R. Genome-wide identification and testing of superior reference genes for transcript normalization in Arabidopsis. Plant Physiol. 139, 5–17 (2005).

Vandesompele, J. et al. Accurate normalization of real-time quantitative RT-PCR data by geometric averaging of multiple internal control genes. Genome Biol. 3, RESEARCH0034 (2002).

Livak, K. J. & Schmittgen, T. D. Analysis of relative gene expression data using real-time quantitative PCR and the 2−ΔΔC T method. Methods 25, 402–408 (2001).

Yang, W., Wightman, R. & Meyerowitz, E. M. Cell cycle control by nuclear sequestration of CDC20 and CDH1 mRNA in plant stem cells. Mol. Cell 68, 1108–1119 (2017).

Mähönen, A. P. et al. Cytokinin signaling and its inhibitor AHP6 regulate cell fate during vascular development. Science 311, 94–98 (2006).

Colón-Carmona, A., You, R., Haimovitch-Gal, T. & Doerner, P. Technical advance: spatio-temporal analysis of mitotic activity with a labile cyclin–GUS fusion protein. Plant J. 20, 503–508 (1999).

Bishopp, A. et al. A mutually inhibitory interaction between auxin and cytokinin specifies vascular pattern in roots. Curr. Biol. 21, 917–926 (2011).

De Rybel, B. et al. Integration of growth and patterning during vascular tissue formation in Arabidopsis. Science 345, 1255215 (2014).

Ohashi-Ito, K. et al. A bHLH complex activates vascular cell division via cytokinin action in root apical meristem. Curr. Biol. 24, 2053–2058 (2014).

Matsumoto-Kitano, M. et al. Cytokinins are central regulators of cambial activity. Proc. Natl Acad. Sci. USA 105, 20027–20031 (2008).
Acknowledgements
We thank T. Berleth, A. Carlsbecker, T. Greb, P. Ramachandran, E. Scarpella and D. Weijers for sharing published material; A.-M. Bågman, M. Herpola and J. Smetana for technical assistance; W. Yang for helping with the in situ protocol; and S. el-Showk, P. Etchells, Y. Helariutta, S. Otero and B. Scheres for constructive comments. This work was supported by the Academy of Finland (grants #132376, #266431, #271832), University of Helsinki HiLIFE fellowship (O.S., R.M., M.L., A.S.G., F.S.R., M.L.G., R.S., T.B., S.B. and A.P.M.), Erasmus+ (F.S.R. and M.L.G.), and US National Science Foundation grant IOS-0744874 (M.-F.W. and J.W.R.).
Reviewer information
Nature thanks T. Beeckman, H. Fukuda and J. Lohmann for their contribution to the peer review of this work.
Ethics declarations
Competing interests
The authors declare no competing interests.
Additional information
Publisher's note: Springer Nature remains neutral with regard to jurisdictional claims in published maps and institutional affiliations.
Extended data figures and tables
Supplementary information
This file contains Supplementary Tables S1-S8. Full table descriptions are found in separate Supplementary tables guide
This file contains the full Supplementary Tables Guide with descriptions
About this article
Cite this article
Smetana, O., Mäkilä, R., Lyu, M. et al. High levels of auxin signalling define the stem-cell organizer of the vascular cambium. Nature 565, 485–489 (2019). https://doi.org/10.1038/s41586-018-0837-0
Received:

Accepted:

Published:

Issue Date:

DOI: https://doi.org/10.1038/s41586-018-0837-0
Comments
By submitting a comment you agree to abide by our Terms and Community Guidelines. If you find something abusive or that does not comply with our terms or guidelines please flag it as inappropriate.