Abstract
Activation of the mesolimbic dopamine system reinforces goal-directed behaviours. With repetitive stimulation—for example, by chronic drug abuse—the reinforcement may become compulsive and intake continues even in the face of major negative consequences. Here we gave mice the opportunity to optogenetically self-stimulate dopaminergic neurons and observed that only a fraction of mice persevered if they had to endure an electric shock. Compulsive lever pressing was associated with an activity peak in the projection terminals from the orbitofrontal cortex (OFC) to the dorsal striatum. Although brief inhibition of OFC neurons temporarily relieved compulsive reinforcement, we found that transmission from the OFC to the striatum was permanently potentiated in persevering mice. To establish causality, we potentiated these synapses in vivo in mice that stopped optogenetic self-stimulation of dopamine neurons because of punishment; this led to compulsive lever pressing, whereas depotentiation in persevering mice had the converse effect. In summary, synaptic potentiation of transmission from the OFC to the dorsal striatum drives compulsive reinforcement, a defining symptom of addiction.
Access options
Subscribe to Journal
Get full journal access for 1 year
$199.00
only $3.90 per issue
All prices are NET prices.
VAT will be added later in the checkout.
Tax calculation will be finalised during checkout.
Rent or Buy article
Get time limited or full article access on ReadCube.
from$8.99
All prices are NET prices.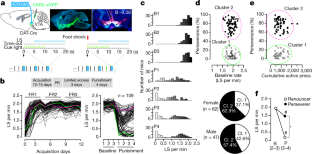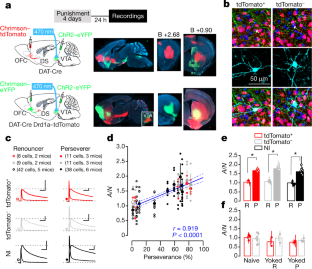 References
1.

Lüscher, C. & Ungless, M. A. The mechanistic classification of addictive drugs. PLoS Med. 3, e437 (2006).

2.

Di Chiara, G. et al. Dopamine and drug addiction: the nucleus accumbens shell connection. Neuropharmacology 47, 227–241 (2004).

3.

Keiflin, R. & Janak, P. H. Dopamine Prediction errors in reward learning and addiction: from theory to neural circuitry. Neuron 88, 247–263 (2015).

4.

Koob, G. F. Antireward, compulsivity, and addiction: seminal contributions of Dr. Athina Markou to motivational dysregulation in addiction. Psychopharmacology 234, 1315–1332 (2017).

5.

Smith, R. J. & Laiks, L. S. Behavioral and neural mechanisms underlying habitual and compulsive drug seeking. Prog. Neuropsychopharmacol. Biol. Psychiatry 87, 11–21 (2018).

6.

Vanderschuren, L. J. M. J. & Everitt, B. J. Behavioral and neural mechanisms of compulsive drug seeking. Eur. J. Pharmacol. 526, 77–88 (2005).

7.

Volkow, N. D., Koob, G. F. & McLellan, A. T. Neurobiologic advances from the brain disease model of addiction. N. Engl. J. Med. 374, 363–371 (2016).

8.

Dalley, J. W., Everitt, B. J. & Robbins, T. W. Impulsivity, compulsivity, and top-down cognitive control. Neuron 69, 680–694 (2011).

9.

Yücel, M. et al. A transdiagnostic dimensional approach towards a neuropsychological assessment for addiction: an international Delphi consensus study. Addiction https://doi.org/10.1111/add.14424 (2018).

10.

Everitt, B. J. & Robbins, T. W. Neural systems of reinforcement for drug addiction: from actions to habits to compulsion. Nat. Neurosci. 8, 1481–1489 (2005).

11.

Vandaele, Y. & Janak, P. H. Defining the place of habit in substance use disorders. Prog. Neuropsychopharmacol. Biol. Psychiatry 87, 22–32 (2017)

12.

Everitt, B. J. & Robbins, T. W. Drug addiction: updating actions to habits to compulsions ten years on. Annu. Rev. Psychol. 67, 23–50 (2016).

13.

McCracken, C. B. & Grace, A. A. Persistent cocaine-induced reversal learning deficits are associated with altered limbic cortico-striatal local field potential synchronization. J. Neurosci. 33, 17469–17482 (2013).

14.

Chen, B. T. et al. Rescuing cocaine-induced prefrontal cortex hypoactivity prevents compulsive cocaine seeking. Nature 496, 359–362 (2013).

15.

Jonkman, S., Pelloux, Y. & Everitt, B. J. Differential roles of the dorsolateral and midlateral striatum in punished cocaine seeking. J. Neurosci. 32, 4645–4650 (2012).

16.

Pascoli, V. et al. Sufficiency of mesolimbic dopamine neuron stimulation for the progression to addiction. Neuron 88, 1054–1066 (2015).

17.

Guillem, K. & Ahmed, S. H. Preference for cocaine is represented in the orbitofrontal cortex by an increased proportion of cocaine use-coding neurons. Cereb. Cortex 28, 819–832 (2018).

18.

Lucantonio, F., Stalnaker, T. A., Shaham, Y., Niv, Y. & Schoenbaum, G. The impact of orbitofrontal dysfunction on cocaine addiction. Nat. Neurosci. 15, 358–366 (2012).

19.

Lucantonio, F. et al. Effects of prior cocaine versus morphine or heroin self-administration on extinction learning driven by overexpectation versus omission of reward. Biol. Psychiatry 77, 912–920 (2015).

20.

Schoenbaum, G., Chang, C. Y., Lucantonio, F. & Takahashi, Y. K. Thinking outside the box: orbitofrontal cortex, imagination, and how we can treat addiction. Neuropsychopharmacology 41, 2966–2976 (2016).

21.

Brown, M. T. C., Korn, C. & Lüscher, C. Mimicking synaptic effects of addictive drugs with selective dopamine neuron stimulation. Channels 5, 461–463 (2011).

22.

Sciamanna, G., Ponterio, G., Mandolesi, G., Bonsi, P. & Pisani, A. Optogenetic stimulation reveals distinct modulatory properties of thalamostriatal vs corticostriatal glutamatergic inputs to fast-spiking interneurons. Sci. Rep. 5, 16742 (2015).

23.

Gerfen, C. R. et al. D1 and D2 dopamine receptor-regulated gene expression of striatonigral and striatopallidal neurons. Science 250, 1429–1432 (1990).

24.

Grueter, B. A., Brasnjo, G. & Malenka, R. C. Postsynaptic TRPV1 triggers cell type-specific long-term depression in the nucleus accumbens. Nat. Neurosci. 13, 1519–1525 (2010).

25.

Pascoli, V., Turiault, M. & Lüscher, C. Reversal of cocaine-evoked synaptic potentiation resets drug-induced adaptive behaviour. Nature 481, 71–75 (2012).

26.

Shen, W., Flajolet, M., Greengard, P. & Surmeier, D. J. Dichotomous dopaminergic control of striatal synaptic plasticity. Science 321, 848–851 (2008).

27.

Pelloux, Y., Everitt, B. J. & Dickinson, A. Compulsive drug seeking by rats under punishment: effects of drug taking history. Psychopharmacology 194, 127–137 (2007).

28.

Kasanetz, F. et al. Transition to addiction is associated with a persistent impairment in synaptic plasticity. Science 328, 1709–1712 (2010).

29.

Lucantonio, F. et al. Orbitofrontal activation restores insight lost after cocaine use. Nat. Neurosci. 17, 1092–1099 (2014).

30.

Padoa-Schioppa, C. & Conen, K. E. Orbitofrontal cortex: a neural circuit for economic decisions. Neuron 96, 736–754 (2017).

31.

Ungless, M. A., Whistler, J. L., Malenka, R. C. & Bonci, A. Single cocaine exposure in vivo induces long-term potentiation in dopamine neurons. Nature 411, 583–587 (2001).

32.

Pascoli, V. et al. Contrasting forms of cocaine-evoked plasticity control components of relapse. Nature 509, 459–464 (2014).

33.

Terrier, J., Lüscher, C. & Pascoli, V. Cell-type specific insertion of GluA2-lacking AMPARs with cocaine exposure leading to sensitization, cue-induced seeking, and incubation of craving. Neuropsychopharmacology 41, 1779–1789 (2016).

34.

Hearing, M., Graziane, N., Dong, Y. & Thomas, M. J. Opioid and psychostimulant plasticity: targeting overlap in nucleus accumbens glutamate signaling. Trends Pharmacol. Sci. 39, 276–294 (2018).

35.

Lüscher, C. The emergence of a circuit model for addiction. Annu. Rev. Neurosci. 39, 257–276 (2016).

36.

Wolf, M. E. Synaptic mechanisms underlying persistent cocaine craving. Nat. Rev. Neurosci. 17, 351–365 (2016).

37.

Deroche-Gamonet, V., Belin, D. & Piazza, P. V. Evidence for addiction-like behavior in the rat. Science 305, 1014–1017 (2004).

38.

Pelloux, Y., Dilleen, R., Economidou, D., Theobald, D. & Everitt, B. J. Reduced forebrain serotonin transmission is causally involved in the development of compulsive cocaine seeking in rats. Neuropsychopharmacology 37, 2505–2514 (2012).

39.

Belin, D. & Everitt, B. J. Cocaine seeking habits depend upon dopamine-dependent serial connectivity linking the ventral with the dorsal striatum. Neuron 57, 432–441 (2008).

40.

Honegger, K. & de Bivort, B. Stochasticity, individuality and behavior. Curr. Biol. 28, R8–R12 (2018).

41.

Belin, D., Mar, A. C., Dalley, J. W., Robbins, T. W. & Everitt, B. J. High impulsivity predicts the switch to compulsive cocaine-taking. Science 320, 1352–1355 (2008).

42.

Diana, M. et al. Rehabilitating the addicted brain with transcranial magnetic stimulation. Nat. Rev. Neurosci. 18, 685–693 (2017).

43.

Coles, A. S., Kozak, K. & George, T. P. A review of brain stimulation methods to treat substance use disorders. Am. J. Addict. 27, 71–91 (2018).

44.

Paxinos, G. & Franklin, K. B. J. The Mouse Brain in Stereotaxic Coordinates (Academic, New York, 2007).

45.

Turiault, M. et al. Analysis of dopamine transporter gene expression pattern — generation of DAT-iCre transgenic mice. FEBS J. 274, 3568–3577 (2007).

46.

Lerner, T. N. et al. Intact-brain analyses reveal distinct information carried by SNc dopamine subcircuits. Cell 162, 635–647 (2015).

47.

da Silva, J. A., Tecuapetla, F., Paixão, V. & Costa, R. M. Dopamine neuron activity before action initiation gates and invigorates future movements. Nature 554, 244–248 (2018).

48.

Li, Y. et al. Serotonin neurons in the dorsal raphe nucleus encode reward signals. Nat. Commun. 7, 10503 (2016).

49.

Maris, E. & Oostenveld, R. Nonparametric statistical testing of EEG- and MEG-data. J. Neurosci. Methods 164, 177–190 (2007).

50.

Van Der Maaten, L. & Hinton, G. H. Visualizing data using t-SNE. J. Mach. Learn. Res. 9, 2579–2605 (2008).
Acknowledgements
We thank E. C. O'Connor for discussion and comments on the manuscript; C. Gerfen for providing Cre-mouse lines through the MMRC repository. This study was financed by a grant from the Swiss National Science Foundation (Ambizone grant to P.V. and core grant to C.L.), the National Center of Competence in Research (NCCR) SYNAPSY-The Synaptic Bases of Mental Diseases, and an advanced grant from the European Research Council (MeSSI).
Reviewer information
Nature thanks J. P. Britt and the other anonymous reviewer(s) for their contribution to the peer review of this work.
Ethics declarations
Competing interests
C.L. is a member of the following scientific advisory boards: Stalicla SA; Phénix Foundation; International research in paraplegia (IRP) Foundation, Geneva.
Additional information
Publisher's note: Springer Nature remains neutral with regard to jurisdictional claims in published maps and institutional affiliations.
Extended data figures and tables
Supplementary information
About this article
Cite this article
Pascoli, V., Hiver, A., Van Zessen, R. et al. Stochastic synaptic plasticity underlying compulsion in a model of addiction. Nature 564, 366–371 (2018). https://doi.org/10.1038/s41586-018-0789-4
Received:

Accepted:

Published:

Issue Date:
Comments
By submitting a comment you agree to abide by our Terms and Community Guidelines. If you find something abusive or that does not comply with our terms or guidelines please flag it as inappropriate.