Abstract
The interplay between magnetism and doping is at the origin of exotic strongly correlated electronic phases and can lead to novel forms of magnetic ordering. One example is the emergence of incommensurate spin-density waves, which have wavevectors that do not belong to the reciprocal lattice. In one dimension this effect is a hallmark of Luttinger liquid theory, which also describes the low-energy physics of the Hubbard model1. Here we use a quantum simulator that uses ultracold fermions in an optical lattice2,3,4,5,6,7,8 to directly observe such incommensurate spin correlations in doped and spin-imbalanced Hubbard chains using fully spin- and density-resolved quantum gas microscopy. Doping is found to induce a linear change in the spin-density wavevector, in excellent agreement with predictions from Luttinger theory. For non-zero polarization we observe a reduction in the wavevector with magnetization, as expected from the antiferromagnetic Heisenberg model in a magnetic field. We trace the microscopic-scale origin of these incommensurate correlations to holes, doublons (double occupancies) and excess spins, which act as delocalized domain walls for the antiferromagnetic order. In addition, by inducing interchain coupling we observe fundamentally different spin correlations around doublons and suppression of incommensurate magnetism at finite (low) temperature in the two-dimensional regime9. Our results demonstrate how access to the full counting statistics of all local degrees of freedom can be used to study fundamental phenomena in strongly correlated many-body physics.
Access options
Subscribe to Journal
Get full journal access for 1 year
$199.00
only $3.90 per issue
All prices are NET prices.
VAT will be added later in the checkout.
Rent or Buy article
Get time limited or full article access on ReadCube.
from$8.99
All prices are NET prices.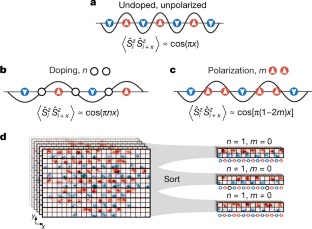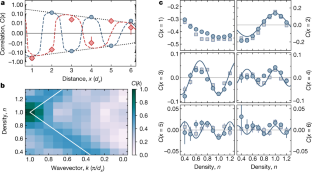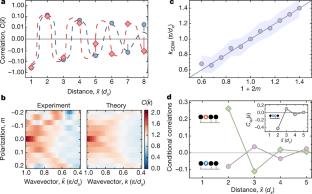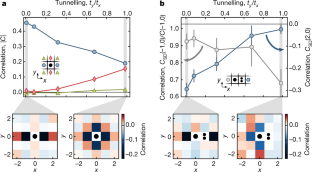 Data availability
The datasets generated and analysed during this study are available from the corresponding author upon reasonable request.
References
1.

Giamarchi, T. Quantum Physics in One Dimension (Clarendon Press, Oxford, 2003).

2.

Greif, D., Uehlinger, T., Jotzu, G., Tarruell, L. & Esslinger, T. Short-range quantum magnetism of ultracold fermions in an optical lattice. Science 340, 1307–1310 (2013).

3.

Hart, R. A. et al. Observation of antiferromagnetic correlations in the Hubbard model with ultracold atoms. Nature 519, 211–214 (2015).

4.

Parsons, M. F. et al. Site-resolved measurement of the spin-correlation function in the Fermi–Hubbard model. Science 353, 1253–1256 (2016).

5.

Boll, M. et al. Spin- and density-resolved microscopy of antiferromagnetic correlations in Fermi–Hubbard chains. Science 353, 1257–1260 (2016).

6.

Cheuk, L. W. et al. Observation of spatial charge and spin correlations in the 2D Fermi–Hubbard model. Science 353, 1260–1264 (2016).

7.

Drewes, J. H. et al. Antiferromagnetic correlations in two-dimensional fermionic Mott-insulating and metallic phases. Phys. Rev. Lett. 118, 170401 (2017).

8.

Brown, P. T. et al. Spin-imbalance in a 2D Fermi–Hubbard system. Science 357, 1385–1388 (2017).

9.

Dagotto, E. Correlated electrons in high-temperature superconductors. Rev. Mod. Phys. 66, 763–840 (1994).

10.

Haldane, F. D. M. 'Luttinger liquid theory' of one-dimensional quantum fluids. I. Properties of the Luttinger model and their extension to the general 1D interacting spinless Fermi gas. J. Phys. C Solid State Phys. 14, 2585–2609 (1981).

11.

Wen, X. G. Chiral Luttinger liquid and the edge excitations in the fractional quantum Hall states. Phys. Rev. B 41, 12838–12844 (1990).

12.

Frahm, H. & Korepin, V. E. Correlation functions of the one-dimensional Hubbard model in a magnetic field. Phys. Rev. B 43, 5653–5662 (1991).

13.

Cardy, J. Scaling and Renormalization in Statistical Physics (Cambridge Univ. Press, Cambridge, 1996).

14.

Bockrath, M. et al. Luttinger-liquid behaviour in carbon nanotubes. Nature 397, 598–601 (1999).

15.

Lee, J. et al. Real space imaging of one-dimensional standing waves: direct evidence for a Luttinger liquid. Phys. Rev. Lett. 93, 166403 (2004).

16.

Stone, M. B. et al. Extended quantum critical phase in a magnetized spin-1/2 antiferromagnetic chain. Phys. Rev. Lett. 91, 037205 (2003).

17.

Lake, B., Tennant, D. A., Frost, C. D. & Nagler, S. E. Quantum criticality and universal scaling of a quantum antiferromagnet. Nat. Mater. 4, 329–334 (2005).

18.

Klanjšek, M. et al. Controlling Luttinger liquid physics in spin ladders under a magnetic field. Phys. Rev. Lett. 101, 137207 (2008).

19.

Tranquada, J. M., Sternlieb, B. J., Axe, J. D., Nakamura, Y. & Uchida, S. Evidence for stripe correlations of spins and holes in copper oxide superconductors. Nature 375, 561–563 (1995).

20.

Omran, A. et al. Microscopic observation of Pauli blocking in degenerate fermionic lattice gases. Phys. Rev. Lett. 115, 263001 (2015).

21.

Hilker, T. A. et al. Revealing hidden antiferromagnetic correlations in doped Hubbard chains via string correlators. Science 357, 484–487 (2017).

22.

Kruis, H. V., McCulloch, I. P., Nussinov, Z. & Zaanen, J. Geometry and the hidden order of Luttinger liquids: the universality of squeezed space. Phys. Rev. B 70, 075109 (2004).

23.

Ogata, M. & Shiba, H. Bethe–Ansatz wave function, momentum distribution, and spin correlation in the one-dimensional strongly correlated Hubbard model. Phys. Rev. B 41, 2326–2338 (1990).

24.

Woynarovich, F. Excitations with complex wavenumbers in a Hubbard chain. I. States with one pair of complex wavenumbers. J. Phys. C 15, 85–96 (1982).

25.

Bogoliubov, N. M., Izergin, A. G. & Korepin, V. E. Critical exponents for integrable models. Nucl. Phys. B 275, 687–705 (1986).

26.

Brinkman, W. F. & Rice, T. M. Single-particle excitations in magnetic insulators. Phys. Rev. B 2, 1324–1338 (1970).

27.

Greif, D., Jotzu, G., Messer, M., Desbuquois, R. & Esslinger, T. Formation and dynamics of antiferromagnetic correlations in tunable optical lattices. Phys. Rev. Lett. 115, 260401 (2015).

28.

White, S. R. & Affleck, I. Density matrix renormalization group analysis of the Nagaoka polaron in the two-dimensional t–J model. Phys. Rev. B 64, 024411 (2001).

29.

Mazurenko, A. et al. A cold-atom Fermi–Hubbard antiferromagnet. Nature 545, 462–466 (2017).

30.

Grusdt, F. et al. Parton theory of magnetic polarons: mesonic resonances and signatures in dynamics. Phys. Rev. X 8, 011046 (2017).

31.

Dagotto, E. & Rice, T. M. Surprises on the way from one- to two-dimensional quantum magnets: the ladder materials. Science 271, 618–623 (1996).

32.

White, S. R. & Scalapino, D. J. Hole and pair structures in the t–J model. Phys. Rev. B 55, 6504–6517 (1997).

33.

White, S. R. & Scalapino, D. J. Density matrix renormalization group study of the striped phase in the 2D t−J model. Phys. Rev. Lett. 80, 1272–1275 (1998).

34.

Büchler, H. P. Microscopic derivation of Hubbard parameters for cold atomic gases. Phys. Rev. Lett. 104, 090402 (2010).

35.

Jordan, P. & Wigner, E. Über das Paulische Äquivalenzverbot. Z. Phys. 47, 631–651 (1928).

36.

Prokof'ev, N. V., Svistunov, B. V. & Tupitsyn, I. S. Exact, complete, and universal continuous-time worldline Monte Carlo approach to the statistics of discrete quantum systems. J. Exp. Theor. Phys. 87, 310–321 (1998).

37.

Pollet, L., Houcke, K. V. & Rombouts, S. M. Engineering local optimality in quantum Monte Carlo algorithms. J. Comput. Phys. 225, 2249–2266 (2007).
Acknowledgements
We thank T. Giamarchi for exchanges on incommensurate magnetism, D. Huse, A. Recati, E. Demler and F. Grusdt for discussions and P. Sompet for reading the manuscript. Financial support was provided by the Max Planck Society (MPG) and the European Union (UQUAM, QSIMGAS, MIR-BOSE), and J.K. acknowledges funding from the Hector Fellow Academy.
Reviewer information
Nature thanks M. Lewenstein, C. de Morais Smith and the other anonymous reviewer(s) for their contribution to the peer review of this work.
Ethics declarations
Competing interests
The authors declare no competing interests.
Additional information
Publisher's note: Springer Nature remains neutral with regard to jurisdictional claims in published maps and institutional affiliations.
Extended data figures and tables
About this article
Cite this article
Salomon, G., Koepsell, J., Vijayan, J. et al. Direct observation of incommensurate magnetism in Hubbard chains. Nature 565, 56–60 (2019). https://doi.org/10.1038/s41586-018-0778-7
Received:

Accepted:

Published:

Issue Date:
Comments
By submitting a comment you agree to abide by our Terms and Community Guidelines. If you find something abusive or that does not comply with our terms or guidelines please flag it as inappropriate.