Abstract
Ichthyosaurs are extinct marine reptiles that display a notable external similarity to modern toothed whales. Here we show that this resemblance is more than skin deep. We apply a multidisciplinary experimental approach to characterize the cellular and molecular composition of integumental tissues in an exceptionally preserved specimen of the Early Jurassic ichthyosaur Stenopterygius. Our analyses recovered still-flexible remnants of the original scaleless skin, which comprises morphologically distinct epidermal and dermal layers. These are underlain by insulating blubber that would have augmented streamlining, buoyancy and homeothermy. Additionally, we identify endogenous proteinaceous and lipid constituents, together with keratinocytes and branched melanophores that contain eumelanin pigment. Distributional variation of melanophores across the body suggests countershading, possibly enhanced by physiological adjustments of colour to enable photoprotection, concealment and/or thermoregulation. Convergence of ichthyosaurs with extant marine amniotes thus extends to the ultrastructural and molecular levels, reflecting the omnipresent constraints of their shared adaptation to pelagic life.
Relevant articles
Open Access articles citing this article.
Randolph Glenn De La Garza

,

Henrik Madsen

…

Johan Lindgren

Scientific Reports Open Access 31 December 2022

Evolution: Education and Outreach Open Access 04 May 2022

Sinjini Sinha

,

A. D. Muscente

…

Rowan C. Martindale

Scientific Reports Open Access 16 December 2021
Access options
Subscribe to Nature+
Get immediate online access to Nature and 55 other Nature journal
Subscribe to Journal
Get full journal access for 1 year
$199.00
only $3.90 per issue
All prices are NET prices.
VAT will be added later in the checkout.
Tax calculation will be finalised during checkout.
Buy article
Get time limited or full article access on ReadCube.
$32.00
All prices are NET prices.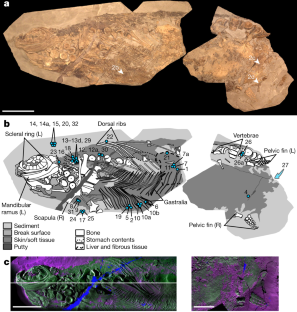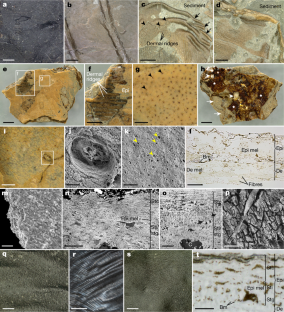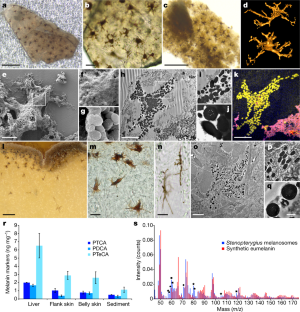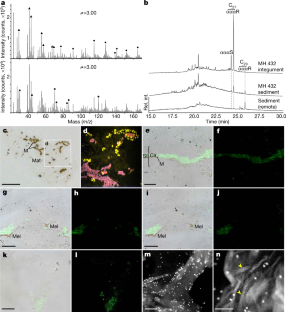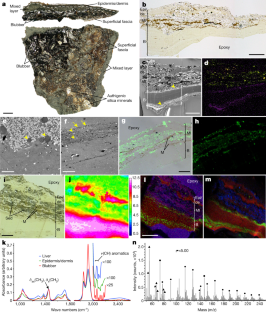 Data availability
The Stenopterygius specimen examined in this study (MH 432) is permanently accessioned in the collections of Urweltmuseum Hauff, Holzmaden, Germany. The data supporting our findings are available from the corresponding author upon reasonable request.
References
Motani, R. Evolution of fish-shaped reptiles (Reptilia: Ichthyopterygia) in their physical environments and constraints. Annu. Rev. Earth Planet. Sci. 33, 395–420 (2005).

Fraas, E. Ueber die Finne von Ichthyosaurus. Jahresh. Vereins vaterl. Naturk. Württemberg 44, 280–303 (1888).

Whitear, M. On the colour of an ichthyosaur. Ann. Mag. Nat. Hist. 9, 742–744 (1956).

Wiman, C. Über Ichthyosaurier und Wale. Senckenbergiana 27, 1–11 (1946).

Lingham-Soliar, T. Rare soft tissue preservation showing fibrous structures in an ichthyosaur from the Lower Lias (Jurassic) of England. Proc. R. Soc. Lond. B 266, 2367–2373 (1999).

Martill, D. M. Prokaryote mats replacing soft tissues in Mesozoic marine reptiles. Mod. Geol. 11, 265–269 (1987).

Smithwick, F. M., Mayr, G., Saitta, E. T., Benton, M. J. & Vinther, J. On the purported presence of fossilized collagen fibres in an ichthyosaur and a theropod dinosaur. Palaeontology 60, 409–422 (2017).

Wyneken, J. in The Leatherback Turtle: Biology and Conservation (eds Spotila, J. R. & Tomillo, P. S.) 32–48 (John Hopkins Univ. Press, Baltimore, 2015).

Cozzi, B., Huggenberger, S. & Oelschläger, H. Anatomy of Dolphins: Insights into Body Structure and Function (Academic, Amsterdam, 2017).

Reeb, D., Best, P. B. & Kidson, S. H. Structure of the integument of southern right whales, Eubalaena australis. Anat. Rec. 290, 596–613 (2007).

Landmann, L. in Biology of the Integument (eds Bereiter-Hahn, J. et al.) 150–187 (Springer, Berlin, 1986).

Alibardi, L. Ultrastructural features of skin pigmentation in the lizard Heloderma suspectum with emphasis on xanto-melanophores. Acta Zool. 96, 154–159 (2015).

Wilby, P. R. & Briggs, D. E. G. Taxonomic trends in the resolution of detail preserved in fossil phosphatized soft tissues. Geobios 30, 493–502 (1997).

Gupta, N. S., Tetlie, O. E., Briggs, D. E. G. & Pancost, R. D. The fossilization of eurypterids: a result of molecular transformation. Palaios 22, 439–447 (2007).

Gupta, N. S., Cody, G. D., Tetlie, O. E., Briggs, D. E. G. & Summons, R. E. Rapid incorporation of lipids into macromolecules during experimental decay of invertebrates: initiation of geopolymer formation. Org. Geochem. 40, 589–594 (2009).

O'Reilly, S., Summons, R., Mayr, G. & Vinther, J. Preservation of uropygial gland lipids in a 48-million-year-old bird. Proc. R. Soc. Lond. B 284, 20171050 (2017).

Jackson, M. K. & Sharawy, M. Lipids and cholesterol clefts in the lacunar cells of snake skin. Anat. Rec. 190, 41–45 (1978).

Pan, Y. et al. Molecular evidence of keratin and melanosomes in feathers of the Early Cretaceous bird Eoconfuciusornis. Proc. Natl Acad. Sci. USA 113, E7900–E7907 (2016).

Moyer, A. E., Zheng, W. & Schweitzer, M. H. Keratin durability has implications for the fossil record: results from a 10 year feather degradation experiment. PLoS ONE 11, e0157699 (2016).

Toni, M. & Alibardi, L. Soft epidermis of a scaleless snake lacks beta-keratin. Eur. J. Histochem. 51, 145–151 (2007).

Iverson, S. J. in Encyclopedia of Marine Mammals (eds Perrin, W. F. et al.) 115–120 (Academic, Amsterdam, 2009).

Davenport, J. et al. Fat head: an analysis of head and neck insulation in the leatherback turtle (Dermochelys coriacea). J. Exp. Biol. 212, 2753–2759 (2009).

Fartasch, M., Haneke, E. & Hornstein, O. P. Mineralization of collagen and elastic fibers in superficial dystrophic cutaneous calcification: an ultrastructural study. Dermatologica 181, 187–192 (1990).

Balakrishnan, S. et al. Studies on calcification efficacy of stingray fish skin collagen for possible use as scaffold for bone regeneration. Tissue Eng. Regen. Med. 12, 98–106 (2015).

Lindgren, J. et al. Skin pigmentation provides evidence of convergent melanism in extinct marine reptiles. Nature 506, 484–488 (2014).

Wyneken, J. The Anatomy of Sea Turtles (U.S. Department of Commerce NOAA Technical Memorandum NMFS-SEFSC-470, 2001).

Shirihai, H. & Jarrett, B. Whales, Dolphins, and Other Marine Mammals of the World (Princeton Univ. Press, Princeton, 2006).

Vinther, J. A guide to the field of palaeo colour: melanin and other pigments can fossilise: reconstructing colour patterns from ancient organisms can give new insights to ecology and behaviour. BioEssays 37, 643–656 (2015).

Marshall, J. & Johnsen, S. in Animal Camouflage: Mechanisms and Function (eds Stevens, M. & Merilaita, S.) 186–211 (Cambridge Univ. Press, Cambridge, 2011).

Martinez-Levasseur, L. M. et al. Acute sun damage and photoprotective responses in whales. Proc. R. Soc. Lond. B 278, 1581–1586 (2011).

James, M. C., Myers, R. A. & Ottensmeyer, C. A. Behaviour of leatherback sea turtles, Dermochelys coriacea, during the migratory cycle. Proc. R. Soc. Lond. B 272, 1547–1555 (2005).

Bernard, A. et al. Regulation of body temperature by some Mesozoic marine reptiles. Science 328, 1379–1382 (2010).

Nakajima, Y., Houssaye, A. & Endo, H. Osteohistology of the Early Triassic ichthyopterygian reptile Utatsusaurus hataii: implications for early ichthyosaur biology. Acta Palaeontol. Pol. 59, 343–352 (2014).

Kear, B. P. Marine reptiles from the Lower Cretaceous of South Australia: elements of a high-latitude cold-water assemblage. Palaeontology 49, 837–856 (2006).

Thiel, V. & Sjövall, P. in Principles and Practice of Analytical Techniques in Geosciences (ed. Grice, K.) 122–170 (Royal Society of Chemistry, Cambridge, 2015).

Ito, S. et al. Acid hydrolysis reveals a low but constant level of pheomelanin in human black to brown hair. Pigment Cell Melanoma Res. 31, 393–403 (2018).
Acknowledgements
We thank E. R. Schroeter for scientific advice. S. M. Webb and C. Roach assisted during the SRS-XRF analysis. T. Wigren produced the artistic reconstructions. Financial support was provided by a Grant for Distinguished Young Researchers (642-2014-3773, Swedish Research Council) to J.L., as well as a National Science Foundation INSPIRE grant (EAR-1344198) to M.H.S. and W.Z., and donations from F. M. and S. P. Orr, and V. and G. Mullis. The Paul Scherrer Institute, Switzerland, provided beamtime at the TOMCAT beamline of the Swiss Light Source. SRS-XRF data were collected at the Stanford Synchrotron Radiation Lightsource using beamline 10-2. NanoSIMS measurements were obtained at the Chemical Imaging Infrastructure, Chalmers University of Technology and University of Gothenburg, which is supported by the Knut and Alice Wallenberg Foundation. Part of this work was performed at the Analytical Instrumentation Facility (AIF) of North Carolina State University. The AIF is supported by the State of North Carolina and the National Science Foundation (ECCS-1542015) and is a member of the North Carolina Research Triangle Nanotechnology Network, a site within the National Nanotechnology Coordinated Infrastructure.
Reviewer information
Nature thanks A. Houssaye, B. Kessler, S. Kiel and R. N. S. Sodhi for their contribution to the peer review of this work.
Ethics declarations
Competing interests
The authors declare no competing interests.
Additional information
Publisher's note: Springer Nature remains neutral with regard to jurisdictional claims in published maps and institutional affiliations.
Extended data figures and tables
Supplementary information
About this article
Cite this article
Lindgren, J., Sjövall, P., Thiel, V. et al. Soft-tissue evidence for homeothermy and crypsis in a Jurassic ichthyosaur. Nature 564, 359–365 (2018). https://doi.org/10.1038/s41586-018-0775-x
Received:

Accepted:

Published:

Issue Date:

DOI: https://doi.org/10.1038/s41586-018-0775-x
Keywords
Ichthyosaurs

Stenopterygius

Blubber

Melanophores

Harbor Porpoise
Comments
By submitting a comment you agree to abide by our Terms and Community Guidelines. If you find something abusive or that does not comply with our terms or guidelines please flag it as inappropriate.