Abstract
Mutations that attenuate homologous recombination (HR)-mediated repair promote tumorigenesis and sensitize cells to chemotherapeutics that cause replication fork collapse, a phenotype known as 'BRCAness'1. BRCAness tumours arise from loss-of-function mutations in 22 genes1. Of these genes, all but one (CDK12) function directly in the HR repair pathway1. CDK12 phosphorylates serine 2 of the RNA polymerase II C-terminal domain heptapeptide repeat2,3,4,5,6,7, a modification that regulates transcription elongation, splicing, and cleavage and polyadenylation8,9. Genome-wide expression studies suggest that depletion of CDK12 abrogates the expression of several HR genes relatively specifically, thereby blunting HR repair3,4,5,6,7,10,11. This observation suggests that the mutational status of CDK12 may predict sensitivity to targeted treatments against BRCAness, such as PARP1 inhibitors, and that CDK12 inhibitors may induce sensitization of HR-competent tumours to these treatments6,7,10,11. Despite growing clinical interest, the mechanism by which CDK12 regulates HR genes remains unknown. Here we show that CDK12 globally suppresses intronic polyadenylation events in mouse embryonic stem cells, enabling the production of full-length gene products. Many HR genes harbour more intronic polyadenylation sites than other expressed genes, and these sites are particularly sensitive to loss of CDK12. The cumulative effect of these sites accounts for the enhanced sensitivity of HR gene expression to CDK12 loss, and we find that this mechanism is conserved in human tumours that contain loss-of-function CDK12 mutations. This work clarifies the function of CDK12 and underscores its potential both as a chemotherapeutic target and as a tumour biomarker.
This is a preview of subscription content
Access options
Subscribe to Journal
Get full journal access for 1 year
$199.00
only $3.90 per issue
All prices are NET prices.
VAT will be added later in the checkout.
Tax calculation will be finalised during checkout.
Rent or Buy article
Get time limited or full article access on ReadCube.
from$8.99
All prices are NET prices.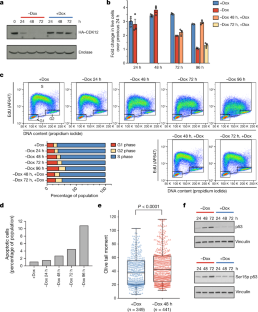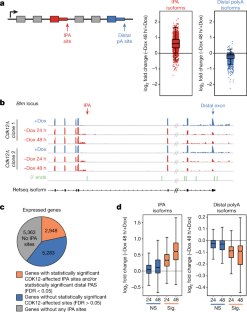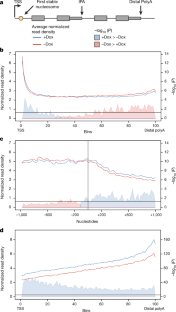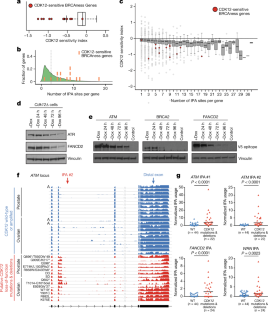 Data availability
Sequencing data have been deposited in the Gene Expression Omnibus under accession number GSE116017.
References
1.

Lord, C. J. & Ashworth, A. BRCAness revisited. Nat. Rev. Cancer 16, 110–120 (2016).

2.

Bartkowiak, B. et al. CDK12 is a transcription elongation-associated CTD kinase, the metazoan ortholog of yeast Ctk1. Genes Dev. 24, 2303–2316 (2010).

3.

Blazek, D. et al. The cyclin K/CDK12 complex maintains genomic stability via regulation of expression of DNA damage response genes. Genes Dev. 25, 2158–2172 (2011).

4.

Zhang, T. et al. Covalent targeting of remote cysteine residues to develop CDK12 and CDK13 inhibitors. Nat. Chem. Biol. 12, 876–884 (2016).

5.

Ekumi, K. M. et al. Ovarian carcinoma CDK12 mutations misregulate expression of DNA repair genes via deficient formation and function of the CDK12/CycK complex. Nucleic Acids Res. 43, 2575–2589 (2015).

6.

Johnson, S. F. et al. CDK12 inhibition reverses de novo and acquired PARP inhibitor resistance in BRCA wild-type and mutated models of triple-negative breast cancer. Cell Reports 17, 2367–2381 (2016).

7.

Iniguez, A. B. et al. EWS/FLI confers tumor cell synthetic lethality to CDK12 inhibition in Ewing sarcoma. Cancer Cell 33, 202–216.e6 (2018).

8.

Hsin, J. P. & Manley, J. L. The RNA polymerase II CTD coordinates transcription and RNA processing. Genes Dev. 26, 2119–2137 (2012).

9.

Davidson, L., Muniz, L. & West, S. 3′ end formation of pre-mRNA and phosphorylation of Ser2 on the RNA polymerase II CTD are reciprocally coupled in human cells. Genes Dev. 28, 342–356 (2014).

10.

Bajrami, I. et al. Genome-wide profiling of genetic synthetic lethality identifies CDK12 as a novel determinant of PARP1/2 inhibitor sensitivity. Cancer Res. 74, 287–297 (2014).

11.

Joshi, P. M., Sutor, S. L., Huntoon, C. J. & Karnitz, L. M. Ovarian cancer-associated mutations disable catalytic activity of CDK12, a kinase that promotes homologous recombination repair and resistance to cisplatin and poly(ADP-ribose) polymerase inhibitors. J. Biol. Chem. 289, 9247–9253 (2014).

12.

Hong, Y. & Stambrook, P. J. Restoration of an absent G1 arrest and protection from apoptosis in embryonic stem cells after ionizing radiation. Proc. Natl Acad. Sci. USA 101, 14443–14448 (2004).

13.

Aladjem, M. I. et al. ES cells do not activate p53-dependent stress responses and undergo p53-independent apoptosis in response to DNA damage. Curr. Biol. 8, 145–155 (1998).

14.

Tichy, E. D. et al. Mouse embryonic stem cells, but not somatic cells, predominantly use homologous recombination to repair double-strand DNA breaks. Stem Cells Dev. 19, 1699–1711 (2010).

15.

Zeman, M. K. & Cimprich, K. A. Causes and consequences of replication stress. Nat. Cell Biol. 16, 2–9 (2014).

16.

Lin, T. et al. p53 induces differentiation of mouse embryonic stem cells by suppressing Nanog expression. Nat. Cell Biol. 7, 165–171 (2005).

17.

Liu, J. C. et al. High mitochondrial priming sensitizes hESCs to DNA-damage-induced apoptosis. Cell Stem Cell 13, 483–491 (2013).

18.

van der Laan, S., Tsanov, N., Crozet, C. & Maiorano, D. High Dub3 expression in mouse ESCs couples the G1/S checkpoint to pluripotency. Mol. Cell 52, 366–379 (2013).

19.

Shieh, S. Y., Ikeda, M., Taya, Y. & Prives, C. DNA damage-induced phosphorylation of p53 alleviates inhibition by MDM2. Cell 91, 325–334 (1997).

20.

Lee, K.-H. et al. A genomewide study identifies the Wnt signaling pathway as a major target of p53 in murine embryonic stem cells. Proc. Natl Acad. Sci. USA 107, 69–74 (2010).

21.

Ku, M. et al. Genomewide analysis of PRC1 and PRC2 occupancy identifies two classes of bivalent domains. PLoS Genet. 4, e1000242 (2008).

22.

Tien, J. F. et al. CDK12 regulates alternative last exon mRNA splicing and promotes breast cancer cell invasion. Nucleic Acids Res. 45, 6698–6716 (2017).

23.

Tian, B. & Manley, J. L. Alternative polyadenylation of mRNA precursors. Nat. Rev. Mol. Cell Biol. 18, 18–30 (2017).

24.

Tian, B., Pan, Z. & Lee, J. Y. Widespread mRNA polyadenylation events in introns indicate dynamic interplay between polyadenylation and splicing. Genome Res. 17, 156–165 (2007).

25.

Almada, A. E., Wu, X., Kriz, A. J., Burge, C. B. & Sharp, P. A. Promoter directionality is controlled by U1 snRNP and polyadenylation signals. Nature 499, 360–363 (2013).

26.

Weber, C. M., Ramachandran, S. & Henikoff, S. Nucleosomes are context-specific, H2A.Z-modulated barriers to RNA polymerase. Mol. Cell 53, 819–830 (2014).

27.

Cancer Genome Atlas Research Network. The molecular taxonomy of primary prostate cancer. Cell 163, 1011–1025 (2015).

28.

Wu, Y. M. et al. Inactivation of CDK12 delineates a distinct immunogenic class of advanced prostate cancer. Cell 173, 1770–1782.e14 (2018).

29.

Cancer Genome Atlas Research Network. Integrated genomic analyses of ovarian carcinoma. Nature 474, 609–615 (2011).

30.

Menghi, F. et al. The tandem duplicator phenotype is a prevalent genome-wide cancer configuration driven by distinct gene mutations. Cancer Cell 34, 197–210.e5 (2018).

31.

Ran, F. A. et al. Genome engineering using the CRISPR-Cas9 system. Nat. Protoc. 8, 2281–2308 (2013).

32.

Cong, L. et al. Multiplex genome engineering using CRISPR/Cas systems. Science 339, 819–823 (2013).

33.

Gurtan, A. M., Lu, V., Bhutkar, A. & Sharp, P. A. In vivo structure-function analysis of human Dicer reveals directional processing of precursor miRNAs. RNA 18, 1116–1122 (2012).

34.

Gyori, B. M., Venkatachalam, G., Thiagarajan, P. S., Hsu, D. & Clement, M.-V. OpenComet: an automated tool for comet assay image analysis. Redox Biol. 2, 457–465 (2014).

35.

Skene, P. J. & Henikoff, S. A simple method for generating high-resolution maps of genome-wide protein binding. eLife 4, e09225 (2015).

36.

Skene, P. J., Hernandez, A. E., Groudine, M. & Henikoff, S. The nucleosomal barrier to promoter escape by RNA polymerase II is overcome by the chromatin remodeler Chd1. eLife 3, e02042 (2014).

37.

Trapnell, C. et al. Differential gene and transcript expression analysis of RNA-seq experiments with TopHat and Cufflinks. Nat. Protoc. 7, 562–578 (2012).

38.

Dobin, A. et al. STAR: ultrafast universal RNA-seq aligner. Bioinformatics 29, 15–21 (2013).

39.

Li, B. & Dewey, C. N. RSEM: accurate transcript quantification from RNA-Seq data with or without a reference genome. BMC Bioinformatics 12, 323 (2011).

40.

Leng, N. et al. EBSeq: an empirical Bayes hierarchical model for inference in RNA-seq experiments. Bioinformatics 29, 1035–1043 (2013).

41.

Anders, S. & Huber, W. Differential expression analysis for sequence count data. Genome Biol. 11, R106 (2010).

42.

Katz, Y., Wang, E. T., Airoldi, E. M. & Burge, C. B. Analysis and design of RNA sequencing experiments for identifying isoform regulation. Nat. Methods 7, 1009–1015 (2010).

43.

Voong, L. N. et al. Insights into nucleosome organization in mouse embryonic stem cells through chemical mapping. Cell 167, 1555–1570.e15 (2016).

44.

Vainshtein, Y., Rippe, K. & Teif, V. B. NucTools: analysis of chromatin feature occupancy profiles from high-throughput sequencing data. BMC Genomics 18, 158 (2017).

45.

Quinlan, A. R. & Hall, I. M. BEDTools: a flexible suite of utilities for comparing genomic features. Bioinformatics 26, 841–842 (2010).

46.

Gao, J. et al. Integrative analysis of complex cancer genomics and clinical profiles using the cBioPortal. Sci. Signal. 6, pl1 (2013).

47.

Cerami, E. et al. The cBio cancer genomics portal: an open platform for exploring multidimensional cancer genomics data. Cancer Discov. 2, 401–404 (2012).

48.

Cui, Y. & Denis, C. L. In vivo evidence that defects in the transcriptional elongation factors RPB2, TFIIS, and SPT5 enhance upstream poly(A) site utilization. Mol. Cell. Biol. 23, 7887–7901 (2003).

49.

Yang, Y. et al. PAF complex plays novel subunit-specific roles in alternative cleavage and polyadenylation. PLoS Genet. 12, e1005794 (2016).

50.

Liu, X. et al. Transcription elongation rate has a tissue-specific impact on alternative cleavage and polyadenylation in Drosophila melanogaster. RNA 23, 1807–1816 (2017).

51.

Bentley, D. L. Coupling mRNA processing with transcription in time and space. Nat. Rev. Genet. 15, 163–175 (2014).
Acknowledgements
We thank the Sharp laboratory, J. Arribere, F. Solomon, and L. Cote for discussions and reading the manuscript. pAC4 and PBNeoTetO-Dest, the OVCAR4 cells, and THZ531 were gifts from A. Cheng, S. Correa Echavarria, and N. Gray respectively. We thank H. Suzuki for the first stable nucleosome coordinates and F. Lam for assistance with Comet assays. The results shown here are in part based upon data generated by the TCGA Research Network: http://cancergenome.nih.gov/. We thank the Koch Institute's Robert A. Swanson (1969) Biotechnology Center at MIT for technical support, specifically G. Paradis of the Flow Cytometry Core and S. Levine of the MIT BioMicro Center. The research described here was supported by Program Project Grant P01-CA042063 from the NCI (P.A.S.), by United States Public Health Service grants R01-GM034277 and R01-CA133404 from the NIH (P.A.S.), and by the Koch Institute Support (core) grant P30-CA14051 from the NCI. S.J.D. was also supported by a David H. Koch Fellowship and NIH Pre-Doctoral Training Grant T32-GM007287 (MIT Biology Department).
Reviewer information
Nature thanks R. Fisher, B. Tian and the other anonymous reviewer(s) for their contribution to the peer review of this work.
Ethics declarations
Competing interests
The authors declare no competing interests.
Additional information
Publisher's note: Springer Nature remains neutral with regard to jurisdictional claims in published maps and institutional affiliations.
Extended data figures and tables
Supplementary information
About this article
Cite this article
Dubbury, S.J., Boutz, P.L. & Sharp, P.A. CDK12 regulates DNA repair genes by suppressing intronic polyadenylation. Nature 564, 141–145 (2018). https://doi.org/10.1038/s41586-018-0758-y
Received:

Accepted:

Published:

Issue Date:
Keywords
Intronic Polyadenylation

CDK4 Depletion

Distal Polyadenylation Site

Flow Cytometry Gating Strategy

Partial Exon
Comments
By submitting a comment you agree to abide by our Terms and Community Guidelines. If you find something abusive or that does not comply with our terms or guidelines please flag it as inappropriate.