Abstract
Limited DNA end resection is the key to impaired homologous recombination in BRCA1-mutant cancer cells. Here, using a loss-of-function CRISPR screen, we identify DYNLL1 as an inhibitor of DNA end resection. The loss of DYNLL1 enables DNA end resection and restores homologous recombination in BRCA1-mutant cells, thereby inducing resistance to platinum drugs and inhibitors of poly(ADP-ribose) polymerase. Low BRCA1 expression correlates with increased chromosomal aberrations in primary ovarian carcinomas, and the junction sequences of somatic structural variants indicate diminished homologous recombination. Concurrent decreases in DYNLL1 expression in carcinomas with low BRCA1 expression reduced genomic alterations and increased homology at lesions. In cells, DYNLL1 limits nucleolytic degradation of DNA ends by associating with the DNA end-resection machinery (MRN complex, BLM helicase and DNA2 endonuclease). In vitro, DYNLL1 binds directly to MRE11 to limit its end-resection activity. Therefore, we infer that DYNLL1 is an important anti-resection factor that influences genomic stability and responses to DNA-damaging chemotherapy.
Relevant articles
Open Access articles citing this article.
Tao Zhang

,

Han Yang

…

Weibin Wang

Nature Communications Open Access 01 September 2022

Qihang Li

,

Zhiyu Zhang

…

Lianghai Wang

Journal of Translational Medicine Open Access 26 May 2022

Zhengcheng He

,

Ryan Ghorayeb

…

Christopher A. Maxwell

Nature Communications Open Access 22 April 2022
Access options
Subscribe to Nature+
Get immediate online access to the entire Nature family of 50+ journals
Subscribe to Journal
Get full journal access for 1 year
$199.00
only $3.90 per issue
All prices are NET prices.
VAT will be added later in the checkout.
Tax calculation will be finalised during checkout.
Buy article
Get time limited or full article access on ReadCube.
$32.00
All prices are NET prices.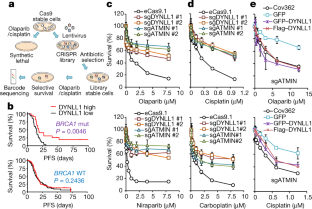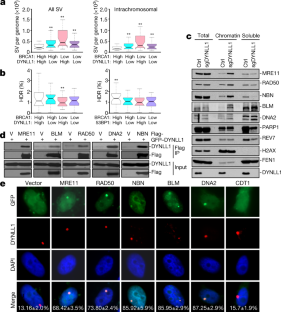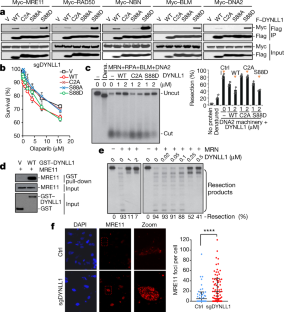 Data availability
All relevant data are included in the paper and/or its Supplementary Information.
References
Bolton, K. L. et al. Association between BRCA1 and BRCA2 mutations and survival in women with invasive epithelial ovarian cancer. JAMA 307, 382–390 (2012).

Vencken, P. M. et al. Chemosensitivity and outcome of BRCA1- and BRCA2-associated ovarian cancer patients after first-line chemotherapy compared with sporadic ovarian cancer patients. Ann. Oncol. 22, 1346–1352 (2011).

Yang, D. et al. Association of BRCA1 and BRCA2 mutations with survival, chemotherapy sensitivity, and gene mutator phenotype in patients with ovarian cancer. JAMA 306, 1557–1565 (2011).

Bouwman, P. et al. 53BP1 loss rescues BRCA1 deficiency and is associated with triple-negative and BRCA-mutated breast cancers. Nat. Struct. Mol. Biol. 17, 688–695 (2010).

Bunting, S. F. et al. 53BP1 inhibits homologous recombination in Brca1-deficient cells by blocking resection of DNA breaks. Cell 141, 243–254 (2010).

Callen, E. et al. 53BP1 mediates productive and mutagenic DNA repair through distinct phosphoprotein interactions. Cell 153, 1266–1280 (2013).

Escribano-Díaz, C. et al. A cell cycle-dependent regulatory circuit composed of 53BP1-RIF1 and BRCA1-CtIP controls DNA repair pathway choice. Mol. Cell 49, 872–883 (2013).

Xu, G. et al. REV7 counteracts DNA double-strand break resection and affects PARP inhibition. Nature 521, 541–544 (2015).

Gupta, R. et al. DNA repair network analysis reveals shieldin as a key regulator of NHEJ and PARP inhibitor sensitivity. Cell 173, 972–988 (2018).

Dev, H. et al. Shieldin complex promotes DNA end-joining and counters homologous recombination in BRCA1-null cells. Nat. Cell Biol. 20, 954–965 (2018).

Noordermeer, S. M. et al. The shieldin complex mediates 53BP1-dependent DNA repair. Nature 560, 117–121 (2018).

Mirman, Z. et al. 53BP1–RIF1–shieldin counteracts DSB resection through CST- and Polα-dependent fill-in. Nature 560, 112–116 (2018).

Ghezraoui, H. et al. 53BP1 cooperation with the REV7–shieldin complex underpins DNA structure-specific NHEJ. Nature 560, 122–127 (2018).

Ray Chaudhuri, A. et al. Replication fork stability confers chemoresistance in BRCA-deficient cells. Nature 535, 382–387 (2016).

Guillemette, S. et al. Resistance to therapy in BRCA2 mutant cells due to loss of the nucleosome remodeling factor CHD4. Genes Dev. 29, 489–494 (2015).

Rondinelli, B. et al. EZH2 promotes degradation of stalled replication forks by recruiting MUS81 through histone H3 trimethylation. Nat. Cell Biol. 19, 1371–1378 (2017).

Schlacher, K. et al. Double-strand break repair-independent role for BRCA2 in blocking stalled replication fork degradation by MRE11. Cell 145, 529–542 (2011).

Lemaçon, D. et al. MRE11 and EXO1 nucleases degrade reversed forks and elicit MUS81-dependent fork rescue in BRCA2-deficient cells. Nat. Commun. 8, 860 (2017).

Shalem, O. et al. Genome-scale CRISPR–Cas9 knockout screening in human cells. Science 343, 84–87 (2014).

Doench, J. G. et al. Optimized sgRNA design to maximize activity and minimize off-target effects of CRISPR–Cas9. Nat. Biotechnol. 34, 184–191 (2016).

Planells-Cases, R. et al. Subunit composition of VRAC channels determines substrate specificity and cellular resistance to Pt-based anti-cancer drugs. EMBO J. 34, 2993–3008 (2015).

Barbar, E. Dynein light chain LC8 is a dimerization hub essential in diverse protein networks. Biochemistry 47, 503–508 (2008).

King, S. M. Dynein-independent functions of DYNLL1/LC8: redox state sensing and transcriptional control. Sci. Signal. 1, pe51 (2008).

The Cancer Genome Atlas Research Network. Integrated genomic analyses of ovarian carcinoma. Nature 474, 609–615 (2011).

Jurado, S. et al. ATM substrate Chk2-interacting Zn2+ finger (ASCIZ) is a bi-functional transcriptional activator and feedback sensor in the regulation of dynein light chain (DYNLL1) expression. J. Biol. Chem. 287, 3156–3164 (2012).

Lo, K. W. et al. The 8-kDa dynein light chain binds to p53-binding protein 1 and mediates DNA damage-induced p53 nuclear accumulation. J. Biol. Chem. 280, 8172–8179 (2005).

Iacovoni, J. S. et al. High-resolution profiling of γH2AX around DNA double strand breaks in the mammalian genome. EMBO J. 29, 1446–1457 (2010).

Zhou, Y., Caron, P., Legube, G. & Paull, T. T. Quantitation of DNA double-strand break resection intermediates in human cells. Nucleic Acids Res. 42, e19 (2014).

Cruz-García, A., López-Saavedra, A. & Huertas, P. BRCA1 accelerates CtIP-mediated DNA-end resection. Cell Rep. 9, 451–459 (2014).

Patch, A. M. et al. Whole-genome characterization of chemoresistant ovarian cancer. Nature 521, 489–494 (2015).

Rayala, S. K. et al. Functional regulation of oestrogen receptor pathway by the dynein light chain 1. EMBO Rep. 6, 538–544 (2005).

Mazouzi, A. et al. A comprehensive analysis of the dynamic response to aphidicolin-mediated replication stress uncovers targets for ATM and ATMIN. Cell Rep. 15, 893–908 (2016).

Rapali, P. et al. Directed evolution reveals the binding motif preference of the LC8/DYNLL hub protein and predicts large numbers of novel binders in the human proteome. PLoS ONE 6, e18818 (2011).

Rapali, P. et al. DYNLL/LC8: a light chain subunit of the dynein motor complex and beyond. FEBS J. 278, 2980–2996 (2011).

Puthalakath, H., Huang, D. C., O'Reilly, L. A., King, S. M. & Strasser, A. The proapoptotic activity of the Bcl-2 family member Bim is regulated by interaction with the dynein motor complex. Mol. Cell 3, 287–296 (1999).

Jaffrey, S. R. & Snyder, S. H. PIN: an associated protein inhibitor of neuronal nitric oxide synthase. Science 274, 774–777 (1996).

Dundr, M. et al. Actin-dependent intranuclear repositioning of an active gene locus in vivo. J. Cell Biol. 179, 1095–1103 (2007).

Lightcap, C. M. et al. Biochemical and structural characterization of the Pak1–LC8 interaction. J. Biol. Chem. 283, 27314–27324 (2008).

Song, C. et al. Serine 88 phosphorylation of the 8-kDa dynein light chain 1 is a molecular switch for its dimerization status and functions. J. Biol. Chem. 283, 4004–4013 (2008).

Jung, Y., Kim, H., Min, S. H., Rhee, S. G. & Jeong, W. Dynein light chain LC8 negatively regulates NF-κB through the redox-dependent interaction with IκBα. J. Biol. Chem. 283, 23863–23871 (2008).

Tkác, J. et al. HELB is a feedback inhibitor of DNA end resection. Mol. Cell 61, 405–418 (2016).

Buisson, R. et al. Cooperation of breast cancer proteins PALB2 and piccolo BRCA2 in stimulating homologous recombination. Nat. Struct. Mol. Biol. 17, 1247–1254 (2010).

Yu, Z. et al. The MRE11 GAR motif regulates DNA double-strand break processing and ATR activation. Cell Res. 22, 305–320 (2012).

Boisvert, F.-M., Déry, U., Masson, J.-Y. & Richard, S. Arginine methylation of MRE11 by PRMT1 is required for DNA damage checkpoint control. Genes Dev. 19, 671–676 (2005).

Henricksen, L. A., Umbricht, C. B. & Wold, M. S. Recombinant replication protein A expression, complex formation, and functional characterization. J. Biol. Chem. 269, 11121–11132 (1994).

Moiani, D. et al. Targeting allostery with avatars to design inhibitors assessed by cell activity: dissecting MRE11 endo- and exonuclease activities. Methods Enzymol. 601, 205–241 (2018).

Nieminuszczy, J., Schwab, R. A. & Niedzwiedz, W. The DNA fibre technique - tracking helicases at work. Methods 108, 92–98 (2016).
Acknowledgements
D.C. is supported by NIH grants R01 CA208244 and R01CA142698, a Leukemia and Lymphoma Society Scholar grant, and the Claudia Adams Barr Program in Innovative Basic Cancer Research. D.C. and P.A.K. are supported by DOD W81XWH-15-0564/OC140632. Y.J.H. is supported by an AACR-AstraZeneca Ovarian Cancer Research Fellowship (17-40-12-HE). J.-Y.M. was supported by a CIHR foundation grant.
Reviewer information
Nature thanks T. Stracker and the anonymous reviewer(s) for their contribution to the peer review of this work.
Ethics declarations
Competing interests
The authors declare no competing interests.
Additional information
Publisher's note: Springer Nature remains neutral with regard to jurisdictional claims in published maps and institutional affiliations.
Extended data figures and tables
Supplementary information
About this article
Cite this article
He, Y.J., Meghani, K., Caron, MC. et al. DYNLL1 binds to MRE11 to limit DNA end resection in BRCA1-deficient cells. Nature 563, 522–526 (2018). https://doi.org/10.1038/s41586-018-0670-5
Received:

Accepted:

Published:

Issue Date:

DOI: https://doi.org/10.1038/s41586-018-0670-5
Keywords
Somatic Structural Variants

BRCA Mutant Cells

Clustered Regularly Interspaced Short Palindromic Repeats (CRISPR)

High-grade Serous Ovarian Carcinoma (HGSOC)

Homologous Recombination-mediated Repair
Comments
By submitting a comment you agree to abide by our Terms and Community Guidelines. If you find something abusive or that does not comply with our terms or guidelines please flag it as inappropriate.