Access options
Subscribe to Journal
Get full journal access for 1 year
$199.00
only $3.90 per issue
All prices are NET prices.
VAT will be added later in the checkout.
Rent or Buy article
Get time limited or full article access on ReadCube.
from$8.99
All prices are NET prices.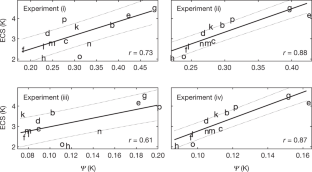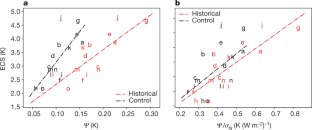 Data availability
Relevant data are available from the corresponding author on reasonable request.
References
1.

Brown, P. T., Stolpe, M. B. & Caldeira, K. Assumptions for emergent constraints. Nature 563, https://doi.org/10.1038/s41586-018-0638-5 (2018).

2.

Rypdal, M., Fredriksen, H.-B., Rypdal, K. & Steene, R. J. Emergent constraints on climate sensitivity. Nature 563, https://doi.org/10.1038/s41586-018-0639-4 (2018).

3.

Po-Chedley, S., Proistosescu, C., Armour, K. C. & Santer, B. D. Climate constraint reflects forced signal. Nature 563, https://doi.org/10.1038/s41586-018-0640-y (2018).

4.

Cox, P. M., Huntingford, C. & Williamson, M. S. Emergent constraint on equilibrium climate sensitivity from global temperature variability. Nature 553, 319–322 (2018).

5.

Hasselmann, K. Stochastic climate models part I. Theory. Tellus 28, 473–485 (1976).

6.

Geoffroy, O. et al. Transient climate cesponse in a two-layer energy-balance model. Part I: analytical solution and parameter calibration using CMIP5 AOGCM experiments. J. Climate 26, 1841–1857 (2013).

7.

Frost, C. & Thompson, S. G. Correcting for regression dilution bias: comparison of methods for a single predictor variable. J. R. Stat. Soc. Ser. A 163, 173–189 (2000).

8.

MacMynowski, D. G. et al. The frequency response of temperature and precipitation in a climate model. Geophys. Res. Lett. 38, L16711 (2011).

9.

Williamson, M. S., Cox, P. M. & Nijsse, F. J. M. M. Theoretical foundation of emergent constraints: relationships between climate sensitivity and global temperature variability in conceptual models. Dyn. Stat. Clim. Syst. (in the press).

10.

Meinshausen, M. et al. The RCP greenhouse gas concentrations and their extensions from 1765 to 2300. Clim. Change 109, 213 (2011).
Ethics declarations
Competing interests
Declared none.
Extended data figures and tables
a, Control runs linearly de-trended in a 55-year moving window (r = 0.75). b, Control runs without de-trending (r = 0.45).
About this article
Cite this article
Cox, P.M., Williamson, M.S., Nijsse, F.J.M.M. et al. Cox et al. reply. Nature 563, E10–E15 (2018). https://doi.org/10.1038/s41586-018-0641-x
Keywords
Hasselmann Model

Emergent Constraints

CMIP5 Models

Forcing Time Series

Global Temperature Response
Comments
By submitting a comment you agree to abide by our Terms and Community Guidelines. If you find something abusive or that does not comply with our terms or guidelines please flag it as inappropriate.