Abstract
Immune checkpoint blockade therapy has been successful in treating some types of cancer but has not shown clinical benefits for treating leukaemia1. This result suggests that leukaemia uses unique mechanisms to evade this therapy. Certain immune inhibitory receptors that are expressed by normal immune cells are also present on leukaemia cells. Whether these receptors can initiate immune-related primary signalling in tumour cells remains unknown. Here we use mouse models and human cells to show that LILRB4, an immunoreceptor tyrosine-based inhibition motif-containing receptor and a marker of monocytic leukaemia, supports tumour cell infiltration into tissues and suppresses T cell activity via a signalling pathway that involves APOE, LILRB4, SHP-2, uPAR and ARG1 in acute myeloid leukaemia (AML) cells. Deletion of LILRB4 or the use of antibodies to block LILRB4 signalling impeded AML development. Thus, LILRB4 orchestrates tumour invasion pathways in monocytic leukaemia cells by creating an immunosuppressive microenvironment. LILRB4 represents a compelling target for the treatment of monocytic AML.
Relevant articles
Open Access articles citing this article.
Xiaoxiao He

,

Yilu Xu

…

Junke Zheng

Leukemia Open Access 23 November 2022

Takayoshi Matsumura

,

Haruhito Totani

…

Toshio Suda

Nature Communications Open Access 18 November 2022

Hang He

,

Zhiqin Wang

…

Zhigang Cai

Discover Oncology Open Access 30 June 2022
Access options
Subscribe to Nature+
Get immediate online access to Nature and 55 other Nature journal
Subscribe to Journal
Get full journal access for 1 year
$199.00
only $3.90 per issue
All prices are NET prices.
VAT will be added later in the checkout.
Tax calculation will be finalised during checkout.
Buy article
Get time limited or full article access on ReadCube.
$32.00
All prices are NET prices.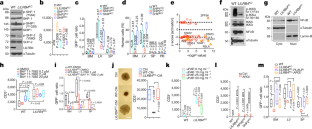 Data availability
The TCGA datasets analysed are available in the UCSC Xena Browser (https://xena.ucsc.edu). The RNA-seq datasets generated in the current study have been deposited in NCBI SRA database with the SRA accession number SRP155049.
References
Curran, E. K., Godfrey, J. & Kline, J. Mechanisms of immune tolerance in leukemia and lymphoma. Trends Immunol. 38, 513–525 (2017).

Kang, X. et al. Inhibitory leukocyte immunoglobulin-like receptors: Immune checkpoint proteins and tumor sustaining factors. Cell Cycle 15, 25–40 (2016).

Hirayasu, K. & Arase, H. Functional and genetic diversity of leukocyte immunoglobulin-like receptor and implication for disease associations. J. Hum. Genet. 60, 703–708 (2015).

Trowsdale, J., Jones, D. C., Barrow, A. D. & Traherne, J. A. Surveillance of cell and tissue perturbation by receptors in the LRC. Immunol. Rev. 267, 117–136 (2015).

Dobrowolska, H. et al. Expression of immune inhibitory receptor ILT3 in acute myeloid leukemia with monocytic differentiation. Cytometry B Clin. Cytom. 84, 21–29 (2013).

Vlad, G. et al. Membrane and soluble ILT3 are critical to the generation of T suppressor cells and induction of immunological tolerance. Int. Rev. Immunol. 29, 119–132 (2010).

Mosier, D. E., Gulizia, R. J., Baird, S. M. & Wilson, D. B. Transfer of a functional human immune system to mice with severe combined immunodeficiency. Nature 335, 256–259 (1988).

Ha, S. et al. Isolation and characterization of IgG1 with asymmetrical Fc glycosylation. Glycobiology 21, 1087–1096 (2011).

Straus, D. J. et al. The acute monocytic leukemias: multidisciplinary studies in 45 patients. Medicine (Baltimore) 59, 409–425 (1980).

Colovai, A. I. et al. Expression of inhibitory receptor ILT3 on neoplastic B cells is associated with lymphoid tissue involvement in chronic lymphocytic leukemia. Cytometry B Clin. Cytom. 72, 354–362 (2007).

Crispe, I. N. et al. Cellular and molecular mechanisms of liver tolerance. Immunol. Rev. 213, 101–118 (2006).

Carson, M. J., Doose, J. M., Melchior, B., Schmid, C. D. & Ploix, C. C. CNS immune privilege: hiding in plain sight. Immunol. Rev. 213, 48–65 (2006).

Fujisaki, J. et al. In vivo imaging of Treg cells providing immune privilege to the haematopoietic stem-cell niche. Nature 474, 216–219 (2011).

Castells, M. C. et al. gp49B1-αvβ3 interaction inhibits antigen-induced mast cell activation. Nat. Immunol. 2, 436–442 (2001).

Grainger, D. J., Reckless, J. & McKilligin, E. Apolipoprotein E modulates clearance of apoptotic bodies in vitro and in vivo, resulting in a systemic proinflammatory state in apolipoprotein E-deficient mice. J. Immunol. 173, 6366–6375 (2004).

Ali, K., Middleton, M., Puré, E. & Rader, D. J. Apolipoprotein E suppresses the type I inflammatory response in vivo. Circ. Res. 97, 922–927 (2005).

DiDonato, J. A., Mercurio, F. & Karin, M. NF-κB and the link between inflammation and cancer. Immunol. Rev. 246, 379–400 (2012).

You, M., Flick, L. M., Yu, D. & Feng, G. S. Modulation of the nuclear factor κb pathway by Shp-2 tyrosine phosphatase in mediating the induction of interleukin (IL)-6 by IL-1 or tumor necrosis factor. J. Exp. Med. 193, 101–110 (2001).

Baumgartner, B. et al. Increased IκB kinase activity is associated with activated NF-κB in acute myeloid blasts. Leukemia 16, 2062–2071 (2002).

Béné, M. C. et al. CD87 (urokinase-type plasminogen activator receptor), function and pathology in hematological disorders: a review. Leukemia 18, 394–400 (2004).

Su, S. C., Lin, C. W., Yang, W. E., Fan, W. L. & Yang, S. F. The urokinase-type plasminogen activator (uPA) system as a biomarker and therapeutic target in human malignancies. Expert Opin. Ther. Targets 20, 551–566 (2016).

Wang, Y. et al. Identification of a novel nuclear factor-kappaB sequence involved in expression of urokinase-type plasminogen activator receptor. Eur. J. Biochem. 267, 3248–3254 (2000).

Hu, J. et al. uPAR induces expression of transforming growth factor β and interleukin-4 in cancer cells to promote tumor-permissive conditioning of macrophages. Am. J. Pathol. 184, 3384–3393 (2014).

Ilkovitch, D. & Lopez, D. M. Urokinase-mediated recruitment of myeloid-derived suppressor cells and their suppressive mechanisms are blocked by MUC1/sec. Blood 113, 4729–4739 (2009).

Baitsch, D. et al. Apolipoprotein E induces antiinflammatory phenotype in macrophages. Arterioscler. Thromb. Vasc. Biol. 31, 1160–1168 (2011).

Hagemann, T. et al. "Re-educating" tumor-associated macrophages by targeting NF-κB. J. Exp. Med. 205, 1261–1268 (2008).

Mussai, F. et al. Acute myeloid leukemia creates an arginase-dependent immunosuppressive microenvironment. Blood 122, 749–758 (2013).

de Goeje, P. L. et al. Immunoglobulin-like transcript 3 is expressed by myeloid-derived suppressor cells and correlates with survival in patients with non-small cell lung cancer. OncoImmunology 4, e1014242 (2015).

Chang, C. C. et al. Tolerization of dendritic cells by T(S) cells: the crucial role of inhibitory receptors ILT3 and ILT4. Nat. Immunol. 3, 237–243 (2002).

Suciu-Foca, N. et al. Soluble Ig-like transcript 3 inhibits tumor allograft rejection in humanized SCID mice and T cell responses in cancer patients. J. Immunol. 178, 7432–7441 (2007).

Piedrahita, J. A., Zhang, S. H., Hagaman, J. R., Oliver, P. M. & Maeda, N. Generation of mice carrying a mutant apolipoprotein E gene inactivated by gene targeting in embryonic stem cells. Proc. Natl Acad. Sci. USA 89, 4471–4475 (1992).

Zheng, J. et al. Inhibitory receptors bind ANGPTLs and support blood stem cells and leukaemia development. Nature 485, 656–660 (2012).

Kang, X. et al. The ITIM-containing receptor LAIR1 is essential for acute myeloid leukaemia development. Nat. Cell Biol. 17, 665–677 (2015).

Deng, M. et al. A motif in LILRB2 critical for Angptl2 binding and activation. Blood 124, 924–935 (2014).

Zheng, J. et al. Ex vivo expanded hematopoietic stem cells overcome the MHC barrier in allogeneic transplantation. Cell Stem Cell 9, 119–130 (2011).

Lu, Z. et al. Fasting selectively blocks development of acute lymphoblastic leukemia via leptin-receptor upregulation. Nat. Med. 23, 79–90 (2017).

Zhang, C. C., Kaba, M., Iizuka, S., Huynh, H. & Lodish, H. F. Angiopoietin-like 5 and IGFBP2 stimulate ex vivo expansion of human cord blood hematopoietic stem cells as assayed by NOD/SCID transplantation. Blood 111, 3415–3423 (2008).

Zheng, J., Huynh, H., Umikawa, M., Silvany, R. & Zhang, C. C. Angiopoietin-like protein 3 supports the activity of hematopoietic stem cells in the bone marrow niche. Blood 117, 470–479 (2011).

Cawthorne, C., Swindell, R., Stratford, I. J., Dive, C. & Welman, A. Comparison of doxycycline delivery methods for Tet-inducible gene expression in a subcutaneous xenograft model. J. Biomol. Tech. 18, 120–123 (2007).

Denisov, I. G., Grinkova, Y. V., Lazarides, A. A. & Sligar, S. G. Directed self-assembly of monodisperse phospholipid bilayer Nanodiscs with controlled size. J. Am. Chem. Soc. 126, 3477–3487 (2004).
Acknowledgements
We thank the National Cancer Institute (1R01CA172268 and 5P30CA142543), the Leukemia & Lymphoma Society (1024-14 and TRP-6024-14), the March of Dimes Foundation (1-FY14-201), the Cancer Prevention and Research Institute of Texas (RP140402, DP150056, RP180435, PR150551, and RR150072), the Robert A. Welch Foundation (I-1834 and AU-0042-20030616), the National Natural Science Foundation of China (81570093, 81422001, and 81721004), the National Basic Research Program of China (2014CB965000), and the China Scholarship Council (201608330307) for support. We also thank G. Salazar for editing the manuscript and Y. Dang for RStudio coding.
Ethics declarations
Competing interests
The Board of Regents of the University of Texas System has filed patent applications with PCT Application Nos. PCT/US2016/020838, which covers anti-LILRB antibodies and their uses in detecting and treating cancer, and PCT/US2017/044171, which covers the methods for identifying LILRB-blocking antibodies. Authors C.C.Z., M.D., Z.A., N.Z., X.G. and J.Z. are listed as inventors of PCT/US2016/020838. Authors C.C.Z., Z.A., N.Z., M.D., J.K. and X.G. are listed as inventors of PCT/US2017/044171. Both patent applications have been exclusively licensed to Immune-Onc Therapeutics by the Board of Regents of the University of Texas System. Authors Z.A. and C.C.Z. are Scientific Advisory Board members with Immune-Onc Therapeutics, who also own equities and have a sponsored research agreement with Immune-Onc Therapeutics. Authors T.H. and X.C.L. are employees of and hold equities in Immune-Onc Therapeutics.
Additional information
Publisher's note: Springer Nature remains neutral with regard to jurisdictional claims in published maps and institutional affiliations.
Extended data figures and tables
Supplementary information
This file contains Supplementary Figure 1 and Supplementary Tables 1-5.
About this article
Cite this article
Deng, M., Gui, X., Kim, J. et al. LILRB4 signalling in leukaemia cells mediates T cell suppression and tumour infiltration. Nature 562, 605–609 (2018). https://doi.org/10.1038/s41586-018-0615-z
Received:

Accepted:

Published:

Issue Date:

DOI: https://doi.org/10.1038/s41586-018-0615-z
Keywords
Leukocyte Immunoglobulin-like Receptor B4 (LILRB4)

Haematopoietic Stem/progenitor Cells (HSPCs)

Microscale Thermophoresis (MST)

CD28-coated Beads

Leukemia Infiltration
Comments
By submitting a comment you agree to abide by our Terms and Community Guidelines. If you find something abusive or that does not comply with our terms or guidelines please flag it as inappropriate.