Abstract
Basal cell carcinoma (BCC) is the most frequent cancer in humans and results from constitutive activation of the Hedgehog pathway1. Several Smoothened inhibitors are used to treat Hedgehog-mediated malignancies, including BCC and medulloblastoma2. Vismodegib, a Smoothened inhibitor, leads to BCC shrinkage in the majority of patients with BCC3, but the mechanism by which it mediates BCC regression is unknown. Here we used two genetically engineered mouse models of BCC4 to investigate the mechanisms by which inhibition of Smoothened mediates tumour regression. We found that vismodegib mediates BCC regression by inhibiting a hair follicle-like fate and promoting the differentiation of tumour cells. However, a small population of tumour cells persists and is responsible for tumour relapse following treatment discontinuation, mimicking the situation found in humans5. In both mouse and human BCC, this persisting, slow-cycling tumour population expresses LGR5 and is characterized by active Wnt signalling. Combining Lgr5 lineage ablation or inhibition of Wnt signalling with vismodegib treatment leads to eradication of BCC. Our results show that vismodegib induces tumour regression by promoting tumour differentiation, and demonstrates that the synergy between Wnt and Smoothened inhibitors is a clinically relevant strategy for overcoming tumour relapse in BCC.
Relevant articles
Open Access articles citing this article.
Zhen-Duo Shi

,

Kun Pang

…

Cong-Hui Han

Signal Transduction and Targeted Therapy Open Access 11 March 2023

Daniel Haensel

,

Sadhana Gaddam

…

Anthony E. Oro

Nature Communications Open Access 06 December 2022

Qingqing Wu

,

Xiaoyang Luo

…

Henrik J. Ditzel

Molecular Cancer Open Access 26 August 2021
Access options
Access Nature and 54 other Nature Portfolio journals
Get Nature+, our best-value online-access subscription
$29.99 per month
cancel any time
Subscribe to this journal
Receive 51 print issues and online access
$199.00 per year
only $3.90 per issue
Rent or buy this article
Get just this article for as long as you need it
$39.95
Prices may be subject to local taxes which are calculated during checkout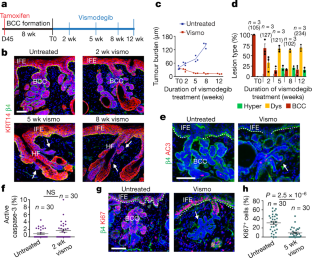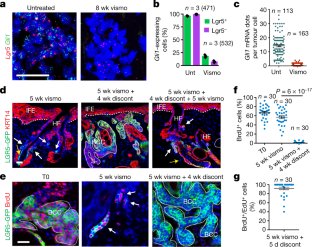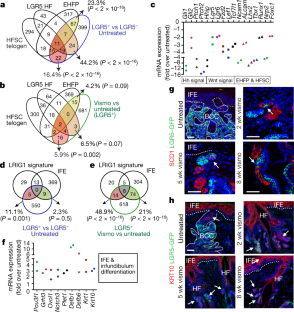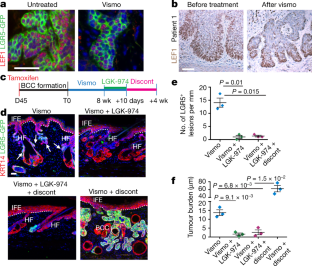 Data availability
Data associated with this study have been deposited in the NCBI Gene Expression Omnibus under accession number GSE117458 (microarray).
References
Epstein, E. H. Basal cell carcinomas: attack of the hedgehog. Nat. Rev. Cancer 8, 743–754 (2008).

Basset-Seguin, N., Sharpe, H. J. & de Sauvage, F. J. Efficacy of Hedgehog pathway inhibitors in basal cell carcinoma. Mol. Cancer Ther. 14, 633–641 (2015).

Sekulic, A. et al. Efficacy and safety of vismodegib in advanced basal-cell carcinoma. N. Engl. J. Med. 366, 2171–2179 (2012).

Kasper, M., Jaks, V., Hohl, D. & Toftgård, R. Basal cell carcinoma - molecular biology and potential new therapies. J. Clin. Invest. 122, 455–463 (2012).

Tang, J. Y. et al. Inhibition of the hedgehog pathway in patients with basal-cell nevus syndrome: final results from the multicentre, randomised, double-blind, placebo-controlled, phase 2 trial. Lancet Oncol. 17, 1720–1731 (2016).

Atwood, S. X. et al. Smoothened variants explain the majority of drug resistance in basal cell carcinoma. Cancer Cell 27, 342–353 (2015).

Sharpe, H. J. et al. Genomic analysis of smoothened inhibitor resistance in basal cell carcinoma. Cancer Cell 27, 327–341 (2015).

Youssef, K. K. et al. Identification of the cell lineage at the origin of basal cell carcinoma. Nat. Cell Biol. 12, 299–305 (2010).

Youssef, K. K. et al. Adult interfollicular tumour-initiating cells are reprogrammed into an embryonic hair follicle progenitor-like fate during basal cell carcinoma initiation. Nat. Cell Biol. 14, 1282–1294 (2012).

Brown, J. A. et al. TGF-β-induced quiescence mediates chemoresistance of tumor-propagating cells in squamous cell carcinoma. Cell Stem Cell 21, 650–664.e8 (2017).

Barker, N., Tan, S. & Clevers, H. Lgr proteins in epithelial stem cell biology. Development 140, 2484–2494 (2013).

Tian, H. et al. A reserve stem cell population in small intestine renders Lgr5-positive cells dispensable. Nature 478, 255–259 (2011).

Page, M. E., Lombard, P., Ng, F., Göttgens, B. & Jensen, K. B. The epidermis comprises autonomous compartments maintained by distinct stem cell populations. Cell Stem Cell 13, 471–482 (2013).

Yang, S. H. et al. Pathological responses to oncogenic Hedgehog signaling in skin are dependent on canonical Wnt/β3-catenin signaling. Nat. Genet. 40, 1130–1135 (2008).

Rhee, H., Polak, L. & Fuchs, E. Lhx2 maintains stem cell character in hair follicles. Science 312, 1946–1949 (2006).

Blanpain, C., Lowry, W. E., Geoghegan, A., Polak, L. & Fuchs, E. Self-renewal, multipotency, and the existence of two cell populations within an epithelial stem cell niche. Cell 118, 635–648 (2004).

Latil, M. et al. Cell-type-specific chromatin states differentially prime squamous cell carcinoma tumor-initiating cells for epithelial to mesenchymal transition. Cell Stem Cell 20, 191–204.e5 (2017).

Sánchez-Danés, A. et al. Defining the clonal dynamics leading to mouse skin tumour initiation. Nature 536, 298–303 (2016).

Zhao, X. et al. A transposon screen identifies loss of primary cilia as a mechanism of resistance to SMO inhibitors. Cancer Discov. 7, 1436–1449 (2017).

Whitson, R. J. et al. Noncanonical hedgehog pathway activation through SRF-MKL1 promotes drug resistance in basal cell carcinomas. Nat. Med. 24, 271–281 (2018).

Eberl, M. et al. Tumor architecture and notch signaling modulate drug response in basal cell carcinoma. Cancer Cell 33, 229–243.e4 (2018).

Hoeck, J. D. et al. Stem cell plasticity enables hair regeneration following Lgr5+ cell loss. Nat. Cell Biol. 19, 666–676 (2017).

de Sousa e Melo, F. et al. A distinct role for Lgr5+ stem cells in primary and metastatic colon cancer. Nature 543, 676–680 (2017).

Shimokawa, M. et al. Visualization and targeting of LGR5+ human colon cancer stem cells. Nature 545, 187–192 (2017).

Liu, J. et al. Targeting Wnt-driven cancer through the inhibition of Porcupine by LGK974. Proc. Natl Acad. Sci. USA 110, 20224–20229 (2013).

Northcott, P. A. et al. Medulloblastomics: the end of the beginning. Nat. Rev. Cancer 12, 818–834 (2012).

Vasioukhin, V., Degenstein, L., Wise, B. & Fuchs, E. The magical touch: genome targeting in epidermal stem cells induced by tamoxifen application to mouse skin. Proc. Natl Acad. Sci. USA 96, 8551–8556 (1999).

Uhmann, A. et al. The Hedgehog receptor Patched controls lymphoid lineage commitment. Blood 110, 1814–1823 (2007).

Mao, J. et al. A novel somatic mouse model to survey tumorigenic potential applied to the Hedgehog pathway. Cancer Res. 66, 10171–10178 (2006).

Jonkers, J. et al. Synergistic tumor suppressor activity of BRCA2 and p53 in a conditional mouse model for breast cancer. Nat. Genet. 29, 418–425 (2001).

Aldaz, C. M., Conti, C. J., Gimenez, I. B., Slaga, T. J. & Klein-Szanto, A. J. Cutaneous changes during prolonged application of 12-O-tetradecanoylphorbol-13-acetate on mouse skin and residual effects after cessation of treatment. Cancer Res. 45, 2753–2759 (1985).

Collins, C. A. & Watt, F. M. Dynamic regulation of retinoic acid-binding proteins in developing, adult and neoplastic skin reveals roles for β-catenin and Notch signalling. Dev. Biol. 324, 55–67 (2008).

Braun, K. M. et al. Manipulation of stem cell proliferation and lineage commitment: visualisation of label-retaining cells in wholemounts of mouse epidermis. Development 130, 5241–5255 (2003).

Jensen, K. B., Driskell, R. R. & Watt, F. M. Assaying proliferation and differentiation capacity of stem cells using disaggregated adult mouse epidermis. Nat. Protoc. 5, 898–911 (2010).

Gonzalez-Roca, E. et al. Accurate expression profiling of very small cell populations. PLoS One 5, e14418 (2010).
Acknowledgements
We thank J.-M. Vanderwinden and M. Martens for help with confocal microscopy. C.B. is an investigator of WELBIO. A.S.-D. and J.-C.L. are supported by fellowships from the FNRS and FRIA, respectively. This work was supported by the FNRS, the Marian Family, the ULB fondation, the foundation Baillet Latour, and a consolidator grant from the European Research Council.
Author contributions
A.S.-D. and C.B. designed the experiments, performed data analysis and wrote the manuscript; A.S.-D. performed most of the biological experiments; J.-C.L, G.L. and V.S. helped with Lgr5 ablation experiments; M.L. performed immunostaining; C.D. performed FACS; E.M.-C., M.S., V.d.M. and J.T. provided patient samples; and A.B. performed GSEA.
Ethics declarations
Competing interests
C.B. is a consultant at Genentech (San Francisco, USA).
Additional information
Publisher's note: Springer Nature remains neutral with regard to jurisdictional claims in published maps and institutional affiliations.
Extended data figures and tables
Supplementary information
About this article
Cite this article
Sánchez-Danés, A., Larsimont, JC., Liagre, M. et al. A slow-cycling LGR5 tumour population mediates basal cell carcinoma relapse after therapy. Nature 562, 434–438 (2018). https://doi.org/10.1038/s41586-018-0603-3
Received:

Accepted:

Published:

Issue Date:

DOI: https://doi.org/10.1038/s41586-018-0603-3
Keywords
Basal Cell Carcinoma (BCC)

Vismodegib Treatment

Smoothened Inhibitor

Hair Follicle Stem Cells (HFSC)

HFSC Marker
Comments
By submitting a comment you agree to abide by our Terms and Community Guidelines. If you find something abusive or that does not comply with our terms or guidelines please flag it as inappropriate.