Abstract
The origin of the eukaryotic cell is unresolved1,2. Metagenomics sequencing has recently identified several potential eukaryotic gene homologues in Asgard archaea3,4, consistent with the hypothesis that the eukaryotic cell evolved from within the Archaea domain. However, many of these eukaryotic-like sequences are highly divergent and the organisms have yet to be imaged or cultivated, which brings into question the extent to which these archaeal proteins represent functional equivalents of their eukaryotic counterparts. Here we show that Asgard archaea encode functional profilins and thereby establish that this archaeal superphylum has a regulated actin cytoskeleton, one of the hallmarks of the eukaryotic cell5. Loki profilin-1, Loki profilin-2 and Odin profilin adopt the typical profilin fold and are able to interact with rabbit actin—an interaction that involves proteins from species that diverged more than 1.2 billion years ago6. Biochemical experiments reveal that mammalian actin polymerizes in the presence of Asgard profilins; however, Loki, Odin and Heimdall profilins impede pointed-end elongation. These archaeal profilins also retard the spontaneous nucleation of actin filaments, an effect that is reduced in the presence of phospholipids. Asgard profilins do not interact with polyproline motifs and the profilin–polyproline interaction therefore probably evolved later in the Eukarya lineage. These results suggest that Asgard archaea possess a primordial, polar, profilin-regulated actin system, which may be localized to membranes owing to the sensitivity of Asgard profilins to phospholipids. Because Asgard archaea are also predicted to encode potential eukaryotic-like genes involved in membrane-trafficking and endocytosis3,4, imaging is now necessary to elucidate whether these organisms are capable of generating eukaryotic-like membrane dynamics that are regulated by actin, such as are observed in eukaryotic cell movement, podosomes and endocytosis.
Access options
Subscribe to Journal
Get full journal access for 1 year
We are sorry, but there is no personal subscription option available for your country.
Rent or Buy article
Get time limited or full article access on ReadCube.
from$8.99
All prices are NET prices.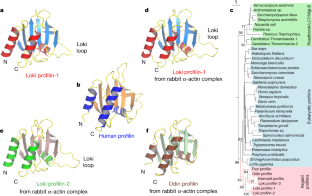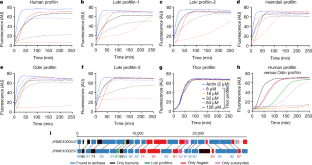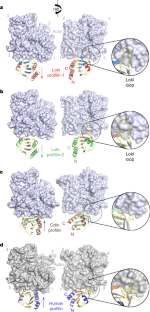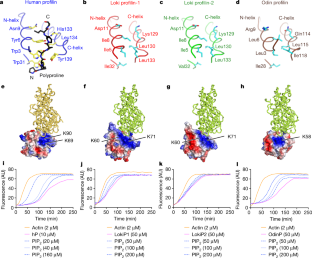 References
1.

Eme, L., Spang, A., Lombard, J., Stairs, C. W. & Ettema, T. J. G. Archaea and the origin of eukaryotes. Nat. Rev. Microbiol. 15, 711–723 (2017).

2.

López-García, P. & Moreira, D. Open questions on the origin of eukaryotes. Trends Ecol. Evol. 30, 697–708 (2015).

3.

Spang, A. et al. Complex archaea that bridge the gap between prokaryotes and eukaryotes. Nature 521, 173–179 (2015).

4.

Zaremba-Niedzwiedzka, K. et al. Asgard archaea illuminate the origin of eukaryotic cellular complexity. Nature 541, 353–358 (2017).

5.

Gunning, P. W., Ghoshdastider, U., Whitaker, S., Popp, D. & Robinson, R. C. The evolution of compositionally and functionally distinct actin filaments. J. Cell Sci. 128, 2009–2019 (2015).

6.

Dacks, J. B. et al. The changing view of eukaryogenesis—fossils, cells, lineages and how they all come together. J. Cell Sci. 129, 3695–3703 (2016).

7.

Spang, A. et al. Asgard archaea are the closest prokaryotic relatives of eukaryotes. PLoS Genet. 14, e1007080 (2018).

8.

Da Cunha, V., Gaia, M., Gadelle, D., Nasir, A. & Forterre, P. Lokiarchaea are close relatives of Euryarchaeota, not bridging the gap between prokaryotes and eukaryotes. PLoS Genet. 13, e1006810 (2017).

9.

Xue, B. & Robinson, R. C. Guardians of the actin monomer. Eur. J. Cell Biol. 92, 316–332 (2013).

10.

Courtemanche, N. & Pollard, T. D. Interaction of profilin with the barbed end of actin filaments. Biochemistry 52, 6456–6466 (2013).

11.

Thompson, M. J. & Eisenberg, D. Transproteomic evidence of a loop-deletion mechanism for enhancing protein thermostability. J. Mol. Biol. 290, 595–604 (1999).

12.

Ferron, F., Rebowski, G., Lee, S. H. & Dominguez, R. Structural basis for the recruitment of profilin–actin complexes during filament elongation by Ena/VASP. EMBO J. 26, 4597–4606 (2007).

13.

Senju, Y. et al. Mechanistic principles underlying regulation of the actin cytoskeleton by phosphoinositides. Proc. Natl Acad. Sci. USA 114, E8977–E8986 (2017).

14.

Michell, R. H. Inositol lipids: from an archaeal origin to phosphatidylinositol 3,5-bisphosphate faults in human disease. FEBS J. 280, 6281–6294 (2013).

15.

Lane, N. & Martin, W. The energetics of genome complexity. Nature 467, 929–934 (2010).

16.

Ezezika, O. C. et al. Incompatibility with formin Cdc12p prevents human profilin from substituting for fission yeast profilin: insights from crystal structures of fission yeast profilin. J. Biol. Chem. 284, 2088–2097 (2009).

17.

Nag, S. et al. Ca2+ binding by domain 2 plays a critical role in the activation and stabilization of gelsolin. Proc. Natl Acad. Sci. USA 106, 13713–13718 (2009).

18.

Xue, B., Leyrat, C., Grimes, J. M. & Robinson, R. C. Structural basis of thymosin-β4/profilin exchange leading to actin filament polymerization. Proc. Natl Acad. Sci. USA 111, E4596–E4605 (2014).

19.

Lee, W. L., Grimes, J. M. & Robinson, R. C. Yersinia effector YopO uses actin as bait to phosphorylate proteins that regulate actin polymerization. Nat. Struct. Mol. Biol. 22, 248–255 (2015).

20.

Wang, H., Robinson, R. C. & Burtnick, L. D. The structure of native G-actin. Cytoskeleton (Hoboken) 67, 456–465 (2010).

21.

Kabsch, W. Xds. Acta Crystallogr. D 66, 125–132 (2010).

22.

Adams, P. D. et al. The Phenix software for automated determination of macromolecular structures. Methods 55, 94–106 (2011).

23.

Otwinowski, Z. & Minor, W. Processing of X-ray diffraction data collected in oscillation mode. Methods Enzymol. 276, 307–326 (1997).

24.

Emsley, P., Lohkamp, B., Scott, W. G. & Cowtan, K. Features and development of Coot. Acta Crystallogr. D 66, 486–501 (2010).

25.

Murshudov, G. N., Vagin, A. A. & Dodson, E. J. Refinement of macromolecular structures by the maximum-likelihood method. Acta Crystallogr. D 53, 240–255 (1997).

26.

Chen, V. B. et al. MolProbity: all-atom structure validation for macromolecular crystallography. Acta Crystallogr. D 66, 12–21 (2010).

27.

Pei, J. & Grishin, N. V. PROMALS3D: multiple protein sequence alignment enhanced with evolutionary and three-dimensional structural information. Methods Mol. Biol. 1079, 263–271 (2014).

28.

Zhang, Y. I-TASSER server for protein 3D structure prediction. BMC Bioinformatics 9, 40 (2008).

29.

Pagès, H. et al. DebRoyBiostrings: Efficient manipulation of biological strings. https://rdrr.io/bioc/Biostrings/ (2018).

30.

Finn, R. D. et al. InterPro in 2017-beyond protein family and domain annotations. Nucleic Acids Res. 45, D190–D199 (2017).
Acknowledgements
We thank A*STAR for support; W. Burkholder for reagents; A. Kaya, M. Magnitov and E. Balıkçı for technical advice; and B. Venkatesh for valuable discussions. We thank the experimental facility and the technical services provided by: The Synchrotron Radiation Protein Crystallography Facility of the National Core Facility Program for Biotechnology, Ministry of Science and Technology and the National Synchrotron Radiation Research Center, a national user facility supported by the Ministry of Science and Technology, Taiwan; and the Australian Synchrotron, part of ANSTO.
Reviewer information
Nature thanks T. Ettema, T. Pollard and the other anonymous reviewer(s) for their contribution to the peer review of this work.
Ethics declarations
Competing interests
The authors declare no competing interests.
Additional information
Publisher's note: Springer Nature remains neutral with regard to jurisdictional claims in published maps and institutional affiliations.
Extended data figures and tables
Supplementary information
This file contains Supplementary Tables 1-3. Supplementary Table 1: Pairwise percentage sequence identities of actins and profilins. a, Actins. b, Profilins. Supplementary Table 2: Data collection and refinement statistics. a, LokiProfilin1. b, Asgard profilin/rActin complexes. Supplementary Table 3: Structural similarities in profilins and homology between the LokiProfilin1/2 contigs. a, Comparison of profilin structures. b, Nucleotide percentage identities for genes on the LokiProfilin1/2 contigs.
About this article
Cite this article
Akıl, C., Robinson, R.C. Genomes of Asgard archaea encode profilins that regulate actin. Nature 562, 439–443 (2018). https://doi.org/10.1038/s41586-018-0548-6
Received:

Accepted:

Published:

Issue Date:
Comments
By submitting a comment you agree to abide by our Terms and Community Guidelines. If you find something abusive or that does not comply with our terms or guidelines please flag it as inappropriate.