Abstract
Large cutaneous ulcers are, in severe cases, life threatening1,2. As the global population ages, non-healing ulcers are becoming increasingly common1,2. Treatment currently requires the transplantation of pre-existing epithelial components, such as skin grafts, or therapy using cultured cells2. Here we develop alternative supplies of epidermal coverage for the treatment of these kinds of wounds. We generated expandable epithelial tissues using in vivo reprogramming of wound-resident mesenchymal cells. Transduction of four transcription factors that specify the skin-cell lineage enabled efficient and rapid de novo epithelialization from the surface of cutaneous ulcers in mice. Our findings may provide a new therapeutic avenue for treating skin wounds and could be extended to other disease situations in which tissue homeostasis and repair are impaired.
Access options
Subscribe to Journal
Get full journal access for 1 year
$199.00
only $3.90 per issue
All prices are NET prices.
VAT will be added later in the checkout.
Rent or Buy article
Get time limited or full article access on ReadCube.
from$8.99
All prices are NET prices.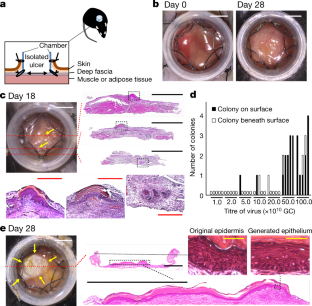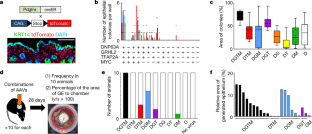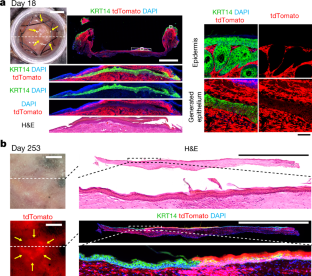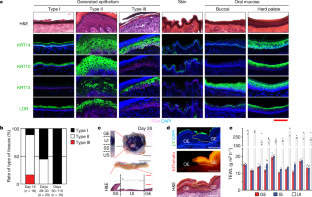 Data availability
Data from the microarray, RNA-seq and miRNA microarray analyses have been deposited in the Gene Expression Omnibus (GEO) and ArrayExpress under accession numbers GSE85803, GSE106419 and E-MTAB-5055, respectively. All other relevant data that support the findings of this study are available from the corresponding author upon reasonable request.
References
1.

Gonzales, K. A. U. & Fuchs, E. Skin and its regenerative powers: an alliance between stem cells and their niche. Dev. Cell 43, 387–401 (2017).

2.

Sun, B. K., Siprashvili, Z. & Khavari, P. A. Advances in skin grafting and treatment of cutaneous wounds. Science 346, 941–945 (2014).

3.

Gurtner, G. C., Werner, S., Barrandon, Y. & Longaker, M. T. Wound repair and regeneration. Nature 453, 314–321 (2008).

4.

Takahashi, K. & Yamanaka, S. Induction of pluripotent stem cells from mouse embryonic and adult fibroblast cultures by defined factors. Cell 126, 663–676 (2006).

5.

Srivastava, D. & DeWitt, N. In vivo cellular reprogramming: the next generation. Cell 166, 1386–1396 (2016).

6.

Driskell, R. R. et al. Distinct fibroblast lineages determine dermal architecture in skin development and repair. Nature 504, 277–281 (2013).

7.

Moll, R., Divo, M. & Langbein, L. The human keratins: biology and pathology. Histochem. Cell Biol. 129, 705–733 (2008).

8.

Boukamp, P., Breitkreutz, D., Stark, H. J. & Fusenig, N. E. Mesenchyme-mediated and endogenous regulation of growth and differentiation of human skin keratinocytes derived from different body sites. Differentiation 44, 150–161 (1990).

9.

Van Muijen, G. N., Warnaar, S. O. & Ponec, M. Differentiation-related changes of cytokeratin expression in cultured keratinocytes and in fetal, newborn, and adult epidermis. Exp. Cell Res. 171, 331–345 (1987).

10.

Okazaki, M., Yoshimura, K., Fujiwara, H., Suzuki, Y. & Harii, K. Induction of hard keratin expression in non-nail-matrical keratinocytes by nail-matrical fibroblasts through epithelial–mesenchymal interactions. Plast. Reconstr. Surg. 111, 286–290 (2003).

11.

Grimm, D. J. et al. In vitro and in vivo gene therapy vector evolution via multispecies interbreeding and retargeting of adeno-associated viruses. J. Virol. 82, 5887–5911 (2008).

12.

Snippert, H. J. et al. Intestinal crypt homeostasis results from neutral competition between symmetrically dividing Lgr5 stem cells. Cell 143, 134–144 (2010).

13.

Hirsch, T. et al. Regeneration of the entire human epidermis using transgenic stem cells. Nature 551, 327–332 (2017).

14.

De Luca, M., Pellegrini, G. & Green, H. Regeneration of squamous epithelia from stem cells of cultured grafts. Regen. Med. 1, 45–57 (2006).

15.

Schmitz, A. et al. Assessing the in vivo epidermal barrier in mice: dye penetration assays. J. Invest. Dermatol. 135, 1–4 (2015).

16.

Robson, M. C. et al. The safety and effect of topically applied recombinant basic fibroblast growth factor on the healing of chronic pressure sores. Ann. Surg. 216, 401–408 (1992).

17.

Akita, S., Akino, K., Imaizumi, T. & Hirano, A. Basic fibroblast growth factor accelerates and improves second-degree burn wound healing. Wound Repair Regen. 16, 635–641 (2008).

18.

Chapman, S., Liu, X., Meyers, C., Schlegel, R. & McBride, A. A. Human keratinocytes are efficiently immortalized by a Rho kinase inhibitor. J. Clin. Invest. 120, 2619–2626 (2010).

19.

Chandler, R. J., Sands, M. S. & Venditti, C. P. Recombinant adeno-associated viral integration and genotoxicity: insights from animal models. Hum. Gene Ther. 28, 314–322 (2017).

20.

Kotterman, M. A. & Schaffer, D. V. Engineering adeno-associated viruses for clinical gene therapy. Nat. Rev. Genet. 15, 445–451 (2014).

21.

Melino, G., Memmi, E. M., Pelicci, P. G. & Bernassola, F. Maintaining epithelial stemness with p63. Sci. Signal. 8, re9 (2015).

22.

Louis Jeune, V., Joergensen, J. A., Hajjar, R. J. & Weber, T. Pre-existing anti-adeno-associated virus antibodies as a challenge in AAV gene therapy. Hum. Gene Ther. Methods 24, 59–67 (2013).

23.

Rheinwatd, J. G. & Green, H. Serial cultivation of strains of human epidermal keratinocytes: the formation of keratinizing colonies from single cells. Cell 6, 331–343 (1975).

24.

Harajly, M. et al. p53 restoration in induction and maintenance of senescence: differential effects in premalignant and malignant tumor cells. Mol. Cell. Biol. 36, 438–451 (2016).

25.

Provost, J. J. et al. Urokinase plasminogen activator receptor induced non-small cell lung cancer invasion and metastasis requires NHE1 transporter expression and transport activity. Cell Oncol. (Dordr.) 35, 95–110 (2012).

26.

Shimizukawa, R. et al. Establishment of a new embryonic stem cell line derived from C57BL/6 mouse expressing EGFP ubiquitously. Genesis 42, 47–52 (2005).

27.

Roesch, K. et al. The transcriptome of retinal Müller glial cells. J. Comp. Neurol. 509, 225–238 (2008).

28.

Dassule, H. R., Lewis, P., Bei, M., Maas, R. & McMahon, A. P. Sonic hedgehog regulates growth and morphogenesis of the tooth. Development 127, 4775–4785 (2000).

29.

Song, K. et al. Heart repair by reprogramming non-myocytes with cardiac transcription factors. Nature 485, 599–604 (2012).

30.

Muzumdar, M. D., Tasic, B., Miyamichi, K., Li, L. & Luo, L. A global double-fluorescent Cre reporter mouse. Genesis 45, 593–605 (2007).

31.

Kurashige, C. et al. Roles of receptor activity-modifying protein 1 in angiogenesis and lymphangiogenesis during skin wound healing in mice. FASEB J. 28, 1237–1247 (2014).

32.

Hardman, M. J., Sisi, P., Banbury, D. N. & Byrne, C. Patterned acquisition of skin barrier function during development. Development 125, 1541–1552 (1998).

33.

Matsuki, M. et al. Defective stratum corneum and early neonatal death in mice lacking the gene for transglutaminase 1 (keratinocyte transglutaminase). Proc. Natl Acad. Sci. USA 95, 1044–1049 (1998).
Acknowledgements
This work was supported by MEXT KAKENHI Grant numbers JP26293381(Grant-in-Aid for Scientific Research (B) to M.K.), JP23689073 (Grant-in-Aid for Young Scientists (A) to M.K.), JP21689046 (Grant-in-Aid for Young Scientists (A) to M.K.), Kyorin University research promotion award to M.K. (2013), JSPS Overseas Research Fellowships (2015–17) to M.K., and the Uehara Memorial Foundation Research Fellowship for Research Abroad (2017–18) to M.K. M.K. thanks H. Green for support materials. T.H. thanks F. Sugiyama for support materials. M.N.S. is supported by NIH-NCI CCSG: P30 014195 and The Leona M. and Harry B. Helmsley Charitable Trust. Work in the laboratory of J.C.I.B. was supported by the G. Harold and Leila Y. Mathers Charitable Foundation, The Leona M. and Harry B. Helmsley Charitable Trust, The Moxie Foundation, The Evergreen Foundation, Fundacion Dr. Pedro Guillen and Universidad Católica San Antonio de Murcia (UCAM).
Reviewer information
Nature thanks S. Akita, V. Horsley, A. Lombardo and the other anonymous reviewer(s) for their contribution to the peer review of this work.
Ethics declarations
Competing interests
The authors declare no competing interests.
Additional information
Publisher's note: Springer Nature remains neutral with regard to jurisdictional claims in published maps and institutional affiliations.
Extended data figures and tables
Supplementary information
This file contains Supplementary Figures 1-2 and Supplementary Methods
This file contains Supplementary Tables 1-13
About this article
Cite this article
Kurita, M., Araoka, T., Hishida, T. et al. In vivo reprogramming of wound-resident cells generates skin epithelial tissue. Nature 561, 243–247 (2018). https://doi.org/10.1038/s41586-018-0477-4
Received:

Accepted:

Published:

Issue Date:
Keywords
Adeno-associated Viruses (AAV)

Adipose-derived Stromal Cells

Primary Keratinocytes

Surrounding Skin

Transepidermal Water Loss (TEWL)
Comments
By submitting a comment you agree to abide by our Terms and Community Guidelines. If you find something abusive or that does not comply with our terms or guidelines please flag it as inappropriate.